Most investors would agree on the fact that investing in high quality stocks can be a great strategy to maximize returns and keep risks under control over the long term. However, implementing such strategy is easier said than done. Like beauty, quality is in eye of the beholder to some degree, and the concept of business quality includes many variables which are hard to measure or quantify.
That notwithstanding, quality can also be analyzed in numerical ways, and business profitability is one of the most important indicators of underlying quality. There is a clear and direct relationship between business profitability and shareholder returns. If all other variables are the same, the more profitable the business, the higher its ability to create economic value for investors over the long term.
Besides, consistent profitability says a lot about a business. In a free market economy success attracts the competition, and competition tends to erode profitability levels over time. If a company is consistently making above-average profitability, this generally indicates that it has superior fundamental qualities such as differentiated brand, superior technology, or a more innovative management team.
The following paragraphs from Charlie Munger explain in simple and straightforward terms why business profitability is a key variable to consider when investing over the long term.
"We have really made the money out of high-quality businesses. In some cases, we just bought the whole businesses. And in some cases, we just bought a big block of stock. But when you analyzed what happened, the big money has been made in the high quality businesses.

Over the long term, it is hard for a stock to earn a much better return than the business, which underlies its earnings. If the business earns 6% on capital over 40 years and you hold it for 40 years, you are not going to make much different than a 6 % return - even if you originally buy it at a huge discount. Conversely, if a business earns 18% on capital over 20 or 30 years, even if you pay an expensive looking price, you end up with one hell of a result."
System Design
The following quantitative system begins with a screener. The screener eliminates over the counter stocks and companies with a market capitalization level below $400 million from the investable universe. This is to guarantee a minimum size and liquidity level for companies in the portfolio. Then the screener eliminates companies in energy and financials, this is because these two sectors have particular characteristics that make profitability metrics hard to compare.
After that, the screener requires companies to have a Return on Investment (NYSE:ROI) ratio above 20% over the past 5 years and also on a trailing twelve months basis. In this case ROI is calculated by taking Income After Taxes divided by the average Total Long Term Debt and Stockholders Equity, expressed as a percentage.
This profitability criteria is quite strict. From a starting universe of almost 6000 stocks, the system ends up with only 118 companies that meet the specified criteria regarding size, sector, and ROI levels. Among those stocks, the system buys the 25 names with the highest profitability levels based on a ranking algorithm that considers multiple indicators.
In particular, the algorithm includes return on investment (ROI), return on assets (ROA), return on equity (ROE), gross profit margin, operating margin, and free cash flow margin. The ranking algorithm averages down this six profitability metrics to reach an average profitability score for all companies in the investable universe. The system then invests in the companies with the highest combined profitability ranking.
Backtested Performance And Portfolio
The following backtest picks the 25 stocks recommended by the quantitative system and it builds an equally weighted portfolio with those names. The portfolio is monthly rebalanced, and it has an assumed annual expense ratio of 1% to account for trading expenses. The benchmark is the SPDR S&P 500 ETF (NYSEARCA:SPY).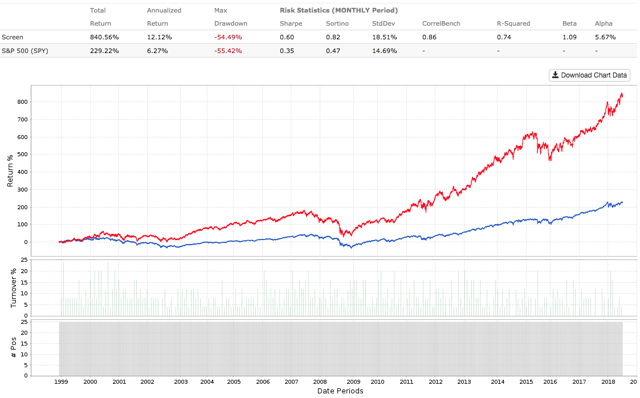 Data from S&P Global via Portfolio123
Since January of 1999 the system nearly doubled the benchmark, with annual returns of 12.12% per year versus an annual return of 6.27% for the market-tracking ETF in the same period. In cumulative terms, the system gained 840.56% versus 229.22% for the benchmark. System alpha during the backesting period amounts to 5.67%.
Importantly, the system also outperforms the benchmark in terms of risk-adjusted returns. The Sharpe Ratio for the quantitative system is 0.6, far surpassing the 0.35 Sharpe Ratio offered by the SPDR S&P 500 ETF. Offering a similar perspective, the system has a Sortino Ratio of 0.82 versus 0.47 for the benchmark.
A quantitative system such as this has have both its strengths and weaknesses. The main advantage is that the system offers an effective tool to make investing decisions based on objectively quantified data as opposed to relying on opinions and speculations. This can make a huge difference when it comes to keeping emotions under control, a key success driver for investors in the long term.
On the other hand, all quantitative systems are backward-looking by their own nature. Looking at past and present profitability levels says a lot about a company, but investors need to analyze the business behind the numbers in order to tell if the company can sustain those profitability levels in the future.
Also, highly profitable companies typically trade at above-average valuation levels. A more profitable business clearly deserves a higher valuation, but it's important to avoid overpriced stocks. Investors may want to take a look at the valuation levels for companies in the system before making any decisions.
The table below shows the 25 stocks currently selected by the system. Data in the table also includes market capitalization levels in millions, ROI on a trailing 12 months basis and average ROI over the past five years.
| | | | |
| --- | --- | --- | --- |
| Name | Mkt. Cap | ROI%TTM | ROI%5YAvg |
| Advanced Energy Industries Inc. (AEIS) | $2,366 | 29.08 | 23.34 |
| Arista Networks (ANET) | $19,985 | 30.88 | 24.73 |
| F5 Networks (FFIV) | $10,535 | 35.79 | 26.4 |
| Graco Inc (GGG) | $7,946 | 29.03 | 21.6 |
| Grand Canyon Education (LOPE) | $5,747 | 22.08 | 21.52 |
| Henry (Jack) & Associates (JKHY) | $10,504 | 29.88 | 20.85 |
| Hershey Co (HSY) | $19,243 | 23.37 | 22.57 |
| Intuit (INTU) | $55,235 | 47.83 | 28.37 |
| Manhattan Associates (MANH) | $3,343 | 74.99 | 54.98 |
| Mastercard (MA) | $216,632 | 38.51 | 42.13 |
| Mettler-Toledo International (MTD) | $15,301 | 26.95 | 28.98 |
| Michael Kors Holdings (KORS) | $10,124 | 26.26 | 37.13 |
| Monster Beverage (MNST) | $34,645 | 23.19 | 27.49 |
| National Research (NRC) | $893 | 25.86 | 22.42 |
| Novo Nordisk A/S (NVO) | $123,275 | 97.89 | 71.83 |
| O'Reilly Automotive (ORLY) | $24,461 | 35.31 | 28 |
| Omega Flex (OFLX) | $892 | 28.53 | 39.18 |
| Paychex Inc. (PAX) | $25,327 | 47.05 | 38.06 |
| RELX NV (RENX) | $45,004 | 25.71 | 32.13 |
| RELX PLC (RELX) | $45,324 | 25.71 | 32.11 |
| Texas Instruments (TXN) | $112,898 | 28.59 | 21.06 |
| Trex Co Inc (TREX) | $4,002 | 35.7 | 43.75 |
| Ubiquiti Networks (UBNT) | $6,598 | 24.19 | 39.44 |
| United Therapeutics (UTHR) | $5,431 | 20.82 | 28.24 |
| Verisign (VRSN) | $14,462 | 61.6 | 65.7 |
Capitalize on the power of data and technology to take the guesswork out of your investment decisions. Statistical research has proven that stocks and ETFs showing certain quantitative attributes tend to outperform the market over the long term. A subscription to The Data Driven Investor provides you access to profitable screeners and live portfolios based on these effective and time-proven return drivers. Forget about opinions and speculation, investing decisions based on cold hard quantitative data can provide you superior returns with lower risk. Click here to get your free trial now.
Disclosure: I am/we are long MA. I wrote this article myself, and it expresses my own opinions. I am not receiving compensation for it (other than from Seeking Alpha). I have no business relationship with any company whose stock is mentioned in this article.