Headquartered in Cincinnati, Chemed (CHE) is a provider of palliative care and hospice services through its wholly-owned subsidiary, VITAS Healthcare. The other subsidiary, Roto Rooter, provides drain-cleaning, plumbing, and water restoration services to both residential and commercial clients. Chemed accounts for almost 7% of the hospice market in the U.S., 2-3% of the same day service plumbing market, and 15% of the drain cleaning market.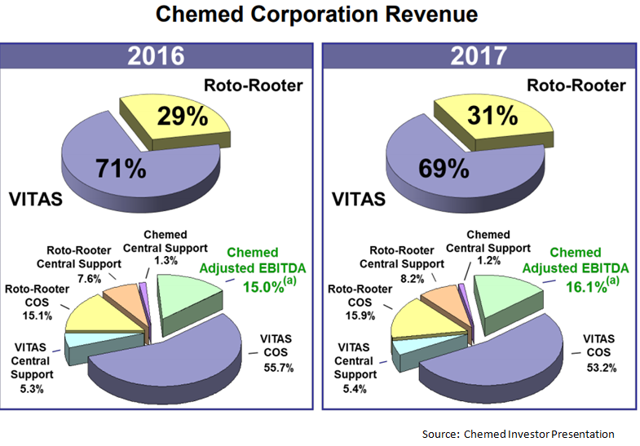 In the past one year, Chemed's share price has increased by around 60.1% to reach $316.04 on August 03, 2018. Wall Street analysts expect Chemed stock price to reach $330 in next 12 months, while Zacks consensus estimate has set a target price of $358 within the next 12 months. I believe that the Zacks consensus estimate is more reflective of the true potential of this company. With market beta of around 1.16 (linked above), very close to that of a market index, I believe this stock can offer significant upside potential with limited risks.
In this article, I will explain my reasoning for recommending Chemed as a buy opportunity for 2018.
VITAS Healthcare has been witnessing improvement in all of its major business metrics in 2018.
In 2017, IBISWorld had projected size of global palliative care business close to $31 billion. This market is expected to grow at CAGR of 1.4%, owing to the aging population, increasing incidence of lifestyle diseases, and rising prevalence of various types of cancers. In 2017, the global home healthcare market was estimated to be worth $239.30 billion, and was expected to grow at CAGR of 8.8% to reach a market value of $364.69 billion by year 2022. These statistics highlight the scale of opportunity available for Chemed in this segment.
In Q2 2018, VITAS Healthcare surpassed the higher-end of the company's expectations for all of its major operational and financial metrics. This subsidiary witnessed 3.4% YoY rise in admissions, a metric that had been long under pressure due to admission coding changes by the CMS. The improvement in operational metrics translated into a significant improvement in the company's financial metrics, as revenues rose YoY by 6.3% to reach $297 million in Q2 2018 (linked above). This was driven by increase in average daily census by 7.6% (linked above), a rise in geographically weighted average Medicare reimbursement rate of around 0.6% (linked above), and Medicare cap liability changes that would have otherwise affected the company's revenue growth rate by 0.1% (linked above).
However, a shift in the acuity mix of patients served by Chemed had an unfavorable impact close to 1.6% (linked above) on the company's revenues in Q2 2018. The company reported 53 basis points (linked above) drop in high acuity days of care on YoY basis. High acuity days accounted for around 4.5% (linked above) total days of care for the company.
Chemed also witnessed a YoY increase in average length of stay from 85.2 days to 89 days (linked above) in Q2 2018. Median length of stay also increased YoY from 16 days to 17 days (linked above) in Q2 2018. As median length of stay extends, it implies that the company is strengthening its position in the high acuity sector. This coupled with favorable Medicare reimbursement changes are expected to drive the company's revenues and earnings in 2018.
Chemed has projected Vitas Healthcare's revenues to grow YoY between 4% - 5% (linked above)in FY 2018, excluding impact of the Medicare Cap policies. The company expects admissions to grow YoY by 4.5% - 5% (linked above), and average daily census to rise by 6.5% (linked above) in FY 2018. The company has also projected FY 2018 ebitda margin excluding Medicare Cap to be 15.9% (linked above) for Vitas Healthcare, while Medicare cap billing limitations are projected to be close to $2.5 million (linked above) in H2 2018.
Roto Rooter is expected to prove to be a high growth business for Chemed in FY 2018.
The largest plumbing and drain cleaning service across North America, Roto Rooter is expected to grow its revenues YoY by 12% - 13% (linked above). These projections assume 2% rise (linked above) in job pricing as well as increasing demand for core plumbing and drain cleanings services. Water restoration is also witnessing solid uptake in 2018. The company has projected adjusted EBITDA worth 24% (linked above) in FY 2018.
Roto Rooter business offers plumbing services to 90% population in the U.S. and 40% population in Canada. The subsidiary functions through 110-company owned territories and 400 franchise run territories.
Roto Rooter business is highly dependent on the real estate market. Plumbing services are required in new constructions as well as for maintaining old systems. IBISWorld has estimated the market size of this business to be $106 billion, and has grown at 2.3% from 2013 – 2018. This is a highly fragmented market, and hence Chemed's Roto Rooter subsidiary can deploy targeted strategy to rapidly advance its position in this market.
Chemed expects robust YoY rise in EPS in 2018.
For FY 2018, Chemed expects adjusted diluted EPS in the range of $11.35 - $11.55 (linked above), significantly higher than $8.43 (linked above) posted in FY 2017. And the company plans to invest a significant portion of these earnings back in business, especially in opportunities such as new equipment for Roto Rooter or new in-patient unit in VITAS subsidiary, as a part of its organic growth strategy.
To grow inorganically, Chemed is focusing on repurchasing Roto Rooter franchises to repurpose them as independent contractors or separate branches. VITAS healthcare is also focused on acquiring participants in hospice programs in those counties of FLORIDA where Chemed does not have a CON.
There are certain company-specific risks that cannot be ignored by retail investors.
With more than 90% revenue dependence on Medicare and Medicaid programs, Chemed is exposed to significant amount of regulatory risk.
Effective from January 01, 2016, CMS introduced the two different routine home care or RHC rate policy replacing the older single RHC per diem rate. This introduced the system of reimbursing at higher rates for first 60 days of hospice care and then reduced payment thereafter. While the current per diem Hospice payment rate for RHC in FY 2018 is $192.78 for first 60 days and $151.41 for days after the 61st day, the actual diem rate of a patient is adjusted based on the cost of living of the geography in which patient lives. These adjustments expose the company to business risks associated with picking up new orders from areas with lower cost of living or orders with hospice care required for more than 60 days.
Chemed also competes aggressively with various regional and small players in the highly fragmented hospice, plumbing, drainage, and water restoration segments.
Despite these risks, I believe Chemed is a promising investment opportunity in 2018.
At end of Q2 2018, Chemed had cash balance close to $12.67 million and 103.4 million total debt (linked above) on its balance sheet.
While these numbers may seem challenging, it should be remembered that in Q2 2018, the company managed to restate its credit agreement for $450 million (linked above) worth revolving credit facility. The company also expects to generate $176 million (linked above) worth cash flows without considering tax deductibility of future stock options in 2018.
These numbers coupled with the solid business fundamentals of Chemed make it an attractive buy proposition in 2018.
Disclosure: I/we have no positions in any stocks mentioned, and no plans to initiate any positions within the next 72 hours. I wrote this article myself, and it expresses my own opinions. I am not receiving compensation for it (other than from Seeking Alpha). I have no business relationship with any company whose stock is mentioned in this article.