Editor's note: Seeking Alpha is proud to welcome Tertiary Capital as a new contributor. It's easy to become a Seeking Alpha contributor and earn money for your best investment ideas. Active contributors also get free access to the SA PRO archive. Click here to find out more »
For the past month, oil prices have seen a decline as the media continues to paint a negative picture on the future of the commodity. Since OPEC met in Vienna, Saudi Arabia (along with Russia) has been discussing its plan to fill the supply gap for oil left by Venezuela and Iran. At this meeting, OPEC leaders agreed with the proposed plan (along with its other oil-producing allies) to raise output- a move that saw the market for Brent crude respond positively, 3.4% boost in stock to $75.55/barrel. Since then, the decline has been significant, so the question remains, what does this mean for future oil prices?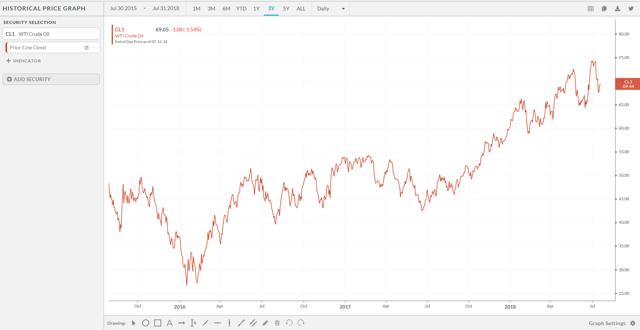 KOYFIN- Advanced graphing and analytical tools for investors
During OPEC's meeting, President Donald Trump reiterated his support for an increase in output on account for; lower prices, and preventing an oil deficit that could undermine economic growth. The administration responded by saying that they would raise crude output (by roughly 1 million barrels per day) by returning to 100 percent compliance with previously agreed output cuts, after months of underproduction.
Following Trump's sanctions on Tehran in May 2018, oil experts predict Iran's output/production will fall by almost a third - a significant decline for OPEC's third largest supplier.
Beginning in 2016, OPEC and its involved countries put a plan in motion to cut output by 1.8 million bpd to re-balance the market, creating more demand, a move that has seen crude prices rise to $75/barrel. A flaw in OPEC's plan is Venezuela, a country that has struggled to meet output over the past few months, ultimately leading to a supply cut of around 2.8 million bpd rather than the output cut agreed upon during the 2016 meeting. While this supply deficit initially creates increased demand, inflated oil prices lead to a saturated market, resulting in excess supply down the line. To combat this, Saudi Arabia expressed its plan to offset the decline in supply by increasing its oil output. This is a positive response from the world leader of oil to contest the growing deficit, but fearful sentiment has taken the wheel and provided an unwarranted selloff.
Some analysts who closely follow the commodity have weighed in on future prices, setting a target of $80/barrel. As the price per barrel increases, a progressively attractive market presents itself to producers and new competition enters the market to reap the benefits. The high prices will initially benefit producers, but inflated price levels coupled with excess supply will lead to a stunted demand. In the next few months, OPEC will need to find a comfortable equilibrium for supply and demand, if not global destabilization for the commodity appears inevitable.
The media has painted a picture of uncertainty in OPEC's ability to create and maintain price equilibrium. This level of cynicism is the catalyst fueling a decline in crude prices, and as the doubt intensifies, short interest in oil futures will escalate and long positions will decline. Another growing investor concern is that Saudi Arabia has gathered too much control over the commodity. Although this concern is somewhat justified because of the United States competitive relationship in the space, sentiment is telling investors to settle for a field goal on 4th down at the one-yard line. Saudi Arabia is the global swing producer and has dominated the industry for years. By providing an increase in output, demand can remain high without inflation stripping away investor returns. If OPEC can follow through on its plan to manage a balanced price by controlling supply/demand, crude investors will reap the benefits and others will rue the missed opportunity.
It is no secret that the U.S. is producing more oil than ever, but Saudi Arabia holds the power when it comes to prices. Shale fields are producing oil at a record pace, driving U.S. growth to all-time highs, but this increase in output is trivial compared to the numbers Saudi Arabia has up on the scoreboard. Think of it like this, Saudi Arabia went in with a (28 - 3) 3rd quarter lead over the U.S., and the game finished (35 - 20). Sure, the U.S. bested them in the 4th quarter but it was never enough to overcome the difference.
The Asian powerhouse can produce as much as 12 million barrels per day but has stalled output projects in respect for its relationship with OPEC. Saudi Arabia's status as the world's swing producer and de facto leader of OPEC bestows it with an outsize role in the global economy, which remains highly sensitive to the price of oil.
They single-handedly control the global supply of oil and could change prices (one way or the other) overnight if they chose. Continued growth from U.S. shale companies has threatened Saudi Arabian production in the past, but OPEC's agreement to cut output in 2016 soothed worries (an agreement that solidified Saudi Arabia as the world leader). Higher crude prices due to a decreased supply and booming demand are now threatening to boost inflation and cut the oil upswing short. As we look towards the future, all eyes will be on the world leader and whether it will use its swing capacity to increase output and starve off inflationary outcomes.
Recap
- The latest OPEC agreement in Vienna boosted Saudi Arabian control as they agreed to a light increase in barrels per day, but this is not enough to warrant concern.
- While the crude supply saw a light increase, it was only a response to the recent disparity between OPEC's initial output cut and the current supply.
- Through this agreement, Saudi Arabia was able to balance the scale and get back on track with the initial plan.
- Amplified output of crude increases Saudi Arabian control over the oil market, but it also provides stability and power to stave off inflation.
Conclusion
Oil has been heading down a path fueled by bullish sentiment for the past two years but fears are beginning to set in. As far as the media is concerned, supply is increasing so the bull run is over. But it isn't over, in fact, it's just getting started. Crude prices will rise once fears over supply subside and with that, new competition will enter. OPEC will need to handle this swiftly and with ease to prevent a decrease in demand, but the market for crude has never been stronger.
Disclosure: I/we have no positions in any stocks mentioned, and no plans to initiate any positions within the next 72 hours.
I wrote this article myself, and it expresses my own opinions. I am not receiving compensation for it (other than from Seeking Alpha). I have no business relationship with any company whose stock is mentioned in this article.