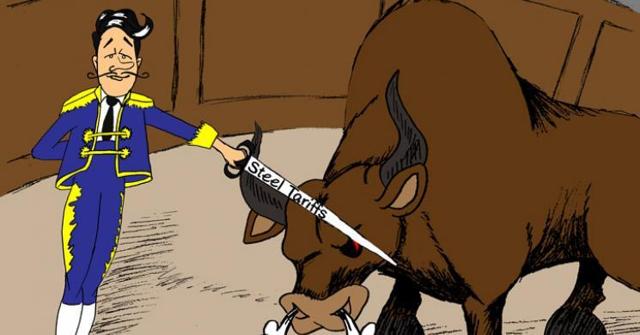 After a week that saw Facebook (FB) set a new record for the biggest one-day drop in dollar terms, the market needed a big win and much like J.J. Abrams, it decided to go back to the favorites with two of this bull market's biggest winners. Call it the "Bull Market Strikes Back." First Apple (AAPL) managed to become the world's first publicly traded company with market capitalization above $1 trillion, then Tesla (TSLA) made its own headlines by delivering the truly unexpected, an actual apology from Elon Musk. Elon's antics and apologies don't move the dial nearly as much as they do to TSLA's stock price, given the stock's relatively low level of ETF ownership at just 2.5%. AAPL, however, can do what only a handful of others are capable of, moving the dial all by itself. We have described the ETF ecosphere as a series of different fund subsegments, including broad, thematic and sector, and thanks to its trillion-dollar size, AAPL is like a massive octopus with a very large tentacle in all of them.
We have no doubts that AAPL and TSLA will continue to dominate the headlines in the days to come, but beneath the hype it seems that the market is setting up for a clear sector rotation that could change the story for the second half of 2018.
We have talked before about our ETF screening methodology that includes behavioral factors like price momentum, short interest and implied volatility and while there's no denying the power of AAPL's nearly 9% gain, the list of funds that saw the biggest week-over-week change in their aggregate behavioral score is nearly lacking any strong tech presence. That might suggest getting worked up for the next stage in the bull cycle is a bit premature.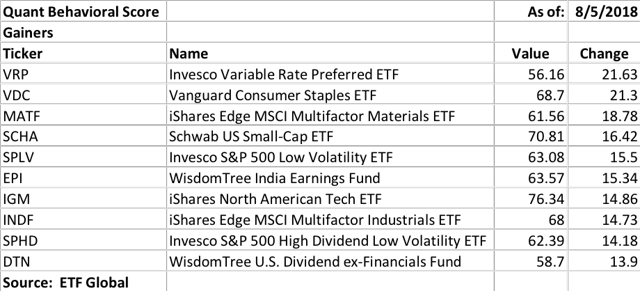 We often look for common themes among the biggest weekly movers and you can see that outside of IGM; if there was one defining characteristic of the funds that made up our list of top movers last week, it's that their combination of slow growth and financial stability puts them into the category of "anti-Teslas." It has been a rough 18 months for value stocks but depending on the funds you use, last week was the third consecutive week that value outperformed growth although it has a long way to go before grabbing headlines with Vanguard Value (VTV) lagging 800 bps behind Vanguard Growth (VUG) YTD.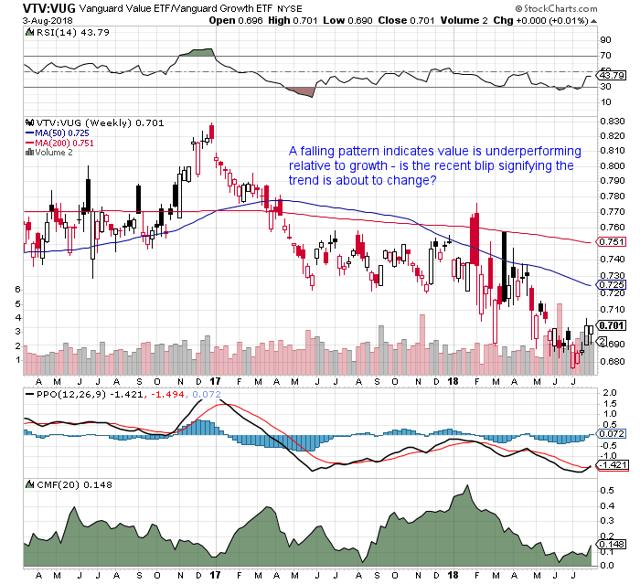 At this point, the story seems almost as obvious as an ETF's name, given the strong showing by consumer staples stocks last week with seven in the S&P 500 reporting earnings and three - Clorox (CLX), Kraft Heinz (KHC) and Molson Coors (TAP) - delivering returns north of 7%. Add in Kimberly-Clarke (KMB) with an 8% return and the fact that most larger consumer staples stocks were at least positive, and is it any wonder that the Vanguard Consumer Staples (VDC) is at the top of the list? Or how about the WisdomTree Dividend ex-Financials Fund (DTN) bringing up the rear? As a rule, ETF names are wonderfully explicit and DTN is no exception with only a minimum amount of effort needed to find out that the fund focuses only on the largest stocks which it then weights by dividend yield, producing a strong focus on a handful of defensive sectors including, yes, consumer staples. Case closed, right?
Not quite as the presence of two Invesco funds, Invesco S&P 500 Low Volatility ETF (SPLV) and Invesco S&P 500 High Dividend Low Volatility ETF (SPHD) help to muddy the narrative. Two of the oldest smart beta funds around, they both follow similar strategies with SPLV picking the 100 S&P 500 components with the lowest volatility while SPHD picks the 50 with the lowest volatility among the 75 S&P components with highest dividend yields (and weights them by dividend yield). Drawing your investments from the same pool is guaranteed to lead to cross holdings including certain consumer staples names, but focusing on the easy answer can quickly lead you to the wrong conclusions.
Instead, we'd offer the argument that while consumer staples stocks have been especially strong, they represent just a small part in the resurgence of the broader value sphere evidenced by the strong increase in SPHD and SPLV's behavioral scores. Most investors would be quick to point out that these two Invesco Funds are just as beholden to their number one sector, utilities, which have had a strong few weeks as long-term bond yields begin to stabilize. There's no denying that while SPHD and SPLV have broad portfolios, utilities play a very outsized role in both cases thanks to their combination of low volatility and high dividends, guaranteeing that both funds will have permanently higher allocations to the space. Just how high? Utilities make up over 20% of both funds compared to just under 3% for the S&P 500, which can make for very cyclical performance compared to other large value funds or the broad market, especially for SPHD.
If you can't get past how utilities are historically rate-sensitive, consider the fact that the utilities sector is negatively correlated with long-term bond yields than short with the ten-year treasury yield serving as a good reference index. The ten-year yield may seem to be bracing itself for a push above 3% but long-term bond yields are more highly correlated with economic growth and many economists expect the current period of strong growth to be short-lived as real GDP continues to outperform potential GDP. In fact, the recent strong performance by utilities stocks came despite a slight uptick in the ten-year yield from 2.83% around July 13 to 2.98% now.
The second fact we would like you to consider is that earnings season is now almost complete and utilities stocks crushed in the second quarter as FactSet's Earnings Insight Report makes clear (See full report here). Aggregate earnings growth for the utilities sector may lag substantially behind the broader S&P 500, but the sector did see a 10% expansion in its Y-O-Y earnings growth despite relatively low growth in top-line revenue (See Graph Below - sourced from Fidelity). And while tax cuts may be a beautiful thing, don't overlook the fact that the utilities sector has larger profit margins than the broader S&P 500 (12.2% to 11.8%) which is managed to grow at a faster rate compared to last year.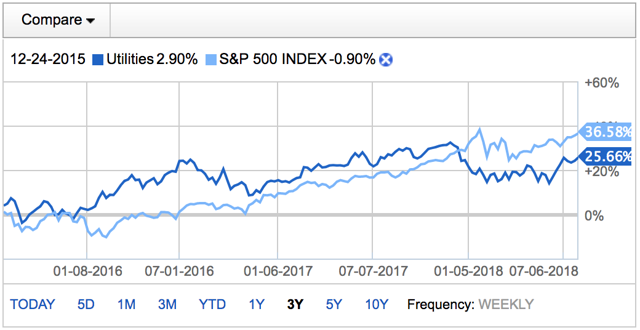 Headlines aside, our quant data models show value-oriented funds beginning to find favor, signaling that the story of the bull market's comeback might be premature. And although analysts expect Apple to gain about 3%, it's worth noting that IBM (NYSE:IBM), Microsoft (NASDAQ:MSFT) both reached their milestones in the months leading up to major market crashes - Black Monday and the Dot-com Bubble, respectively.
Disclosure: I/we have no positions in any stocks mentioned, and no plans to initiate any positions within the next 72 hours. I wrote this article myself, and it expresses my own opinions. I am not receiving compensation for it (other than from Seeking Alpha). I have no business relationship with any company whose stock is mentioned in this article.
Additional disclosure: Assumptions, opinions and estimates constitute our judgment as of the date of this material and are subject to change without notice. ETF Global LLC ("ETFG") and its affiliates and any third-party providers, as well as their directors, officers, shareholders, employees or agents (collectively ETFG Parties) do not guarantee the accuracy, completeness, adequacy or timeliness of any information, including ratings and rankings and are not responsible for errors and omissions or for the results obtained from the use of such information and ETFG Parties shall have no liability for any errors, omissions, or interruptions therein, regardless of the cause, or for the results obtained from the use of such information. ETFG PARTIES DISCLAIM ANY AND ALL EXPRESS OR IMPLIED WARRANTIES, INCLUDING, BUT NOT LIMITED TO ANY WARRANTIES OF MERCHANTABILITY, SUITABILITY OR FITNESS FOR A PARTICULAR PURPOSE OR USE. In no event shall ETFG Parties be liable to any party for any direct, indirect, incidental, exemplary, compensatory, punitive, special or consequential damages, costs, expenses, legal fees, or losses (including, without limitation, lost income or lost profits and opportunity costs) in connection with any use of the information contained in this document even if advised of the possibility of such damages.