Extreme droughts in Southern California are causing more than just water shortages and devastating wildfires. The agricultural sector has been impacted by the droughts, which are getting more severe every year because of climate change. Citrus producers are particularly being squeezed by water restrictions and irrigation issues, thus creating a major shortage of lemons and an opportunity for investors to consider the Limoneira Company (NASDAQ:LMNR), currently trading in the $28 to $29 range.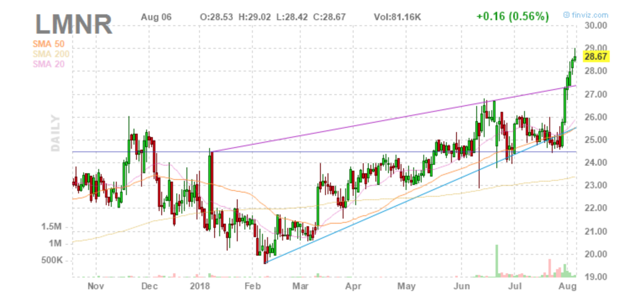 (Source: Finviz.com)
While citrus trees can thrive in high temperatures, they still need water, moisture and rain to grow the juicy and appealing fruits for the demanding American market. Agricultural experts and meteorologists are forecasting drought conditions to continue until October; in the meantime, the lower supply of lemons has increased prices by more than 80 percent.
To get an idea of the lemon shortage situation, it helps to review reports published by the United States Department of Agriculture: June 2018 price range for a carton of premium quality lemons: $36 to $39. * Late July 2018 price range: $52 to $55. It should be noted that the USDA prices are at the terminal level, which is what wholesalers are used to paying. Retailers such as vendors and restaurants can expect to pay at least $10 more per carton; in fact, street prices for food truck operators in Los Angeles have been as high as $70 per carton in early August.
Lemon growers in California have suffered a fate similar to that of avocado producers: their crops have not caught up and regional climate conditions are prompting small fruits to fall off earlier than expected. The premium lemon market demands large and unblemished lemons; moreover, processed juice and pulp no longer satisfies demand because consumers want fresh produce. The situation is exacerbated by the fact that imports from Mexico and Chile have not been sufficient in this regard since those markets are locked into supplying fruit for processing plants.

(Source: LMNR website)
With all the above in mind, the Limoneira Company of California is certainly not feeling the heat. Instead of souring on the stock market, shares of LMNR have been soaring from $23.33 on May 3 to a high of $29.02 before closing at $28.67 on August 6. What is even more interesting about LMNR is the daily trading volume; during the first week of May, the highest daily volume was just over 22,000, by July 23, it had surpassed 578,000.
When life gives you lemons, the Limoneira Company goes into strategic acquisition mode. On July 26, while agricultural reports were lamenting drought conditions in California, the Limoneira Company announced the acquisition of Oxnard Lemon Associates, a business that boasts various interesting assets, including: a citrus packing facility that can handle four million cartons per year while being strategically located near Port Hueneme. With the Oxnard Lemon acquisition, Limoneira has effectively doubled its storage capacity, which now stands to receive citrus produce from the company's operations and land rights in Arizona, California and Chile.
In June, when Limoneira conducted its earnings call for the second quarter, one of the highlights of the conference was the pricing of lemons, which resulted in a 17 percent revenue increase for the quarter. What gives Limoneira an edge during drought conditions is that this is a company that adopted sustainability principles decades ago; therefore, it knows how to adequately handle demand even during times of extreme shortage. Another positive aspect of Limoneira that should be attractive to potential investors is that this a company that has been preparing for extreme drought in California. Aside from maintaining acres in Arizona and Chile, Limoneira already planted about 1,600 acres of lemon trees a couple of years ago; since it takes about three to four years for these trees to start bearing fruit and adapt to a seasonal cycle, the company is effectively hedging its operations according to climate change trends.
Finally, a few analysts have recently issued buy recommendations for LMNR, including Roth Capital and Buckingham Research, both of which give the stock "strong buy" recommendations.
Recommendation: Consider Buying Shares Ahead of Earnings
In addition to being a strong long investment based on the soaring price of lemons, LMNR is also a strong earnings pick for investors looking to bet that shares could get an additional short-term boost from the company's earnings announcement projected for September 10, 2018.
We believe that rising lemon prices and recent strength in the stock will bode well for a strong earnings report and further price appreciation.
Disclosure: I am/we are long LMNR.
I wrote this article myself, and it expresses my own opinions. I am not receiving compensation for it (other than from Seeking Alpha). I have no business relationship with any company whose stock is mentioned in this article.