Saudi Arabia's economy emerged from recession in the first quarter of 2018, after GDP contracted a revised 0.9% in 2017. Quarterly national accounts data from Saudi Arabia's General Authority for Statistics (GASTAT) showed real GDP growth was at a 1.2% annual rate in the first quarter, following a contraction in GDP of 1.2% in the fourth quarter of 2017. The Saudi economy contracted in each of the four quarters of last year. In nominal terms, Saudi Arabia's GDP grew 2.7% year on year (y/y) to SAR688.1 billion (USD183.5 billion) in the first quarter given rebounding global oil prices, with the oil sector accounting for a 27% share of total GDP.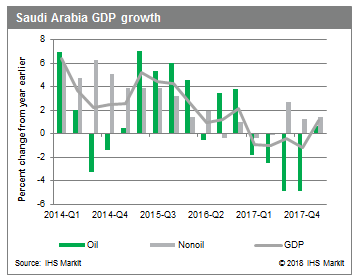 Saudi Arabia's oil sector provided a lift to headline GDP growth during the first quarter, even as oil production was restrained under its original quota of 10.058 million barrels per day (MMb/d) under the previous OPEC agreement, prior to the Vienna Alliance's decision to raise OPEC and non-OPEC production quotas.
In line with the total output growth, the GASTAT reported oil GDP grew 0.7% y/y in the first quarter, providing a lift to headline growth for the first time since the fourth quarter of 2016. In addition, nominal oil GDP was further boosted by rebounding oil prices. The price of Brent oil averaged just less than USD67/barrel in the first quarter of 2018, which represents a 24.2% increase from the USD54/barrel in the first quarter of 2017. Consequently, the oil sector expanded 15.6% y/y in nominal terms during the first quarter.
Non-oil activity in the kingdom edged higher during the first quarter as well, with non-oil GDP growth at a 1.4% annual rate, according to GASTAT. However, for the key sectors, the performance was mixed.

Outlook and implications
We project Saudi Arabia's economy to grow more strongly in the second to fourth quarters of 2018. Following positive first-quarter growth, we expect the Saudi economy to further strengthen thanks to the Vienna Alliance's decision to raise OPEC and non-OPEC production quotas and higher global oil prices. The increase in OPEC quotas under the revised Vienna Alliance agreement will lead to stronger growth in oil GDP over the coming quarters, while higher prices will also boost non-oil growth through increased spending and investment.
We have upwardly revised Saudi Arabia's GDP growth outlook to 2.8% in 2018 and 3.0% in 2019, compared with the previous forecast of 2.0% in 2018. Headline growth in 2019 will be somewhat lower than our previous forecast given the added lift to oil GDP in 2018. Saudi oil GDP is now expected to expand 2.6% this year and 2.0% in 2019.
Meanwhile, the outlook for non-oil GDP growth in 2018 was trimmed slightly to reflect the lackluster first-quarter growth in key sectors (construction, trade/restaurants/hotels, and transportation/communication), but was raised for 2019 to reflect the boost from higher oil prices. We project non-oil GDP growth to accelerate to 3.0% this year and 3.7% next year.
Risks to Saudi Arabia's economy will continue to center on uncertainties regarding the oil market and price outlook, as well as progress with efforts to diversify the economy away from oil, and global financial conditions. Another key risk apart from oil will be the execution of capital projects. With Saudi Arabia retooling parts of its National Transformation Program (NTP) 2020 plans associated with Vision 2030 last October, progress in executing capital projects has been slower than expected and reflected in the poor performances in the construction, trade/restaurants/hotels, and transportation/communication sectors.
The authorities have moved to ease fiscal consolidation in the 2018 budget, and we continue to expect budget execution regarding capital expenditures to further improve in the coming quarters, providing underlying support to non-oil activity in 2018. Targeted infrastructure and development projects will help stabilize and strengthen the construction, manufacturing, trade, and transportation sectors. However, should public spending and investment be less robust than targeted in 2018, non-oil activity could be weaker than expected, dragging headline GDP growth back closer to the lower 2% range.