More ups and downs in July with earnings season hitting its peak and trade threats and denials coming in every couple of days led to accelerated buying culminating in around $4,400 in fresh capital deployed.
Earnings season often triggers some remarkable selloffs and rallies but this time I felt it was more extreme. The "highlight" was certainly Facebook's (FB) massive 25% crash on weaker growth outlooks for quarters or years to come. Intel's (INTC) almost 9% nosedive following great results paired with anxiety about further delays in its 10nm chip infrastructure was also something rare. My two favorite dividend stocks, Altria (MO) and AT&T (T) got hammered as well, both reaching fresh 52-week lows and briefly trading as if their terminal decline is on the cards before rebounding afterwards.
And finally, AbbVie (ABBV) got hammered as well after Citron Research (I have no idea why they have any credibility whatsoever) came out with two strong reports (actually it was one but in order to manifest their weird thesis they decided to publish it again...) to short the stock on the all-too-well-known concerns that AbbVie's Humira flagship product will face biosimilar competition rather soon.
I trimmed some holdings like AT&T, Altria and Gilead and invested in other downbeaten names like AbbVie. Meanwhile, after the post-earnings drops I already repurchased those names.
Portfolio Changes | 3 new stocks, 1 sale, 4 trims and 21 repurchases
I deployed around $4,400 in net capital in July which ranks above the top 5 monthly portfolio contributions. It may have been too aggressive but I am always a big advocate of buying the stocks when they get punished.
While in June I trimmed Daimler (OTCPK:DDAIF) and BMW (OTCPK:BMWYY) I repurchased those shares in July as they had dipped another 5-10% which looked to me like a reasonable repurchase price. Given that whenever there is news that the U.S. and the EU can find bilateral agreement to avoid further tariffs and ideally eliminate them entirely, the stocks are destined to rally, I am happy to accept that level of uncertainty. Long-term I have great confidence in both and although the most recent quarterly results were not great, negatively impacted by rising cost for raw materials, unfavorable exchange rates and tariff pressure, they are still generating loads of money and spending record amounts of R&D. BMW alone intends to spend around €7B in 2018.
AbbVie dropped into the high $80s and while I missed the bottom I bought 6 shares at a $92 average price. Meanwhile, fueled by great quarterly results and with confidence increased that AbbVie will be more than just Humira, the stock is trading in the high $96 range again and still sporting a 4% yield.
Unfortunately, I purchased Facebook right before earnings as I expected them to beat massively and similar to Google but I turned out differently. Instead they dropped more than 20% and I bought another Facebook stock bringing my average purchase price to $199. I am not worried that Facebook is facing the same future as MySpace but just that they will grow slower. Even in the unlikely case that it will lose millions or even tens of millions of users in a couple of quarters they still hold massive liquidity to invest into other areas. At this stage I am not seeing it. Surely, the GDPR directive has received a lot of attention but no-one knows the long-term impact of that. It is a small speculative position at this stage for me.
Just one day after Facebook, Intel reported quarterly results and despite beating on both lines the market punished the stock as Intel announced a further delay in their 10nm chip infrastructure risking to lose competitive advantage to AMD (AMD) in times when the company is even lacking a CEO. Intel recorded 15% revenue growth, record profit and raised guidance. It certainly looks like they will lose market share to AMD, however Intel is still much bigger, has vast amount of financial resources. It may lose the battle for 10nm but in turn win the race towards 7nm and even more efficient infrastructures. I happily added on that 8% drop twice at an average price of $48.8.
Earnings from the tobacco industry also created interesting buying opportunities. Both Philip Morris (PM) and Big MO dropped after earnings only to rebound afterwards. I trimmed Altria and exchange for PM, as the latter sports the higher yield and sounded very bullish in its conference call regarding iQOS momentum while the former is still waiting for the FDA to approve it.
Mighty 3M (MMM) was another stock experiencing an initial sharp drop after earnings only to trade higher a couple of days afterwards. I don't understand the market in these moments but I cherish every opportunity to buy this dividend jewel below $200. Trading at around 20 times earnings is not cheap but way better than to buy the stock around $250 and almost 25 times multiple. Long-term I consider this one of the best stocks to own and while it is still a small portfolio position I am quite satisfied with the 7 shares I currently own.
I trimmed my largest portfolio position in terms of cost basis, AT&T, and sold 10 shares. This was mainly down in expectation of yet another earnings selloff which was just what happened. The stock dropped as low as $30.13 and at this time traded at a sizzling 6.6% before a bullish note from BAML helped the shares rise more than $2 just days before AT&T paid its quarterly dividend in August. This was rather unfortunate but I still reinvested that dividend and also repurchased the shares I trimmed before. I also wrote an article on AT&T titled "AT&T Is In Trouble" which received a lot of comments and while I was negative on the past quarter I still remain long and deeply invested into the stock going forward. At these valuations a lot of negative events are already priced in and if AT&T executes its strategy well, It can easily get back to its historic valuation.
Repurchases
My repurchases break down as follows:
1) Continue ongoing monthly stock savings plans: These are routine investments between $50 and $115 each into Wells Fargo (NYSE:WFC), Visa (NYSE:V), McDonald's (NYSE:MCD), Johnson & Johnson (NYSE:JNJ), Apple (NASDAQ:AAPL) and the lesser-known Commonwealth Bank of Australia (OTCPK:CBAUF).
2) Invest in existing dividend stocks:
Four shares in Citibank (C) after the company hiked its divdend by more than 40%.
Three shares in Morgan Stanley (MS) after the company hiked its dividend by 20%.
Eight share sin Bank of America (BAC) after the bank hiked the dividend by 25%.
3) Invest in growth stocks:
Four shares in Tableau (NYSE:DATA) as I am so excited about the software and how it leads the field in business analytics. Growth prospects are superior, valuation is high but I am willing to take that risk. I outlined quite extensively in this article why Tableau is so special.
One share in Broadcom (AVGO) which dropped heavily after announcing acquisition of CA Technologies.
Ten shares in Dominion Energy Midstream Partners (NYSE:DM) as a purely speculative high-yield position. The recent modification of the gas pipeline tax law triggered that purchase.
All net purchases and sales in July can be seen below: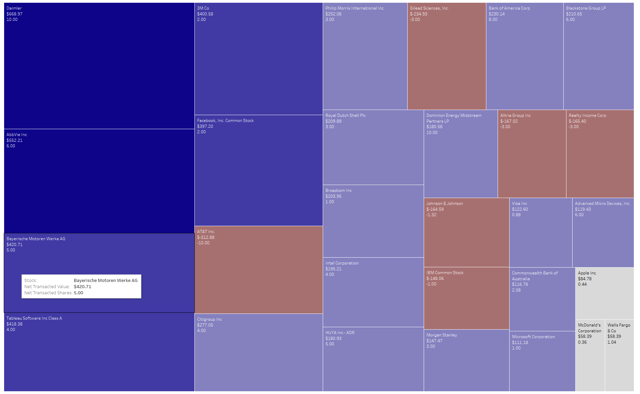 Dividend Income: What happened on the dividend side?
My income from 22 corporations amounted to $195 in dividends, up 58% Y/Y and down 21% sequentially.
The top five companies led by Altria accounted for 56% of monthly dividend income. The big increase compared to 2017 was also mostly driven by the TOP5 companies as well as the more recent purchase of Unity Group (UNIT). The sequential drop is entirely driven by the annual dividend from Daimler in April as well as some trimming in Altria in the last quarter. Excluding the Daimler annual dividend results in 7.5% sequential growth.
All dividends break down as follows: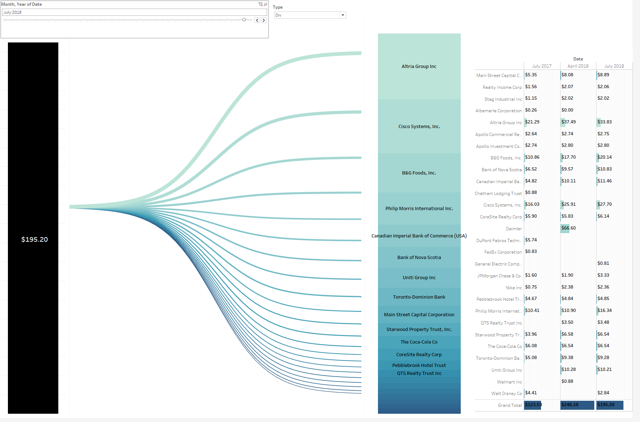 The dashboard above shows how the monthly dividend income breaks down into individual stocks. It also shows the change in income versus the previous quarter and year.
I also created a new dashboard which shows alltime dividends by stocks clustered in a tree map which best shows the relative importance of each holding. Let me know in the comments section if you think this is a useful visualization.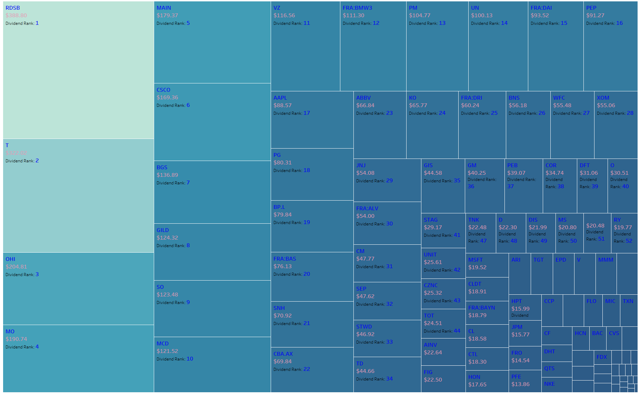 Here is a look at my favorite chart, the net dividend income development by month over time between 2015 and 2018, where you can easily see the development of my dividend income as well as the average annual dividend in a given year: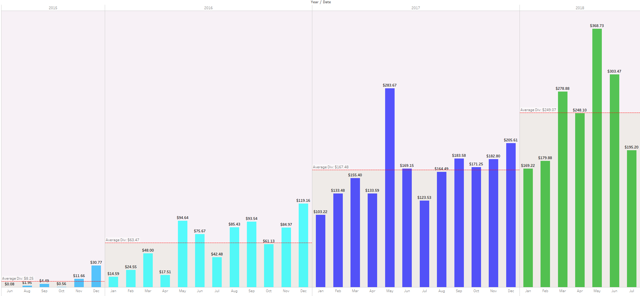 The yearly average in net dividend income dropped $9 compared to the previous update but still remains on track to hit $3,000 in annual dividend income. Accounting for the fact that this is my weakest month, I still expect to reach that point already in November.
Next, I have scattered all the individual dividend payments I have ever received and colored them by year, rearranging the years side by side rather than horizontally as in previous updates: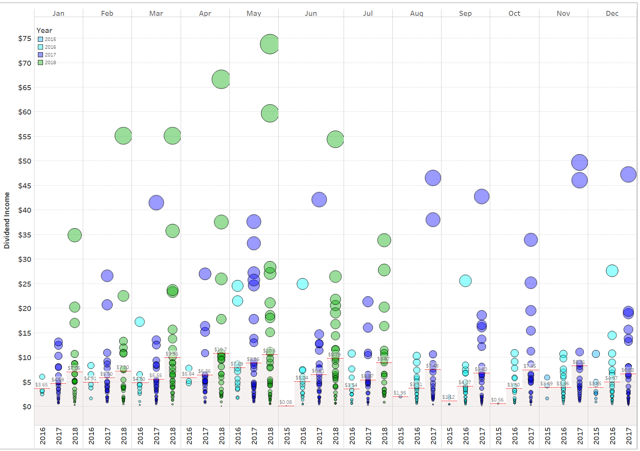 The readability of the numbers is rather poor, as there is so much data, but the bigger picture becomes apparent regardless of these numbers. I am just looking at the size and quantity of the bubbles as they keep on climbing higher and expanding in size. July has been the only month this year where there is no strong outlier. If my objective was to more evenly spread dividend income throughout the year I would have to look into some companies paying in the JAJO rhythm. However, this isn't my intention and so I simply the stocks where I see value regardless of if or whether they pay a dividend although the focus remains on dividend stocks.
It remains fascinating to watch how all these metrics develop over time. Right now, as I am still in the early stages, these metrics are not that impressive, but the growth is truly striking, and all these instruments help me measure it and provide meaning to it.
Speaking in terms of meaning, another way to express the monthly dividend income is in terms of Gifted Working Time (GWT). I am assuming an average hourly rate of $25 here. My annual target is to replace 120 hours of active work with passive dividend income. This translates to $3,000 in annual net dividends, or around $250 per month.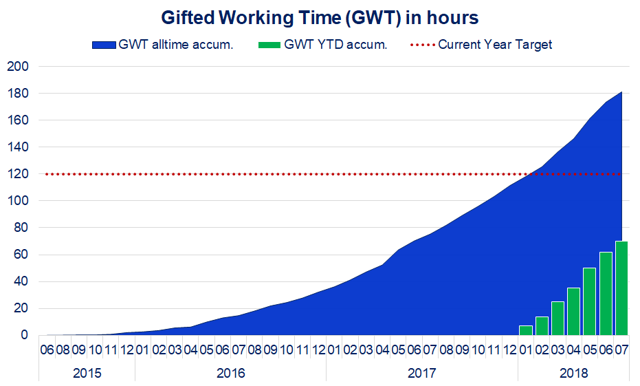 What this shows is as follows:
All time (blue area) - Around 181 hours, or 22.7 days, of active work have been replaced with passive income since the start of my dividend journey. Assuming a 5-day work week, that equals more than full four weeks or an entire month of vacation funded via dividends.
YTD (green bars) - Around 70 hours, or 8.7 days, of active work have been replaced with passive income in 2018 already. If the target of 120 hours is achieved by year this represents a total of 15 days or three full weeks of active work to have been replaced by passive income.
My portfolio composition
The portfolio is evolving rapidly and as end of July looks like this: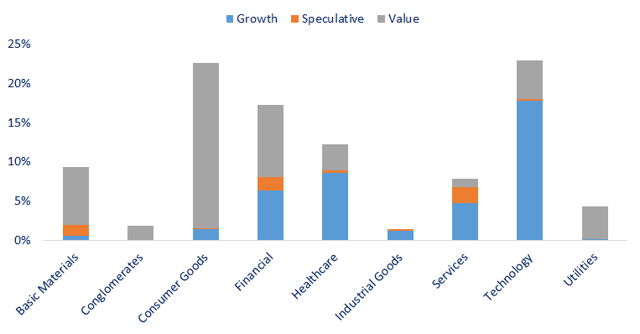 Value: 55% (-2pp)
Growth: 41% (+3pp)
Speculative: 6% (

+1pp

)
By holding, it looks like this:
AT&T Inc.
(T)
6.07%
Apple Inc.
(AAPL)
5.09%
Royal Dutch Shell Plc Class B
(RDS.B)
4.65%
Altria Group Inc
(MO)
3.90%
Cisco Systems, Inc.
(CSCO)
3.51%
Gilead Sciences, Inc.
(GILD)
3.40%
Southern Co
(SO)
2.87%
Visa Inc
(V)
2.72%
AbbVie Inc
(ABBV)
2.68%
Main Street Capital Corporation
(MAIN)
2.24%
Wells Fargo & Co
(WFC)
2.09%
Johnson & Johnson
(JNJ)
2.00%
Micron Technology, Inc.
(MU)
1.98%
Daimler
(OTCPK:OTCPK:DDAIF)
1.98%
B&G Foods, Inc.
(BGS)
1.92%
Siemens Healthineers
(SHE)
1.88%
3M Co
(MMM)
1.85%
Philip Morris International Inc.
(PM)
1.81%
Microsoft Corporation
(MSFT)
1.54%
Toronto-Dominion Bank
(TD)
1.52%
Bank of Nova Scotia
(BNS)
1.51%
PepsiCo, Inc.
(PEP)
1.39%
Canadian Imperial Bank of Commerce (USA)
(CM)
1.39%
Dominion Energy Inc
(D)
1.33%
Bank of America Corp
(BAC)
1.29%
Honeywell International Inc.
(HON)
1.27%
Verizon Communications Inc.
(VZ)
1.24%
NVIDIA Corporation
(NVDA)
1.22%
Procter & Gamble Co
(PG)
1.08%
Exxon Mobil Corporation
(XOM)
1.06%
The Coca-Cola Co
(KO)
1.05%
BASF
(OTCQX:OTCQX:BASFY)
1.02%
Morgan Stanley
(MS)
1.02%
Senior Housing Properties Trust
(SNH)
0.97%
Texas Instruments Incorporated
(TXN)
0.97%
Intel Corporation
(INTC)
0.96%
Baozun Inc (

ADR

)
(BZUN)
0.91%
Spectra Energy Partners, LP
(SEP)
0.86%
Advanced Micro Devices, Inc.
(AMD)
0.84%
General Motors Company
(GM)
0.83%
Sixt
(OTC:SXTSY)
0.80%
Omega Healthcare Investors Inc
(OHI)
0.80%
Royal Bank of Canada
(RY)
0.79%
Tableau Software Inc Class A
(DATA)
0.73%
JPMorgan Chase & Co.
(JPM)
0.70%
Momo Inc (

ADR

)
(MOMO)
0.70%
General Mills, Inc.
(GIS)
0.70%
Target Corporation
(TGT)
0.65%
Allianz SE
(OTCQX:OTCPK:AZSEY)
0.64%
Drillisch
(OTC:OTC:DRHKF)
0.63%
HUYA Inc - ADR
(HUYA)
0.60%
Nike Inc
(NKE)
0.60%
BP
(BP)
0.60%
Walt Disney Co
(DIS)
0.54%
Ares Capital Corporation
(ARCC)
0.53%
Stag Industrial Inc
(STAG)
0.52%
Pfizer Inc.
(PFE)
0.51%
Realty Income Corp
(O)
0.51%
Pebblebrook Hotel Trust
(PEB)
0.48%
Fresenius SE
(OTCQX:OTCQX:FSNUF)
0.48%
CoreSite Realty Corp
(COR)
0.47%
Citigroup Inc
(C)
0.46%
Bayer AG
(OTCPK:OTCPK:BAYZF)
0.46%
Facebook, Inc. Common Stock
(FB)
0.44%
Alibaba Group Holding Ltd
(BABA)
0.41%
Starwood Property Trust, Inc.
(STWD)
0.39%
Teekay Tankers Ltd.
(TNK)
0.38%
Colgate-Palmolive Company
(CL)
0.37%
Walgreens Boots Alliance Inc
(WBA)
0.34%
Uniti Group Inc
(UNIT)
0.34%
Lanxess AG
(

LXS

)
0.32%
Kinder Morgan Inc
(KMI)
0.31%
Enterprise Products Partners L.P.
(EPD)
0.31%
Osram
(OTCPK:OSAGF)
0.28%
Macquarie Infrastructure Corp
(MIC)
0.28%
Arista Networks Inc
(ANET)
0.28%
Vonovia
(OTCPK:VONOY)
0.27%
JD.Com Inc(

ADR

)
(JD)
0.25%
Starbucks Corporation
(SBUX)
0.25%
Albemarle Corporation
(ALB)
0.24%
Blackstone Group LP
(BX)
0.24%
Centurylink Inc
(CTL)
0.23%
Activision Blizzard, Inc.
(ATVI)
0.23%
Dominion Energy Midstream Partners LP
(DM)
0.20%
MediGene AG
(MDG1)
0.20%
Fresenius Medial Care
(FMS)
0.20%
CF Industries Holdings, Inc.
(CF)
0.16%
Apollo Commercial Real Est. Finance Inc
(ARI)
0.15%
Apollo Investment Corp.
(OTC:AINV)
0.14%
IQIYI Inc
(IQ)
0.14%
DHT Holdings Inc
(DHT)
0.13%
Shell Midstream Partners LP
(SHLX)
0.13%
Brookfield Infrastructure Partners L.P.
(BIP)
0.13%
General Electric Company
(GE)
0.12%
Atlassian Corporation PLC
(TEAM)
0.12%
SUPERVALU INC.
(SVU)
0.11%
Incyte Corporation
(INCY)
0.09%
As always, I hope that you find this update interesting and relevant. The biggest inspiration for me is reading these updates from other authors and following their progress over the years. Compared to them, I am still really at the beginning of my journey, and I would appreciate if you want to follow/continue to follow my journey as well. I hope to inspire many more readers to also start and share their journey.
Author's note: If you enjoyed this article, the only favor I ask for is to click the "Follow" button next my name at the top of this article. This allows me to develop my readership so I can offer my opinion and experiences to interested readers who may not have received them otherwise. Happy investing :)
Disclosure: I am/we are long ALL STOCKS MENTIONED. I wrote this article myself, and it expresses my own opinions. I am not receiving compensation for it (other than from Seeking Alpha). I have no business relationship with any company whose stock is mentioned in this article.
Additional disclosure: I wrote this article myself, and it expresses my own opinions. I am not receiving compensation for it (other than from Seeking Alpha). I have no business relationship with any company whose stock is mentioned in this article.
Editor's Note: This article discusses one or more securities that do not trade on a major U.S. exchange. Please be aware of the risks associated with these stocks.