2 Big Reasons For ETH Optimism
Summary
Ethereum has been pulled down with the rest of the market, but it still has signs of life that are worth an investment eye.
Mass adoption has marched own, with tech advancements that are pushing ETH smart contracts closer to reality.
Regulatory bodies have been positive for ETH to continue forward in 2018 and beyond.
Price fundamentals look like they could give ETH some room for price growth as well.
Members of my private investing community, The Coin Agora, receive access to my breaking news coverage of this idea. Get started today >>
Since hitting a record high of $1400 at the beginning of the year, Ethereum, the second largest cryptocurrency, has struggled like the rest of the other crypto coins. Since then ETH has lost over 70% its value. However, recent developments indicate a rally may be imminent which might see the token reclaim its former glories.
Below we will look at two main reasons why ETH is undervalued. It's my belief that ETH price has been dragged down as a correction from the massive spike, and with a crypto market ripped up by hacks, manipulation, and other malevolence.
Mass Adoption of the Ethereum platform
Steven Nerayoff, the Ether token co-creator at the start of the year said he expected the price of Ethereum to triple by the end of 2018. This was because many businesses were looking at the Ethereum protocol and asking themselves how it can benefit them.
Speaking to CNBC fast money he said:
"What you're seeing with Ethereum is exponential increase in the number of projects — there are billions of dollars being poured into the ecosystem right now — maybe 10 times more projects this year than last year, which could easily lead to a doubling, probably a tripling in price by the end of the year."
He attributed the increased adoption to the platform's ability to carry out cheap and quick transactions when compared to its rivals.
To ensure this was possible, in May, Ethereum developers released Casper, a protocol that combines the Proof-of-Work and Proof-of-Stake algorithms and in the process makes it easier to create Ethereum blocks and also it reduces the complexity of entire blockchain. (This is also a solution that could directly apply to Binance CEO Zhao's comments this month about ETH's speed...Though in a toast of support, Binance recently just acquired an Ethereum wallet, showing optimism for the coin's future.
The sentiment was echoed by Circle CEO Jeremy Allaire last month. While speaking to CNBC Fast Money he said that he foresaw Ethereum leading the mass adoption of cryptocurrencies because the project has the largest pool of developers.
ETH, unlike Bitcoin, is a protocol platform and token. Its value is not just in its esteemed value, but it will need to be purchased for its utility; a utility directly tied to the amount of workload streaming through the ETH blockchain.
The biggest advantage ETH has as related to adoption is the sheer number of engineers focused on ONE single platform (Ethereum) rather than smaller teams focused on the coin that they chose to ICO with. Like the internet in the 1990s, some of the world's best engineers are devoted to making Ethereum Smart Contracts a real thing.
SEC declaring Ethereum not a security
Ok, it wasn't the SEC that officially declared this but judging from the comments of one SEC director, William Hinman, during the Yahoo Finance All Markets Summit held in June this year, it's safe to say Ethereum just like Bitcoin is not a security.
At the time Hinman said:
"…putting aside the fundraising that accompanied the creation of Ether, based on my understanding of the present state of Ether, the Ethereum network and its decentralized structure, current offers and sales of Ether are not securities transactions. And, as with Bitcoin, applying the disclosure regime of the federal securities laws to current transactions in Ether would seem to add little value."
That statement had the crypto community buzzing with excitement and since Hinman is the guy at SEC who technically is in charge of interpreting the securities law, this was huge. By declaring Ethereum was not a security, this meant it wasn't going to be subjected to heavy regulation by the agency.
SEC regulation isn't necessarily bad, let's be clear about that—but it coud scare both the kind of investors attracted to ETH in the first place, and general investors who may be worried about the agency cutting down on ETH's liquidity in ways.
The green light is one of the reasons why Ethereum is expected to rally as many institutional and traditional investors are expected to pour in with confidence.
Investors can now buy without having to worry about compliance news breaking out of the blue or sudden regulatory surprises. This, in turn, reduces the volatility in the price of Ethereum and also the manipulation that is easily caused by misinterpretation of news by media across the globe.
It's also significant in that the road is clear for CME and CBOE to launch Ethereum futures. Just like with Bitcoin, these investment tool providers will be looking to capitalize on this statement and provide crypto investors with more investment options.
Price Fundamentals
Let's look at some price points. First, here's the one-year ETH chart as it trades for USD.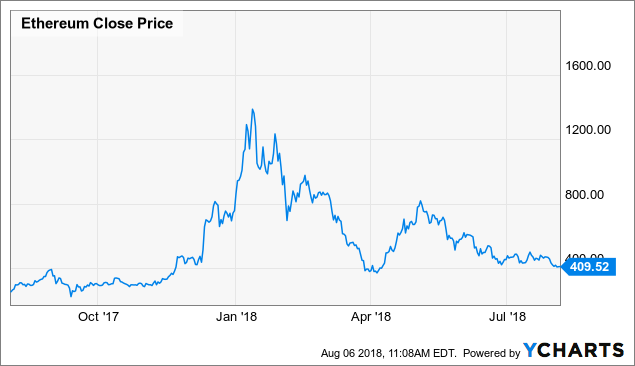 Looks rough.
But when you look at the same one-year span with ETH as it trades for BTC, it paints a bit of a different picture. It's still not going up, but it's not quite as drastic as the USD chart.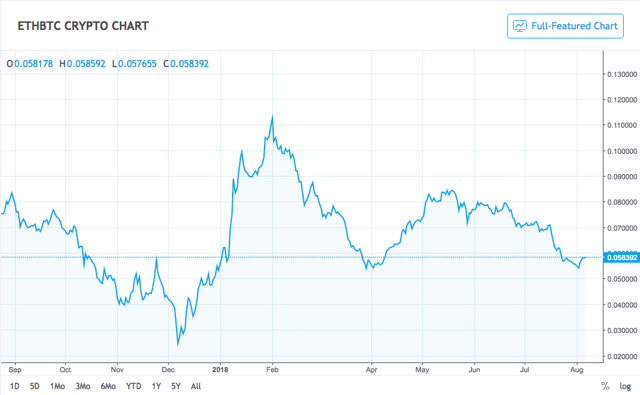 In both ETH is at early 2018 levels; though BTC remains a smoother ratio. This shows a bit of ETH's relation to the market at large, and that BTC is still a larger player in its price.
This is mirrored in the daily volume charts; showing that ETH's trading is still largely in relation to other coins; mostly USDT (Tether) but also a significant chunk of ETH/BTC trading. In fact, the largest "fiat" trading pair with ETH is only half of the largest BTC trading pair. And between those are three other BTC trading pairs on other exchanges.
ETH is still tied down. That's why the two points above mean so much. Mass use and clarity in regulations of just what ETH is would allow for investors to see that ETH can, and should, stand alone as utility, and not just another cryptocurrency. When that happens, I think we'll see good things.
Here's a sample of that long-term TA from Tradingview.com poster FedericoSellitti: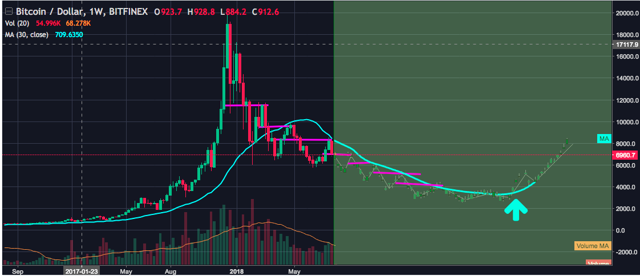 ETH is currently trading at $412 which represents a 56.4% increase from its price one year ago. Though the coin is struggling to break past the $450 level as you see from the above chart, it has a tendency of starting to rally by the third quarter.
So if the comments of the experts are to come true and last year's trading pattern is to be repeated again this year, this means fun times may lay ahead for all crypto enthusiasts.
However, as with any other type of investment, it's advisable to do your due diligence before investing in any crypto coin.
Bitcoin may have come down from the stratosphere, but there's still an abundance of opportunities in cryptocurrencies. At the Coin Agora, our focus is on altcoins - the smaller cap cryptos that have massive potential to disrupt business ecosystems. Invest with us for your chance to get in on the ground floor. Our mission is to help you find small, new and growing coins and reap rich returns. Let us help you cut through the noise and find winners - join the Coin Agora community today!
This article was written by
Researching blockchain technology to build high-upside crypto portfolios
We're a team of investors who build diversified crypto portfolios. We have a long-term, macro focus with an opportunistic mindset. If it relates to crypto, whether it be tokens, NFTs, blockchain technology, etc., we provide the best-in-class research on it.
We've been writing on Seeking Alpha since 2012 and shifted to become Seeking Alpha's FIRST crypto writing service in 2014. Our crypto investment journey started that year with our first bitcoin investment at $400 a token. When Ethereum entered the scene, we were able to place our first trade at $91 a token. From then, the blockchain and crypto ecosystem has exploded and we've been hooked not just on incredible investment returns, but the life-changing potential of the underlying technology. At our core, we believe blockchain technology has the ability to make the world a better place.
Our team are traditional investors by trade. We are led by a CFA charterholder who has worked with institutional investors for more than a decade, with portfolios that range in size from $1 million to $3 billion in AUM and built diversified portfolios made up of stocks, bonds, hedge funds, and private capital strategies. While it is interesting work, nothing gets us more excited than the crypto markets. This is why we do what we do, sharing our research for all.
There is a bunch of noise in the cyrpto markets, our goal is to provide a simplified approach to it all and provide investors what they need to know to succeed for the long run. If you want the full potential of our research, join The Coin Agora investing group for a free trial. 
Analyst's Disclosure: I am/we are long ETH-USD. I wrote this article myself, and it expresses my own opinions. I am not receiving compensation for it (other than from Seeking Alpha). I have no business relationship with any company whose stock is mentioned in this article.
Seeking Alpha's Disclosure: Past performance is no guarantee of future results. No recommendation or advice is being given as to whether any investment is suitable for a particular investor. Any views or opinions expressed above may not reflect those of Seeking Alpha as a whole. Seeking Alpha is not a licensed securities dealer, broker or US investment adviser or investment bank. Our analysts are third party authors that include both professional investors and individual investors who may not be licensed or certified by any institute or regulatory body.