July has ended, putting us on the back end of the year. After reviewing my financial goals, it looks like I am on track to break last year's dividend record with a decent amount of growth. It has been a pretty uneventful July as far as my portfolio is concerned.
I was able to make one purchase. Even though I didn't post about it, I picked up another 11 shares of AbbVie (NYSE:ABBV) on their last dip. This was the fourth time I added to this position this year. So far, this seems like a perfect time to buy, as the stock price has gone up every day since. The price has increased by about $7 in the past 2 weeks or so.
But we are here to review the dividend results, so let's see how we did.
Dividends
July dividends add up to $48.97, which represents an increase of 16% from last year, when I made $42.20. These dividends came from 7 companies, which is one more than the 6 that paid me last year in the same month. We can see my portfolio is growing in both value and quantity. Below are some charts from my portfolio page to better visualize the results.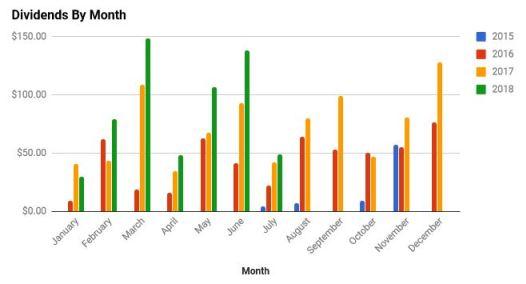 As stated above, there was one extra company paying me since last year. LTC accounted for half of the growth, or 8% of the increase, from last year. The other 8% dividend growth came from good old-fashioned dividend increases and reinvesting.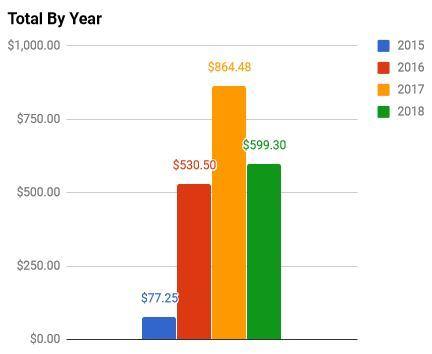 July is usually a slow month for dividends. Not a lot of companies usually fall on this payment cycle. I didn't quite hit the $50 mark, but should be able to accomplish that next year after a few more dividends reinvested or dividend increases. Even though it was a slow month, I am happy with these results for not having to put in much new capital. This brings me just shy of the $600 mark for the year. Still have a ways to go this year.
How did your portfolio perform in July? Did you achieve any big growth or a decrease? Was it a slow month for your dividends as well? What companies are looking to be of great value right now to you? Comments are always welcome below.