Market Intro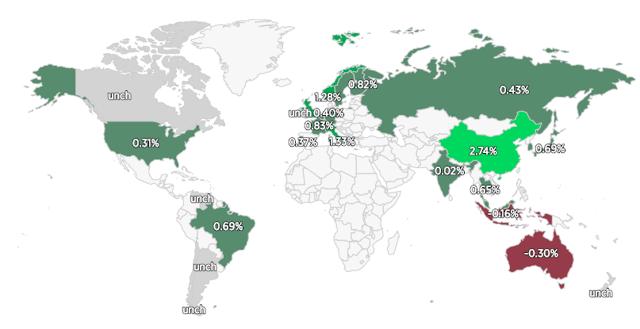 CNBC: Tuesday 6:46 EST
US markets open to what is a broadly positive backdrop in foreign trade over the last twenty-four hours. International stocks (ACWX, EFA, EEM) are in the green, as worries over a host of issues recede.

The economic calendar for this week is quite mild. This may be a contributing factor toward spot VIX hitting its lowest levels of the summer.

The S&P 500 (SPY) rests less than 1% below the all-time high it set back in late January when stocks the world over were unstoppable. One wonders at the chicken-and- egg relationship between SPX hanging so close to these highs while VIX ponders a dip into ten-handle territory.
Thoughts on Volatility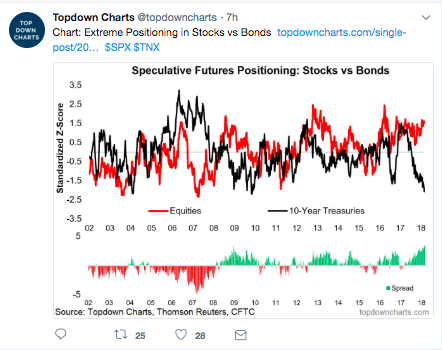 Some traders/investors look at speculative positioning in futures to gage the degree to which markets are overdone in one direction or another. To my eyes, the short-treasury position looks a little more out of whack than the long-equity position. But the spread as recorded in the spread below shows that we're near sixteen-year highs.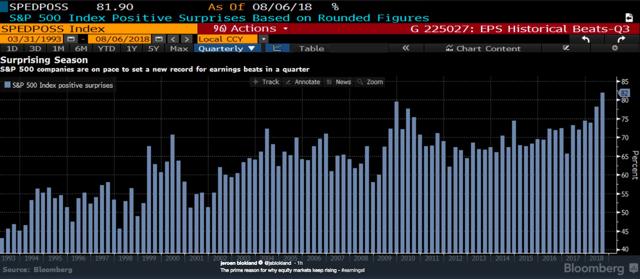 Jeroen Blockland points to EPS as the major reason why the stock market has trended upward. But wait! This is not a chart of earnings, but beat rates. I find it pretty difficult to believe that analysts are so consistently bad at predicting earnings in such a unidirectional fashion. Observe beat rates over the last decade or so. While I do not dispute that thus far Q2 earnings really have been awesome, these high beat rates really point more to an absurdity within our industry rather than a bonafide praiseworthy performance.

Twitter allows us to share our thoughts and tactics in real time. I'd be interested in readers' thoughts on how viable they find a vol-shorting strategy such as this one. Given that the handle of this tweeter is "selling theta", I suspect he or she does not have a comparable long-vol approach.
Term Structure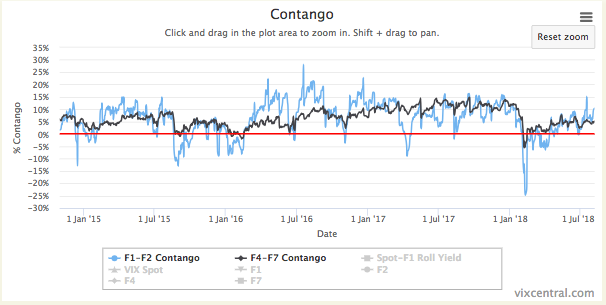 While I think there likely is a little juice left in the short-vol trade (SVXY) before we experience some reversal, I'd like to turn your attention to the VX midterm flatness (ZIV). While F1-F2 has essentially returned to the upper end of its historical range, ZIV has considerably more ground to cover. When one weighs the positioning of the band relative to the width of the band, the ZIV looks rather attractive.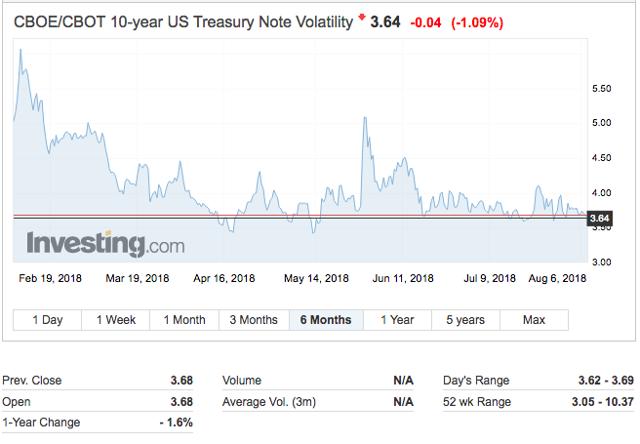 "Physician, heal thyself." It is important to remember that equity vol did not calm in a vacuum. Reduced SPX volatility was in part the result of diminishing volatility in the Treasury space. Recall the spike around the late May relating to Italian debt, and how T-vol leaped, taking the S&P rapidly down to around 2675 and sending spot VIX near 20. Keep an eye on this volatility metric.
Conclusion
If this is your first time reading Market Volatility Bulletin, thanks for giving it a try. If you're a regular, we thank you for your ongoing contributions in the comments section.

Stefon357 posted this comment in the last MVB. It reminded me of a tweet from Pat Hennessy a few days earlier. I liked the nuance in this statement, that the reader doesn't see a true bounce in spot until after it has retaken the lower Bollinger Band. Of course this may or may not turn out to be the case, but it appears less reactive than a "we're due" kind of approach.
Thank you for reading.
Please consider following us.
Disclosure: I/we have no positions in any stocks mentioned, and no plans to initiate any positions within the next 72 hours.
I wrote this article myself, and it expresses my own opinions. I am not receiving compensation for it (other than from Seeking Alpha). I have no business relationship with any company whose stock is mentioned in this article.
Additional disclosure: I actively trade the futures and options markets, potentially taking multiple positions on any given day, both long and short. I also hold a more traditional portfolio of stocks and bonds that I do not "trade". I do believe the S&P 500 is priced for poor forward-looking returns over a long timeframe, and so my trading activity centers around a negative delta for hedging purposes.