Welcome to the bulls pushing prices higher edition of Natural Gas Daily!
Housekeeping item first.
We expect a +49 Bcf change in the storage report for the week ended August 3. A storage report of +49 Bcf would compare with +30 Bcf last year and +53 Bcf for the five-year average.

Source: ICE
Upper Price Band ($2.95/MMBtu), Here We Come
In our weekly natural gas storage report last week, we said:
With that reassessment, we have now adjusted our price band outlook for natural gas. In our newest outlook, we believe that if the weather outlook is neutral moving forward, the prompt month will range between $2.85 to $2.95/MMBtu. If the weather outlook turns bullish again, we think prices will have another shot at $3/MMBtu.
There have been several developments that are now aiding the bulls.
Injection Estimates Keep Moving Lower
EOS is now at 3.42 Tcf as of the latest update.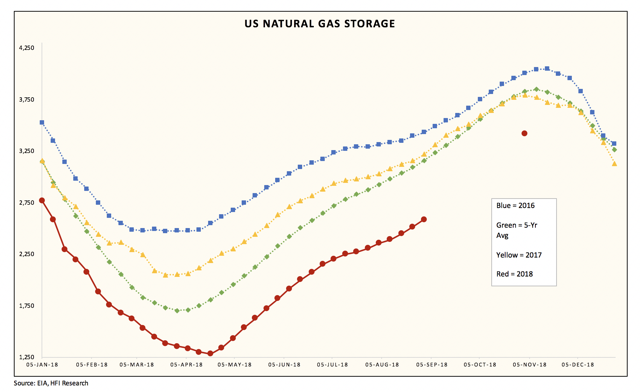 This is likely to move lower if the tail-end of August comes in warmer than normal, which appears to be the case at the moment.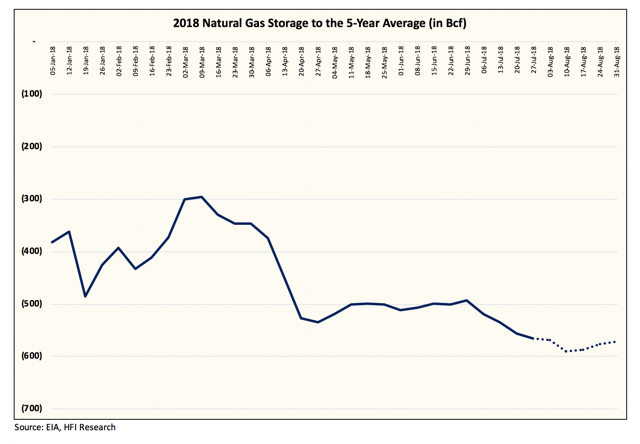 Natural gas storage to the five-year average will be headed towards ~-600 Bcf deficit before recovering slightly by the end of August.
Natural gas traders are starting to get uncomfortable with how storage levels are shaping up headed into winter, especially if the weather outlook remains neutral to bullish biased in the next two months.
Power Burn!
CDDs recovered over the last several days and power burn demand materially surprised to the upside, which further reduced our injection estimates: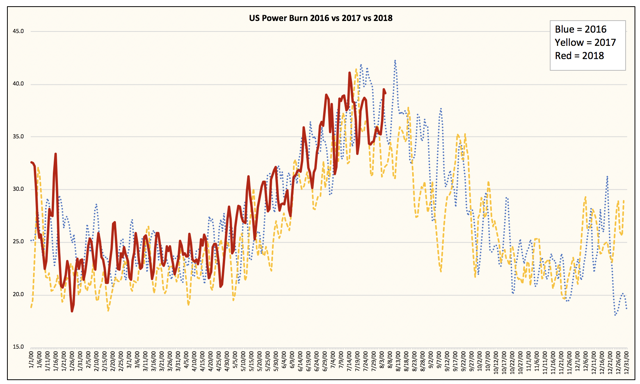 Source: HFI Research
Long-Range Weather Outlook No Longer Bearish
One of the key reasons why we see the bulls pushing prices higher today is on the back of a very supportive ECMWF-EPS long-range weather outlook. The last week of August was expected to turn bearish and provide ammunition for the bears to push prices lower. But last Thursday's update gave us conflicting signs as to whether or not the weather would actually turn bearish. As a result, we closed our DGAZ long position last week Friday.
Surprisingly, the ECMWF-EPS long-range weather update last night did confirm the bullish shift.
Source: StormVistaWxModels.com
And as we said earlier, a neutral to slightly bullish weather outlook could keep pushing prices higher.
For now, bulls are in control
For the time being, bulls are in control. Following three tighter than expected storage injections and power burn impressing to the upside. Lower 48 production growth is now taking a backseat to the bullish fundamentals. With storage estimates inching lower and lower, we are seeing traders starting to worry over the low storage figures. If the weather outlook remains supportive in the next two months, then our 3.42 Tcf EOS estimate will prove to be optimistic.
For now, bulls are in control, and the upper price band of $2.95/MMBtu will be tested so long as the weather outlook remains neutral.
HFI Research Natural Gas
Thank you for reading. If you have historically found our public natural gas articles insightful, you will certainly find our premium write-ups to be even better now. We have made major improvements over the last year, incorporating a dedicated section on weather, trader commentary, and fundamentals. Now we are introducing what we would do with our positioning. If you are interested, you can see here more info.
Disclosure: I/we have no positions in any stocks mentioned, and no plans to initiate any positions within the next 72 hours.
I wrote this article myself, and it expresses my own opinions. I am not receiving compensation for it (other than from Seeking Alpha). I have no business relationship with any company whose stock is mentioned in this article.