Fast casual chicken wing concept Wingstop (WING) has been a high flyer on Wall Street for several quarters now, rallying more than 150% since the start of 2016 thanks to a trio of tailwinds (big unit growth, positive comparable sales growth, and healthy margin expansion). That rally took an extra leg higher recently when WING stock popped nearly 20% after strong second quarter earnings.
We think, however, that this rally in WING stock will eventually be short-circuited by valuation friction. At current levels, WING's valuation is overly optimistic and prices in big growth for many years as a certainty. Having that level of optimism baked into the stock today is a recipe for disaster. Indeed, we think valuation will inevitably rear its ugly head and wouldn't be surprised to see a 20%-plus correction in WING stock soon.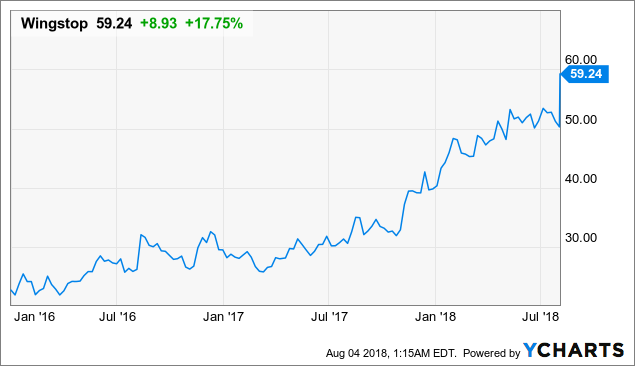 Wingstop is a fast casual chicken wing chain that has been absolutely on fire. Partly due to the comeback in the popularity of chicken wings, partly due to the company's tasty food and partly due to emerging at-home economy trends creating huge tailwinds for delivery-centric food chains (Wingstop's model is inherently delivery friendly), Wingstop has been able to out-comp peers for several years. On a stacked basis, comparable sales at Wingstop are up nearly 50% from 2012 to 2017. That is much better than fast food giant McDonald's (MCD), which has posted trailing 5-year stacked comparable sales growth of just 8%. It is also better than direct competitor KFC (YUM), which has reported trailing 5-year comparable sales growth of just 17%. It is even better than red-hot Domino's (DPZ), the company everyone thought was the icon of food delivery. Comparable sales at Domino's are up 46% over the past 5 years, less than Wingstop's 50% gain, implying that Wingstop may actually be getting an ever bigger boost than Domino's from delivery tailwinds.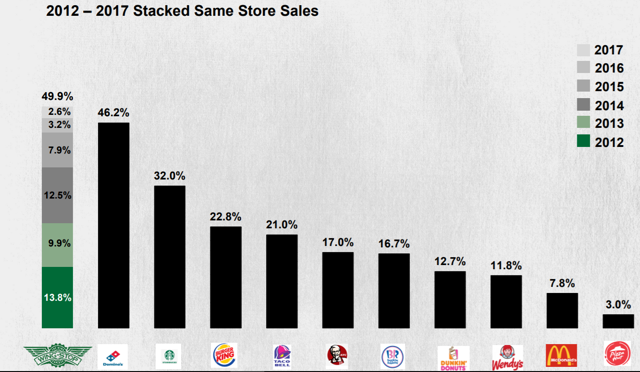 (Source: IR Deck)
There are three reasons Wall Street has fallen in love with WING stock. They are as follows:
Huge comparable sales growth. See the chart above. Wingstop has out-comped peers for several years now and continues to report positive comparable sales growth today (comparable sales were up 4.3% in the most recent quarter).
Huge unit growth potential. As of June 30, Wingstop had less than 1,200 restaurant locations globally. The company thinks its addressable market in the United States alone is 2,500 locations. Considering other fast food chains like McDonald's, KFC, Burger King, and Taco Bell all have more than 4,000 domestic locations, Wingstop's 2,500 target locations in the U.S. seems reasonable. Also, McDonald's, KFC, and Burger King all have nearly 10,000 or more international locations, whereas Wingstop presently has 122 international locations. Thus, no matter which you way slice it, Wingstop has huge multi-year unit growth potential.
Healthy margin expansion potential. Franchise sales have significantly higher profit margins than company-operated sales. All of Wingstop's go-forward unit growth is centered around new franchise locations. Thus, as the company grows its franchise store base, sales and profit margins should head higher together. In a long-term window, then, profit growth should exceed revenue growth.
This trio of tailwinds has caused investors and analysts alike to fall in love with WING stock. At this point in time, however, we think that the current price tag on WING stock represents investor euphoria regarding these tailwinds more than it represents the company's realistic go-forward growth prospects.
Realistically, Wingstop can continue to grow its store base by roughly 10% per year over the next decade. At that rate, the company will be looking at roughly 3,000 locations globally, which makes sense assuming the company hits its 2,500 U.S. target by then and has another 500 stores overseas.
Average unit volumes appear to be maxing out here and now. Over the past several years, domestic average unit volumes (AUV) have gone from under $1 million to $1.1 million. But, from 2015 to 2017, domestic AUV has plateaued around $1.1 million. Domestic AUVs are up year to date in 2018, but by less than 3%, and they are still off 2015 highs of $1.126 million. Moreover, over the next decade, as Wingstop expands to new markets with bigger competition, AUV growth should be moderate, at best. Thus, in the big picture, we think that AUVs have a runway towards $1.2 million over the next decade, representing roughly 1% growth per year.
The combination of 10% unit growth and 1% AUV growth should drive somewhere around 12-13% revenue growth over the next decade. Indeed, by our modeling assumptions, we think that revenues can hit $340 million in 10 years, representing ~12.5% growth per year. During that stretch, margins will head significantly higher because of a bigger mix of franchise sales. Adjusted EBITDA margins last year were just over 39%, up 600 basis points from 2013 (or roughly 150 basis points of expansion per year). Over the next 10 years, we reasonably see an additional >100 basis points of EBITDA margin expansion per year and believe EBITDA margins can touch 50% thanks to high-margin franchise sales growth.
Realistically, then, we see Wingstop as having 3,000-plus locations globally in 10 years (+10% per year), growing revenues to around $340 million (+12.5% per year), and expanding EBITDA margins to 50% (up more than 1,000 basis points from 2017). Even under those aggressive assumptions, however, we do not think WING stock is worth $60 today.
The aforementioned modeling assumptions lead us to believe that Wingstop can do about $4 in earnings per share in a decade, up from ~$0.70 last year (19% growth per year). Most other mature food and drink chains trade around 20x to 25x forward earnings. We assume that WING will trade at the high-end of that range, given strong AUVs and robust international growth prospects. Thus, a 25x forward multiple on $4 earnings in a decade implies a nine-year forward price target of $100. Discounted back by 10% per year, that equates to a year-end price target for WING stock of $47, more than 20% below today's price tag.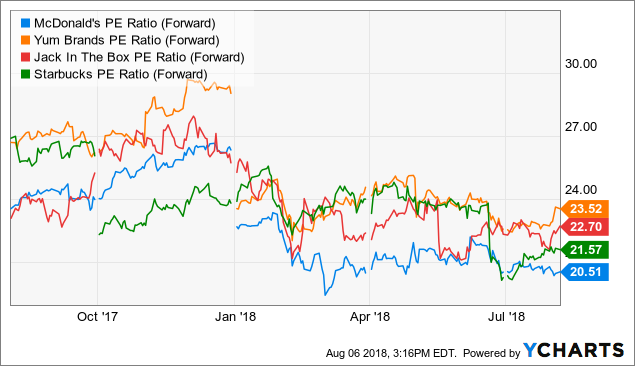 Overall, while we understand the long-term bull thesis on WING stock through huge unit growth potential, positive comparable sales growth, and healthy margin expansion, we also think WING stock's price tag has sprinted ahead of fundamentals in the near term. Even bullish growth assumptions lead us to a year-end price target for WING stock of under $50. Thus, today's $60 price tag seems out of line with underlying growth prospects.
Disclosure: I am/we are long MCD. I wrote this article myself, and it expresses my own opinions. I am not receiving compensation for it (other than from Seeking Alpha). I have no business relationship with any company whose stock is mentioned in this article.