Buy Biogen For Alzheimer's Therapy Pipeline
Summary
Some possible Alzheimer's success is now built into the stock price.
Disputes about Alzheimer's trial details are muddying the picture.
Three candidates with good Phase 2 data means a likely win in Phase 3.
Biogen (NASDAQ:BIIB) has been volatile lately, spiking on possible good Alzheimer's therapy news before pulling back partway. When I last recommended Biogen (Biogen Buy Signal: Alzheimer's Royalties Option) in May the stock was at $272. I concluded the market assumption was that Biogen's Alzheimer's therapies would fail to gain commercial approval, but Biogen management was more confident than the market.
Now that the market has priced in some possible success for Alzheimer's, those negative on the stock are back to their old thesis that the entire Alzheimer's pipeline borders on valueless. They are not without their arguments, but my analysis is that they have a low probability of being completely right. While this article will be about the four Alzheimer's potential therapies, I also believe that the rest of the pipeline, including the new Ionis (IONS) deal, will enrich investors for the next couple of decades, totally apart from the Alzheimer's space.
My Working Alzheimer's Therapy Hypothesis
As a biotech investor and writer, I have a working hypothesis about Alzheimer's therapies. I have studied the alternative hypotheses, and while I can't discount them entirely, my investment is based on my best understanding. I will revise it if necessary.
There is no argument that Alzheimer's manifests as memory loss, sometimes including loss of critical and physical abilities. The argument is as to cause, with the mainstream opinion still being that amyloid plaques are the primary physical cause of memory loss.
But what is memory loss? A nerve cell might cease to function, either the whole cell or the most crucial part, the synapses that store memories.
Although the details remain obscure, amyloid plaque buildup, as well as defective tau protein buildup, are associated with memory loss. There could be another initial cause, or some other specific process that damages the synapses.
In any case, I believe once memory is gone, it is non-restorable. Some memories are complicated and so stored across numerous neurons or even regions of the brain, so matching a specific memory loss to a specific damaged synapse or neuron is difficult.
Given that memory cannot be restored after the damage is done (except by rememorizing something using neurons that are not yet damaged), removing the damaging agent(S) will not improve functionality for a patient.
The best that can be done is to slow or stop the rate of memory loss. Since that is the best that can be done, that should be the goal of therapies in clinical trials.
Many amyloid drug plaque agents have failed clinical trials, but they were working on a different hypothesis: that removing plaque could restore memory. There was a practical reason for this: by the time Alzheimer's type memory loss can be distinguished from the other difficulties older people have with memory and mental functions, the brain is pretty damaged. Also, other issues, as with the circulatory system, can cause memory problems which present similarly to Alzheimer's.
So if a drug is tested earlier in the process, it might stop memory loss. If amyloid (or tau) is causing the synaptic damage, then stopping it from accumulating becomes a valid strategy under this hypothesis.
So how do you find out if a hypothesis is true? You test it.
Biogen has four Alzheimer's candidates that have read out test results, with two more in trials that have not produced data yet. To get an FDA approval positive Phase 3 results are needed, barring exceptional circumstances that probably don't apply to Alzheimer's trials.
Biogen's Alzheimer's Candidates
I'll start with a chart from the Biogen pipeline: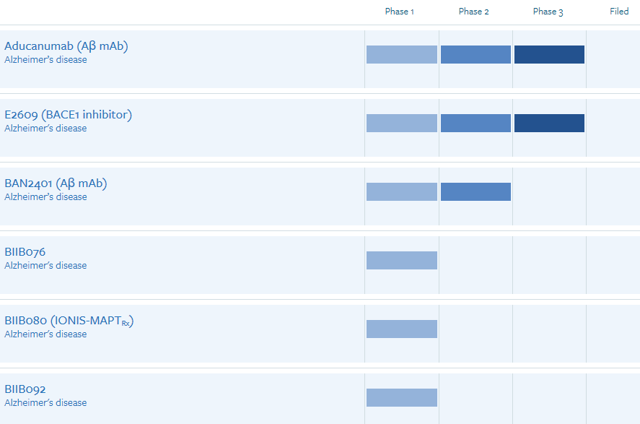 First, BIIB092 already started a phase 2 trial, so the chart needs updating.
Second, EB2609 is now known as elenbecestat.
I am going to focus on the three drugs most advanced in the pipeline, aducanumab, elenbecestat, and BAN2401. There is too little data on the other three for them to carry much weight yet.
Although it is in two Phase 3 trials, aducanumab skipped the Phase 2 trial. This is a risk for Biogen, but there was a Phase 1b trial and an LTE (long term extension) with data that convinced Biogen to proceed directly to two large Phase 3 trials. Aducanumab is a monoclonal antibody that attacks beta amyloid, the most conventional mode of attack at this point.
The results for the 1b study and 36 month LTE were good, but can be questioned. The sample size was small. For the LTE portion of the study, those who had been on placebo were given a 3 or 6 mg/kg dose. The results from different doses of the drug did not work in a strictly linear fashion. For instance, in Slide 15, you can see that at 164 weeks, the 6 mg/kg dose MMSE results were worse than placebo followed by 3 or 6 mg/kg and worse than the 1 mg/kg dose followed by 3 mg /kg. On the other hand, the other doses all did better than placebo, and each group was small, so the 6 mg result giving the worst result could be a statistical fluctuation.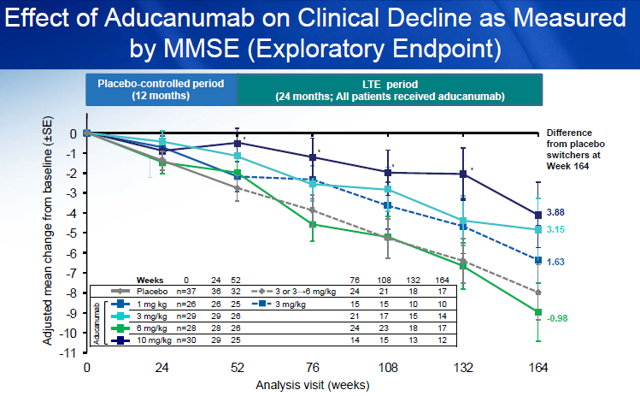 Given the failure of so many other Alzheimer's drugs, including beta amyloid inhibitors, it has not been unreasonable to be cynical about aducanumab. I think that a conservative estimate of it having positive Phase 3 results is a coin toss, or 50%. It is arguable that the Phase 2 statistics should result in a higher chance of Phase 3 success. Keep in mind that slower degeneration than placebo, if the difference is of sufficient magnitude, would be a success.
BAN2401 recently announced positive topline results from a Phase 2 trial, though again some of the details are arguable. Most obviously, the results were not statistically significant at 12 months, but were at 18 months.
It is certainly possible to pick apart the BAN2401 results, but they are also defensible. It is a good idea to listen to the Biogen webcast or before trying to appraise the critiques. Slide 8 from the earnings conference sums up the bright side: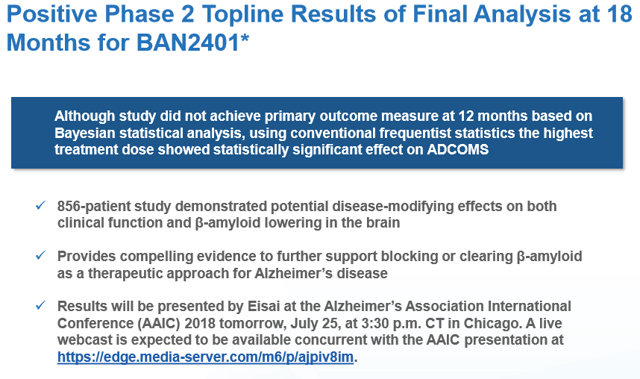 I think the critics have tried, but failed to explain away the clear statistical results. Again, some of the lower doses did not do better than placebo. A known risk factor, APOE4 status, varied between the placebo and treatment groups. It is important to keep in mind that there are many risk factors for Alzheimer's, the most important being age of the subject. Other genes are almost certainly involved, and obesity and high blood pressure are thought to be risk factors. There is bound to be a lot of randomness involved since some with risk factors do not get the disease, and many without risk factors do get it.
So again, despite the positive Phase 2 statistics, to be on the safe side I will put the chance of success in Phase 3 at 50%.
Elenbecestat has a different mechanism, but the same ultimate target of beta amyloid. It is a BACE inhibitor, which means it should also inhibit amyloid formation.
Results from the Phase 2 Elenbecestat study showed that patients started or switched to the 50 mg dose showed a statistically significant decrease in brain amyloid, compared to placebo. A measure of mental state CDR-SB declined 72% less quickly for treated patients than for placebo patients. There were no significant safety issues. Again, the overall results seem to indicate that decreasing amyloid reduces the rate of mental decline. But it would be more impressive if mental decline stopped entirely among the treated group. As usual in human trials, we put people in a group and treat them as similar, when in fact there is plenty of individual variation within a group.
Normally a successful Phase 2 trial would imply a high probability of a successful Phase 3 trial, but I will assign a 50% probability of future success to be conservative.
Probability of success
So we have six potential Alzheimer's therapies, with three having enough data so far that I have assigned them each a 50% chance of success, although the earlier data point to a higher chance of success for each of them.
What is the chance of success if you run 3 trials each with a 50% chance of success? You should get at least one success 7 out of 8 times, or 87.5%.
The argument that Biogen's chances are not that high is not without basis. In its simplest form, it is that amyloid and tau are not the cause of Alzheimer's, but an effect. If that is true, then each relatively small trial is positive only because of normal variation. When a larger trial is done, the treated population will be more like the placebo population, the results won't be statistically significant, and Biogen will have wasted billions of dollars, just like the other companies that have tilted at Alzheimer's.
I am going to stick with my 87.5% or better analysis. I think that it is highly likely that whatever starts the amyloid cascade, once it is going it destroys the memory in synapses, and stopping buildup minimizes the damage. Three different drugs showed a correlation between better mental outcome and a reduction of amyloid. That indicates the hypothesis is highly likely to be correct.
Valuation
Investing in biotechnology, especially in new drugs, is about waiting. It is not a game for the impatient.
First, note that Biogen is partnered with Eisai on these drugs. [Eisai is Japanese and not listed on American exchanges.] Biogen will not receive 100% of the profits if any of the drugs is approved.
At this point we are some distance from receiving Phase 3 trial results. Biogen's revenue has been growing nicely for years and will likely continue to grow even if none of the Alzheimer's drugs received commercial approval from the FDA or other national regulators. Biogen has an extensive clinical and preclinical pipeline beyond Alzheimer's, which should make it a strong buy for those with long-term outlooks.
So I think the market should bid up Biogen based on Alzheimer's results to date. If it is bid up too high, an Alzheimer's success will be necessary to maintain that. Even if the price remains at current levels or retreats, if Biogen does report failures on the Alzheimer's drugs or other drugs in its clinical pipeline, there will be short term retreats on such news. So there is no denying short-term risk.
The recently released Alzheimer's drug data reinforces my view that Biogen is one of the great biotech companies to hold for long-term investors. I recognize there are caveats and risks, but I find them acceptable. I will be surprised at least one Biogen Alzheimer's drug is not commercially available to help patients by 2022. If you really need I price target, I am looking for $450, pending further data.
This article was written by
I provided stock and bond research and analysis to a small cap specialist investor, Lloyd Miller, from 2002 until his death in January 2018. For my own account I invest mainly in technology and biotechnology stocks. My technology and investment web site is openicon.com, where readers can view the notes I take to make decisions and to write articles for Seeking Alpha.
Analyst's Disclosure: I am/we are long BIIB, IONS. I wrote this article myself, and it expresses my own opinions. I am not receiving compensation for it (other than from Seeking Alpha). I have no business relationship with any company whose stock is mentioned in this article.
Seeking Alpha's Disclosure: Past performance is no guarantee of future results. No recommendation or advice is being given as to whether any investment is suitable for a particular investor. Any views or opinions expressed above may not reflect those of Seeking Alpha as a whole. Seeking Alpha is not a licensed securities dealer, broker or US investment adviser or investment bank. Our analysts are third party authors that include both professional investors and individual investors who may not be licensed or certified by any institute or regulatory body.