Editor's note: Seeking Alpha is proud to welcome Alberto Ayuso Martín as a new contributor. It's easy to become a Seeking Alpha contributor and earn money for your best investment ideas. Active contributors also get free access to the SA PRO archive. Click here to find out more »
Global Gaming 555 is a Swedish microcap focused on developing and exploiting online gambling casinos. Its actual market cap is 1160MSEK, with a net cash position of 220MSEK. Nearly all of its revenue, around 82% in Q1 2018, comes from its owned brand Ninja Casino, which was launched in 2016, and has been exploited in Sweden and Finland. Recently, the company has continued to diversify geographically, obtaining a new license in Estonia and with a new brand, SpelLandet, has been launched under a Maltese license, oriented to a slightly older and diversified public.
The stock price is 27.8SEK and the exchange rate is 1SEK=$0.112 at the moment of writing.
Management
Although more skin in the game would be desirable, the major part of the management team and the board members own a significant number of shares and/or warrants. In addition, Adriana Hamberg, member of the board has acquired 46155 shares at a weighted average price of 29.10 SEK in May 2018.
On the other hand, the founders of the company hold a significant portion of the shares (as per the Q1 report), around 30%.
The company
Global Gaming is an online gambling Swedish company, listed on the Nasdaq First North on October 2017, which develops and exploits online casinos (B2B and B2C). Ahead of this listing, a share issue was made to broaden the ownership base, which was oversubscribed 18 times.
The next graph shows the exponential revenue growth of the last two years.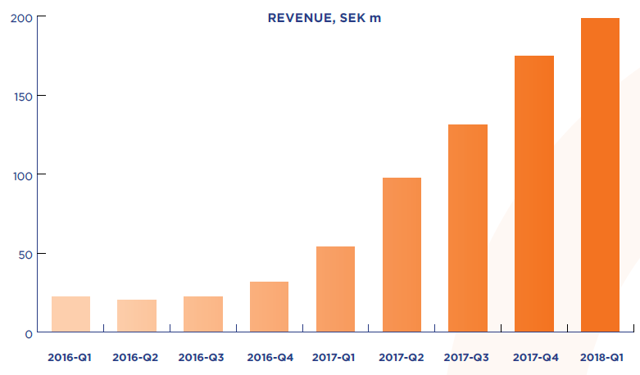 Source: Global Gaming Q1 Report
Despite of this high growth, Global Gaming's sales model is not only profitable but scalable to other countries.
Most of the company revenues comes actually from Ninja Casino.

Source: Global Gaming Q1 Report
The next figure shows the 2017 revenue breakdown. Around 87% of the revenue comes from their own gaming operations.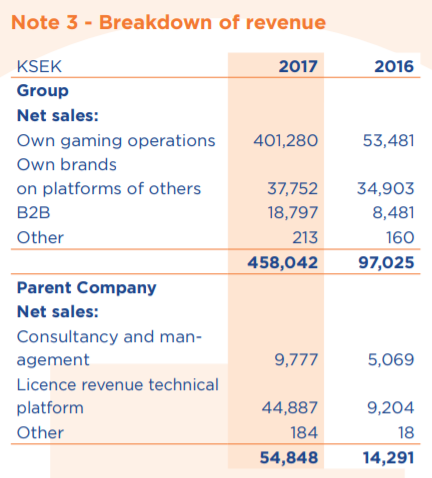 Source: Global Gaming 2017 Annual Report
The introduction of the new GDPR rules is going to slightly modify the B2B operations of the company. In case of a violation of these rules by their partners, it is Global Gaming, as the license holder, who could be fined. The company has chosen to end all these agreements and renegotiate the terms. Some customers have chosen not to renegotiate and changed to other suppliers instead. Consequently, the revenue from this source is expected to partially decline during the next quarters. Nonetheless, Global Gaming has the intention of launching a new B2B solution based on the PayAndPlay concept and adapted to the new GDPR rules in the second half of 2018.
What differentiates Ninja Casino from its competitor is mainly the PayAndPlay solution.
One of the advantages of the PayAndPlay solution is that a gamer's identity is verified before any transaction, avoiding that no under-age gamers can use the platform and that a banned profile cannot avoid this block by creating a different account.
Another advantage is that the gamer can start playing in approximately 15 min. without having to wait longer until the deposit arrives to the gaming account. Prizes go directly to the gamers bank account.
Although it is easily replicable, it has not been copied by competitors until Q4 2017 which has allowed Ninja Casino to aggressively gain market share. During Q1 2018, 71% of Ninja Casino gamers accessed it from their mobile phone. Online gambling accounts for most of the growth in the gambling industry, according to the Swedish Gambling Commission 2017 report.
The online casino market in Sweden totaled SEK 2.2 billion in 2017 and its future growth is estimated in 13.3% CAGR over the period 2018-2022, according to H2 Gambling Capital, an independent market analysis company. Global Gaming is not only well positioned to capture the market's growth but to increase its market share, thanks to the aggressive marketing campaign that has been taken during 2017 and 2018 and their PayAndPlay solution.
Google Trend research shows that the number of searches of Ninja Casino is nearly at its historical maximum, which shows that the marketing campaigns are being successful.

Source: Google Trends
During the first quarter, Ninja Casino has been promoted through cost-per-acquisition marketing campaigns - i.e., there is a payment when a player makes its first deposit, but there are not further obligations. The return on investment of this type of publicity is very high if the new player is retained in the platform. The company states that this effect will increment margins in the upcoming quarters.
The company is audited by KPMG, which increases confidence in financial statements.
Regulation
Gambling market has been re-regulated by the new gambling law (SFS 2018:1138), which will come into effect on Jan. 1, 2019. A license will be required for any company offering gambling for money. The following is an extract from the Swedish Gambling Commission website:
The new gambling regulations in brief:
The gambling market is divided into the following parts:

one part covering online gambling and betting
one part covering gambling that has a public benefit, such as lotteries and land-based bingo,
one part that is controlled by the Swedish state, such as land-based casinos and token machines.

A gambling operator that has been granted a license must protect players from excessive gambling, duty of care. This should include monitoring behaviors and, if necessary, helping players to limit their gambling.
A bonus may only be offered by a license holder on the first gambling occasion.
Via the gambling authority, a player shall be able to exclude himself or herself from gambling with all license holders in Sweden.
The Swedish Gambling Authority shall be able to request the blocking of payments and determine that an online operator must display a warning message on websites that are not licensed in Sweden.
A new criminal offense, cheating at gambling, is being introduced to deter match fixing.
Betting will be forbidden on events featuring young people under the age of 18.
Marketing of gambling must be moderate and not be specifically targeted at people under the age of 18 or individuals who have excluded themselves from gambling.
Licensed operators shall pay a tax of 18% of the profit they make on gambling in Sweden. Gambling that has a public benefit shall remain free of tax.
The company applied for the license on Aug. 1, the first day of the application period, showing that their technical solution is already prepared for the regulation requirements.
There are negative and positive aspects in this regulation. On the negative side, a 18% tax on gross gaming revenues will impact margins and there is a risk of not being granted with the license. The odds of this are really reduced since they have been recently granted with the license to operate in another regulated market such as Estonia. Additionally, the have applied for the license on the first day of the application period, which certainly shows that they were well prepared for this event.
On the positive side, a regulated market partially limits the number of competitors and provides the user with a safer environment to gamble.
Dividend policy
The light-asset and nearly zero capex business model allows the company to distribute at least 50% of the profit after tax among the shareholders while growing aggressively, provided that the company's net cash is sufficient to be able to act quickly in establishing new markets and/or making smaller acquisitions.
At the actual prices, the dividend yield is approximately 5%.
It must be noted that the actual cash position of the company covers 4 times the dividend for this year (1.4SEK/share).
Valuation
It is not easy to establish an accurate valuation for a company like this. Nevertheless, it is clear that the actual price discounts a very pessimistic scenario which I think is not very realistic.
First of all, lets take a look at how Mr. Market is valuating its peers:

Source: Morningstar/4-traders
It is clear that Mr. Market is under valuating Global Gaming because of the regulatory risk.
Assumptions:
The EV is obtained with the actual share price of 27,9SEK.
The number of shares is increased in one million per year to consider compensation programs.
A 50% dividend payout is considered.
It is assumed that 70% of the revenue will come from Sweden in 2019 and 60% in 2020. These revenues are taxed with a 18% rate.
An EBIT margin of 20% is considered because the company is expected to renegotiate the terms with the payment providers. This margin could be even bigger if the marketing expenses are reduced, but conservatively, this has not been considered.
The following table summarizes the FCF calculations for the next two years.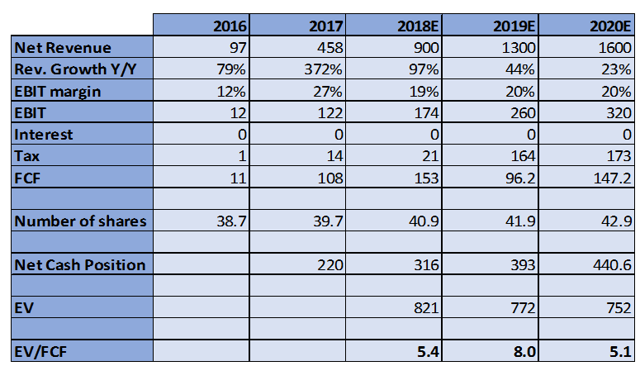 Once the regulatory risk will be cleared when the company obtains the Swedish license, it seems fairly probable that Mr. Market will pay at least 10 times EV/FCF, considering the company's geographic expansion possibilities and their opportunity to increase margins. This leads us to an objective price of 54.5SEK by the end of 2020 - i.e., an expected CAGR of 30.9%, excluding at least 5% dividend yield per year.
Catalysts
Q2 results will be published on the 15th August, margin increment payment solution negotiating power. The company said in the Q1 Report that a decrease in cost associated with payment services during Q2.
Swedish license confirmation. The resolution from the regulator should be made public before January 2019.
Geographic expansion. Ninja Casino or the other brands could be expanded to new countries.
Risks
Regulation: There is a very small, but not deniable risk that the company doesn't success obtaining the Swedish license. This is really unlikely because the company has already proven that their technical solution is adapted to regulated markets and because they applied for the Swedish license on the first day, showing that they were ready for this milestone.
Revenue concentration: 82% of the revenue comes from Ninja Casino in Sweden. However, the company is diversifying revenues both geographically and through a new brand (SpelLandet).
Imitation from competitors: The PayAndPlay concept is easily replicable by competitors. Nonetheless, Ninja Casino has been able to aggressively gain market share before the competitors implement this solution.
Conclusion
Mr. Market is offering us a very asymmetric opportunity due to its regulatory risk concerns. In addition, the fact that this microcap is practically unknown outside Sweden gives us the opportunity to acquire shares of a high growth company operating in a high growth market at value prices.
Disclosure: I am/we are long $GLOBAL.
I wrote this article myself, and it expresses my own opinions. I am not receiving compensation for it (other than from Seeking Alpha). I have no business relationship with any company whose stock is mentioned in this article.