eBay Changes India Strategy
Summary
The Walmart and Flipkart deal made eBay change its India strategy.
The sale of Flipkart will imply that eBay would receive $1.1 billion from Walmart for eBay's 5.4% stake in Flipkart.
eBay plans to use those funds to relaunch eBay India.
eBay (NASDAQ:EBAY) recently reported a lackluster second quarter that beat analyst estimates for earnings but missed the revenue estimates. Its outlook also was disappointing.
eBay's Financials
eBay's Q2 revenues grew just 9% over the year to $2.6 billion, below the Street's expectations of $2.66 billion and the company's revenue guidance range of $2.64-$2.68 billion. Net income was $638 million or $0.64 per share. Non-GAAP net income was up 17% to $533 million, or $0.53 per diluted share, above analyst estimates of $0.51.
By segment, revenue from its Marketplace grew 9% to $1.8 billion. StubHub revenues grew 5% to $240 million. Marketing services and other revenue increased 10% to $563 million including Marketplace revenue of $298 million (up 6%) and Classifieds revenue of $259 million (up 18%).
Among operating metrics, eBay's active buyers rose 4% to 175 million at the end of the quarter. It reported that the gross merchandise value transacted on the marketplace platform was up 11% to $22.6 billion. GMV for Stubhub improved 5% to $1.1 billion.
During the quarter, eBay repurchased $1 billion of its common stock. The company's total repurchase authorization remaining as of June 30, 2018, was $5.7 billion. The company's cash and cash equivalents and non-equity investments portfolio totaled $8.6 billion at the end of the quarter.
For the third quarter, eBay forecast revenues of $2.64-$2.69 billion or a growth of 5%-7%. It expects GAAP EPS in the range of $0.37-$0.41 and non-GAAP EPS in the range of $0.54-$0.56. The market was looking for revenues of $2.73 billion and an EPS of $0.56.
eBay's New Offerings
During the quarter, eBay launched a new feature called Interests that tailors consumers' shopping experience based on their passions, hobbies, and style. Shoppers select what they're interested in, and the new feature customizes their homepage with themes and items chosen just for them.
eBay also introduced Best Price Guarantee that offers US shoppers 110% of the price difference if they find an item for less on a competitor's website.
eBay also released an update to simplify selling on its Android and iOS native apps that allows items to be listed on eBay within seconds.
In Australia, to compete with Amazon Prime, eBay launched eBay Plus, a membership shopping program that gives members in Australia free delivery and returns on 15 million products and guaranteed delivery. It also provides the ability to search and filter items by delivery speed.
eBay's Acquisitions
During the second quarter, eBay completed its acquisition of Giosis' Japan business, including the Qoo10.jp platform. The acquisition expands eBay's footprint in Japan, one of the largest e-commerce markets in the world.
eBay had made an initial investment in Giosis Pte. Ltd. in 2010. Since then, Giosis has established dynamic marketplace businesses across Asia. eBay hopes to build on Giosis' progress in Japan, enhancing the domestic customer experience and providing about two million Japanese buyers using the Qoo10.jp platform with a well-curated selection of merchandise sourced both locally and from across the globe. It did not disclose the terms of the deal. Giosis' financials are not known, but it had raised $82.1 million in funding. As part of the transaction, eBay will relinquish its investment in Giosis' non-Japanese businesses.
The Walmart (WMT) and Flipkart (FPKT) acquisition also made eBay change its India strategy. The sale of Flipkart will imply that eBay would receive $1.1 billion from Walmart for eBay's 5.4% stake in Flipkart. eBay plans to use those funds to relaunch eBay India. eBay plans to focus on cross-border trade by bringing imported inventory to India and allowing Indian merchants access to the global market.
The disappointing outlook has affected its stock. Its stock has been tumbling since its results last week and hit a 52-week low of $32.86 last week. Its stock is currently trading at $33.99 with a market capitalization of $33.7 billion. It had hit a 52-week high of $46.99 earlier this year. The stock has gained only 1.27%, compared to the industry's growth of 44%.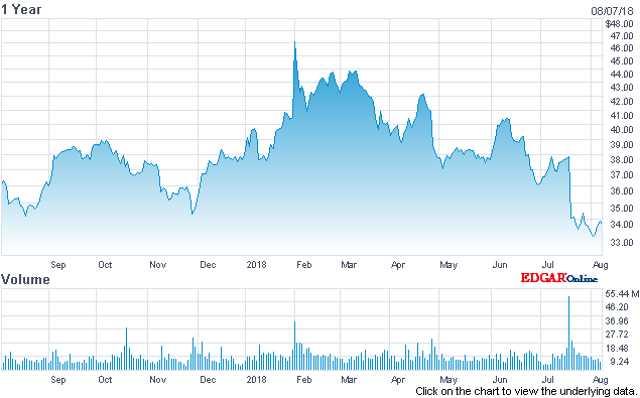 This article was written by
Sramana Mitra is the founder of One Million by One Million (1M/1M), a global virtual accelerator that aims to help one million entrepreneurs globally to reach $1 million in revenue and beyond. She is a Silicon Valley entrepreneur and strategy consultant, she writes the blog Sramana Mitra On Strategy, and is author of the Entrepreneur Journeys book series and Vision India 2020. From 2008 to 2010, Mitra was a columnist for Forbes. As an entrepreneur CEO, she ran three companies: DAIS, Intarka, and Uuma. Sramana has a master's degree in electrical engineering and computer science from the Massachusetts Institute of Technology. Full bio can be found at http://www.sramanamitra.com/bio/