While the S&P 500 is set to open just a stone's throw away from its January 26th all-time closing high this morning, it's worth pointing out that the S&P 500 Total Return index (which includes dividends) has already made a new all-time high. We expect that the regular S&P 500 price index will soon follow.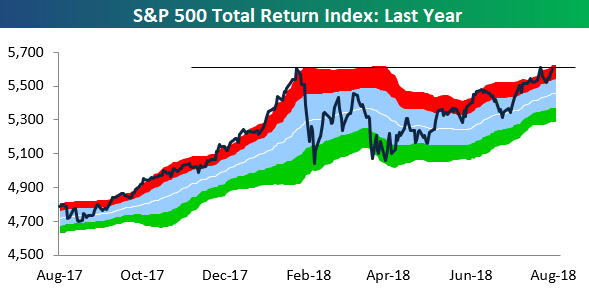 Below is a look at total returns for various asset classes over three time frames - YTD, since the January 26th all-time high for the S&P 500, and in Q3. We'll focus specifically on total returns since the January 26th all-time high since the S&P is now less than 1% away from it.
As noted above, on a total return basis, SPY is already at new highs and is up 0.17% since January 26th. But while SPY is up, the Dow 30 (NYSEARCA:DIA) is still down 3.15% since 1/26.
So what has been leading and lagging the market since late January? On the leading side, small caps, growth, Consumer Discretionary, Technology, and Utilities are all up big. On the lagging side, we've seen weakness for value, Consumer Staples, Financials, Industrials, and Materials.
Outside of the US, things haven't been very pretty. US investors that have owned country ETFs since late January are pretty deep in the red on these positions. As shown, Brazil (NYSEARCA:EWZ) and China (NYSEARCA:ASHR) are both down more than 20% (China is down 30%!), while Germany (NYSEARCA:EWG), Italy (NYSEARCA:EWI), Spain (NYSEARCA:EWP), and Russia (NYSEARCA:RSX) are all down more than 10%. The emerging markets ETF (NYSEARCA:EEM) is down 15.21% since 1/26, while the BRIC ETF (NYSE:EEB) is down 12.6%.
Looking at commodities, oil (NYSEARCA:USO) is the only one that's up since 1/26, while gold (NYSEARCA:GLD), silver (NYSEARCA:SLV), and natural gas (NYSEARCA:UNG) are all down more than 10%. Fixed income markets are down slightly as well.