Protectionism by any other name: we're seeing a number of countries and regions apply tighter rules on foreign investment. France, Germany, the US, China, and the EU have all recently increased scrutiny of foreign investor-backed deals. From the Economist:
Both suspect that investment from China is a ploy to gain access to advanced technology and undermine domestic security. European officials are thrashing out the details of an EU-wide investment-screening mechanism, proposed by Mr Juncker in 2017. A government white paper on national security and investment published on July 24th suggests that post-Brexit Britain will be no soft touch, either: it was widely seen as intended to increase scrutiny of Chinese buyers. But it is the Trump administration that is moving fastest.

Mr Trump had considered raising barriers to Chinese inward investment in sectors targeted by the "Made in China 2025" development policy. But he decided instead to support a plan to strengthen an existing investment-screening mechanism, the Committee on Foreign Investment in the United States (CFIUS). With votes in both houses of Congress expected shortly, and bipartisan support, he could soon be signing it into law.
China is not only awash in capital but it also wants to become a technology powerhouse by 2025. It has combined these two facts into its global acquisition appetite, which these protectionist measures are intended to address. Expect this trend to continue.
Are recessions required? St. Louis Fed President Bullard is one of my favorite Fed Presidents because he's always willing to think outside the box. Case in point: several years ago, the St. Louis Fed implemented a new regime on how it thinks about interest rate policy. Yesterday, Bullard argued that the traditional economic thinking that a recession has to happen after the economy expands for "x" length of time is flawed. He cites Australia as an example of a country that hasn't had a recession in over a decade (However, I would add that country's situation is somewhat unique: were they not the prime raw material suppliers to China during its 2008 stimulus spending spree, Australia would have suffered along with everybody else). Still, since we're starting to see more and more discussion about the possibility of a US recession, Bullard's observation couldn't come at a better time.
The Atlanta Fed has updated its labor market spider chart to include the latest JOLTs data: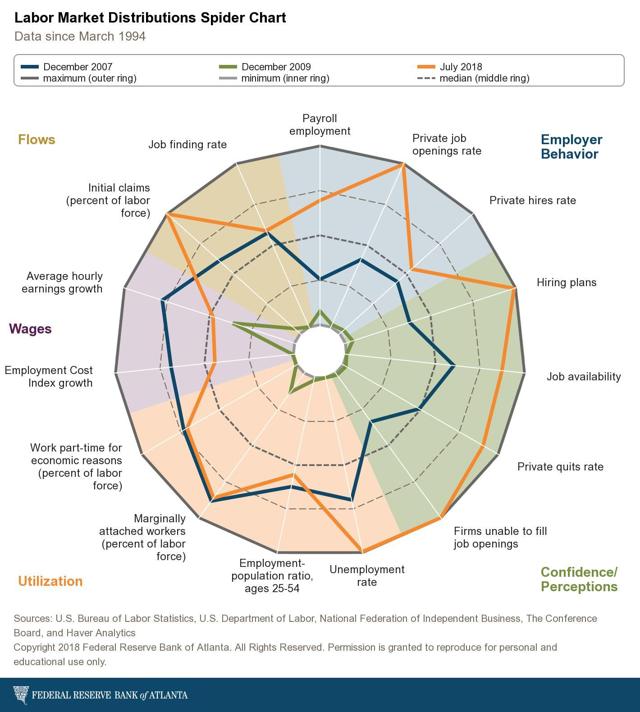 With the exception of wages, the current labor market is in better shape than at the peak of the last expansion.
All that being said, let's turn to the markets, starting with the 2-week chart: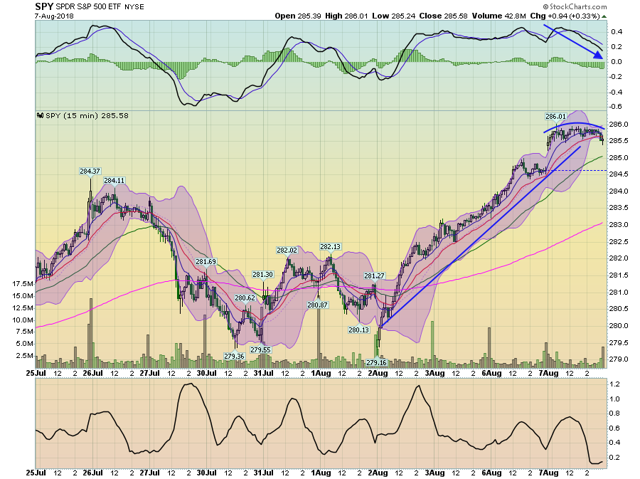 While I normally begin with a shorter time period, the 1-day chart is nothing more than a sideways blur. It's on the 2-week chart that we see what's really happening. Prices have been in a solid uptrend since the beginning of August. Today they gapped higher and formed a rounding top - a short-term bearish development. Momentum is weaker as well.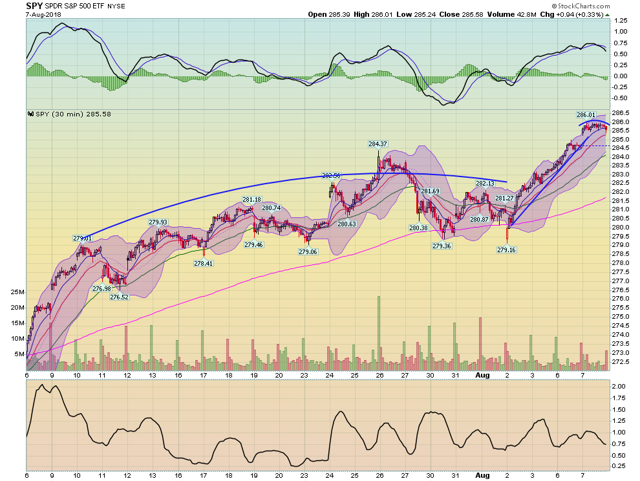 And the 30-day chart puts it into starker relief. Prices formed a long-term rounding top from July 10-August 2. They then broke out, moving through short-term resistance in the lower 280s. But, again, we see the rounding top, which is bearish.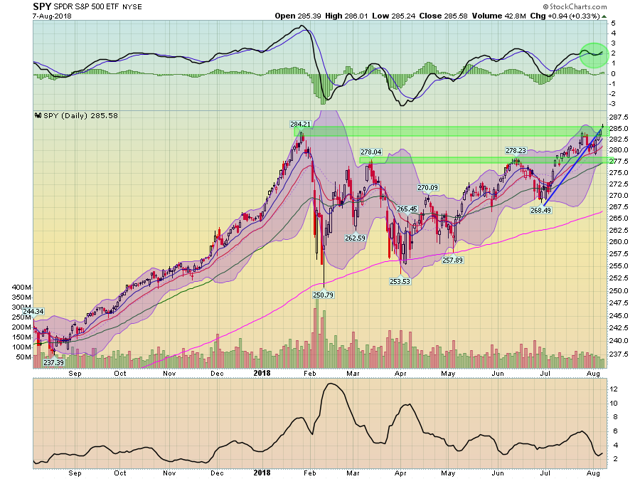 And then we have the daily chart, which is also bearish. Ladies and gentlemen, I present you with a star formation, which occurs when prices gap higher but then don't move for the rest of the trading session. This is a bearish signal as well.