Why I bought Microsoft in the first place
I started accumulating shares in Microsoft (MSFT) on January 27, 2015 and kept buying the stock until April 2. My resulting cost basis was $41.05 per share.
What I saw back then was a company of exceptional quality trading at a price that seemed fair when looking at the historical valuation. The green dots signal my purchases on the chart below.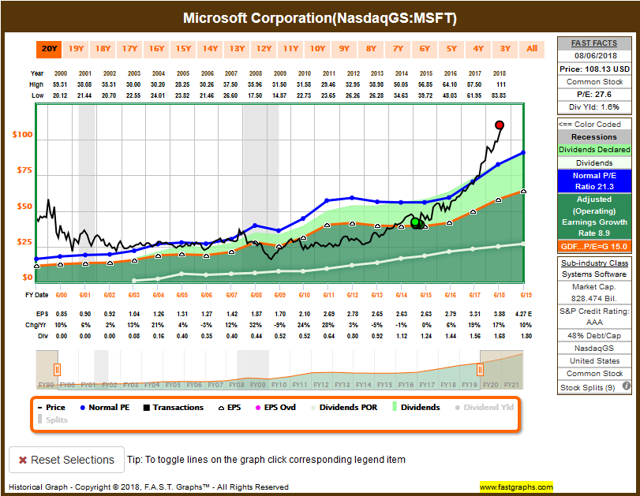 Microsoft had a 12-year dividend-raising streak that time, and the stock offered an entry yield of ~3% when the market yield was slightly below 2% and this particular stock seldom came close to this level of current yield as you'll see below.
Microsoft was one of the 3 (!) companies that were AAA-rated by S&P. (Johnson & Johnson (NYSE:JNJ) and Exxon Mobil (NYSE:XOM) were the two others, and Exxon has lost this status in 2016.) Not that I care too much about credit ratings in general, but when a category only includes three companies and one of them looks investable, that does get my attention.
Looking in the rearview mirror, the dividend growth rates looked more than attractive, while the payout ratios were low (both on an earnings and cash flow basis), and management seemed to be devoted to continuing with the dividend increases. If this weren't enough, I saw heavy insider buying in the first few months of 2015, however, such is not typical of this company.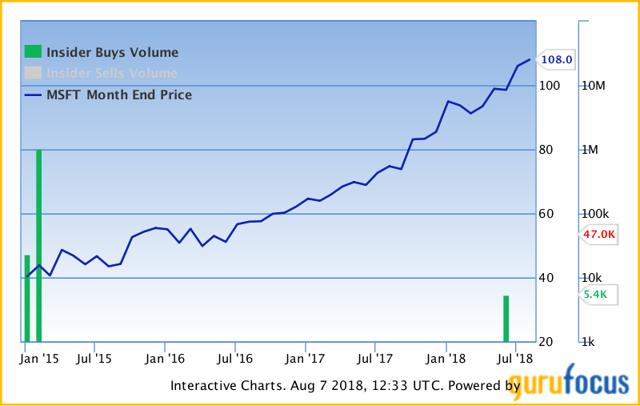 For me, everything seemed to be together to make Microsoft a great investment, so I loaded up on the shares as heavily as I could back then. My plan was to hold onto this stock, collect the hopefully growing dividends and only sell if the valuation gets uncomfortably high. I could imagine being a shareholder of this company for life, but being a buy and hold investor doesn't equal being a buy and forget to sell investor in my dictionary, so I always keep an eye on the valuation of all my stock positions.
What has changed?
Having read and re-read all of Warren Buffett's letters to Berkshire Hathaway (NYSE:BRK.A) (NYSE:BRK.B) shareholders, I distilled his wisdom to a 3-dimensional analysis. The dimensions I am examining with every company are operations, capital allocation, and valuation.
While I consider Microsoft a wonderful company (as it meets all my criteria for the operations and capital allocation dimensions), I do have problems with the valuation part of the equation in 2018. Let the numbers speak for themselves:

If this weren't enough, take a look at Microsoft's dividend yield that hasn't been this low for a decade.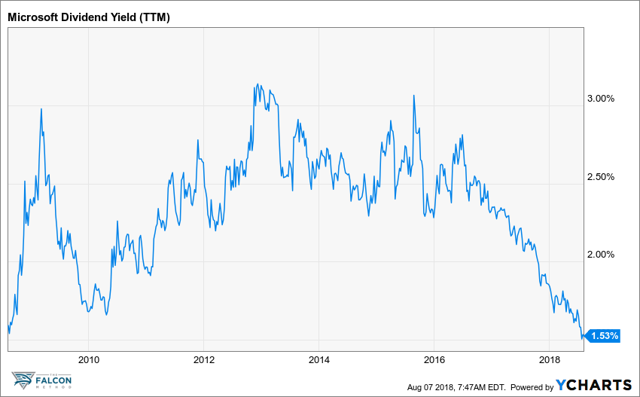 The following quote from Warren Buffett summarizes nicely what I think about the situation with Microsoft today.
Last year, however, the valuations of [Coca-Cola and Gillette] rose far faster than their earnings. In effect, we got a double-dip benefit, delivered partly by the excellent earnings growth and even more so by the market's reappraisal of these stocks. We believe this reappraisal was warranted. But it can't recur annually: We'll have to settle for a single dip in the future." (Warren Buffett's Letter to Berkshire shareholders, 1991)
I do feel that the valuation multiple has already run its course (no matter which you pick). I have already got the double-dip benefit and would need to settle for a single dip if I stayed invested in Microsoft. Until now, all three components of the total return equation-dividends, earnings growth, and expansion of the valuation multiple-have been working for me but I feel, from this point on, the probability is high that the third component could turn against me.
Microsoft is an exceptional company and you can argue that its growth prospects warrant a multiple that is higher than its historical averages, but this line of thought can get us to the utterly dangerous 'this time it's different' type of thinking.
I also had a look at the following chart before making my decision. As you can see, analysts were not that enthusiastic about the stock when I was in BUY mode but they have turned very bullish by now. When analysts are optimistic and their upbeat consensus is already priced in, do you think it's easier for the company to surprise on the upside or the downside? (I like that scenario much better when analysts are pessimistic, and bad news are priced in. This is what selective contrarian investing is about, for me.)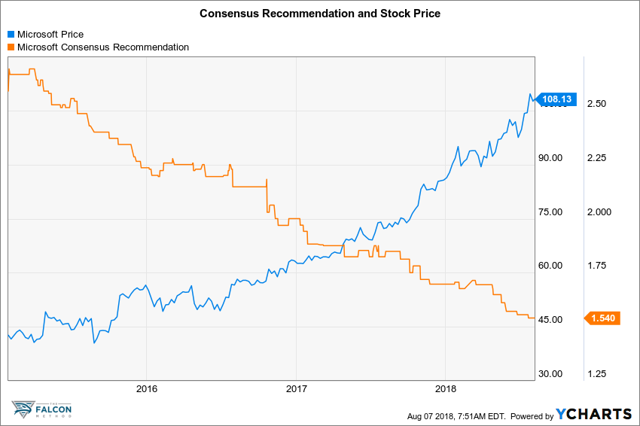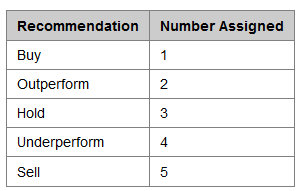 Buy and don't forget to sell
Buy and hold became a religion; it almost became buy and forget to sell. Instead, you have to buy stocks when they are undervalued. When they become fairly valued, you sell them, and you put the proceeds in cash, and you look for other stocks that meet your criteria." (Vitaliy N. Katsenelson)
I'm ready to admit that I am a buy and hold investor with a strong income focus. Selling occurs rarely in my portfolio, and I most certainly wouldn't be ready to dump a quality stock like Microsoft when it gets to its fair value. In that case, I would be comfortable holding onto my shares in this compounding machine. However, once the valuation gets so extended that it makes me feel uncomfortable, I do consider selling.
I strongly feel that the current valuation multiples do not give me too much of a downside protection with Microsoft. Maybe the growth characteristics can provide a cushion but in this kind of overheated market that's not enough for me. I have gone through a very similar valuation and total return examination that Chuck Carnevale of FAST Graphs posted and I strongly suggest that you should watch the video in his article. I came to the same conclusion and decided to sell Microsoft.
I sold my shares on July 26, 2018, at $110.3. I have made an annualized return of ~35% on this investment.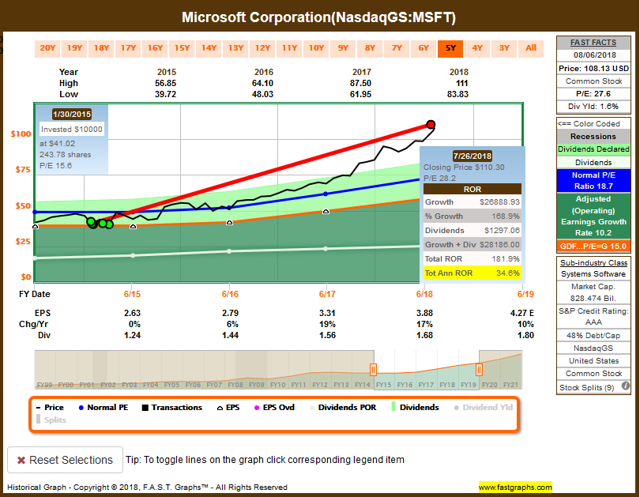 The 'don't look back' part
I had the chance to meet Chuck Carnevale in Florida in March 2017. He has decades of experience while I'm only 36, so I did pay attention when he said that the most important thing for being a successful investor was to: "Have a plan and stick to your plan no matter what happens. Also, you should never look back."
My plan is simple: I am buying undervalued quality dividend payers that provide reliable income. (Simple but not easy to do in this kind of market.) Then I collect the dividends until my stocks get overvalued. I only sell when I feel uncomfortable with the stretched valuation and the resulting subpar total return potential. After the sell decision is made, I never look back. Selling at the top occurs rarely and can be put down to pure luck. I like to focus on things that I can control, so once I sold Microsoft, I will not be looking at its price chart on a daily basis. (Not that I've been doing it before.)
Selling decisions are never black or white. The investor has to take a look at the valuation in historical comparison but also the changes in the growth characteristics of the company that can justify changes in valuation multiples. (If growth is slowing but multiples keep expanding, that's something you should definitely be paying attention to. Coca-Cola is a good example of this.) With Microsoft, one can argue that its recent stellar results make it worth a higher multiple, but I'm not that inclined to the 'this time it's different' type of thinking. At this point, I feel that the risk-return characteristics of investing in Microsoft are not good enough. I came to this conclusion after examining several factors - just take a look at the charts in this article - and when all seem to point in the same direction I am not hesitant to make a decision.
I have no idea where Microsoft's share price will go, but I could reinvest most of the money I made on the sale with higher yield and seemingly better downside protection.
If you are curious how the evidence-based stock selection process of the FALCON Method works, click here to see its steps and the factual evidence behind them.
If you liked this article and do not want to miss any of these in the future, please scroll up and click "Follow" next to my name.
Disclosure: I/we have no positions in any stocks mentioned, and no plans to initiate any positions within the next 72 hours.
I wrote this article myself, and it expresses my own opinions. I am not receiving compensation for it (other than from Seeking Alpha). I have no business relationship with any company whose stock is mentioned in this article.