Even if European Commission President Jean-Claude Juncker seemingly managed to de-escalate the looming trade war with the U.S. at the end of his visit in late July, many open questions remain. Although both Brussels and DC both agreed to work towards "zero" tariffs, barriers and subsidies, observers quickly realized that, in fact, the situation remains essentially the same. The EU cannot rely on President Trump to ditch his current trade playbook - Trump has proven to be unpredictable and prone to sudden policy changes before, meaning a trade war is far from averted.
Ever since the U.S. introduced tariffs of 25% on steel and 10% on aluminum in March, talk of trade war has become inescapable. The phrase is flung around so ubiquitously, with so much acrimony, that it is now synonymous with everything ominous about the current economic climate.
Critique against the tariffs, lauded by President Trump as a necessary decision to "protect our country and our workers", came in fast and thick. While some diehards congratulated the President for taking actions against 'unfair' trading practices, such as the dumping of steel and aluminum in the US, many, including Republican establishment figures and U.S. steel executive, were not as appreciative - pointing to the fact that the tariffs might actually do more harm than good.
Disappointing financial results
The overarching reason why the latter group was right on the money is simple: as recent financial results show, rising input costs and brittle supply chains are devastating the bottom lines of manufacturing companies, and are spilling over into the wider economy.
Industrial metals are often viewed as a bellwether for global economic growth, and as proxied by the S&P Goldman Sachs Industrial Metal index, they have been underperforming since the beginning of the year. What this means is that as long as uncertainty reigns, and the volatility brought upon by the almost weekly list of fresh trade tariffs unveiled (or threatened) by the U.S., the EU or China continues, global growth will most likely suffer.
Shares in Alcoa (AA) , the largest US-based primary aluminum producer, tumbled after the company posted weaker than expected EBITDA results due to a $15 million hit it took on metal shipped from Canada to its U.S. based smelters. A similar story has been unfolding at Whirlpool (WHR), whose representatives blamed not just weaker EMEA sales, but also rising raw material costs, especially steel and resin. For its part, Harley Davidson's (HOG) profits fell by over 6% and its costs are expected to grow by $25 million due to a combination of raw materials costs and the retaliatory measures imposed by the EU in reaction to Trump's steel and aluminum tariffs. While the company posted a lower than expected impact on its profits, the long-term picture is not rosy. Meanwhile, General Motors cut its earnings forecasts due to volatility in input costs, specifically aluminum and steel.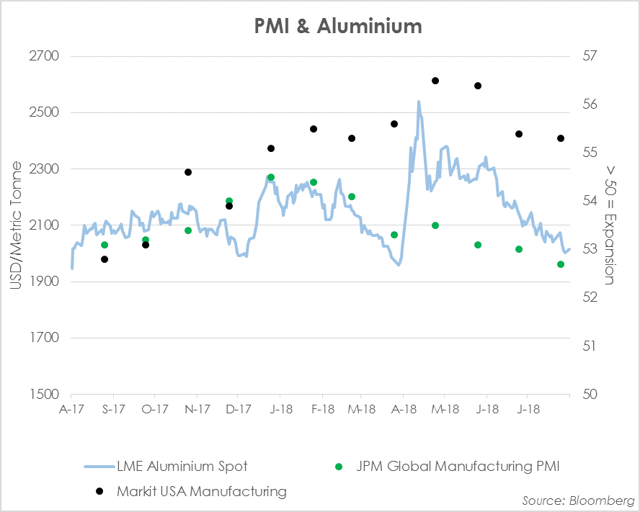 And it's not just financial results of certain companies - the aggregate Philly Fed Manufacturing Index fell markedly in June to 19.9, from 34.4 in May, before rebounding slightly to 25.7 in July. The drop was largely on account of a dramatic fall in so-called 'New Orders'. Markets often keep an eye on regional indices as a harbinger for the larger releases, such as Markit U.S. PMI Indices, which, incidentally, has also dipped slightly.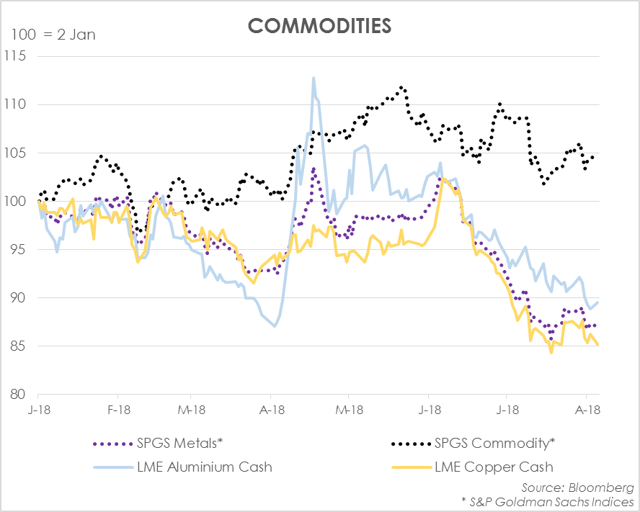 Fear the sanctions' bite
Another factor compounding the headwinds experienced by manufacturers and metal markets on both sides of the Atlantic comes from the U.S. Treasury's decision to slap sanctions on a range of Russian firms, Rusal - the world's second largest producer of aluminium, amongst them. The company was caught in the dragnet after its majority stakeholder, Oleg Deripaska, was placed on the sanctions list. With operations in 12 countries and a long history of providing materials to global producers, Rusal is deeply integrated in global value chains. The blacklisting caused an immediate supply shock in an already tight market, and prices soared to multi-year highs of over $2,500/ton (from a pre-sanction level of around $2,100).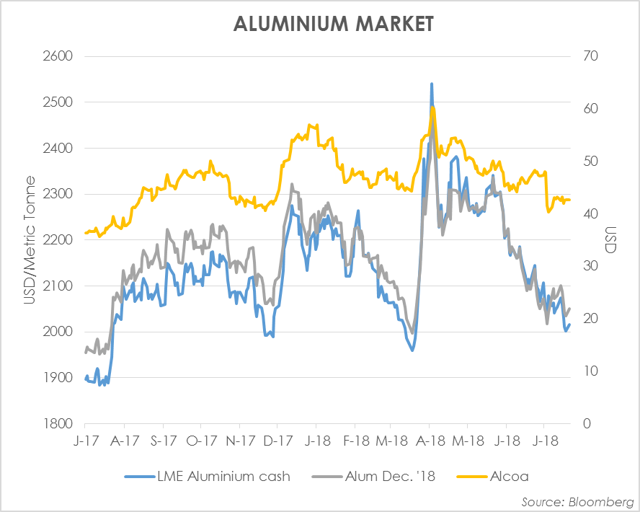 With aluminium being an essential compound found in most modern products, from cars, planes and trains, to iPhones and beverage cans, the sudden supply shock sent costs surging for manufacturers and producers everywhere.
In Europe, output from Rusal's Aughinish refinery, a key part of the continent's supply chain, came under threat. The Irish refinery produces alumina, the key precursor from which aluminium is smelted, and its production is mostly absorbed by the largest smelter in Europe, Rio Tinto's Dunkirk plant.
Small and medium enterprises in the downstream sector - such as companies manufacturing car parts, construction materials or even power cables - were the hardest hit. With the Old Continent reliant on Russian aluminium for over 20% of its consumption, a plethora of companies found themselves cut off overnight from their main source of metal. Tom Jones, chief executive of the UK Aluminium Federation told The Telegraph back in April that, as a result of higher input costs, "Manufacturers will try and spare those rises but eventually everything gets passed on to consumer. My members are concerned. Further downstream in the supply chain people will be affected and there will be a shortage of products."
Similarly, a German trade group representing 655 metals companies, warned that unless the Rusal sanctions are lifted, major disruptions to German supply chains will be felt. Russian aluminium represents 31% of the country's total consumption, and major consumer industries such as automotive could also be affected.
These fears panned out: as one trader recently pointed out, while alternative sources were located, they had to absorb input costs of up to 20% higher or delivery times 4 times longer.
The impact of the Rusal sanctions prompted the Treasury to issue a swift turnaround. The Department issued an extension of the sanctions deadline to October 23, allowing U.S. and overseas firms to wind down exposure to the company, and sending prices down to pre-crisis levels.
However, given the broad impacts of the sanctions, a full delisting of the company - as is currently being negotiated - would be the best outcome for the market. For if no delisting agreement is reached, the aluminium market will likely witness a repeat of the April shock, including severe raw material shortages that may lead aluminium prices to surge to up to $3000, as was originally predicted by Goldman Sachs projections.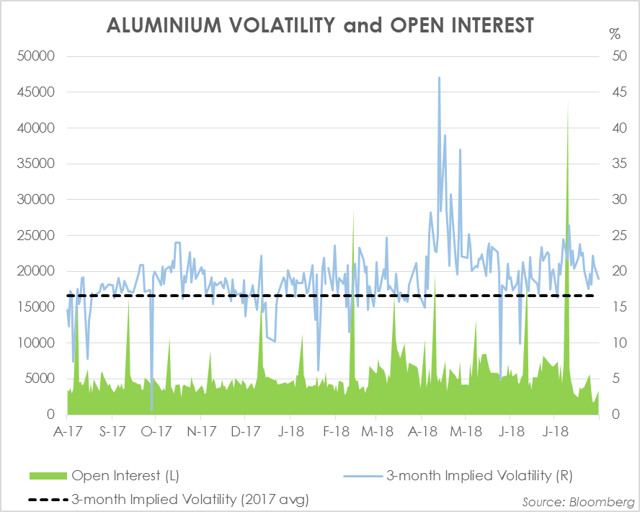 The plots shows the spike in the implied volatility (and price) of Aluminium in April 2018, shortly after the introduction of sanctions against Rusal. When sanctions relief was extended to October, the price tumbled again. It is quite evident that the U.S. administration's targeted sanctions are having a dramatic effect on global markets. Both implied volatility of the metal, and open interest has increased, with volatility again starting to rise (and persistently higher as compared to the 2017 average of ~ 16.6.
Car tariffs next?
But global growth could be further strained if the Trump administration has its way and implements across-the-board tariffs of 20% on car imports. The automobile industry in Europe has won special irk from the President and top trade advisor Peter Navarro. Mr. Navarro has called out Germany as being "a tremendous problem both for Europe itself, and for the US" because, amongst others "their tariffs on our autos are four times higher".
Since carmakers are already struggling to cope with higher metal prices, being slapped with extra duties will have dramatic ripple effects throughout their supply chains - which are already reeling from rising input costs - and spill over into the wider economy.
Germany is understandably jittery - due to its substantial car exports. Any escalation of the trade skirmish will have a bigger impact on them than on other EU countries. Berlin is responsible for almost half of the EU's $42 billion worth of passenger car exports to the US.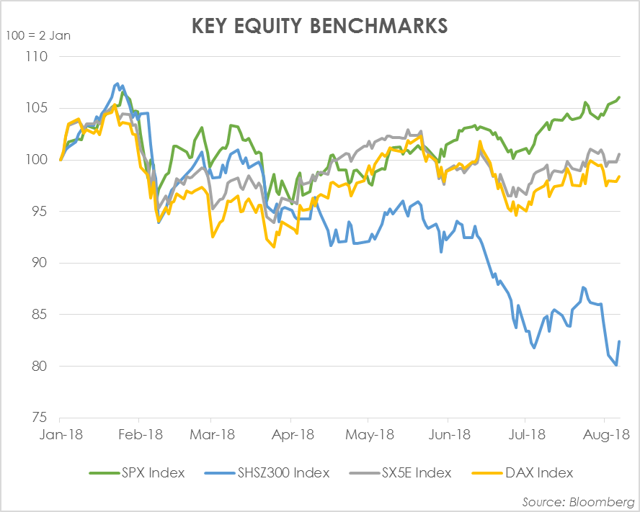 Markets have been subject to wild swings, with equity bourses gravitating towards safe-haven dollar. U.S. equity markets have been, amongst others, supported by a strong economy, while the Chinese market has officially entered a bear market, having lost more than 20% since its latest high in January. European markets have also been underperforming, especially the German Dax.
Can the trade war be stopped?
Yet despite the overwhelming evidence that the trade war will hurt global growth, some analysts seemed oddly unfazed. Mohamed El-Erian, chief economic advisor at Allianz, said the U.S. is "winning and we will win the trade war." Mr. El-Erian points to the dismal performance of the Chinese stock markets, relative to those of the U.S. as proof positive that, amongst others, the U.S. is a more "dynamic economy", and less susceptible to a protracted trade war. Such statements will be sure to tickle the president and serve as a "I told you so" for his supporters.
However, there is no reason for any smugness just yet. Estimates from JP Morgan has put the value of lost equity value, owing to recent, and wild trade-worry induced market swings, at $1.25 trillion dollars. A more level headed perspective comes from the chairman of the U.S. Federal Reserve, Jerome Powell, who said that if the trade war "results in broader, higher tariffs across a broad range of traded goods or services that remain that way for a longer period of time, that will be bad for our economy and for other economies."
With so many moving parts and ripple effects, one may argue that the White House did not properly anticipate the compounded effect of its successive protectionist measures. Even in the strong U.S. economy, the medium-term consequences of rising metal and other input costs, unpredictable policy environments, not least created by Trump's tendency to flip-flop, and shaky supply chains will have negative effects on the economy. A sharp slowdown (or even reversal) of economic growth should not be discounted.
Disclosure: I/we have no positions in any stocks mentioned, and no plans to initiate any positions within the next 72 hours.
I wrote this article myself, and it expresses my own opinions. I am not receiving compensation for it (other than from Seeking Alpha). I have no business relationship with any company whose stock is mentioned in this article.