Market Intro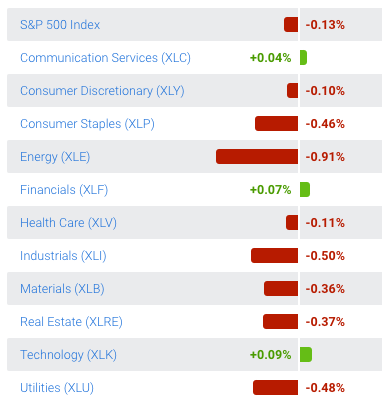 SectorSPDR
Energy shares (XLE) are taking the worst of it this morning in a modestly lower session. At the time of this writing, the spread between the sectors is quite narrow, which makes sense given the overall gentle drift of the indices.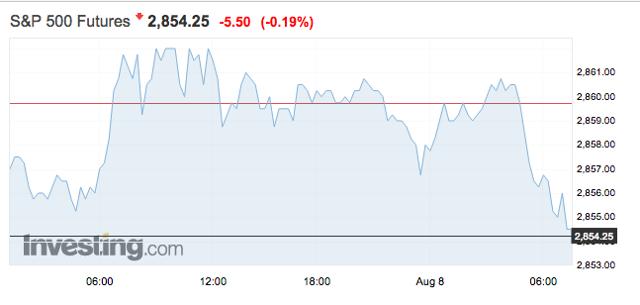 Regardless of the driving cause, price action in the pre-market and during the first couple hours of trade were fairly lackluster. Each of the indices (SPY, DIA, QQQ, IWM) are modestly lower, but not enough to drive spot volatility or VX term structure in a meaningful way.


CNBC: 10:43 EST
WTI (USO) can't seem to get its footing in the latter part of the summer, which of course has helped some at the gas pump. Oil volatility is tamping down as the year drags on. Oil vol hit a 52-week low of 17 last December, but has spent most of the year in the high 20s. Currently the OVX prints around 25, and one may make the case that to rejoin the larger volatility narrative will need to continue lower.
Thoughts on Volatility

Secondary market finance is simply different from a lot of other lines of work. Experts in the field are wrong a great deal of the time. We see this in fields such as surgery or meteorology. But we need to come to terms that everyone, ourselves included, will be wrong a great deal of the time. Make sure your trading strategy embeds a component of how to deal with trades, even strings of trades, moving against you. This is especially the case if your strategy might well be classified as "high probability trading".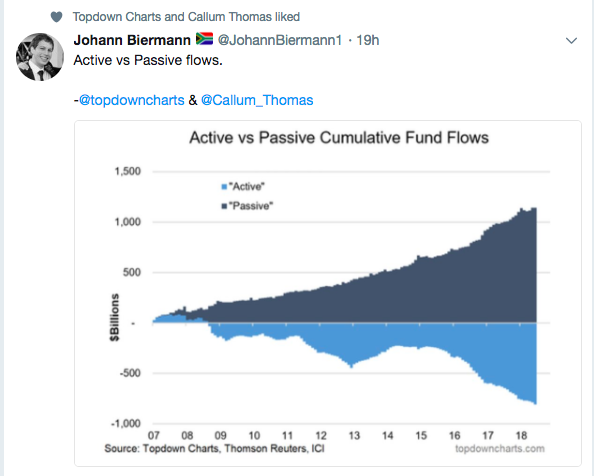 Passive management has definitely won the day over the last decade. This phenomenon makes it more difficult for active managers to attract funds and, consequently, charge higher fees. The irony may well be that the downward pressure on expense ratios may make it easier for active managers to compete with index investing. This is especially the case where active managers can find over-concentration of correlation due to "blind money" following set rules such as market cap allocation.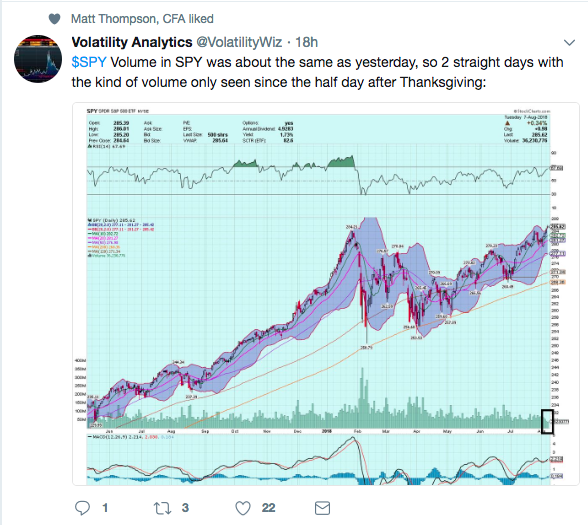 We're approaching all-time highs once more, but the trading volume here in early August is pretty light this week. With earnings season wrapping up and a low-content economic calendar, one wonders whether a successful push to all-time highs could be swiftly unwound.
Term Structure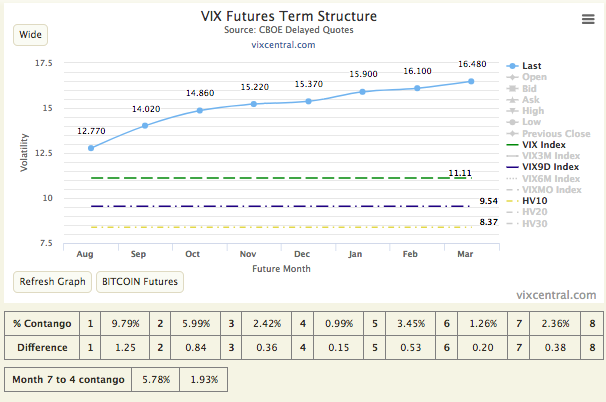 The front end of the VX term structure is breaking down. While the M1-M2 contango is at 9.79%, what is more damaging to long-vol players (VXX, UVXY, TVIX) is the decay between spot and M1: this is where the real losses from being long vol accrue from when the term structure is this low in absolute level.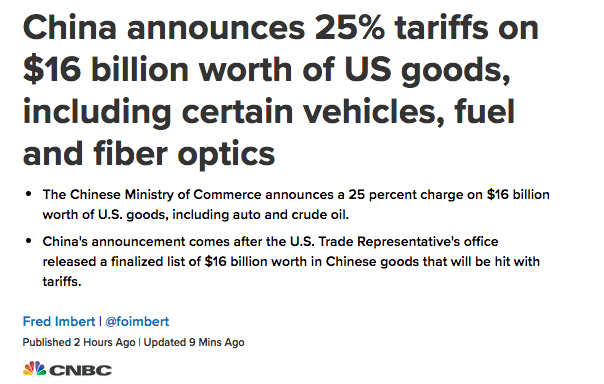 The lack of response from equities on such a headline as that featured at this morning's open shows the dire straits that vol longs are in right now. Reliable instigators of volatility such as tariff announcements are taking on a "Boy-Who-Cried-Wolf" tone among SPX traders. If today is any indication, vol longs need a new story line if vol is to pick up. Ironically, they may get more help from an overheating market where calls get bought, such as we saw in January of this year.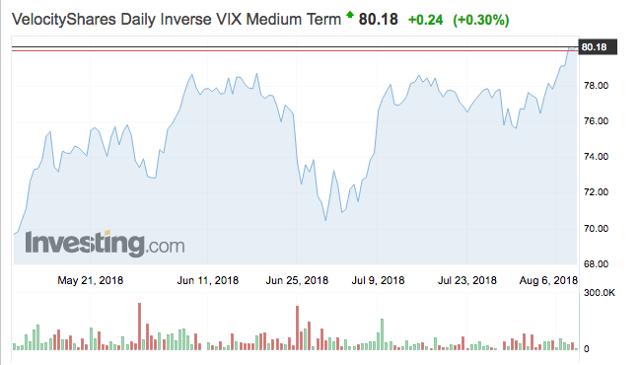 The front futures are not likely to want to "give" much more to the downside from here on out, or at least not until they test out this new and lower range for awhile. True there is some roll decay that shorts may avail themselves of (SVXY).
Where I see more opportunity from the short end for now is at the back of the curve. As can be seen above, the return profile along this region of the term structure as measured by ZIV has still been quite attractive over the past three months. There is less "sucker punch" risk here than there is for the short-term VIX. And one can argue that there is room for the back end of the VX term structure to drop some (though not by much).
Conclusion
If this is your first time reading Market Volatility Bulletin, thanks for giving it a try. If you're a regular, we thank you for your ongoing contributions in the comments section.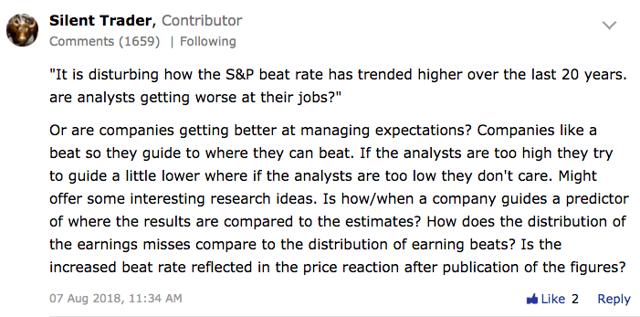 Silent Trader chimed in on the EPS beat rates trending higher brought up in the last MVB. The research topics he mentions surely would be worthwhile.
I've said in the past that I believe that analysts should somehow be compensated more or less by selling "EPS straddles", where their only source of pay relates to how well they were able to predict earnings. I bring this up not because I have anything against analysts or that their job is easy, but there is in my view an issue when the investment community relies on the findings of a group that through career pressures show consistent bias to play "the earnings game". We need some countervailing force to help reduce or ideally eliminate this bias.
Thank you for reading.
Please consider following us.