"Most of the financial instruments that have been created in the [1970s and 1980s] have strengthened companies. Ninety-five percent of the high-yield business itself was created to finance growth, not takeovers, and 95 percent of it does just that."
- Mike Milken
Introduction
Once an excellent asset class to find strong return profiles, the U.S. high yield market in the past couple of years has entered a "peculiar" period in time. While there will always be individual securities that have excellent investment profiles, in general, the overall high yield market has several negative characteristics that suggest a very poor risk vs return profile.
The U.S. high yield market plays a critical role in the U.S. economy with the providing of jobs and income. The amount of U.S. companies with high yield debt has ballooned post recession. An internal screener showed almost 3,000 U.S. incorporated companies with non investment grade rated debt. If we extrapolate and say the average company with high yield debt has 1,000 employees, then that is 3,000,000 employees working with a company with high yield debt. To put into further perspective, from 2016 to 2017, the U.S. added 2,100,000 jobs. Mike Milken once said "More than 1,000,000 jobs have been added to our economy in the 1980s by only 1,200 companies issuing high-yield bonds that have taken ideas and enterprise and put them to work." Total U.S. high yield debt outstanding totals over $1.5 trillion. High yield matters.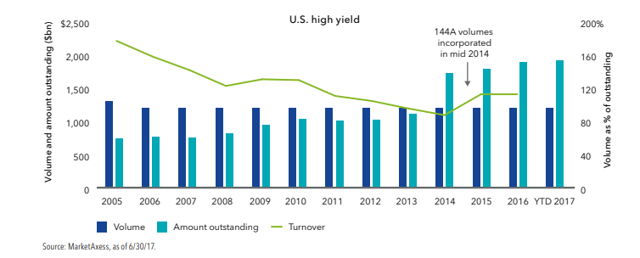 The Problem
The growth in high yield debt would not be an issue if Milken's first quote holds true today. If these companies issuing debt experienced enough growth to pay down issuances and reduce leverage, then return profiles would be warranted. However this is not the case, and there has been an accumulation/build-up of risk that has developed over a lengthy period of time. This build-up of risk is evident through a number of factors:
1. Serial Refinancers - Too High Off Your Own Supply
According to Moody's, a sample from January to October 2017 showed that 79% of new high yield issues were used to refinance existing outstanding debt, 19% of new issues were used to fund M&A and only 9% of new issues financed capital spending (exceeds 100% because an issue can fund more than one purpose). A Guggenheim outlook report stated that refinancing volume represented 52% of total new issue activity in 2016 compared to the 10 year average of 43%.
The high yield market is booming in size and this is largely in part due to these serial refinancers. Investors have allowed companies to transform themselves into can kickers to capture yield and interest income. High yield debt used for growth capital appears to be a thing of the past.
2. Net Leverage Continues Higher
Are these companies truly achieving better fundamentals to be able to refinance their debt? A look at overall net leverage suggests that they are not. Net leverage, net debt divided by EBITDA, is a common metric used by the majority of high yield investors. The majority of companies with high yield debt have actually not reduced leverage after 2010. If overall fundamentals are improving we should expect to see overall net leverage going down. What we see instead has been an increase in overall net leverage since the beginning of our current business cycle. A prudent investor that is interested in investing in high yield say through ETFs and/or highly diversified funds would see this, take a step back and expect to be compensated more handsomely for the growing risk.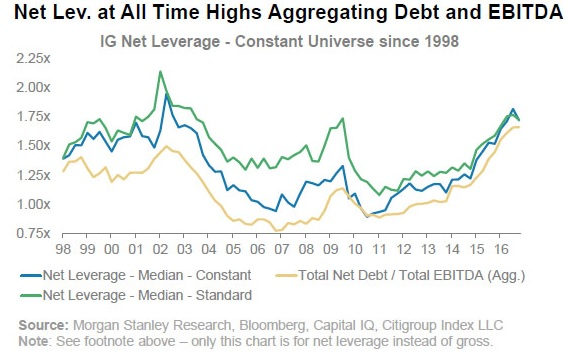 3. Unsecured Debt, More Security for Investors?
The growth of unsecured debt also poses a large risk to investors. According to data gathered from Bloomberg, unsecured high yield rated debt represented roughly 79% of the total market! This number can be solidified further as another yield searching market, the leveraged loan market, also poses substantial risks to investors (another topic of discussion). The % of covenant lite loans, loans that offer less protection and covenants to investors than traditional structured credits, has soared from 16.5% to 75% of the overall leveraged loan market from 2006 to June 2017.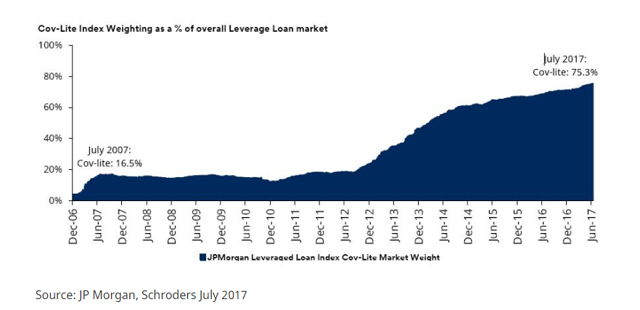 Investors have become complacent with unsecured issuances even when companies show less fundamental improvement. Unsecured debt tends to have far lower recovery rates than secured debt and this is especially true in recessions as shown below. This is a growing risk once again not factored into the return potential of those investing in the high yield market.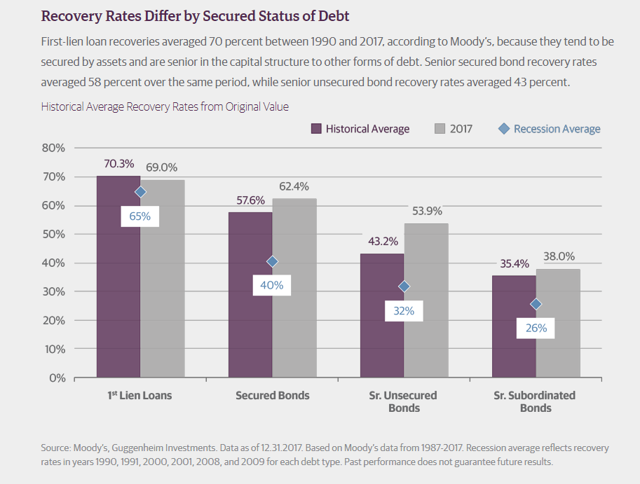 4. Be Wary of The Law of Unintended Consequences
As part of new corporate tax laws passed in late 2017, the amount of interest expense that companies can deduct will be limited to 30% of EBITDA (30% of EBIT starting in 2021) and companies gain the ability to fully write off capital expenditures in the year spent for at least the next five years. We saw broad equity and high yield rallies once the new tax laws were passed, but it is unclear why the riskier portion of the high yield bond market has experienced the highest level of returns. Moody's reported BBB and below as the most apparent losers of the new tax laws. It has also been reported that approximately one-third of borrowers in the current high yield market have interest expense above the 30% threshold. Fitch has estimated that 37% of high yield companies would feel some impact, 27% would feel material impact (20% or more of interest expense being non-deductible) and 10% would feel a severe impact (50% or more of interest expense nondeductible). Fitch also notes that these numbers will get worse once the calculation changes from EBITDA to EBIT in 2022.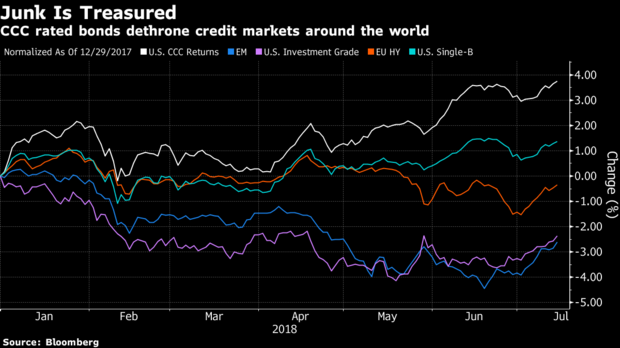 No Bang For Your Buck
While there have been nice improvements in our economy and various economic measurements suggest this, U.S. companies in the high yield market have not experienced the same level of growth. With these outlined risks, what are investors getting in return? As shown below, 10 year spreads have continued to narrow close to record lows.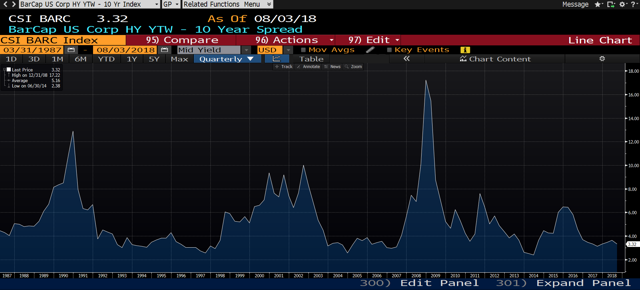 Source: Bloomberg
Mounting Wall of Maturities
While timing downturns is difficult, the likelihood of U.S. high yield causing disruptions in our general markets is quite high. The size of the asset class, the growing risks in the asset class and additional negative macro factors (rising interest rates) increases these odds. The timing of debt maturities could also not be at a worse time. According to Moody's, $400B of US high yield debt is scheduled to mature in 2020, the highest amount of rated debt to mature in a single year in the history of the credit markets. The number of maturities balloon from 2019 through 2022. These bonds are going to mature during year ten and beyond of our current business cycle. If the economy begins to slow down and the debt refinancing market shuts down (this occurs during recessions), the high yield market is in trouble.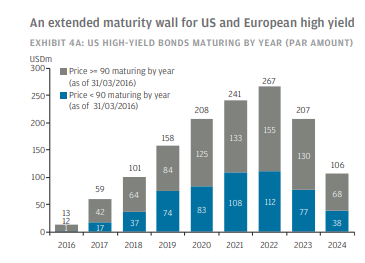 Source: J.P. Morgan
The Strain Everyone Is Clamoring For, ETFs
The growth of high yield also comes with the growth of securities and ETFs constructed for both retail and institutional investors to passively invest. We view passive investing in high yield through ETFs such as iShares iBoxx $ High Yield Corporate Bond ETF (HYG) as essentially investing in the general high yield market with most of the risk factors we have outlined. The HYG has a weighted average maturity of 4.76 years and an effective duration of 3.75 years with over 50% of underlying credits rated B or lower. These ETFs also promise instantaneous liquidity which is attractive to yield investors. While we will leave the discussion of a liquidity mismatch for another time, there have been numerous public discussions about this issue which also pose as additional negative downside for investors.
Conclusion
There may be several reasons why this phenomenon in high yield is occurring. In a simplistic view, low interest rates and the continuous need for institutional investors to generate yield and interest for their allocations may be primary causes. We will leave this debate off the air and for historians and economists to analyze after the fact. We believe that U.S. high yield market spreads will eventually widen to a more attractive buying level. In the mean time, there still are smaller pockets of opportunities primarily in smaller issues.
Disclaimer: This material is furnished by Lerna Capital LLC or affiliates (collectively "Lerna"). This material is for information purposes only and is not an offer or a solicitation to subscribe for or purchase the securities mentioned. This material is not intended to provide a sufficient basis on which to make an investment decision. All market and commercial data in this thesis are not warranted as to completeness or accuracy. Lerna Capital LLC has a short position in this security and may trade in and out of this position without informing the Seeking Alpha community.