Analysis
Tesla's (NASDAQ:TSLA) sole straight bond (5.3% semiannual coupon, maturing Aug. 15, 2025) trades at junk bond yields. If a leveraged buyout is feasible, then this bond will be part of the financing package and/or (depending on covenants) will need to be repaid early. In any case, an LBO doesn't make sense if Tesla won't be in business in 2025.
So do bond traders think it's possible? No. As of August 7, "B" bonds yielded 6.36%. Tesla's bond remains firmly in junk territory, trading at nearly a 100 bp premium.
Now as per a previous article (Tesla's Bond: More Junk Than Tesla), that premium has exhibited an inverse relationship since the March 27, 2018, downgrade by Moody's of Tesla's debt. Indeed, a regression found that a $1 increase in the stock price (relative to a base of $305) translated into a 1 bp drop in the yield relative to "B" bonds. By that rule of thumb, the bond yield ought to yield no more than it did at the stock's previous June 18 high. That implies bonds should trade at or above 92. If bond markets really thought the deal would go through, even that price is too low – it should be trading at 98 or above.
Of course the same logic applies to Tesla's stock. If there's really to be an LBO at a price of $420, then shares should keep moving in that direction. As of pixel, however, the price is at $372, down $10 from yesterday's high.
Tesla Bond Yield Relative to "B" Bonds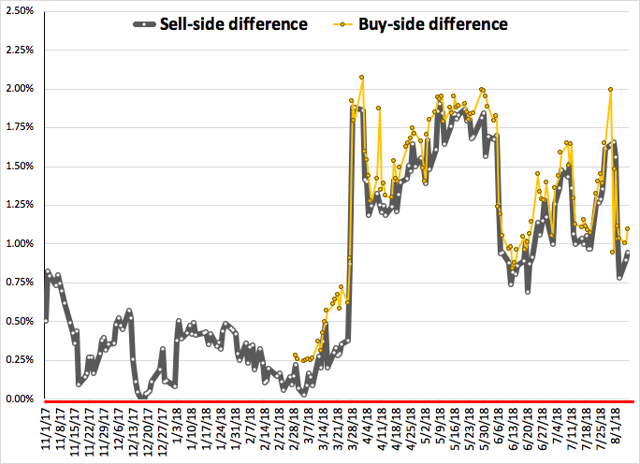 (Author's calculations. Data through Aug 7. For details on the article referenced above.)
Stock and Bond Co-movements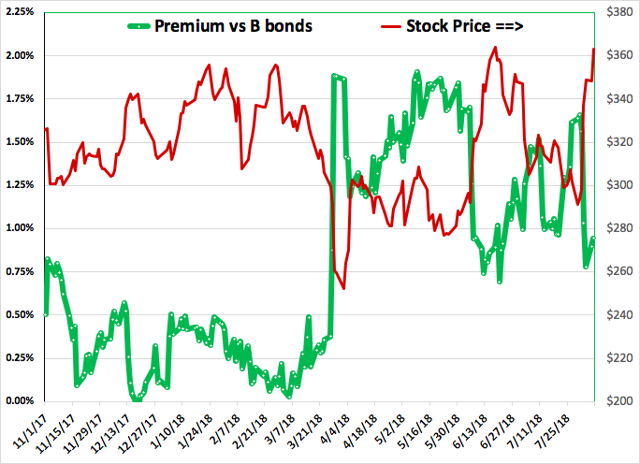 Conclusion
Bond traders don't (yet) exhibit confidence that Tesla can raise the funds to take the company private. However, the stock price remains extremely volatile. Be careful, or (like me) stay far away from any investment in Tesla stocks or bonds.