Introduction
Long time readers have come to know my monthly article that reviews my dividend portfolio. If you don't, here is the June edition. My articles track my 401k portfolio as I progress through life. I'm an individual investor with approximately 27 years before I can safely withdrawal money.
I spent a few weeks at the beach in July and had time to pontificate more about my investing strategy. It was a fruitful time and one such idea was to focus more attention on the subset of companies I own that don't pay dividends that I specifically purchased for their long term potential.
Why's that? Well, these companies tend to be the alpha generators, the companies often times playing in their own game under their own rules. In short, growth companies. These companies don't have to be micro-caps or unprofitable, heck, they can be some of the best known companies in the world with growth rates and profitability that seem impossible given their size.
As mentioned, I have a long investing horizon. I love receiving dividends and watching them grow over time but I can also tilt towards growing a larger capital base for myself and family.
Part of the process of providing monthly updates for my dividend growth portfolio is that dividends are being paid frequently, grow yearly and all of the data I've collected lends itself to nice charts and graphs.
On the other hand, it isn't always apparent how things are going without the reassurance of dividends coming in. Stock prices can swing wildly but that may or may not be justified. What I want to capture is some more tangible metrics for these types of holdings.
A dividend alone is not a reason to include or exclude any company from this section. Ideas like Visa and MasterCard, which both pay dividends, are eligible for inclusion due to their high growth prospects. A company will not automatically be excluded should it start paying a dividend (I'm looking at you Google).
I recently built a stock return calculator that is going to assist in this process. I'll elaborate in more detail further down.
I also have the portfolio hosted in a Google Sheet here. Changes will be visible in real time.
Portfolio Strategy
Buying Criteria
I started these criteria by adapting the ones I had created when I look for a dividend paying company. These are the general guidelines I will review to see if something is worthy of adding to my portfolio or whether I will add to an existing position.
I want to see steady earnings growth over time; this will generally remove commodity-based companies.
I like cash cows. I'm looking for companies that can generate large profit margins (> 20%) though it need not be today. I note in my dividend criteria that moats can be eroded by startups. Well some of these purchases would be those same startups I referenced.
I like to see shareholder-friendly management though it may manifest very differently with some of these tech companies versus mature and established dividend growers.
Looking for an identifiable long-term tailwind and business optionality that can create sustained competitive advantages.
Selling Criteria
Much like my dividend holdings, I prefer to be a long term shareholder. I like to measure investment horizons in years not months. Some factors that may trigger a sell include:
Company degradation - This could be things like deteriorating balance sheets, loss of competitive advantage, loss of credit ratings.
I just don't want to own it. When I pull this card I will more fully explain my reasoning. Part of the beauty of owning individual companies is choosing where I put my money. I can opt to not support companies, products, management, etc. that I do not agree with. An example of this could be Wells Fargo (WFC) that has had management issues or criminal/unethical business practices.
Based on known information, capital is better passively invested or focused into better ideas.
Timing
If I am going to buy or add to a holding, I prefer to wait until after a quarterly earnings release. I'm not a proponent of "buy the rumor, sell the news". Quarterly reports allow investors a deep dive into the operations of the business which helps confirm or reject previous assumptions.
The Portfolio
| | | | | | |
| --- | --- | --- | --- | --- | --- |
| Name | Ticker | Percent of Portfolio | S&P Credit Rating | Owned Since | Versus S&P |
| Amazon | (AMZN) | 2.55% | AA- | 4/28/2016 | 160.04% |
| Berkshire Hathaway | (BRK.B) | 0.79% | AA | 9/22/2015 | -1.42% |
| Facebook | (FB) | 2.88% | | 4/8/2016 | 15.81% |
| Google (Alphabet) | (GOOG) | 3.39% | AA+ | 4/25/2016 | 27.18% |
| iQIYI | (IQ) | 1.01% | | 7/31/2018 | -11.80% |
| Paypal | (PYPL) | 1.19% | BBB+ | 7/31/2018 | 2.90% |
| Twitter | (TWTR) | 1.14% | BB- | 7/31/2018 | -0.53% |
| Under Armour | (UA) | 0.32% | BB+ | 6/1/2016 | -86.41% |
Definitions / Clarifications
Percent of Portfolio: This is the makeup of my entire 401k, right now about 13% of my whole portfolio is in these ideas.
S&P Credit Rating: This is the rating where available. Facebook for example does not have one as they have no debt. iQIYI is not rated, primarily for being a Chinese company.
Owned Since: This captures the first time I bought shares in the particular company.
Versus S&P: Here is where I use my API to compare investing results against the S&P, since the time I first owned shares. Right now this figure does not take into consideration separate purchase dates and may not tie to actual investment results.
Amazon
Amazon is probably the poster boy for misunderstood companies. I have also been guilty of it as well. For over two decades now, Jeff Bezos has built an absolute titan of a company that dominates several fields. It is the ultimate disrupter that uses any means necessary to get their way. This is all for the end benefit of the customer.
Amazon is notoriously frugal and has driven down margins in any industry they have entered. They have also created entire industries from the ground up. From online retail to cloud computing to smart home devices, this is one company that has never made sense from any fundamental standpoint. That has not stopped the stock however from being a generational investment with no signs of slowing down.
In the most recent quarter they showed 39% year over year revenue growth for a nearly $900B company.
This chart comes from the stock return calculator I linked to previously. This plots a hypothetical $10,000 investment going back to April of 2016. As you can see the blue line has massively outrun the S&P. It's been nearly a 3-bagger for me and ironically I spent next to no time researching the company.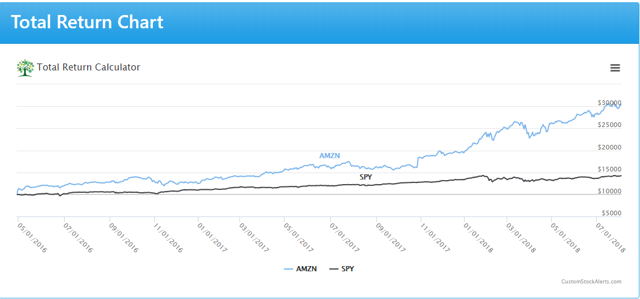 3rd Quarter Guidance
Net sales are expected to be between $54.0 billion and $57.5 billion, or to grow between 23% and 31% compared with third quarter 2017. This guidance anticipates an unfavorable impact of approximately 30 basis points from foreign exchange rates. (Earnings release)
Berkshire Hathaway
To start, it's hard to be an investor and not wish to ride alongside the greatest living investor. Warren Buffett is also known for not liking to pay a dividend, the reason is straight forward. Due to taxation at both the corporate and individual level, a dividend is less effective than a share repurchase.
Buffett recently made a "Buffett put" by changing corporate bylaws allowing him and Charlie Munger the ability to repurchase shares more freely. Based on best guesses of book value the price likely set a floor near the $190 mark.
The company released earnings this past Friday August 3rd after the bell to give investors a chance to digest the news over the weekend. At least preliminary, shares have been up on Monday and it seems as though the "threat" to repurchase shares has abated for the time being.
At a high level, betting on Buffett and Berkshire is a bet on the US economy. The company has a variety of US-based subsidiaries and also invests heavily in US based companies. Due to accounting rules, net earnings may swing wildly due to how they must mark unrealized investment gains as GAAP income.
On a steadier level, revenue for the company was up 8.6% year over year so chugging along nicely.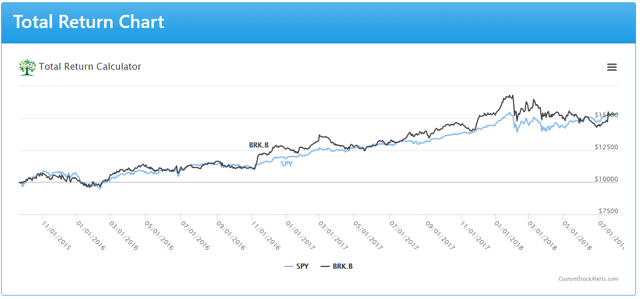 My actual performance with the stock has virtually matched the return offered by the S&P. Warren himself has admitted it will be harder in the future to continue outpacing the market but time will tell.
Facebook
I first bought Facebook in April of 2016, a couple weeks before Alphabet and Amazon. It was easy to see why, an unparalleled media company coupled with enviable financials. Earnings and revenue in both hyper-growth coupled no debt and (at the time) something like $25B in cash.
The record setting 20% ($119B) decline experienced the day after earnings was both historical but also only brought shares back to where they traded in May. I tripled my position after this event after diving into some of the figures.
Management expects revenue dropping by high single digits over the next few quarters (about 40% growth to maybe mid-20s expected). This is coupled with increased spending for staff to combat some of the bad actors on the platform.
In the end, taking the long term view, Facebook proper has 2.2B monthly active users, they own WhatsApp, Instagram, Messenger.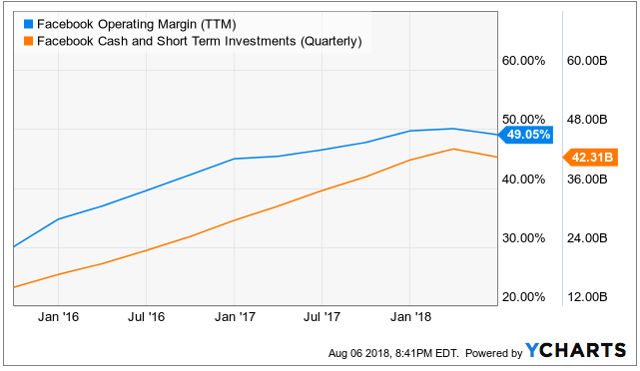 The growing cash hoard is also coupled with an unheard of near 50% operating margin. This will come down as the spending increases but long term this should continue to be a cash generating machine.
Facebook, along with Alphabet, I expect to start returning more cash to shareholders sooner than later. In any event, I expect Facebook to continue growing faster than the S&P as a whole.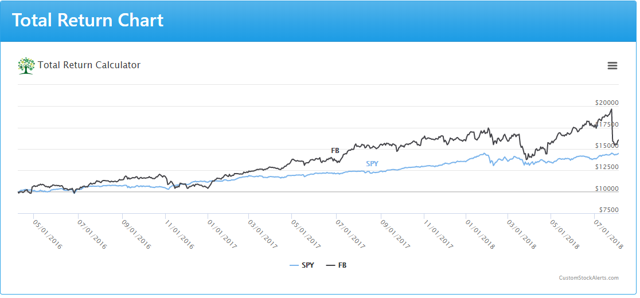 Even with the two enormous drops visible (Cambridge Analytica scandal and the most recent drop after earnings), the stock has still outpaced the market since I first bought shares.
Google (Alphabet)
Google obviously needs no introduction and this powerhouse of a company continues to find new avenues of growth. Over time the global search leader has spread into creating the most dominant mobile operating system in Android.
The company also operates in "other bets" which include projects like cloud, AI and self-driving cars. This gives the company a lot of optionality and potential new hit revenue sources.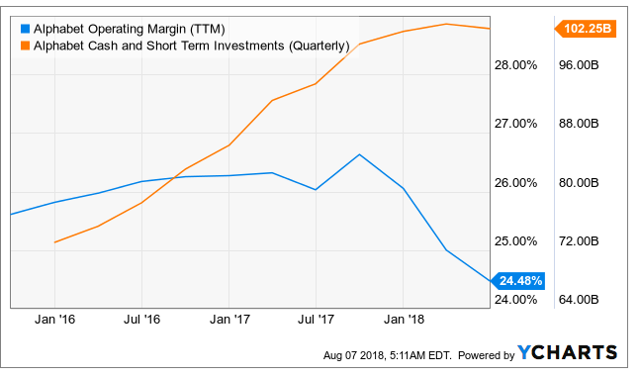 Like Facebook, Google sports some enviable operational metrics. Even with a dip in operating margin this quarter due to fines, this $900B behemoth still turns about a quarter of every dollar of revenue into profit.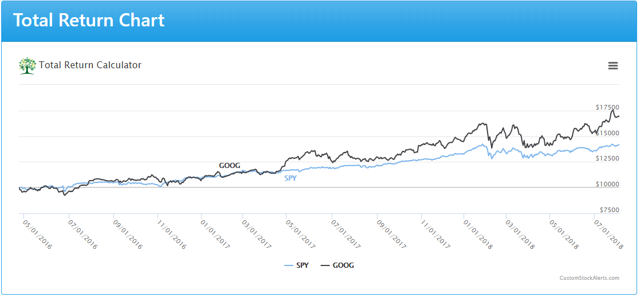 I first bought shares just about 2.5 years ago and they have handily beaten the market with a total return of 69% versus 42% on the S&P.
With a $100B cash hoard that is growing, the drum beat is only going to get louder for management to begin returning it to shareholders.
iQIYI
So far I've listed companies that are titans in their industry, have incredibly financial firepower and a large breadth of offerings. iQIYI is the most speculative of the "alpha seeking" holdings I have.
If you haven't heard of the company, don't be alarmed. The company was spun off from Baidu (the Google of China) and is in the streaming video space ala Netflix. Baidu still owns a majority stake of the company but the IPO was only in late March.
The financial metrics won't seem appealing and the investment thesis revolves around them growing their footprint in China and leveraging the enormous population there.
For the second quarter, they reported a 51% revenue increase from 2017 though they are still losing money. Paying subscribers of 67M versus 38M last year (75% increase).
PayPal
Paypal first became a standalone company after spinning off from eBay in 2015. The "War on Cash" is a term used to describe how transactions are frequently being done electronically as societies move away from physical currency.
Paypal plays into this trend by providing products and services aimed at moving money around and taking a slight cut off the top ala Visa or MasterCard. They also provide merchant tools and own the popular platform Venmo. In fact during this past quarter they announced four, yes four acquisitions.
The maturity of the company shows in its operational metrics. For the full year, management is expecting non-GAAP EPS growth of 22-24% with free cash flow greater than $4.5B. On top of that they announced a $10B buyback though initially at least, it was not well received by the market.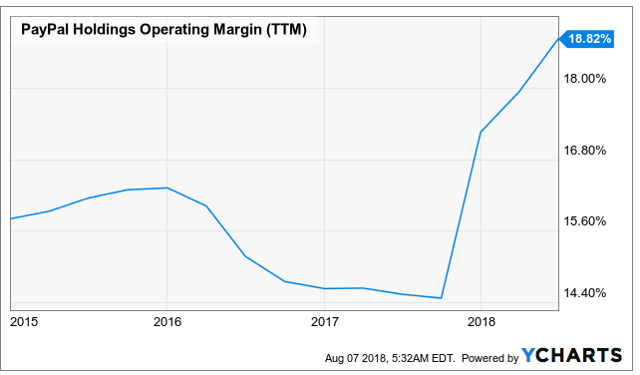 As they have been building this network effect they have done so with great profitability. Not only are accounts growing but the quantity of transactions being carried out are growing as well. Here is a slide from their Q2 release: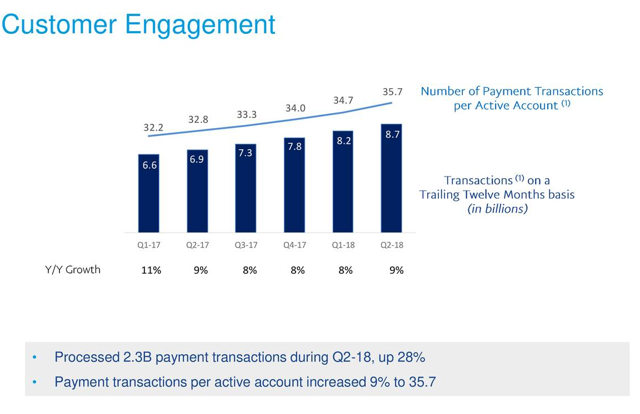 Looking at the FAST Graph for Paypal, shares are trading at a premium which I won't argue. Shares trade at about 35x forward earnings. What I've learned is that compounded growth can fix a lot of sins of overpaying at the time of purchase. Also with no debt and great free cash flow generation, the future is really being written by management as we speak.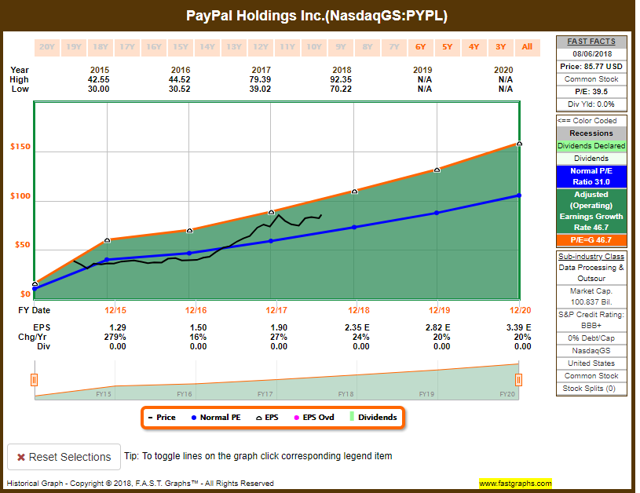 Twitter
Twitter is another brand new holding for me. I have been loosely following the company for some time and the massive 20% drop piqued my interest post earnings. At a high level, it is a differentiated social media platform that allows users to participate in news in real time.
From the earnings perspective, revenue was up 24% on the platform. User growth is still a long term potentially, especially on the international side of the house. US user growth has been flat for the past year though daily active user growth rate continues to grow each quarter in the 10-14% range.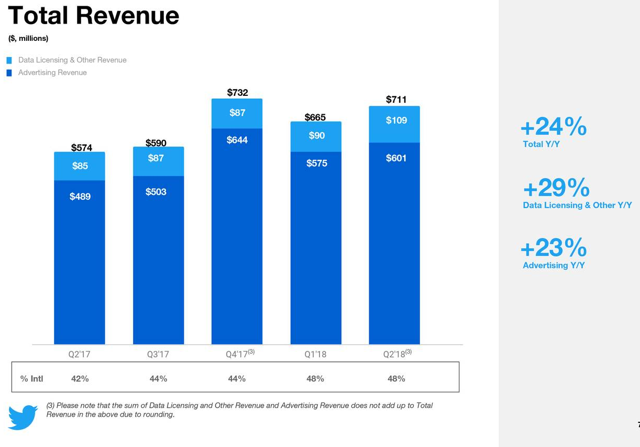 Total revenue continues to grow nicely, up 24% year over year and the aforementioned international market is close to making up half of revenue. They posted their biggest GAAP profit yet though it was only $100M.
There are several near term challenges including headwinds in terms of earnings and monthly users. Additionally these platforms are beginning to take a tougher stance on extremist speech in any form. They closed millions of bot accounts which should be a long term catalyst if the quality of content presented on the platform improves. Bots also won't contribute to ad revenue in a meaningful fashion.
Under Armour
I bought a very small stake in Under Armour back when it was listed under the ticker UAC for the C share class. This was prior to the ticker symbol switcheroo where UA now represents the C shares.
Performance for me has been quite terrible though I have held on to my shares thus far.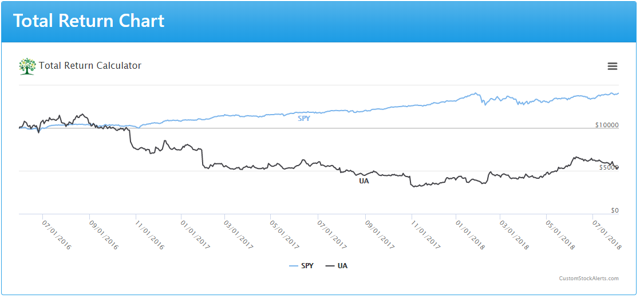 My personal shares are still down over 40% and the headwinds that management has faced with tough US comps still remains. The bright spot as of late has been international revenue growth however. The top line grew 7% year over year on their Q2 earnings released July 26th.
North American comps only increased 2% while international increased 28% (though international is a smaller chunk of the overall pie). They are still experiencing higher than normal SG&A expenses while trying to build out their direct to consumer offering.
The company is far from firing on all cylinders and this continues to be a story to watch unfold. Larger fish in the pond Nike however had better top line growth (12.9%) even on a much larger base. If there was one company on the short list for removal it would be Under Armour as even with the most recent earnings release there is not much reason to be incredibly bullish.
Visualizations
I'm still figuring out which type of visualizations may capture the data but here was a first cut at one. Again, this maps total return based on the initial date I bought shares versus what would have been earned by just buying the S&P. This can be elaborated to include full investment results which would include blended results if multiple purchases were made.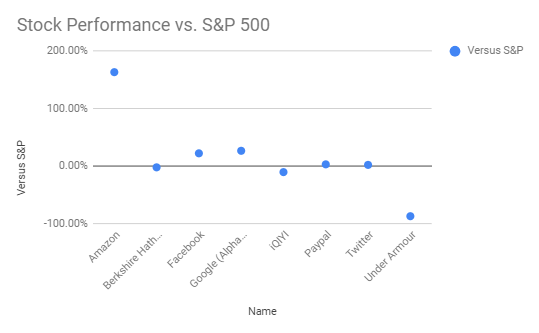 Starting from the left, the first four picks I've owned for at least two years. You can see that Amazon was above and beyond the winner. Facebook and Alphabet both offered 20%+ total alpha over the time frame. Berkshire very slightly underperformed. IQ, PYPL and TWTR are all new holdings and thus no meaningful inference can be drawn. Finally, UA is the massive loser of the bunch, it's been down over 40% for me compounded by the S&P being up.
More To Do
I haven't decided how much of the portfolio I wish to tilt towards these alpha ideas. I'm being fluid with the idea right now and generally will seek to add new investment money to the best idea at the time.
As I mentioned at the top, I'm still tinkering with the exact formula of what is included as part of this portfolio. Don't be surprised if Visa or MasterCard appear.
Conclusion
To recap, this is the start of what I'm calling my "alpha seeking" portfolio. It is a specific subset of my overall portfolio focusing on long tailed investment ideas. I'm looking for some feedback, this is a great community that is quick to provide it.