Summary
The housing market is seasonal. Prices tend to rise in the summer and drop during the winter.
However, in certain markets, prices have been dropping when they should be at their strongest.
If interest rates continue to rise, the weakness in West Coast housing markets will be glaringly obvious by the holidays.
Record low mortgage rates have caused an epic boom in housing prices in desirable West Coast housing markets, but the party is about to be over. Rising mortgage rates are a huge problem for Californian households, who have the highest debt levels in the United States. I recommend avoiding the stocks of related industries such as homebuilders, mortgage lenders, and small/mid-size banks on the West Coast. You can read my first round of analysis on the housing market here, as well as my analysis on the new breed of lenders that fueled the boom. The pressure from rising rates and unaffordable prices will be obvious by December when the market traditionally slows down.
California households are leveraged to the sky.
For example, California residents lead the country in total mortgage debt as a percentage of their income, with the average total mortgage debt equaling 3.35 times homeowner income, according to an analysis of New York Fed data. Additionally, despite the popular perception of tech millionaires, 71 percent of California homeowners carry a mortgage, one of the highest percentages in the nation. Californian households also carry plenty of credit cards, student loans, and car loans, making them the most indebted households in the country by far. Only Hawaiians come close to the amount of debt Californians have. With stagnant personal incomes and rising rates, new buyers will be unable to qualify for the mortgages they need to buy, and housing demand will fall precipitously.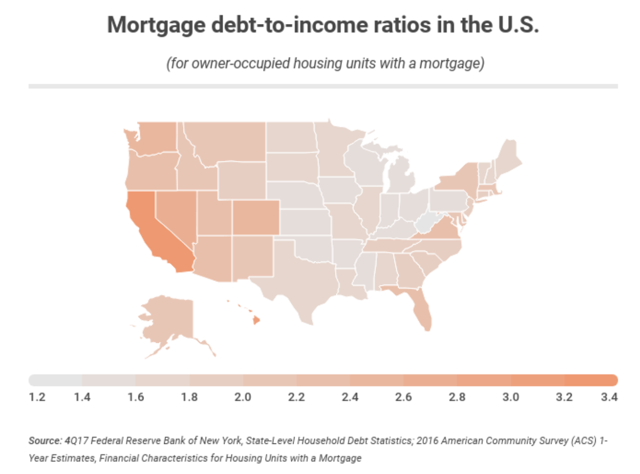 Prices are starting to fall in expensive markets.
Summer is traditionally the best time to sell a home. Average days on market is lowest in the summer, and prices tend to be at their highest. There are a variety of reasons for this, but the biggest reason is that many buyers of single-family homes have kids in school, and they all try to move during summer. Sellers are able to extract more money out of them on average for this preference, however. Take Seattle. You can see from the graph here that prices consistently drop in winter and peak in summer (I chose 2008 to 2016 to show the effect in both up and down markets).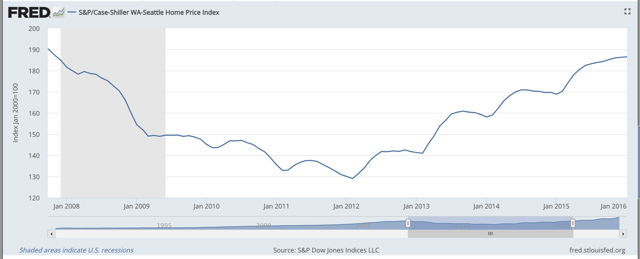 So why is the Seattle Times reporting that median home prices are down $27,000 from their peak in May? This should be the strongest time of the year for their housing market. If prices are starting to fall now, then the weakness could be glaringly obvious by the holidays. You have to go back to 2007 to see prices falling during the summer. The real estate broker that the newspaper interviewed referred to this price action as a "plateau." I don't buy it. Washington buyers are nearly as indebted as Californians are. Rising prices and mortgage rates are crushing their ability to buy. Some commenters are blaming the Chinese for the fall in prices, but I think affordability is a more likely culprit.
The luxury market in California is weakening.
Even in San Francisco, supposedly the strongest real estate market in the country, luxury homes are seeing a rush of price cuts. In Southern California, total sales volume is down 11.8 percent, while prices in the non-luxury segment continue to charge higher. Sales volume tends to be a leading indicator of prices. I outlined in my previous article how I feel that the money fueling the market in California isn't coming from buyers' paychecks, but from creative lenders. As interest rates continue to move higher, they will have less and less flexibility to get people into houses. Sales volume will drop further, and prices will begin their slide. The lower end remains strong in California, but the high end has been reported as "anything but hot." It's an interesting paradox. Luxury housing is plentiful in California because that's where homebuilders create new supply. This mismatch between what the market is supplying and what consumers' are demanding is at the root of the housing shortage in California. Prices won't come down until buyers are completely tapped out due to higher interest rates.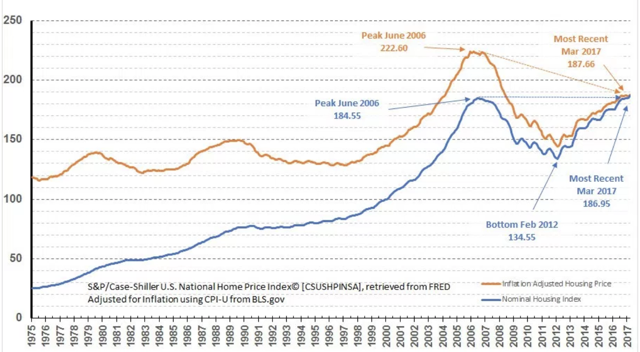 The key here is to watch the 30-year fixed rate mortgage. Today, for example, Wells Fargo is offering 30-year conventional mortgages for an APR of 4.81 percent. This time last year, it was under 4 percent. There's a lot of chicanery around mortgage rates, so I like to look at the APRs to get a more accurate picture. Since consumers in California are so heavily dependent on mortgages, mortgage rates hitting 6 percent at current prices will be enough to break the buyers there. It's nothing new. Demand swings wildly for housing, but supply is slow to adjust. The California housing market busted in the early 1980s, early 1990s, and late 2000s. The odds are that it will bust again. To avoid getting caught in the brewing storm, sell your stocks in industries that will suffer from the changing real estate cycle.
Disclosure: I/we have no positions in any stocks mentioned, and no plans to initiate any positions within the next 72 hours. I wrote this article myself, and it expresses my own opinions. I am not receiving compensation for it (other than from Seeking Alpha). I have no business relationship with any company whose stock is mentioned in this article.