What's New?
Firstly, apologies for getting this out late but we'll understand why. This edition will take some time to go through. June was a tremendously slow month for the portfolio and July was the polar opposite.
Firstly, you may have noticed that the number of holdings significantly dropped from 44 last month. This is due to how I am going to split up these articles' series. I launched a separate article capturing my thoughts on my non-dividend paying, "alpha seeking" holdings. I felt that this series didn't really offer those companies much in the way of participation, it was more of an afterthought just highlighting I owned some of the FANGs. That can be found here. At a high level, that was the prime reason my number of holdings dropped though there were several changes made.
For anyone interested in seeing changes in real time, I have my portfolio and dividends tracked on Dividend Derek. I also have a trimmed version that you can freely take for yourself if you wish, found here.
I've received some questions in the past so you can save off a copy by selecting "File" -> "Make A Copy."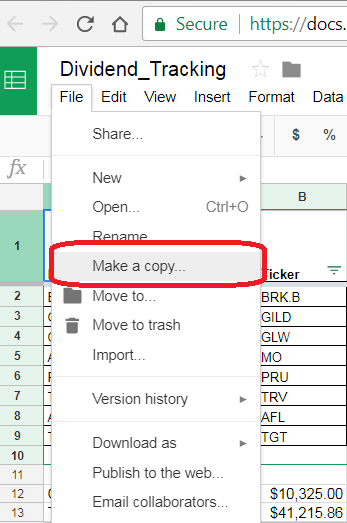 With that said, let's dive into the details.
2018 Goals
I want my holdings to have a weighted 1-year dividend growth rate of at least 7%. (Currently 9.0%)
By the end of 2018, I want to have a projected dividend income of at least $7,950. (At $7,157, I'll explain this further)
I want to suffer no dividend cuts. (So far so good)
Notes About My Goals
This year I'm a little more aggressive with my desire for good increases. I'm targeting an overall average of 7% (up from 5%). I want to make sure I focus on holdings that are able to deliver strong performance year after year given my long investing horizon.
For my income goal, here's how I calculated it:
| | |
| --- | --- |
| Starting Income | $6,800 |
| 7% Organic Dividend Growth | $475 |
| Maxing 401k @ 3% | $555 |
| Employer Match | $120 |
| End of 2017 Income | $7,950 |
I started by rounding my starting income to $6,800. From there I added 7% average organic dividend growth.
Next is the money coming from maxing my 401K contributions. The cap was raised for 2018, so I can contribute a maximum of $18,500. I am also assuming that the money buys an average of a current 3% yield.
From there I add in dividends purchased with employer match money. Sum all that up and it brings me to my goal of $7,950. I'm sitting at about $7,725 so this looks achievable.
Lastly, I really don't want to see a dividend cut. The goal sounds rather obvious but there is a lot of legwork that goes into making that come true. As I've found out the past two years, it's not as simple as it may look.
July Update
The formula above for projected income would have worked if I had invested all new money into dividend paying stocks and kept all currently invested money in dividend stocks. Over the course of the month I decided to pivot some of my portfolio to currently non-dividend paying growth stocks. The numbers will be more evident in the updates below but suffice to say, I will not hit the target.
Portfolio Strategy
Buying Criteria
These are the general guidelines I will review to see if something is worthy of adding to my portfolio or whether I will add to an existing position.
Being a member of David Fish's Dividend Champion, Challenger and Contender list - obviously a longer streak is preferred.
I prefer companies with a Chowder rule over 8%, obviously higher is better. Telecoms, REITs and utilities can get a pass due to their higher initial starting yield.
No one individual holding should be weighted >7% of the portfolio's total cost or weighted >7% of the portfolio's total dividend income. ETFs are excluded from this. As an example, AT&T (T) is about 6% of my income, so I'm hesitant to add here, even though shares again look attractive. I actually broke this rule and I'll spell this out more thoroughly.
Investment grade holdings >BBB+ should generate 95% of the portfolio's dividend income.
I want to see steady earnings growth over time; this will generally remove commodity-based companies.
I like cash cows. Good profit margins (> 10%) are appreciated, though not required, if the company has a wide moat due to its business. Moats are funny, tech companies have been breaking into many of the spaces typically run by the "old guard".
I like to see shareholder-friendly management, a healthy and rising dividend and willingness to buy back shares, though in practice, the buybacks aren't always done at opportune times. A good metric to look into is the "total shareholder yield." This aggregates net dividends, buybacks and debt reduction.
Perhaps most importantly, the valuation needs to be right per F.A.S.T. Graphs. The stock should be trading at fair value or better for an appropriate timeline (12+ years if possible). With a longer time frame I can see how shares fared during the Great Recession, and this also removes some of the recency bias that can come from only analyzing valuation during this extended bull market.
I will also use Simply Safe Dividends and the information provided by Brian on his site. Among a plethora of information available, he has a dividend scorecard where companies are ranked in terms of dividend safety, growth and yield. I aim to pick companies that are in the 80+ safety range, though not always.
Selling Criteria
There are only a few reasons I'll sell a stock, though any of these events is not a guarantee I'll do so.
Dividend cut.
Company degradation - This could be things like deteriorating balance sheets, loss of competitive advantage, loss of credit ratings. These factors may come to light before a dividend cut manifests. This may also appear in a streak of less-than-expected dividend increases. The dividend increase is the more visible outward sign of a company's success. A paltry increase or two may underscore problems below the surface.
Wild overvaluation - This becomes a bigger factor if there is something at a fair valuation that I wish to purchase with the proceeds. I will admit that several things I have sold have continued to defy financial gravity so I am more becoming of the mind of just ignoring overvaluation if the underlying business continues to operate well.
I just don't want to own it. When I pull this card I will more fully explain my reasoning. Part of the beauty of owning individual companies is choosing where I put my money. I can opt to not support companies, products, management, etc. that I do not agree with. An example of this could be Wells Fargo (WFC) that has had management issues or criminal/unethical business practices.
Based on known information, capital is better passively invested or focused into better ideas.
Timing
One tactic I've been using lately when adding to an existing holding is buying additional shares prior to the ex-dividend date after the company has announced its yearly increase. The increase in amount gives a quick "at a glance" look into how management thinks the company is operating. This can be confirmation that the investment thesis is indeed working well. Sometimes the reverse can be true too, being snubbed with a "bad raise" can be a red flag that things are not as they seem and it's time to research what's up. I've done this several times already with Altria Group, Inc. (MO), Starbucks (SBUX), Corning (GLW), Prudential Financial (PRU), Home Depot (HD), Johnson & Johnson (JNJ) and now PepsiCo (NYSE:PEP).
Most importantly, this was not done to chase dividends but to strategically add to a position that was worthy of being added to. Trees don't grow to the sky and neither do dividend yields. A quality company that has a nice dividend increase should see their stock price rise by a similar amount over the course of the year, readjusting to the new and higher dividend amount. By jumping the gun, you can speed up the compounding process.
If this sounds interesting to you, you should check out my weekly article as I give the full list of these companies. I also have upcoming ex-dividend functionality on my site Custom Stock Alerts to help me keep tabs on these increases.
Dividend Increases
While the increases have outpaced inflation, only Medtronic offered a raise that hit my 7% target. Ultimately I trust in management and dividends are not the only way to benefit shareholders.
Dividend Cuts
The Portfolio
| | | | | |
| --- | --- | --- | --- | --- |
| Name | Ticker | Percent of Portfolio | CCC Status | S&P Credit Rating |
| Apple | AAPL | 4.02% | Challenger | AA+ |
| Abbott Laboratories | ABT | 2.51% | Challenger | A+ |
| Aflac | AFL | 2.04% | Champion | A- |
| Amerprise Financial | AMP | 1.91% | Challenger | A |
| Anthem | ANTM | 2.85% | Challenger | A |
| Cummins | CMI | 1.76% | Contender | A+ |
| Cisco Systems | CSCO | 2.01% | Challenger | AA- |
| CVS Health | CVS | 1.90% | Contender | BBB |
| Diageo PLC | DEO | 1.08% | Challenger | A- |
| Walt Disney | DIS | 3.14% | Challenger | A |
| Duke Energy Corp | DUK | 1.11% | Contender | A- |
| Corning | GLW | 3.36% | Contender | BBB+ |
| Home Depot | HD | 2.55% | Challenger | A |
| Johnson & Johnson | JNJ | 2.79% | Champion | AAA |
| JPMorgan Chase | JPM | 2.16% | Challenger | A- |
| Kimberly-Clark | KMB | 1.58% | Champion | A |
| MasterCard | MA | 2.53% | Challenger | A |
| Medtronic | MDT | 2.18% | Champion | A |
| 3M | MMM | 1.48% | Champion | AA- |
| Altria | MO | 2.97% | Champion | BBB+ |
| Nike | NKE | 2.06% | Contender | AA- |
| Realty Income | O | 2.39% | Contender | BBB+ |
| PepsiCo | PEP | 1.64% | Champion | A+ |
| Prudential Financial | PRU | 2.04% | Challenger | A |
| Public Storage | PSA | 2.18% | Challenger | A |
| Starbucks | SBUX | 2.54% | Challenger | A- |
| Tanger Factory Outlets | SKT | 1.74% | Contender | BBB+ |
| STAG Industrial | STAG | 1.50% | Challenger | N/R |
| Stanley Black & Decker | SWK | 1.66% | Champion | A |
| AT&T | T | 3.75% | Champion | BBB+ |
| T. Rowe Price | TROW | 1.78% | Champion | A+ |
| Travelers Companies | TRV | 1.73% | Contender | A |
| United Technologies Corporation | UTX | 2.19% | Contender | A- |
| Visa | V | 2.75% | Contender | A+ |
| V.F. Corp | VFC | 2.92% | Champion | A |
| Ventas Inc. | VTR | 1.48% | Challenger | BBB+ |
| W.P. Carey | WPC | 1.64% | Contender | BBB |
| Williams-Sonoma | WSM | 2.42% | Contender | NR |
Here are the values behind the "CCC Status" category:
King: 50+ years
Champion/Aristocrat: 25+ years
Contender: 10-24 years
Challenger: 5+ years
Performance
| | | | | |
| --- | --- | --- | --- | --- |
| Ticker | Owned Since | Versus S&P | Benchmark | Versus Benchmark |
| AAPL | 4/13/2015 | 29.50% | SPY | 29.50% |
| ABT | 12/6/2016 | 43.42% | SPY | 43.42% |
| AFL | 10/30/2014 | 16.26% | SPY | 16.26% |
| AMP | 9/29/2016 | 14.00% | SPY | 14.00% |
| ANTM | 7/22/2016 | 49.95% | SPY | 49.95% |
| CMI | 10/30/2015 | 4.25% | SPY | 4.25% |
| CSCO | 4/6/2016 | 22.77% | SPY | 22.77% |
| CVS | 10/7/2016 | -57.80% | SPY | -57.80% |
| DEO | 6/14/2016 | 9.60% | SPY | 9.60% |
| DIS | 12/28/2015 | -35.13% | SPY | -35.13% |
| DUK | 11/6/2015 | -8.21% | XLU | -3.50% |
| GLW | 10/14/2015 | 56.16% | SPY | 56.16% |
| HD | 5/3/2016 | 8.60% | SPY | 8.60% |
| JNJ | 12/9/2015 | -8.22% | SPY | -8.22% |
| JPM | 7/15/2016 | 53.85% | SPY | 53.85% |
| KMB | 5/24/2018 | 8.04% | SPY | 8.04% |
| MA | 7/26/2018 | -3.27% | SPY | -3.27% |
| MDT | 11/22/2016 | -5.39% | SPY | -5.39% |
| MMM | 5/24/2018 | -1.15% | SPY | -1.15% |
| MO | 10/31/2013 | 18.62% | SPY | 18.62% |
| NKE | 5/3/2016 | -6.82% | SPY | -6.82% |
| O | 5/3/2016 | -39.48% | VNQ | -5.16% |
| PEP | 5/24/2018 | 13.43% | SPY | 13.43% |
| PRU | 4/7/2016 | 6.94% | SPY | 6.94% |
| PSA | 4/28/2017 | -15.16% | VNQ | 1.45% |
| SBUX | 12/3/2015 | -54.61% | SPY | -54.61% |
| SKT | 7/26/2017 | -23.56% | VNQ | -9.28% |
| STAG | 5/20/2016 | 8.55% | VNQ | 41.74% |
| SWK | 1/28/2016 | 7.21% | SPY | 7.21% |
| T | 11/3/2015 | -32.55% | SPY | -32.55% |
| TROW | 9/29/2016 | 52.41% | SPY | 52.41% |
| TRV | 4/28/2014 | -6.01% | SPY | -6.01% |
| UTX | 1/28/2016 | 6.55% | SPY | 6.55% |
| V | 7/26/2018 | -2.34% | SPY | -2.34% |
| VFC | 12/22/2016 | 52.43% | SPY | 52.43% |
| VTR | 12/8/2015 | -22.07% | VNQ | 4.18% |
| WPC | 5/15/2017 | -5.72% | VNQ | 8.12% |
| WSM | 10/27/2016 | -5.87% | SPY | -5.87% |
This is a new table for this month so let me break this down some. The second column is the first time I bought shares. I built a stock return calculator (there is also API access available) and plugging in figures I can calculate my performance from the time I bought shares versus a benchmark.
Versus S&P: This a measure of the alpha generated (or not) versus the S&P 500 as a benchmark. This is calculated using the stock return calculator here and it uses the "owned since" column as the starting date. This may not reflect actual results as multiple purchases would change the figure. I can also set the benchmark at the individual ticker level.
The next column allows flexibility to defining what my benchmark can be. For example, look at the REITs, I've set their benchmark to be VNQ for an apples to apples comparison. My one utility I've set it to XLU which is the utility ETF.
Lastly, adjusting the data call I can compare the performance against the proper benchmark. To continue to REIT example, on an absolute level VTR has lagged the S&P by 22% since 12/8/2015 but it has beaten the VNQ index as a whole by 4%.
My Buys
JPMorgan
JPMorgan reported their second quarter earnings July 13th and from my perspective they showed some great numbers. Revenue up 10%, top and bottom line beats and a pending 40% dividend hike coming coupled with a share buyback plan.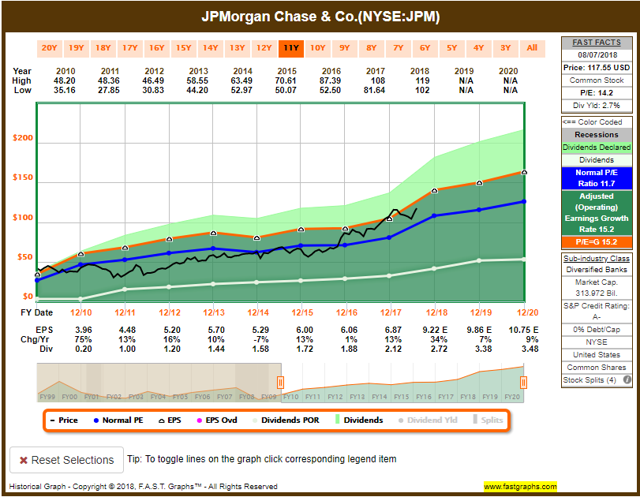 Earnings are expected to fall in the $9.22 range for the full year which would put the stock under a 13x forward earnings multiple. That is under the guise of also expecting over 30% earnings growth. The company may look overpriced on the graph due to the even lower multiple afforded the company since coming out of the recession.
AT&T
AT&T has been a cheap stock the past few months, treading water in the low $30 range. They announced a mixed quarter which pushed the stock under $31.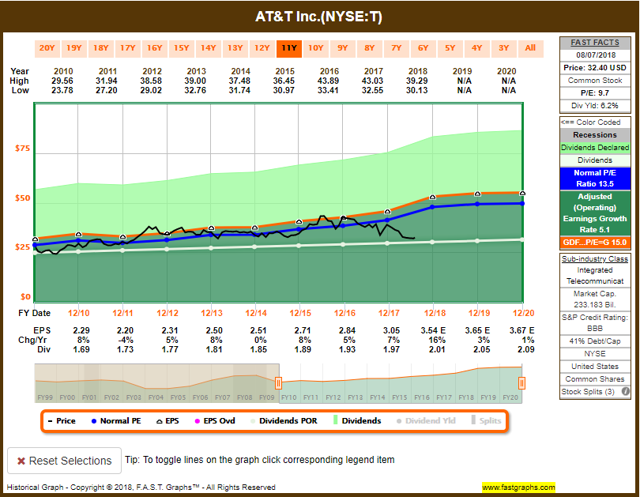 Earnings are expected to jump approximately 15% this year and that would put the stock at about a P/E of 9. With the Time Warner deal closed, the merger process can formally begin. Time Warner actually brings better financial metrics to the company which should actually help bring more financial stability to the larger company.
Based on the expectation of $3.50 in earnings this year, I couldn't help but go overweight AT&T. I bought another 100 shares with the intention of selling covered calls down the road once pricing improves. In the meantime I'm content collecting that 6%+ dividend yield.
Visa
I finally pulled the trigger on shares of Visa this month. It has been on my watch list far too long and there has never been a good pullback for this "best of breed" company. Visa meshes the best of both a dividend growth company as well as a total return candidate.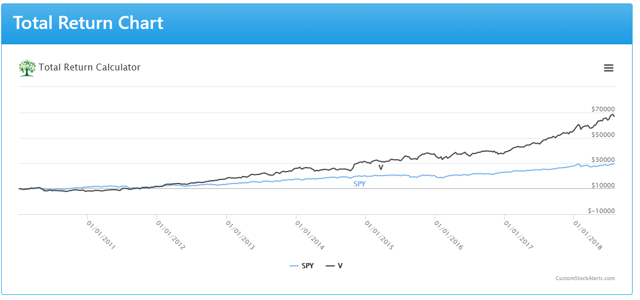 Here's a comparison of investment results of Visa versus the S&P 500 going back to the start of 2010. The black line is Visa and the blue is the S&P 500. Clearly this was a long term winner and the compounding effect has grown as Visa shares pull away.
Visa is part of the "war on cash" portfolio as global transactions move away from cash and to digital. This is an enormous secular tailwind benefiting companies in this space.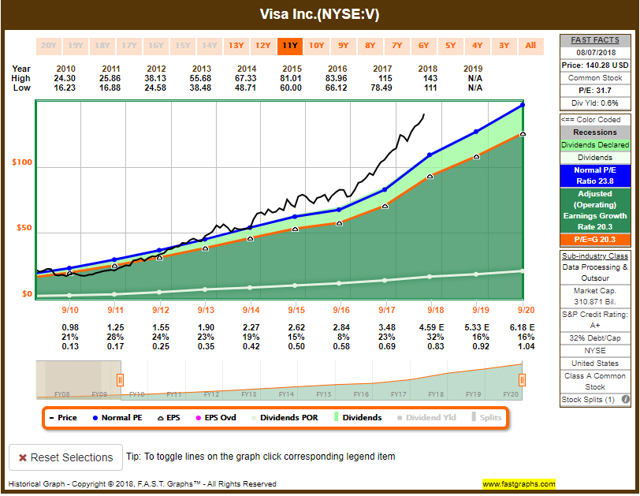 Even as the share price has accelerated away from the historical P/E ratio (suggesting investors are willing to pay a higher multiple for this company), growth has not abated and this year looks to be no different. Monster 30%+ growth in earnings is still expected for this year followed up potentially by mid teen growth.
Visa operates in an unparalleled space evidenced by nearly 50% profit margins and 80% gross margins. Essentially a new customer needs a card reader and it taps into the global powerhouse that makes up the Visa network.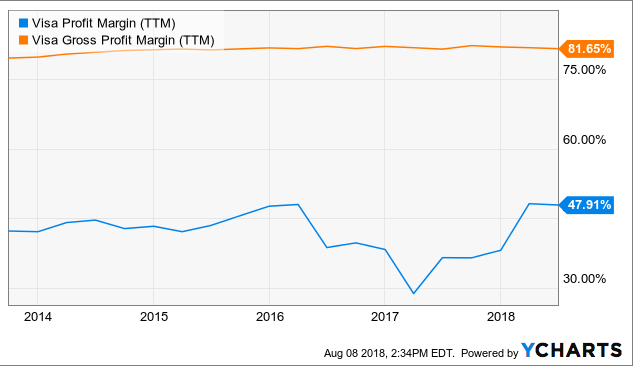 Mastercard
Mastercard follows the same trend alongside Visa in the war on cash.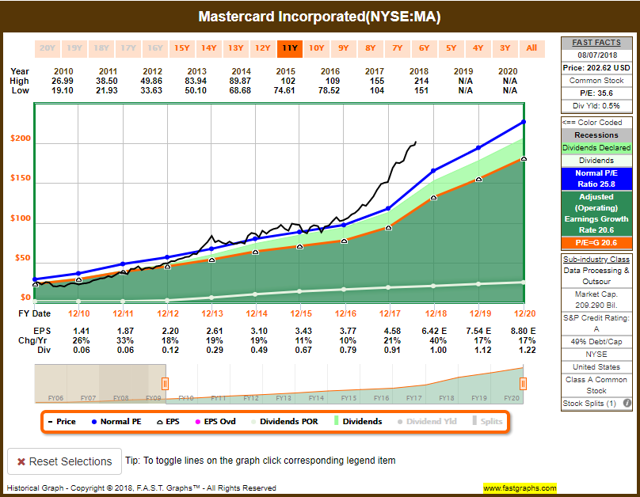 Shares trade at an even higher premium but even better growth is projected. As I mentioned with Visa, margins in this space are insanely high and the companies throw off a tremendous amount of free cash.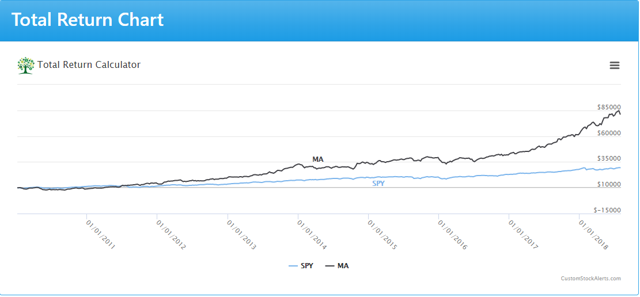 Again, the total return chart going back to the start of 2010 has been nothing short of incredible and there's no tangible reason that it should slow. The free cash flow affords them great flexibility to return it to shareholders, make acquisitions or grow the business organically.
Now how on earth did I pay for all these buys?
Sales
Omega Healthcare Investors
I decided to sell my stake in OHI after the recent run up in the stock. I learned through this process that I did not fully grasp some of the implications going in with the company. Ultimately nothing bad happened but I started getting some vibes that if they cut the dividend I would have been fairly blindsided.
I was well aware of the tenant issues they've been experiencing and that coupled with declining FFO/AFFO projected for the year I decided it was time to exit the name.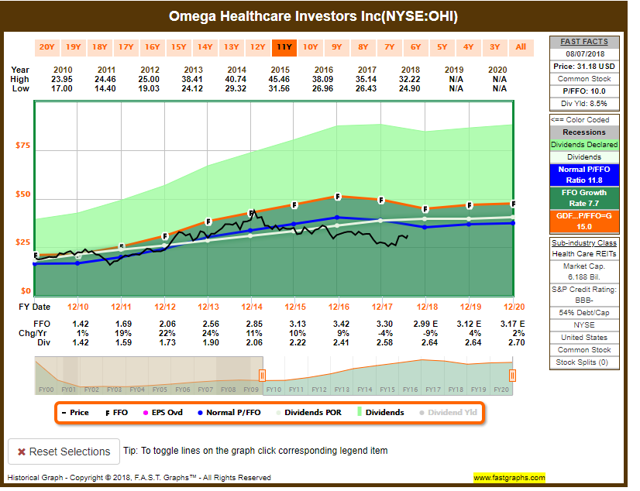 I sold prior to the Q2 earnings release though it looks like the quarter was fairly well received.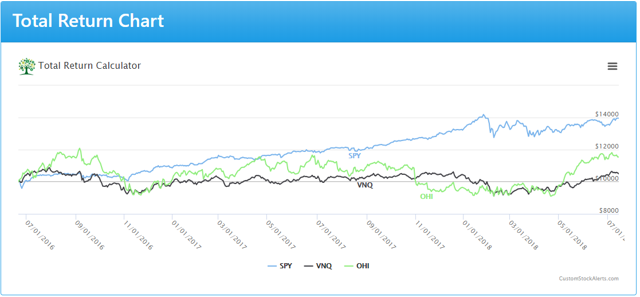 I went back and compared OHI versus VNQ and SPY for the timeframe I held OHI. OHI did outperform VNQ largely due to the recent uptick in the stock though it lagged the S&P.
For me, with such a long time horizon, I wasn't seeing a lot here for it to be an individual holding to track. Based on my holding period I gained 15% total, 7.2% annualized.
Verizon
Verizon reported their Q2 results which were also fairly well received by the market. Management confirmed guidance at low-to-mid single digit growth rates. It appears there may be a one-time earnings bump due to the tax changes but overall I didn't see much in this release to make me excited about owning the company. In fact, it's worth double checking the analyst estimates versus what management published. From the Q2 release:
Adjusted EPS reaffirmed at a low single-digit percentage growth.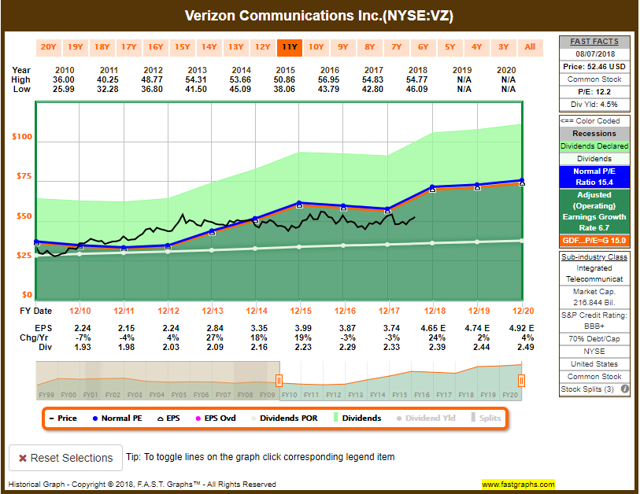 In fact in this particular case I felt the money I had invested with Verizon was better going overweight in AT&T. I haven't particularly liked their acquisition history lately by coming several names into "Oath". Again, with the stock near a 52 week high and sub 8% returns expected, I'd rather take the money and run.
I had originally bought shares in two tranches, the first at $49.05 and the second at $43.65. Obviously the later purchase did much better so with a very slow moving ship, valuation and timing of purchases is even more crucial.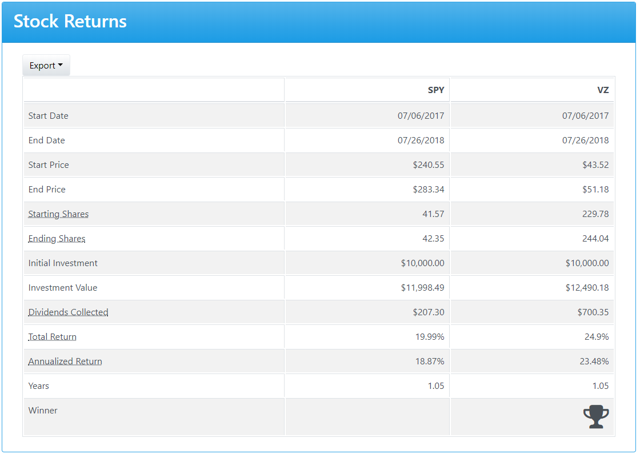 Case and point, running the performance data for the second tranche showed that it was in fact a good stock pick at that point.
In just over a year of holding on that batch of shares they were up nearly 25% with dividends reinvested. As I've noted before, you can perform very well with even a boring, slow moving behemoth when purchased at a fire-sale price.
SCHD
Lastly, I sold the 650 shares of SCHD that I owned. SCHD has been near and dear to my heart as I've written about it several times and it was one of my earliest individual holdings. I think this is just "see you later" rather than "good-bye". I expect at some point I will return to being an owner. I've bought it in many tranches over the past three years and made a tidy sum owning it.
My biggest tranche was in October 2015 and I ran the numbers versus the S&P 500 for that time.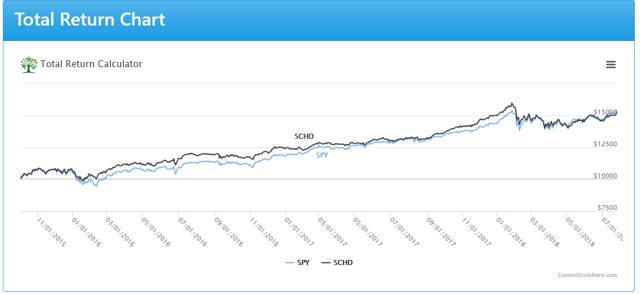 On the detailed table, the S&P actually outperformed though very, very slightly. It was close enough to be a wash essentially, 53.5% versus 52.26% total return.
Again, I have nothing against the ETF but there were still other names that I felt more compelled investing in and needed to shuffle the chairs around to own them all. This is by far the biggest reason why my projected income will be taking a hit. Approximately $900 of yearly dividend income was attributable to SCHD.
Charts and Graphs
Dividends
The green bar in July represents this year and continues the trend of being noticeably higher than prior years. It also is the highest amount received in the first month of a given quarter.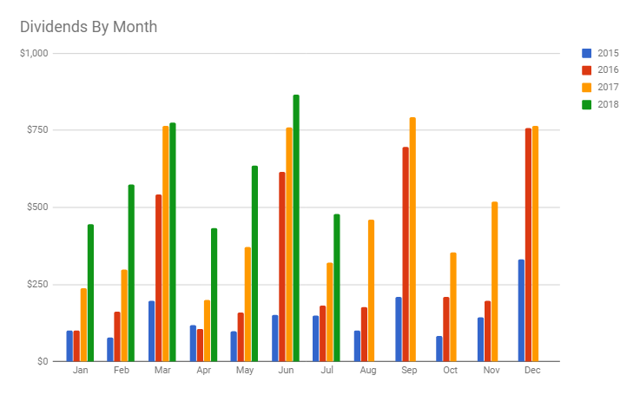 Growth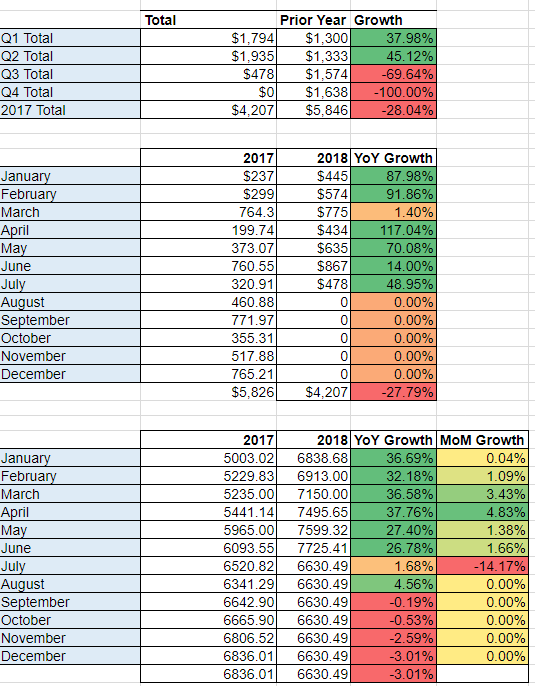 So the biggest topic to cover is to reiterate how I pivoted my portfolio during the month. The three holdings I closed during the month had provided me with over $1,000 in yearly dividend income. Like I've said in the past, I have a very long investing horizon, 27 years in fact until I can tap into this money tax free.
For a current retiree, this makes no sense if you are in need of income today. I did not want an anchor holding back future gains for the sake of a higher income today (which I can't even tap into without penalty).
I have made my decision to pivot more towards growth facilitated by the updated numbers received during earnings season. I've begun to hold each individual holding to a higher standard with a longer vision in mind.
These changes dropped my year over year figure to barely above where I was this time last year. Prior to that I had been tracking a 25%+ income growth rate.
Visualizations
Income By Sector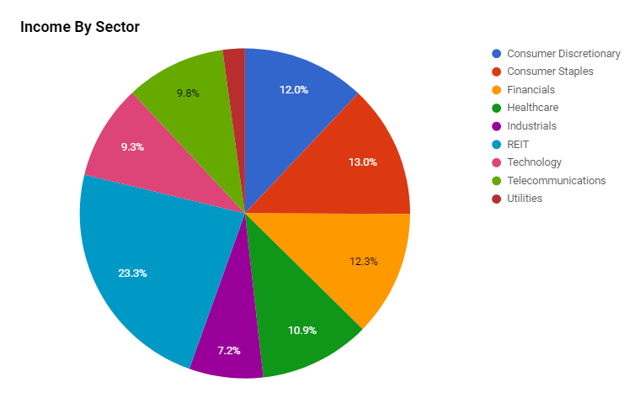 Minimal changes this month, just minor changes due to adjusting dividend rates.
This chart actually changed a lot this month. Technology jumped up from 14% which squeezed out share from all of the other slices save for financials. This graph does also include my non-dividend paying stocks which are overwhelmingly in tech. It also lumps Visa and MasterCard in the technology space rather than financials.
Champion, Contender, Challenger View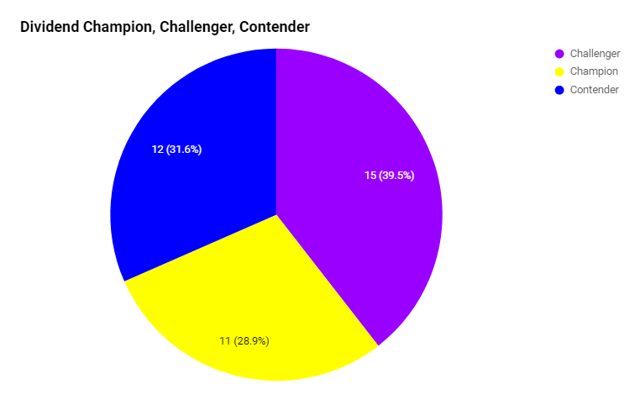 All my dividend-paying companies have at least a 5-year history of raising their dividends. I lost one contender and gained a challenger this month.
Things Coming Up
Everything from last month that was within a few percentage points of their yearly low has disappeared as they've all bounced. For my own sanity on my spreadsheet I've upped the limit from 5% to 10% from being within their yearly low.
Including that broader range, those names (still) include Cummins, Ameriprise Financial, 3M, Prudential, Starbucks, Stanley Black & Decker and AT&T (though I won't be adding more).
Additionally, Illinois Tool Works (ITW) looks interesting year and has recently announced a 28% dividend hike and a new buyback program. I have some research to do here but check out this article by my friend, Dividend Sleuth.
Looking over the S&P YTD performance map, industrials and consumer goods generally still seem to be in the dumps which makes ITW that much more intriguing to me.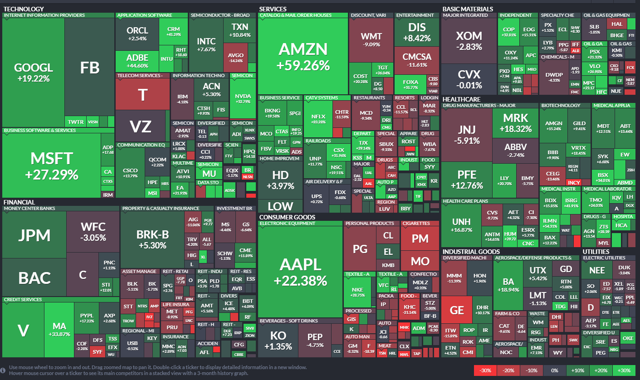 In terms of dividend increases I believe just Diageo will be raising this month. Their announcement has been made:
Someone kindly did some rough math in the comment section and it appears it will translate to about $2.09 which would be about a 5% hike from last year's $2.022 final dividend. For my tracking purposes I'll tag it at 5% in my spreadsheet.
Conclusion
July was an eye-opening month for me. I had time to pontificate while on vacation and ultimately decided to tilt my overall portfolio more for growth. I closed some positions that I felt will do worse than the broader market in order to provide the ammunition to pursue greater long term gains.
Again, I wouldn't recommend this for someone who is a current retiree as I know a lot of my readers are. This may be of more value for someone earlier in their career with a long investing horizon.
That said, you can do very well with large companies by catching them at opportune times when business fundamentals don't necessarily line up with what the market is willing to pay for shares. As always, it is a market of stocks not a stock market. I hope my Verizon example was proof of that.
Anyway, let me know what you think and happy investing.
Disclosure: I am/we are long AAPL,ABT,AFL,AMP,AMZN,ANTM,BRK.B,CMI,CSCO,CVS,DEO,DIS,DUK,FB,GLW,GOOG,HD,IQ,JNJ,JPM,KMB,MA,MDT,MMM,MO,NKE,O,PEP,PRU,PSA,PYPL,SBUX,SKT,STAG,SWK,T,TROW,TRV,TWTR,UA,UTX,V,VFC,VTR,WPC,WSM. I wrote this article myself, and it expresses my own opinions. I am not receiving compensation for it (other than from Seeking Alpha). I have no business relationship with any company whose stock is mentioned in this article.