BAE Systems plc (OTCPK:BAESY) is being named to our GMI Ratings Risk List, a series of reports consisting of 13 U.S. and European companies, because its governance and accounting practices, taken together, suggest that investors should subject the company to higher-than-average levels of scrutiny and engagement.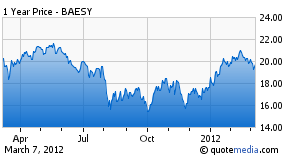 For nearly a decade, BAE has faced corruption-related controversies in multiple jurisdictions around the world - so frequently, indeed, that bribery seemed almost a part of its business model. In 2008, in an apparent response to the problem, the company appointed a special panel on business ethics; the result was a lengthy report, along with 23 specific suggestions for change to eventually remedy the problem. However, implementation of these measures has taken several years, and bribery investigations and fines have continued unabated since the issuance of the report.
At the same time, BAE has made an unusually large number of acquisitions and divestitures and undertaken several restructurings in the last few years. Such events inevitably obscure continuing operating results, and hurt the transparency of a company's financial statements. While a lack of transparency is certainly not proof of impropriety, it is our view that when governance has been poor - as BAE's endemic corruption issues suggest - investors should be particularly cautious about financial statements that may be insufficiently informative.
BAE is a global defense and security company. The company delivers a range of products and services for air, land and naval forces, as well as advanced electronics, security, information technology solutions and support services. The company has five segments: Electronics, Intelligence & Support, Land & Armaments, Programs & Support, International and HQ & Other Businesses. Though revenues have increased since 2008, both profits and share price declined during this period. The shares have traded down from their all-time high of 505p during fiscal 2008 to a current price of 333p.
Structurally, the most notable feature of BAE's governance is the special share/golden share held by the UK government (due to national security issues). A quarter of the company's board is comprised of executives - CEO Ian King; Linda Hudson, President and CEO of BAE Systems, Inc. - US; and Group Finance Director Peter Lynas. Directors appear generally well-qualified, and there are no major concerns about tenure or succession planning. However, investors may wonder about the specific experiences that qualify members of the Corporate Responsibility Committee (CRC) for their roles - as is typical, the company's standard disclosures do not address this issue. In addition, one member of the committee (Sir Peter Mason) also serves on the Audit and Nominating Committee, suggesting that he may have limited time to devote to each committee. This CRC is of particular importance since the company's business ethics have been a major concern for investors.
At the same time, there are some accounting concerns, in part related to the company's recent M&A activity. Currently, our AGR (Accounting and Governance Risk) rating flags two accounting ratios as being unusually high at BAE relative to peers: Underfunded Pension Liabilities/Revenues and Intangibles/Total Assets. Underfunded Pension Liabilities are at 21 percent of revenues compared to the industry median of 10 percent, while intangibles (which include £10.5B in Goodwill) comprise 50 percent of Total Assets compared to 13 percent for industry peers. Although the 54 percent debt-to-equity ratio is not high relative to industry peers, when taken in combination with goodwill which is twice the size of equity, and significant Underfunded Pension Liabilities, it raises potential concerns about the quality of the company's balance sheet.
It is the company's ethical behavior, however, that has been its most serious source of reputational risk for many years. Since 2003, BAE has been the subject of numerous bribery and corruption investigations across the globe. The first sign of major trouble started in 2003 when allegations surfaced that BAE operated a £60M "slush fund" to bribe Saudi Arabian officials. The money was allegedly channeled into a front company, Robert Lee International, and used to pay for prostitutes, sports cars, plane tickets, gambling trips and football tickets for senior Saudi officials.
As a UK probe by the Serious Fraud Office (SFO) picked up pace, the British government decided to end the investigation in 2006. According to sources quoted by the Financial Times, Saudi Arabia had threatened to withdraw all cooperation on security, including intelligence sharing on Al-Qaeda, and downgrade its embassy in London, unless Prime Minister Tony Blair ended the fraud inquiry into its dealings with BAE.
In February 2007, the SFO began to look at corruption allegations, particularly bribery, against BAE. The company was accused of bribery in South Africa, Tanzania, Romania, Chile and the Czech Republic. In May 2007, law enforcement authorities in Switzerland confirmed that they had opened a criminal investigation into possible money laundering at BAE.
In June 2007, the company made an attempt to address these corruption issues by appointing a former top English law official to lead a panel to review and provide recommendations on its business ethics. In May 2008 the report recommended that BAE publish and implement a global code of ethical business conduct, as well as appoint a senior executive to oversee the program.
Among its 23 recommendations, the report suggested that there should be an explicit assessment of ethical and reputational risks in all business decisions taken by the board, that adherence to ethical behavior should affect a part of senior executives' remuneration, and that the selection and appointment of external "advisers" be fully codified. It also said that BAE should continue to forbid facilitation payments as a matter of global policy. The report indicated that making these changes would take a number of years, implicitly warning that improvements might not be immediate. Indeed, the company continued to face a stream of bribery-related controversies.
For example, in October 2008, Austrian police searched for evidence of alleged bribes that they claim were paid by BAE to win contracts to sell military aircraft in Austria and the Czech Republic. Also in October 2008, Sweden opened its own investigation into claims that BAE bribed South African officials in the controversial £5B sale of fighter jets to the country. In February 2010, BAE agreed to plead guilty to two criminal charges and pay nearly $450M in penalties in the United States and Britain to end long-running investigations into questionable payments.
In July 2011 Armor Holdings, a unit of BAE, said it would pay $16M to resolve US criminal and civil charges that it had paid bribes to win contracts for UN peacekeeping missions and hid commissions it paid to win business from foreign governments. In September 2011, a new investigation into the company's dealings was initiated in South Africa.
The company has disclosed on its website the steps it is taking to implement the 23 business ethics recommendations made in 2008. Because a number of the most significant improvements were not made until 2010 or 2011, it is possible that some of the controversies the company has recently faced arise from events which predate the policies. If so, the new initiatives may bear fruit in terms of improved ethical performance in the next few years.
These recent changes include, among other things, the adoption of an internal audit methodology that incorporates responsible business conduct and non-financial risk, the adoption of annual incentive payment objectives related to business conduct for the top 250 employees of the firm, and a new policy on the appointment of advisers which requires due diligence regarding the advisers' integrity and a clear business case for their appointment and remuneration.
However, prudent investors will likely wait to see concrete evidence of improvement before relaxing their vigilance regarding BAE. Indeed, in February 2012, the resolution of a 2010 case suggested that BAE still struggles in some respects to integrate ethical conduct at the highest levels of its organization. In December 2010, BAE was fined £500K by the SFO for failing to keep proper records of payments to an adviser in Tanzania. At the time, it was revealed that the company agreed to make a reparation payment for the benefit of the people of Tanzania of £30M in February 2010. BAE delayed for two years before making the payment in February 2012. The matter of the delayed payment brought criticism from the Tanzanian government and led the UK House of Commons to exert pressure on the company to make good on its deal.
Disclosure: I have no positions in any stocks mentioned, and no plans to initiate any positions within the next 72 hours.