Introduction
Generating income is the main goal of our portfolio. We actively manage our portfolio using relative valuation and options. We gave a first glimpse of our overall strategy a few months back. We looked at the big picture recently to explain why the crowd was getting excessively worried about the long term impact of Federal Reserve Balance Sheet. Today we examine the big picture again and show you if you don't use options you are really missing out on some incredible opportunities.
The Big Picture
Technology. At 24.45% it dominates the indices and has been responsible for the bulk of the gains this year.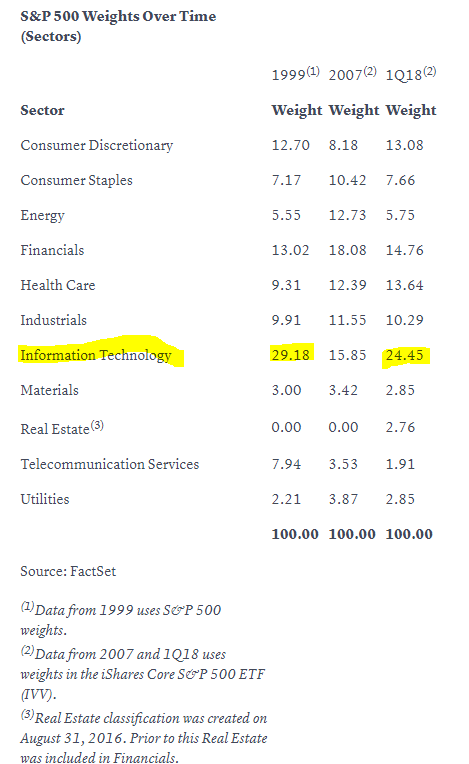 Interestingly, the time frame in question shows that Technology may be a bit rich as a percentage but we are not too far from the average. That may be true but remember that we can go far below the average too.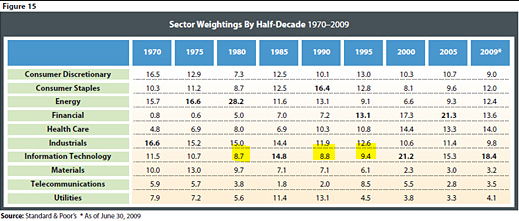 In the midst of the mightest bull technology bull markets, the sector reached a sub 10% weighting a few times. This represents the biggest area of exuberance in the market today and how many are prepared for such a massive undershoot?
How to play it-Long term
We think the sector ETFs most likely to benefit from this overvaluation of technology are Energy Select Sector SPDR ETF (XLE), Consumer Staples Select Sector SPDR ETF (XLP) and Utilities Select Sector SPDR ETF (XLU). While we are not fans of Vanguard Real Estate ETF (VNQ), we think that this too is a sector that investors should be overweight over here.
The bulk of the overvaluation in the market is within technology. It appears less so as margins have exploding upwards for many technology companies. But this is a mean reverting game as more supply comes online and more companies go public to drain investor dollars. Outside of technology the bulk of the market actually appears underpriced and while it may not be unscathed, it should do better in a downturn.
We can see this too in a plot of growth versus value stocks.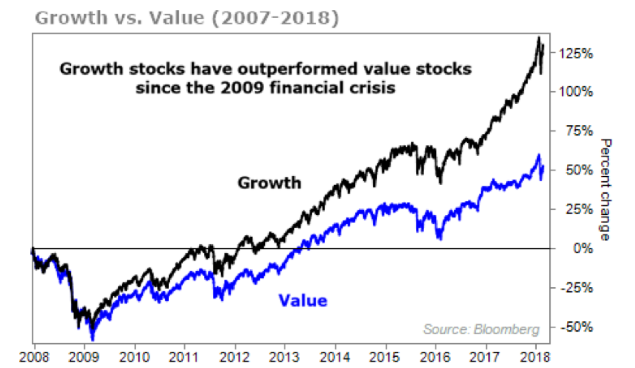 The last time we saw such a massive divergence was in the late 90's.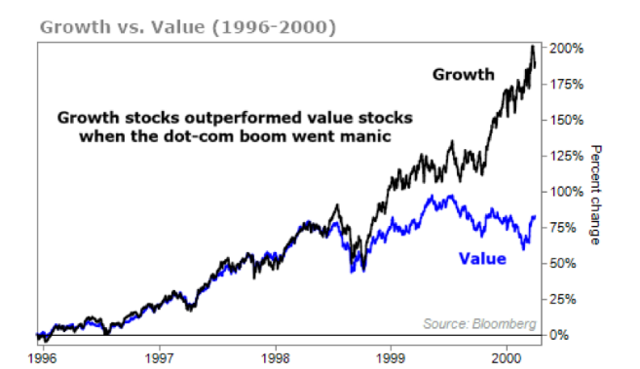 That period was followed by value doing significantly better than growth.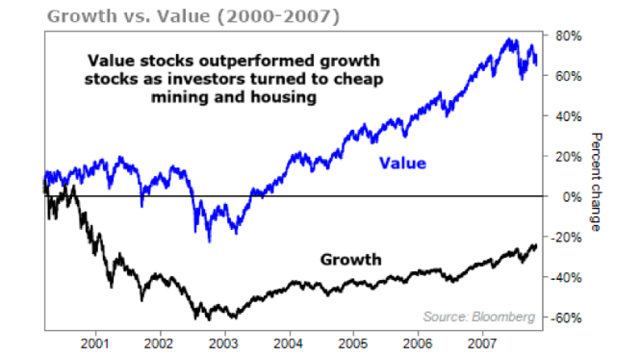 While nailing the exact timing is always difficult, investors will do well over longer periods to trim growth and add value here.
Portfolio updates
1) Washington Prime Group (NYSE:WPG) and Pennsylvania REIT (NYSE:PEI)
In our last update we wrote
While not exactly a Sell, we did sell $7.50 calls for January 2019 for $1.05 each. Total calls sold were 120% of our long position, making this a delta hedging strategy. WPG had a mammoth outperformance since the March bottom, and when it reached $8.15, we were left contemplating whether we still wanted this one or wanted to sell lottery tickets. We decided on the latter.
With the stock now down to $7.40 post Q2-2018 earnings and the calls down to $0.40, the delta hedging has worked more than perfectly with our gain on the shorted options exceeding our drawdown on the stock.

Source: Interactivebrokers
We might un hedge this post the next dividend. The same applies for PEI.
2) Facebook (FB)
The most loved stock in the world seemed rather overpriced to us going into earnings. Our belief was that FB would struggle with user growth, specially in a quarter where it was part of a large scandal. We also thought that advertiser pushback on pricing would impact the growth outlook. The stock however had gone straight up into the earnings. We did initiate a short.

With the earnings disappointment and subsequent sell off we decided it was pointless to overstay our welcome and we exited in the after-hours.

At Wheel of Fortune too we initiated shorts for the stock which ended very profitably. With the stock breaching $170 at one point, we became relatively bullish on a short term basis and initiated some mildly bullish spread trades. FB remains a key stock to watch going forward as it is at risk for larger regulatory challenges than most other stocks. While it appears cheap, we would argue that the margins can contract just as easily as they expanded and lot of "earning power" can vanish into thin air.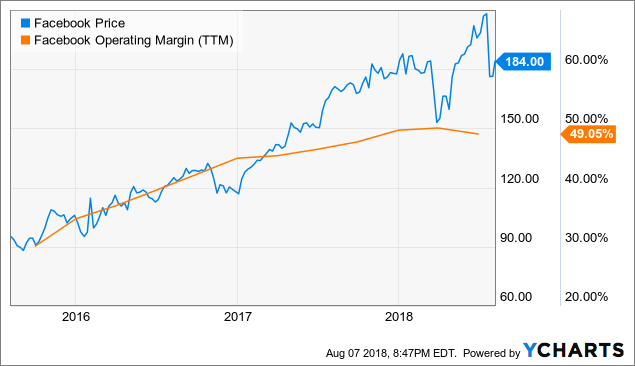 3) Netflix (NFLX)
While NFLX is lumped in with the "FANG" group, it is our belief that is one of the most vulnerable in that group as it is on a constant treadmill to provide content and compete with media giants. While we went straight short, our marketplace service took a more conservative approach that pocketed in the entire call spread premium.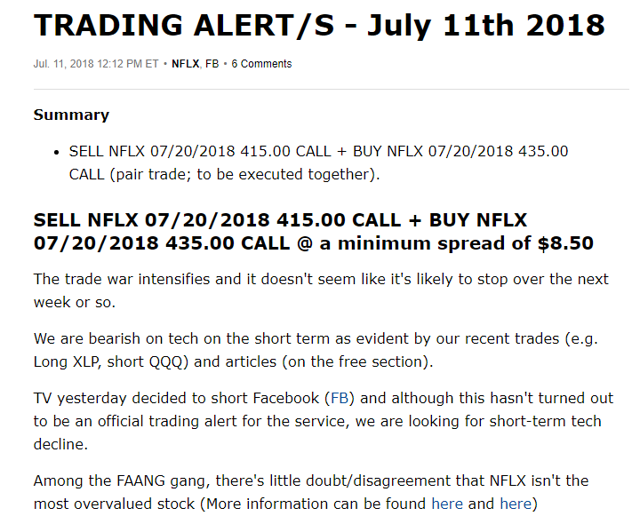 Source: Wheel of Fortune July 11 Alert
We have personally covered half our short position at $333.33 and remain short the other half. Investors will likely see the ending US growth story in a negative light and Walmart Inc's (WMT) streaming service planned launch is a negative for at least pricing if not for retaining existing subscribers.
4) Energy Transfer Partners (ETP) and Buckeye Energy Partners LP (BPL)
We made a big commitment to ETP post FERC decision in March, but stayed away from BPL due to what we felt was an unpriced distribution cut. That worked out well.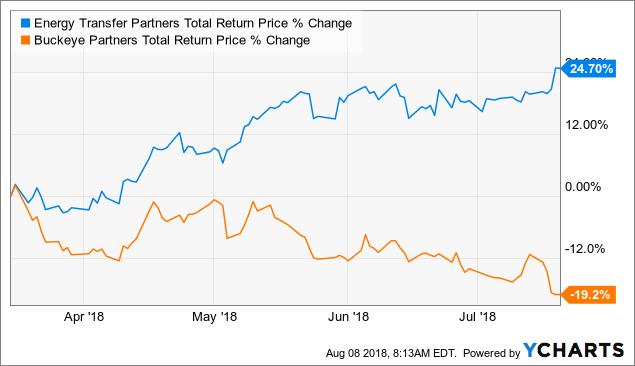 However, we felt the gap had gotten wide enough and with Q2-2018 results on dock for BPL, we initiated a long position and it has become our conviction buy for the next 12 months. The sector on the whole is cheap and even perpetual disappointments like Infracap MLP ETF (AMZA) have begun to show life.
5) Brookfield Property Partners (BPY)
So you are happy to just collect a 5-6% dividend? How about a 35% annualized yield on one of the highest quality real estate companies in the world? That is precisely what we did with BPY. BPY remains on our watch list for further adds and option sells into the merger close with General Growth Properties (GGP). Anyone looking to make a contrarian bet on retail should do consider doing it through BPY where the office and development properties in prime locations alongside a huge discount to NAV give you an incredible buffer.
6) Omega Healthcare Investors Inc (OHI)
A legion of fans find this stock appealing. We think it ultimately has a date with a sub $20 price which we estimate to be its NAV. While analyst consensus has this at $23.44, we believe they will be joining our line of thinking in a few months.

Source: SNL
We shorted this using ratio credit puts spreads so we are perfectly fine if the stock ignores reality and goes higher. We might make a more committed bet once we see more rumblings in the sector from operator distress.
7) Advanced Micro Devices, Inc (AMD)
Never have we seen a company run so much on hype as AMD. Yes, they might have a lead in some areas today but that has not translated into profits. Over long periods of time, AMD has never made any serious dollars for its investors. This can be seen best in the chart below.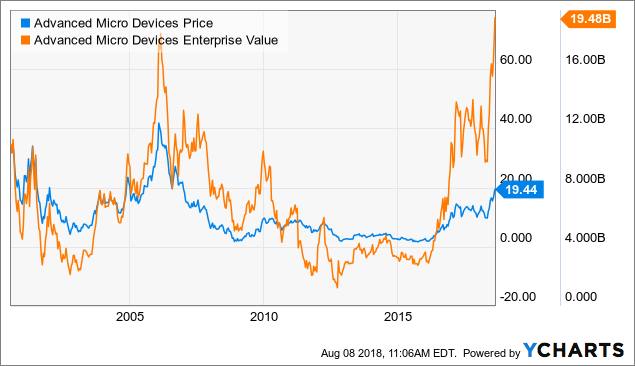 While the stock price remains below half the levels obtained in 2007, the enterprise value now exceeds those at the 2007 highs. The reason is that the chronic money losing operation finances itself through chronic stock issuance.
A stark contrast to its competitor Intel (INTC) which has reduced its share count by 31.5% over the same time frame. We remain short AMD with an average price of $17.85. That is of course not fun when the stock is at $19.30 but we are sticking to the bet for now.
We would like extend a special thanks to all the AMD bulls who took time out of their busy schedule to educate us on the superlative merits of the stock as well recommended which sectors we should focus our work on. Your sacrifice will not be forgotten.
Conclusion
The economy still appears poised for good growth but the growth sector appears priced for perfection. The good news though is that non index investors can still buy great value after 10 years in this bull market. In the shorter term risk appears underpriced and what happened to Facebook and Netflix can easily extend to entire sectors. We remain bullish on value and bearish on growth for now.
For more analysis such as this, alongside real-time alerts to sell insurance (puts) to panicked investors and lottery tickets (calls) to euphoric investors, please consider a subscription to our marketplace service Wheel Of Fortune.
About "Wheel Of Fortune"
Wheel of Fortune is a leading and comprehensive marketplace service dedicated to picking the best risk-adjusted opportunities in stocks, bonds, ETFs, and CEFs. We look for securities from an income and capital appreciation standpoint and focus primarily on managing risk in trades. We use options frequently to minimize risk and enhance returns.
We invite readers to have a closer look at our investment strategy and our best current picks. For more information, click here.
Disclaimer: Please note that this is not financial advice. It may seem like it, sound like it, but surprisingly, it is not. Investors are expected to do their own due diligence and consult with a professional who knows their objectives and constraints.
If you enjoyed this article, please scroll up and click on the "Follow" button next to my name to not miss my future articles. If you did not like this article, please read it again, change your mind and then click on the "Follow" button next to my name to not miss my future articles.
Disclosure: I/we have no positions in any stocks mentioned, and no plans to initiate any positions within the next 72 hours.
I wrote this article myself, and it expresses my own opinions. I am not receiving compensation for it (other than from Seeking Alpha). I have no business relationship with any company whose stock is mentioned in this article.
Additional disclosure: Long and short positions as mentioned.
We may trade any stocks mentioned at any time, including the next 3 days.