Welcome to the weekly oil storage report edition of Oil Markets Daily!
Highlight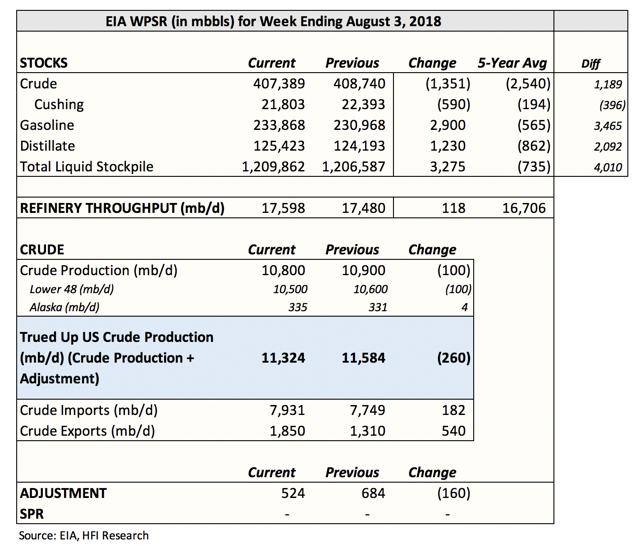 This week's EIA oil storage report was bearish across the board. US crude storage fell 1.351 million bbls versus our forecast for a draw of 2.4 million bbls. Gasoline stockpile saw a build of 2.9 million bbls as implied gasoline demand fell 532k b/d w-o-w. The 4-week average for implied gasoline demand is now at 9.695 million b/d versus 9.763 million b/d last year. Total products supplied on a 4-week average basis came in at 21.125 million b/d or just slightly less than last year's 21.247 million b/d. Implied product demand on a y-o-y basis was lower by ~1 million b/d.
Total Liquid Stockpile
Total liquid stockpile increased 3.275 million bbls this week versus a 5-year average decline of 735k bbls. Since the start of June, US total liquid stockpile is basically unchanged versus last year's monstrous decline of 34.689 million bbls, but remains bullish biased versus the 5-year average of +8.784 million bbls.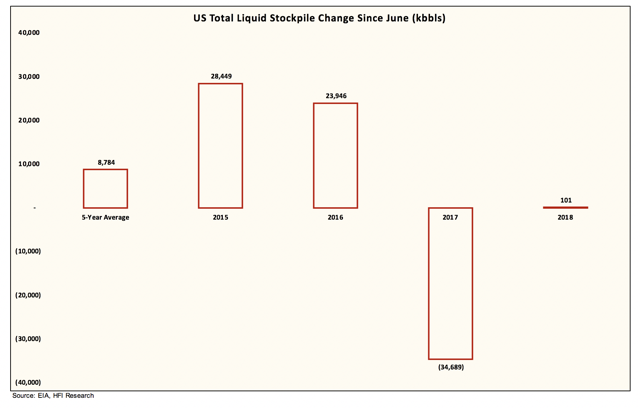 On a YTD basis, US total liquid stockpile change YTD shows a draw of 15.409 million bbls. But as you saw with the comparison to 2017 above, the difference y-o-y is starting to catch-up.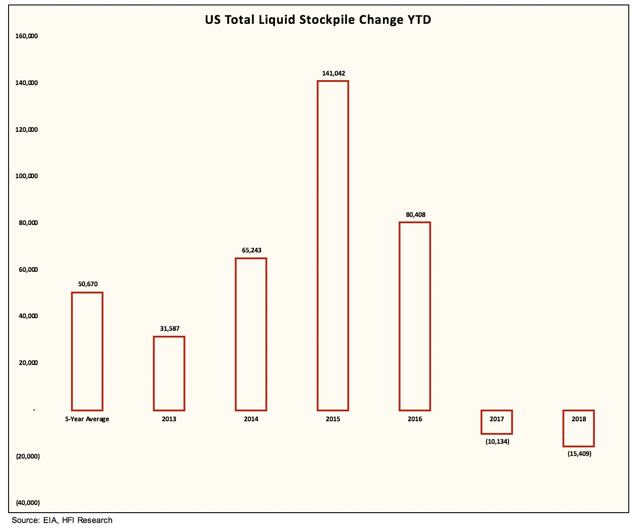 As a result, you can see that on a y-o-y basis, the deficit is starting to fall:

On a comparable basis, the decline in US total liquid stockpile of 15.409 million bbls relative to the historical average puts the implied deficit this year at ~304k b/d down from ~360k b/d earlier this month.
US Crude Storage
As for US crude storage, this week's storage draw brings the YTD change to -17.074 million bbls.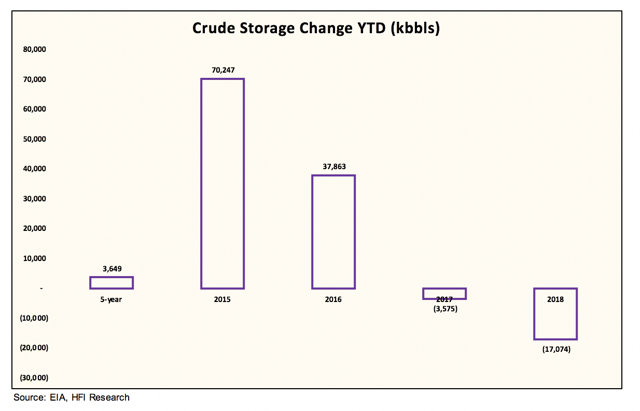 Since June, US crude storage draw has totaled 29.195 million bbls versus the 5-year average draw of 23.904 million bbls and last year's 37.77 million bbls.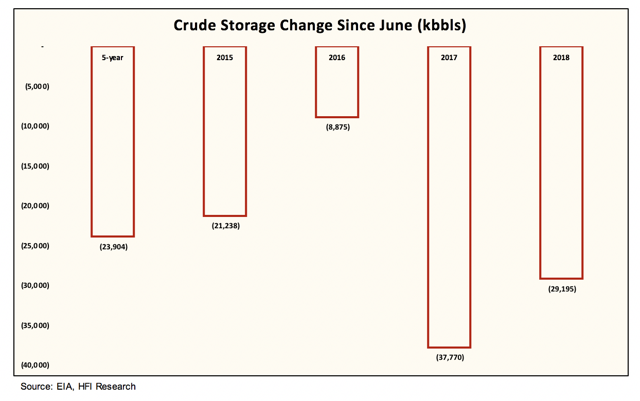 Looking ahead, we are forecasting US crude storage balances to draw an additional 9 million bbls for the rest of August. The lower draw estimate reflects much lower US crude exports this month.

Our assumption is that US crude exports will average ~1.75 million b/d the next few weeks.
For September, we currently have US crude storage falling just 1.5 million bbls for the whole month. One reason being that Saudi crude exports to the US for July shifted in the last week from ~600k b/d to ~980k b/d.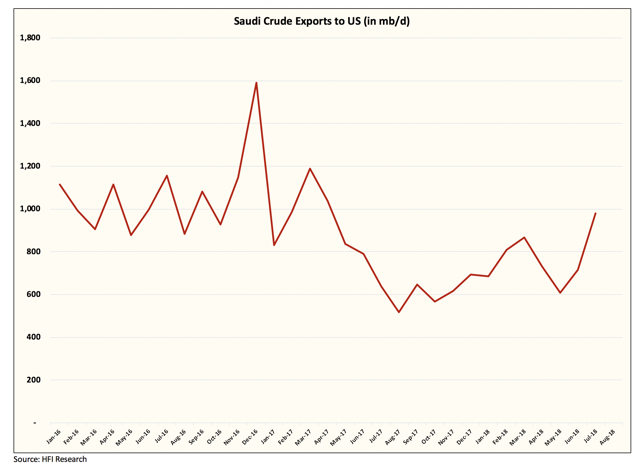 The increase in Saudi crude exports to the US will see vessels land towards the middle of September likely boosting US crude imports higher.
Given refinery throughput is slowly recovering, we expect refineries to absorb the barrels, but the trajectory of the storage change has shifted bearish and resembles that of the 5-year change rather than the bullish trajectory we saw in 2017. Here's where we think US crude storage ends by the end of September.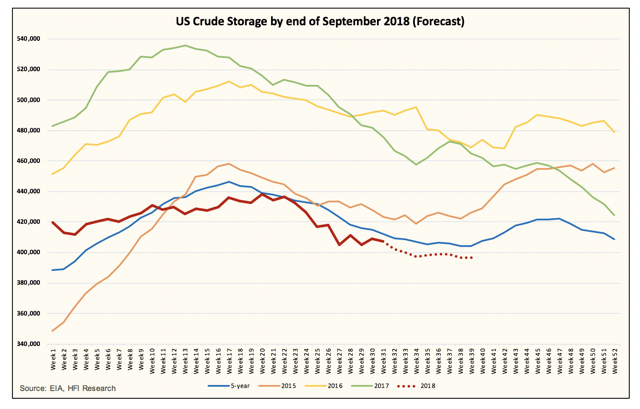 Putting it in the context of the global oil market analysis
Using our latest US crude storage forecast analysis and combining it with what we are seeing in the global physical oil market, we believe that the Brent-WTI spread will start to widen meaningfully again.
As we wrote in our article on Monday titled, "Oil's Short-Term Headwinds Are Reversing." The near-term headwinds for the physical oil market are starting to reverse for the better. We have been watching OPEC exports along with floating storage data closely, and there are signs that the bearish near-term headwinds will be gone by the second half of August.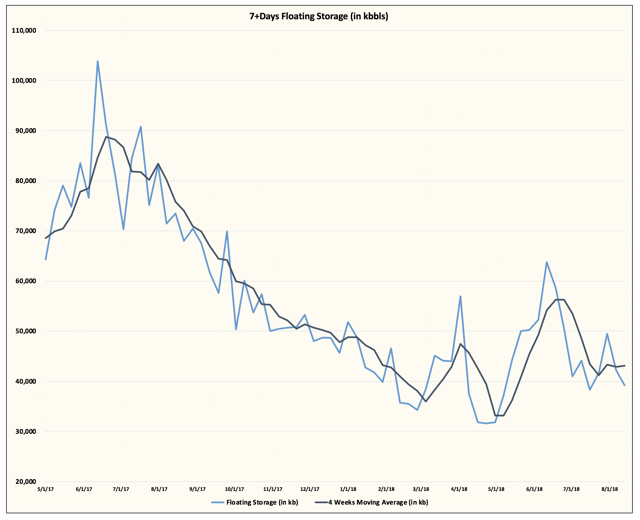 But for US oil storage balances, we are seeing headwinds build as lower US crude exports coupled with higher crude imports will be a headwind on draws in US crude storage. However, lower US crude exports and higher imports result in fewer barrels in other parts of the world, namely Europe, which is currently inundated with light sweet crude (see the North Sea floating storage).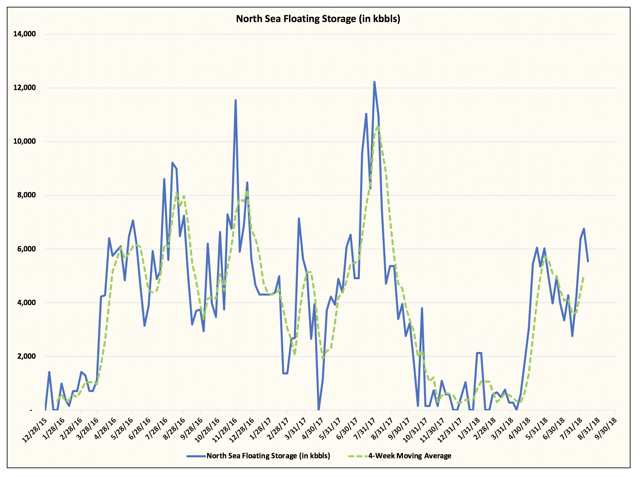 As a result, we expect the next oil rally to be led by Brent, and we expect Brent-WTI spread to start widening again.
Global demand is fine, but trade war concerns aplenty
The timing of the bearish oil storage reports, coupled with rising floating storage, lower Brent time spreads and reduced China crude buying, has made traders wary if indeed a global oil demand slowdown is on its way. The issue with much of the bearish physical balances we are going through at the moment is the result of the export timing mismatch, China destocking crude inventory, and concerns over the potential that OPEC+ will start to flood the market once again.
But a myopic focus on just one country may not be prudent investment analysis. China's crude buying dropped in June by 10% y-o-y, which had a double effect on pushing the physical oil market into a surplus in the short-term.
But since June, China's crude buying has recovered somewhat. In addition, a good chart posted by Pierre Andurand and Platts shows that the destocking in China's crude oil inventory may not last for much longer given tight product storage going forward: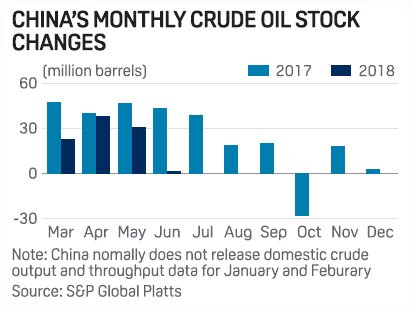 And this: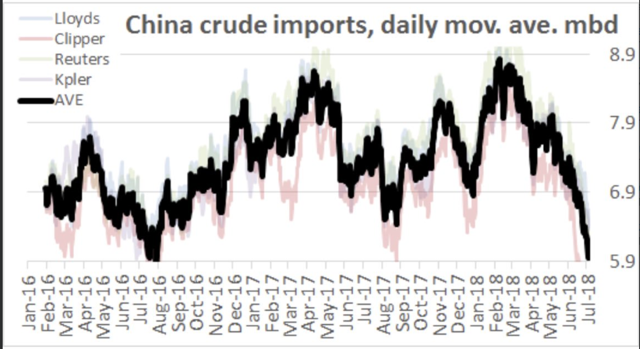 Source: Pierre Andurand
And even with China crude buying only recovering slightly, Asia as a whole has been very strong with crude imports higher by 1.781 million b/d y-o-y for August:

(Note: The all-time high was in Jan. 2018 at ~26 million b/d.)
So should we worry about the trade war concerns?
If the trade war escalates further, then yes, we should be concerned. But for the time being, we think the blip in June will correct itself as the data has already started to rebound towards much higher growth y-o-y.
Cushing

Gasoline

Distillate

Refinery Throughput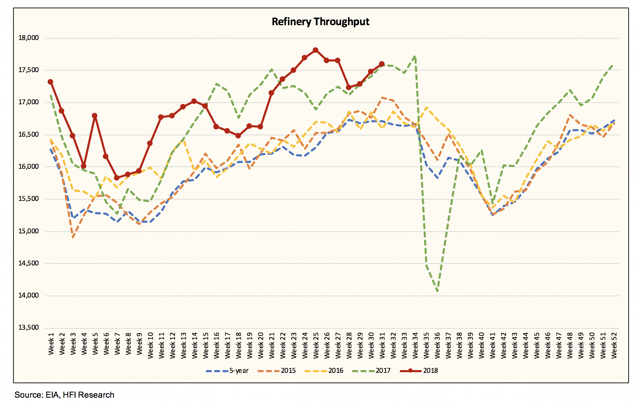 Crude Imports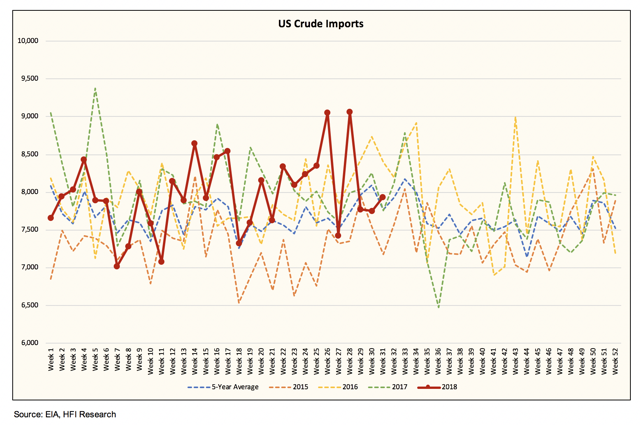 Crude Exports

Adjustment Factor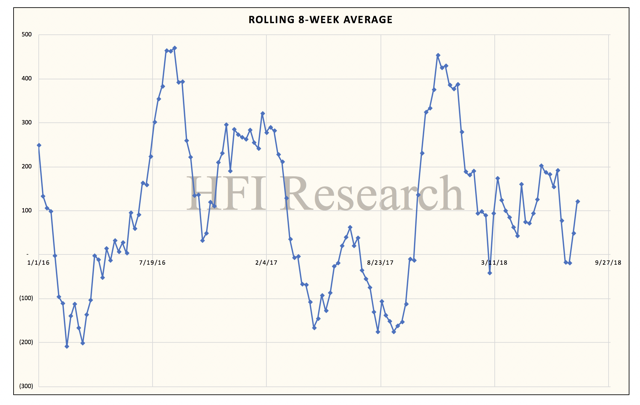 Days of Supply
Conclusion
The change in US oil storage has shifted from bullish in Q1 to neutral in Q2 and matching closely with the 5-year average changes now. Moving forward, we are forecasting an additional 9 million bbl draw for the rest of August with lower crude storage draws of 1.5 million bbls for September as higher Saudi exports to the US for the month of July increase imports.
But as the US oil storage balances trend along the 5-year average, global physical oil markets are starting to shine a light at the end of the tunnel. Bearish physical headwinds are reversing, and we think once the floating storage levels move materially lower, Brent will lead the next oil rally which will widen the Brent-WTI spread again.