Editor's note: Seeking Alpha is proud to welcome Raltin as a new contributor. It's easy to become a Seeking Alpha contributor and earn money for your best investment ideas. Active contributors also get free access to the SA PRO archive. Click here to find out more »
Investors have always closely watched broad housing market indices as a proxy for the health of the economy. For instance, every month investors eagerly await the release of the census bureau data to recalibrate their forecasts. However, there is a 45 day delay between the release of the data for the reported period. Here is an example of the census bureau permit data on July 18 2018 showing for the period ending in June 2018. Based on that press release, Bloomberg, on the same day, showed that Home builders stocks had fallen on the negative housing permit data. There are other examples of delayed macro real estate & housing data showing impact on various ETFs and stocks.
Raltin has analyzed building permit data sets from Gavop, a real estate data service, to show insights with only a week's delay. Gavop & Raltin are both part of Gridlex, a data, research & analytics organization, with products in finance, real estate & healthcare. Gavop aggregates building permit data information directly from a city's government website on a daily basis. Gavop focused on the top 100 cities with the most population and those cities that make their data available on their website for analysis. The data sets include raw permit data including type of permits, date of issuance, contractor data and other information. Each government website makes this available in different data formats and at varying delayed times. The data is scrubbed and formatted to have a common understanding of the changes occurring in the home improvement sector. Raltin, further analyzes, this data set to focus on cities with the fastest release of data and makes it meaningful for investors looking to get insights in the home improvement sectors and the broader economy.
The data has proved to be extremely accurate in showing the ebbs and flows of larger economic cycles. The below chart shows the rolling 3 month changes compared to the prior year's rolling three month permit counts. For example, in Chicago, a rolling 3 month period for June 2009 would including June, May & Apr 2009 which is then compared to June, May and April of 2008. The yellow highlighted section in the below chart for for the four cities of Chicago, New York, Raleigh & San Francisco shows shows a negative growth in rolling 3 months in the 2008 & 2009 period followed by periodic growth in subsequent years. This corresponds with the recession of 2008 & 2009 and the following recovery.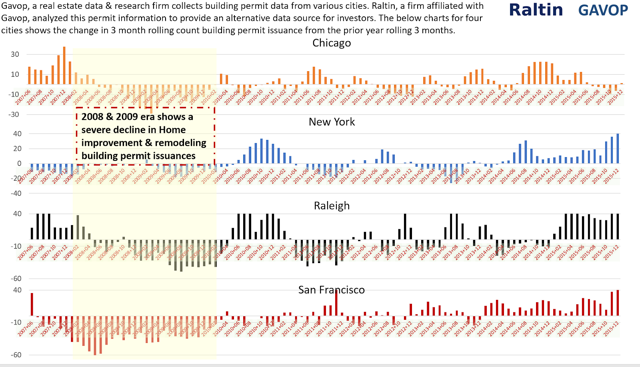 The below table shows a rolling 12 month comparison for June 2018 & July 2018 over the corresponding prior 12 month period for seven major cities. The latest time period for the July month end (about a week from this article's publishing date) shows a mixed picture for these seven major cities.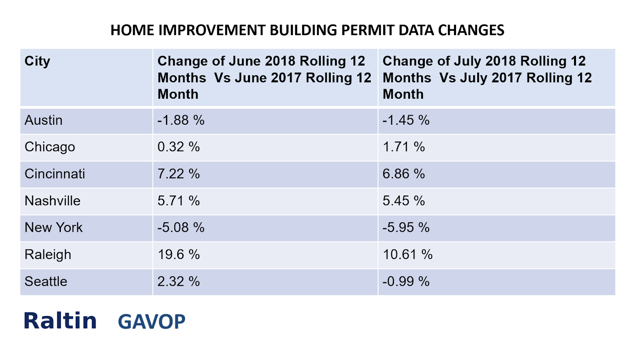 New York, Austin & Seattle had marginal declines over the prior 12 month period. New York's residential home improvement building permit data shows the steepest decline at about 5% compared to the prior year. On the other hand, Chicago, Raleigh, Cincinnati & Nashville show an increase from the prior year. The data shows that while there may be regional nuances in consumer preferences, there is no broad based decline in consumer spending on home improvement projects.
This data bodes well for investors in home improvement companies such as Home Depot (HD) & Lowes (LOW) who may have been concerned about recession fears. There may be company specific nuances for each stock based on regional exposure and other dynamics (e.g. ECommerce) but an overall weakening of consumer demand may not be one of them.