Gold and silver have been big disappointments for investors thus far into August. And while the currency component for both metals remains a major obstacle to a meaningful turnaround, an examination of the gold/silver ratio suggests that a short-covering rally for both metals is likely near. We'll discuss this in today's comments.
It has been another bad week for gold as the metal fell to its lowest level of 2018 earlier this week. Consequently, investors continue to lighten their exposure to traditional safety assets. A continued rally in equity prices and a positive U.S. economic outlook have continuously weighed gold's intermediate-term outlook, putting gold investors in a sour mood regarding the metal's prospects for a rally anytime soon.
Although the financial press tried to blame the threat of higher interest rates as a reason for gold's decline, the most likely culprit is the lack of sustainable inflation that gold investors can really sink their teeth into. The lack of inflation in commodity prices, combined with a strong U.S. currency, remains the biggest obstacle to a major gold rally.
However, there's still a chance that gold will get the long-awaited catalyst that's needed to rally the metal by summer's end. That catalyst would most likely be a temporary reversal of the dollar's intermediate-term upward trend. If the global trade fears that have been waxing and waning in recent weeks finally subside, it will favor a late summer/early fall rally for the yellow metal as the U.S. dollar index would (temporarily) lose a key support and would likely pull back.
Speaking of the greenback, the U.S. dollar index (DXY) is still hovering dangerously close to its 2018 high, as you can see here. This is the main reason for gold's inability to reverse its immediate downward trend, and until DXY closes sharply under its widely watched 50-day moving average (below), investors should consider that the dollar's intermediate trend remains up and gold's interim trend is down.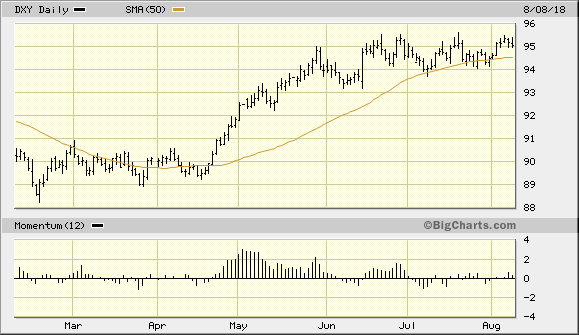 Source: BigCharts
For now, though, sellers have control over the immediate-term (1-4 week) trend. After Monday's drop to new yearly lows, gold and the gold ETFs are no closer to confirming a bottom than at the start of summer. We're still waiting to see the technical and psychological indications that the gold market has completely bottomed out before making any new commitments. As you can see in the graph of the iShares Gold Trust (IAU), below, the gold ETF remains below its 15-day moving average and hasn't yet been able to close above this critical immediate-term trend line.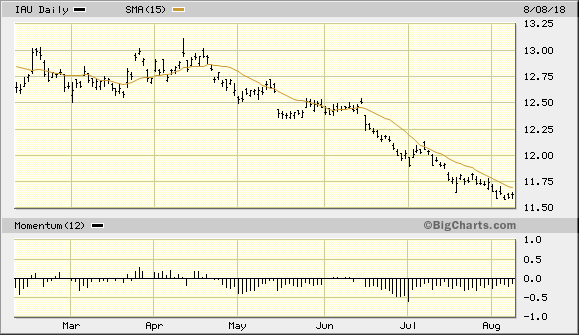 Source: BigCharts
Although the gold market is becoming technically "oversold" by almost any measure, one element that has been missing of late is relative strength in the silver price. Instead of leading the gold market, silver has shown persistent weakness for the last seven weeks. Historically, the silver price normally leads - or else participates with - gold price rallies that are destined to have "legs."
So it would definitely help gold's case in the immediate term if the silver price can manage to break out above its 15-day moving average soon. Shown here is my favorite silver proxy, the iShares Silver Trust (SLV), in relation to its 15-day MA. Although SLV did come very close to closing above the 15-day MA, it hasn't yet done so and thus remains in a downward trend.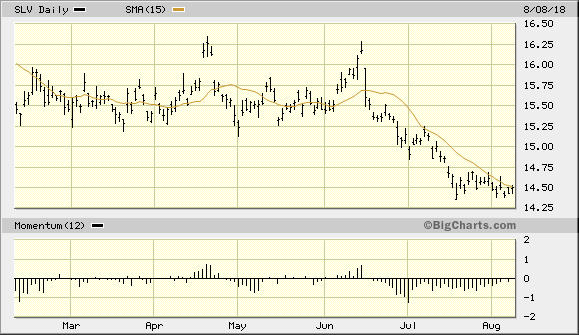 Source: BigCharts
Silver has been especially shunned by investors in the wake of positive news on the U.S. economy. The gold/silver ratio, which measures the number of silver ounces needed to buy an ounce of gold, hit its lowest level of the year in mid-June and has since risen to 79.12. The gold/silver ratio is also currently above its 50-day and 200-day moving averages, shown below. This technically implies that the gold/silver ratio may be on the verge of another big upside move.
Historically, a spike in the gold/silver ratio above the 80.00 level has tended to bode well for the silver price in the near term. Once the metals find a bottoming out point and have a reason to rally (namely a weaker dollar), silver normally goes on to outperform gold in such cases. It will therefore be important for us to closely monitor the gold/silver ratio in the coming days and weeks, as we look for the next suitable entry point.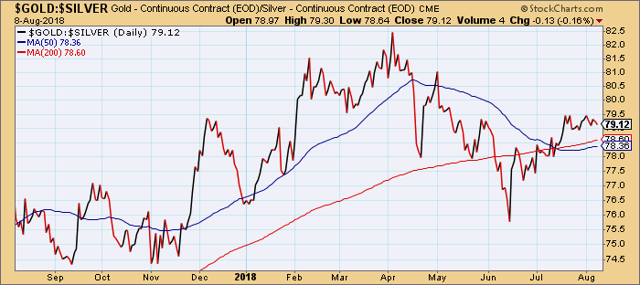 Source: StockCharts
On a strategic note, I recommend that investors avoid new commitments to the iShares Gold Trust (IAU). The burden remains on the gold bulls to prove the metal's immediate overhead supply problem has been resolved and that they are serious about regaining control of gold's immediate-term trend. Until they do, remain in cash.