What now for the equity markets? The S&P 500 has been contained in a range between 2,550 and 2,875 since late 2017, with the markets not possessing the necessary conviction to send the index out of either side of the range. We have been fed a deluge of macroeconomic news of late - both positive and negative - which might explain the S&P 500's range-bound price action.
In Goldman's view, Apple (AAPL) beating Amazon (AMZN) to take the much-vaulted crown as the first US company to reach an impressive $1 trillion market capitalisation was the "wrong $1 trillion question" the markets should be focusing on. According to the bank's chief equity strategist, David Kostin, the correct $1 trillion question should be "What amount of buyback will companies authorise in 2018?"
To answer that question, Kostin feels US share buyback activity will hit an estimated $1 trillion in 2018, buoyed by tax cuts and strong cash flow growth. This is a tremendous increase of about 46% from 2017.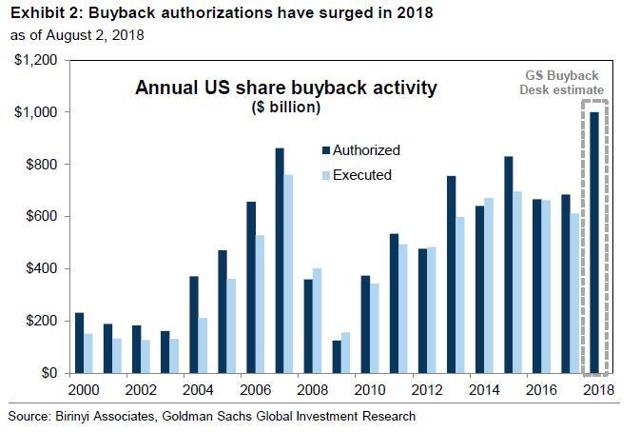 Goldman estimates that August would be the optimal month for buyback executions by corporations, followed by the month of November. In fact, based on the bank's findings, corporations are likely to execute 66% of share buybacks in the second half of the year, versus 34% in the first half. The main reason given was that almost 80% of companies would have reported earnings by August, which means the blackout period for their buyback operations would have ceased.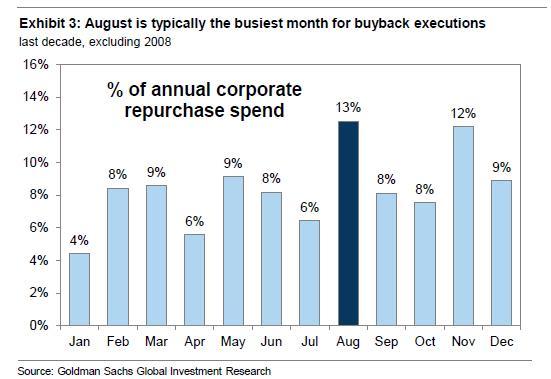 Will a surge in corporate buyback activity lift the markets to new highs (for the S&P 500, above 2,875)? Possibly, but which sector would benefit the most from corporate buybacks?
On a YTD basis, the Tech sector has actually been the most aggressive sector in terms of corporate share buyback volume, as seen from the chart below, with a volume that is a whopping 3 times higher than second-placed Health Care.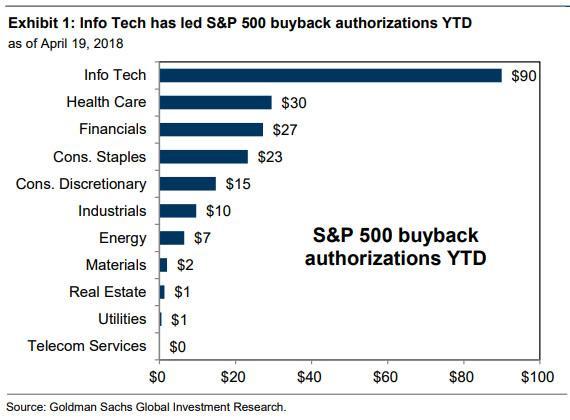 The current Tech earnings season has been characterised so far by a divergence in earnings for the Tech giants, with Facebook (FB) and Netflix (NFLX) disappointing, while Alphabet (NASDAQ:GOOG) (NASDAQ:GOOGL) and Amazon exceeded expectations for the "FANG" team. Overall, however, earnings for technology stocks have been pretty solid, according to JPMorgan's Kolanovic, who feels the poor results for some Tech stocks were "idiosyncratic, rather than systemic", and he is currently overweight the "oversold" Tech sector.
Poor results from some Tech stocks aside, the behemoth NASDAQ is still up an impressive 10% YTD, which is the best-performing equity index in the developed world save for the Russell 2000.
Now that we find ourselves at the start of August, where we might see a surge in corporate buybacks, investors might want to consider positioning in the Tech sector, which is expected to be the main beneficiary of corporate buyback activity. The NASDAQ finds itself closer to its highs versus the S&P 500, which I interpret as a sign of strength, rather than it being more expensive, as earnings as a whole have been relatively solid thus far. Positioning-wise, it can be argued too that after the recent clear-outs we saw in FB and NFLX, there is a smaller proportion of weaker hands now in the sector.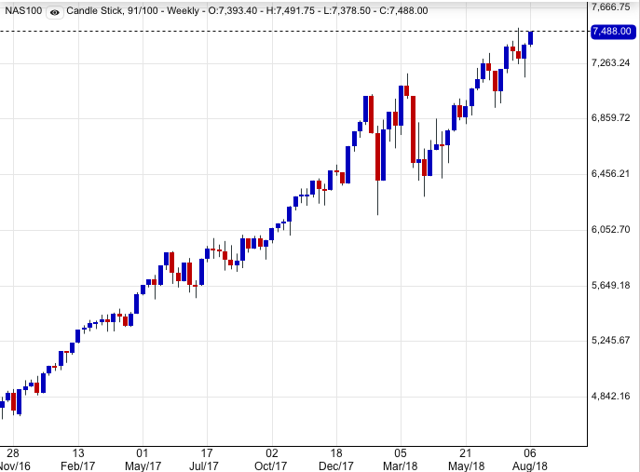 I would suggest investors going long the NASDAQ via the PowerShares QQQ ETF (QQQ) to obtain broad exposure to the technology sector, which weeds out the risk of sub-par earnings results suddenly hitting the share price of an individual counter (and therefore also foregoing potentially larger upside as well due to diversification). In terms of revenue growth, technology stocks still outpace that of the broad market, which justifies their higher P/E ratio of 26x. In addition, corporate buybacks in 2018 might just give the technology stocks a crucial tailwind going into 2019.
Disclosure: I/we have no positions in any stocks mentioned, and no plans to initiate any positions within the next 72 hours. I wrote this article myself, and it expresses my own opinions. I am not receiving compensation for it (other than from Seeking Alpha). I have no business relationship with any company whose stock is mentioned in this article.