It's time for the monthly watchlist report. As always, you can find the updated info at any time here Dividend Income Spreadsheet and the Portfolio Spreadsheet.
Summary
Reviewing the past watchlists
Let's start by looking at the past "recommendations 7 watchlist candidates".
April
For April, all of the top 5 recommendations returned positive numbers. The majority of the other stocks returned positive numbers, with Veidekke and Starbucks being the worst performers.
May
All stocks returned positive numbers.
July
The majority of the top recommendations returned positive numbers. Starbucks was once again the worst stock.
Takeaway
Most stocks returned positive numbers. While I don't believe that I can time the market, it's somewhat nice to see that my inception of "fair value" isn't totally of the books, so far.
Watchlist August 2018
I reached out to my followers on Twitter and asked the following:
Writing my monthly watchlist right now and interested in knowing what stocks YOU are watching right now. Name your top 3 candidates and I might even include them (with credit to you ofc) if I agree #dividends #dividend #ValueInvesting
I took some of the stocks which I could find in the Borsdata universe that my followers suggested and did some fast research by creating 4 different lists focusing on Valuation, Debt, Growth and Free Cash Flow + TA.
Valuation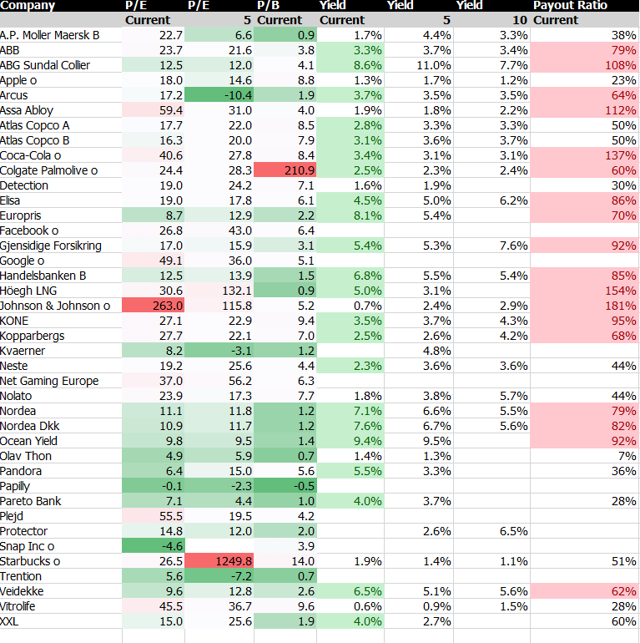 Growth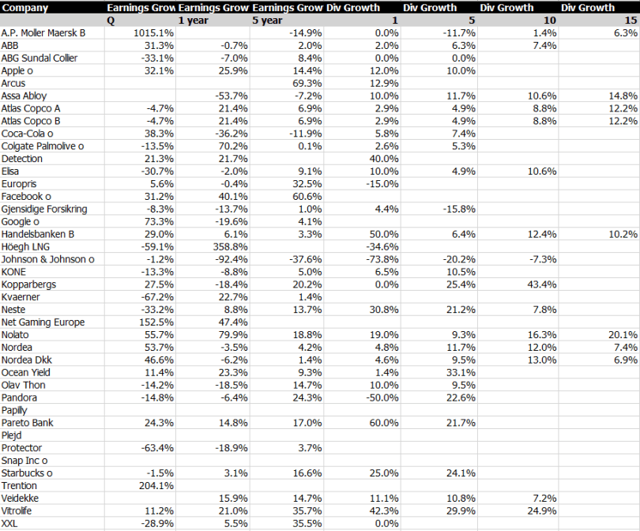 Debt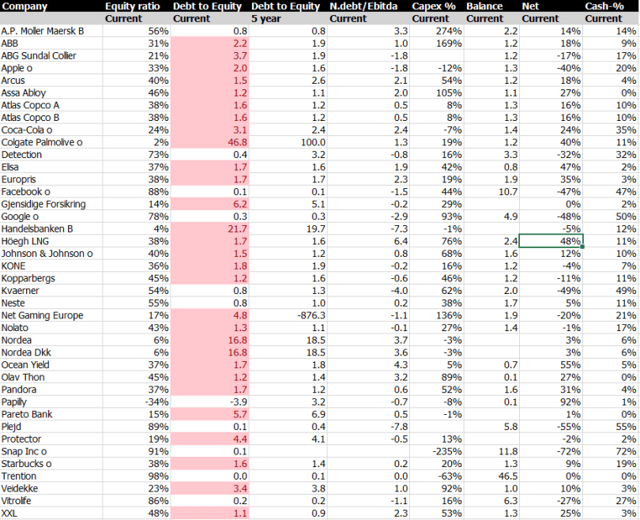 Free Cash Flow and TA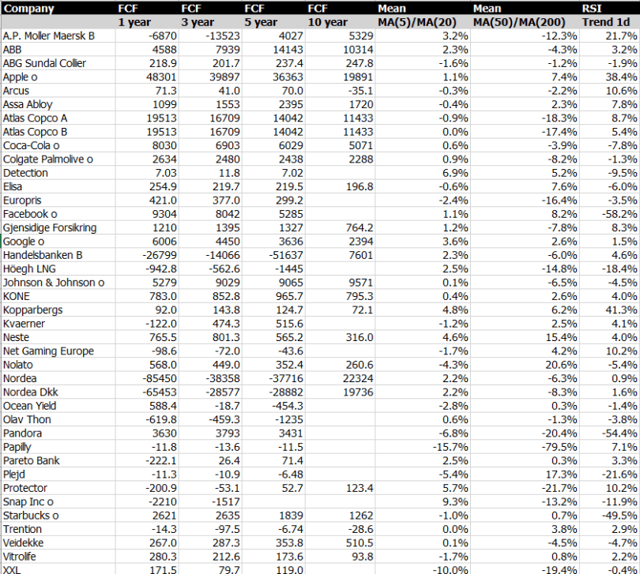 Takeaway so far
From the list above, I find Vitrolife (OTC:VITIF), Veidekke, Starbucks, Pareto Bank, Ocean Yield (OTCQX:OYIEF), Nolato (OTC:NLTBF), Apple (NASDAQ:AAPL), Maersk (OTCPK:AMKAF) and Google (GOOG, GOOGL) the most interesting.
Credit to Lundaluppen, Gottodix, and Eric Landis. A lot of great suggestions by everyone though!
Further research needs to be done, but interesting to see what people are looking at.
Some of you recommended Investor
During July, I bought shares in Investor and Kinnevik (OTCPK:KINNF) for 50,000 NOK. I like to buy Investor when the discount is close to 28% to NAV.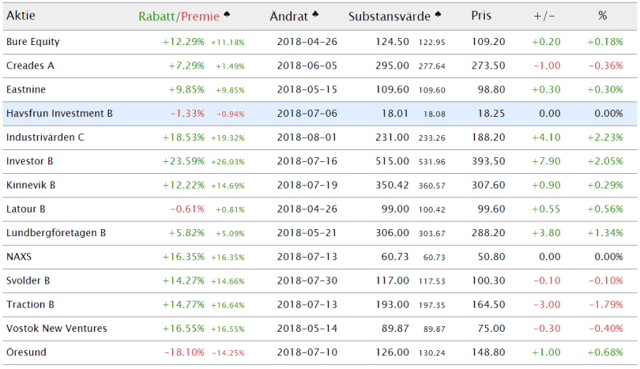 Top Candidates
BMW
BMW (OTCPK:BMWYY) is my top choice this month. The whole sector is pricing BMW, among others, as if Tesla (NASDAQ:TSLA) will own everything.
I don't that's the case, and BMW, along with its intangible assets and great history, should do fine, IMO.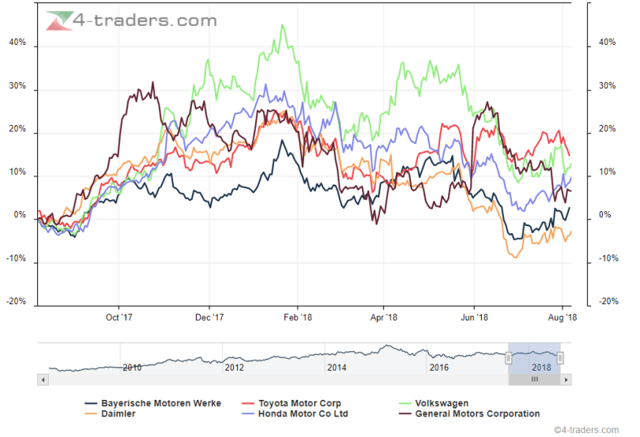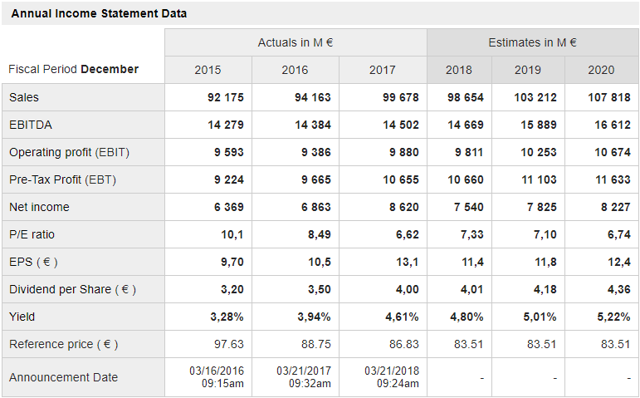 Illinois Tool Works
Illinois Tool Works (NYSE:ITW) just increased its dividend by 28%, showing great faith in the future. The price area of $144-145 is interesting.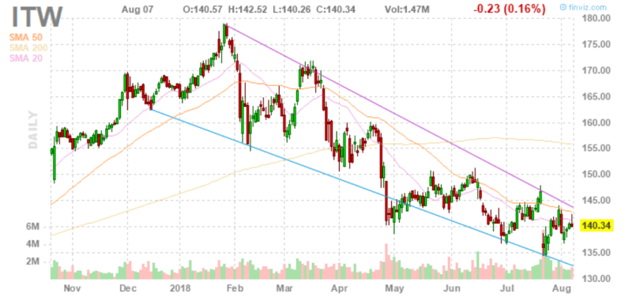 Philip Morris
A great stock in many ways which fits my portfolio perfectly. I would want to add ASAP, because I think the stock will only rise from now.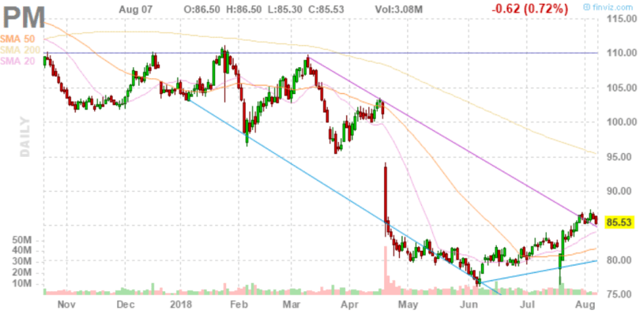 AbbVie
Everybody knows AbbVie (NYSE:ABBV), so no need to talk more about it. Just look at the data and the TA. I think it's time to pick up this great, great company.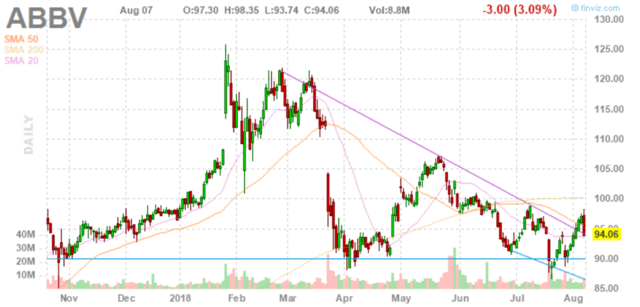 What's your opinion? Which stock do you find the most interesting and why? Please share and remember to subscribe.
Editor's Note: This article discusses one or more securities that do not trade on a major U.S. exchange. Please be aware of the risks associated with these stocks.