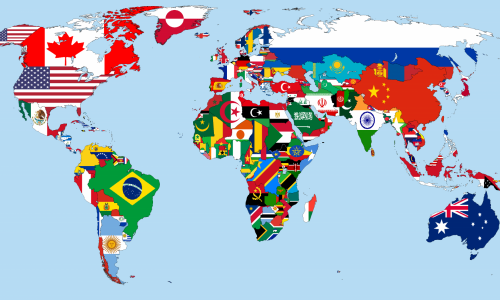 Equities
Percentage Below All-Time High of Popular Country ETFs (from bottom to top)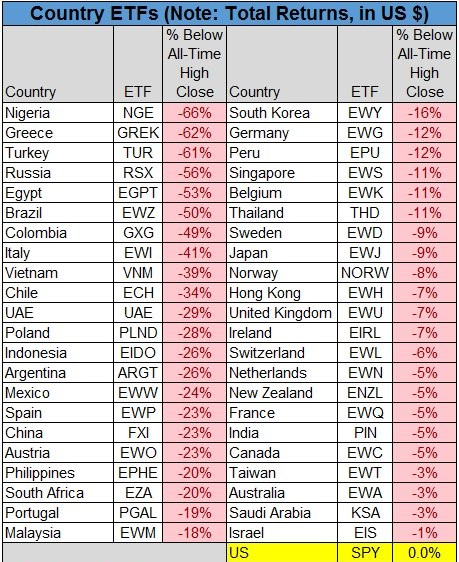 Unsurprisingly, emerging markets are the ones that got hit the most. About half of the countries in the above list already witnessed their equity market moving into a bear territory (20%+ decline from the recent high)
Global Equity Returns YTD (based on the MSCI indices)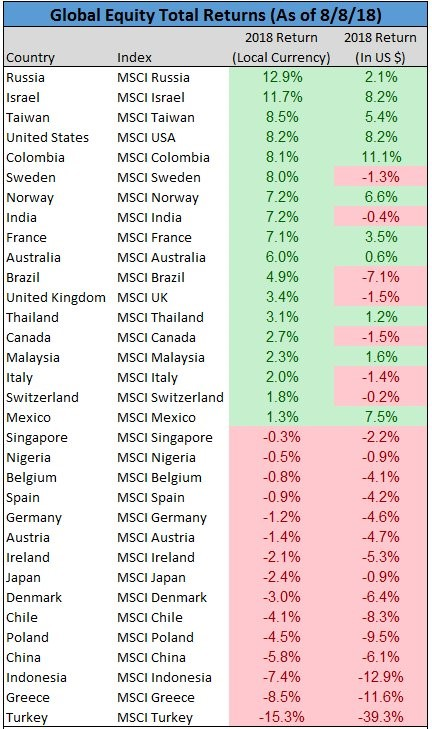 On a YTD basis the picture looks different, especially for a market like Russia that has seen its all-time-high few years ago. For Turkey and Greece (GREK), on the other hand, it's kinda same old.
Bonds
Bond ETF Returns (from top to bottom)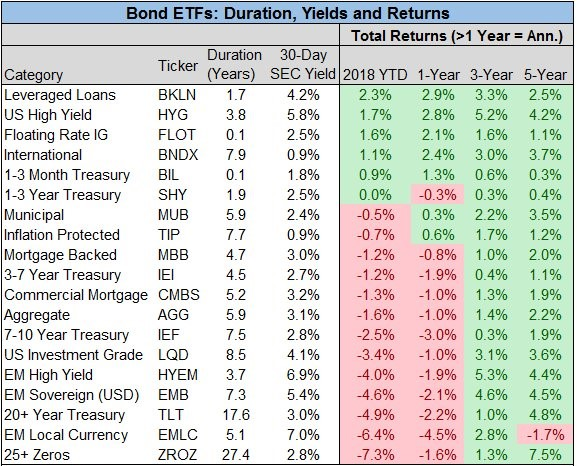 Note that the worst-performing segments are emerging markets (we'll get to those again) and the long-duration ETFs.
Rates
3-Month Treasury Bill Yield in August Since the Subprime Crisis
Aug '09: 0.19%
Aug '10: 0.15%
Aug '11: 0.03%
Aug '12: 0.11%
Aug '13: 0.05%
Aug '14: 0.03%
Aug '15: 0.06%
Aug '16: 0.29%
Aug '17: 1.06%
Aug '18: 2.06% (10-Year High)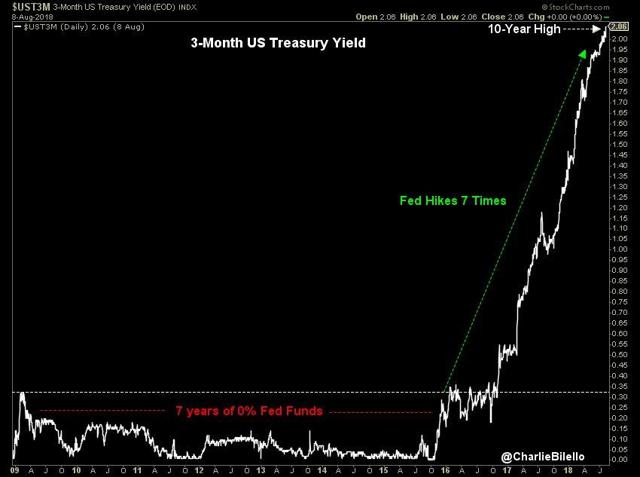 With the Fed hiking 7 times already over the past two years, it's no surprise that the probability of an 8th Fed hike this coming September (from the current 1.75-2% to 2-2.25%) has moved to 96%, i.e. a certainty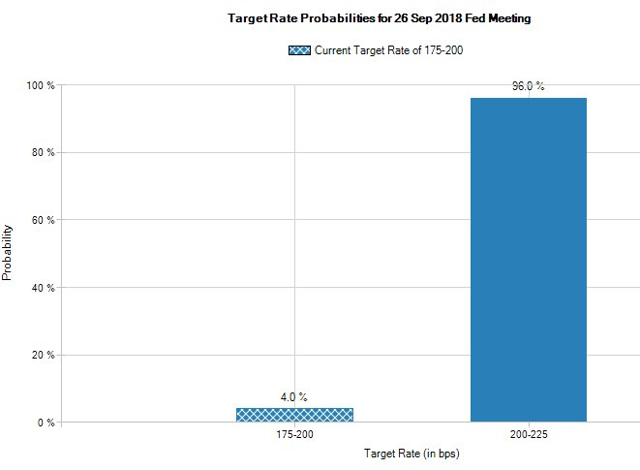 Benchmark Rates of Central Banks Across the Globe
Philippines hikes rates for the 3rd time this year, in a +50 bps move to 4%, as inflation hits its highest level in 5 years.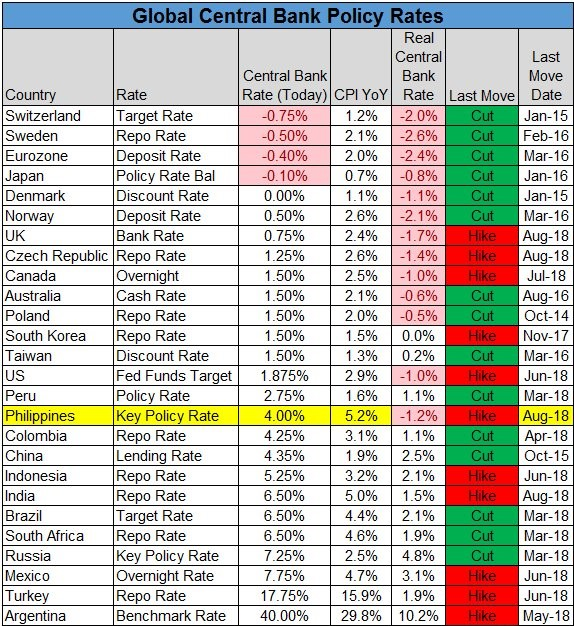 Following many years of cuts-only, the global picture is now much more balanced with more central banks "daring" to hike. Nevertheless, there are still more banks that cut (on their last move) versus those that started to hike.
Currencies
With the US reimposing sanctions over Russia, it's no surprise that the latest victim in the emerging markets' currencies arena is the Russian ruble
Emerging markets built imbalances counting on a weak dollar and eternal low rates and now the "sudden stop" domino is evident:
First it was the Argentinean peso...

Second was the Turkish lira...

Then joined the Brazilian real...

Followed by the Chinese yuan...

...and now it's the Russian ruble's turn: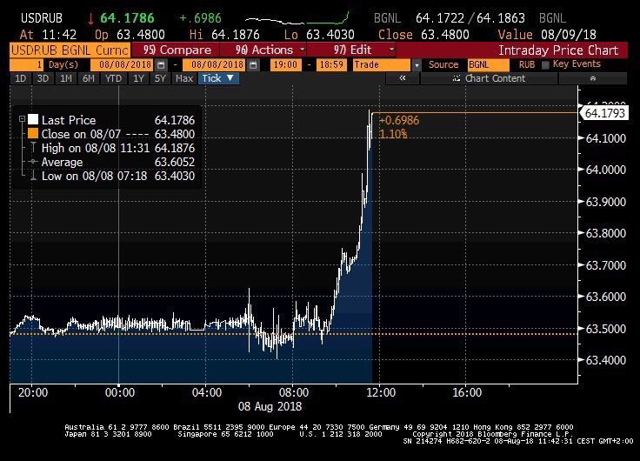 Emerging Markets Currencies - MTD Performance
The Turkish lira ("TRY") and Russian ruble ("RUB") remain the most vulnerable currencies in the current environment of trade wars and new (or old that are reinstated) US sanctions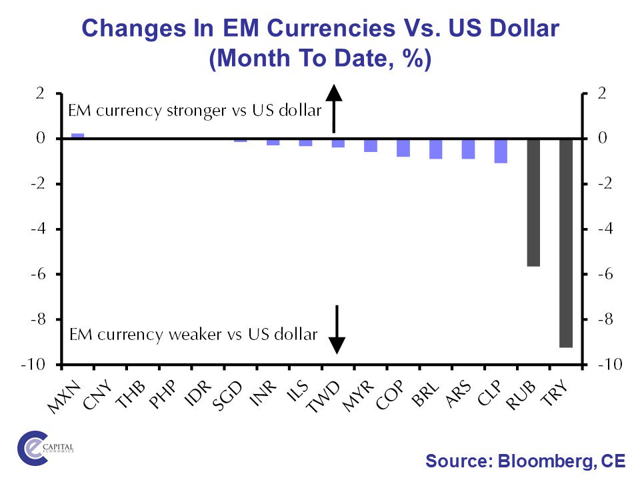 Putting it differently, can you guess which countries have been sanctioned most recently by the US?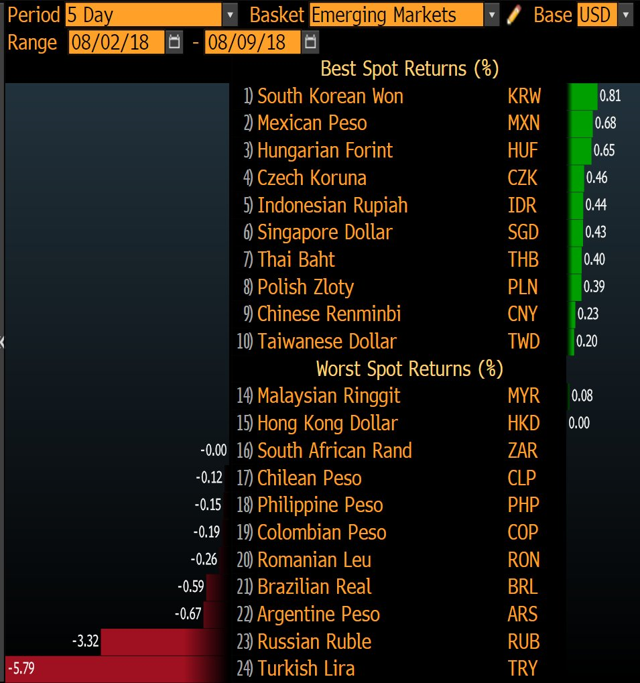 Let's not forget the Iranian real ("IRR") which is not on the list but it's in our mind...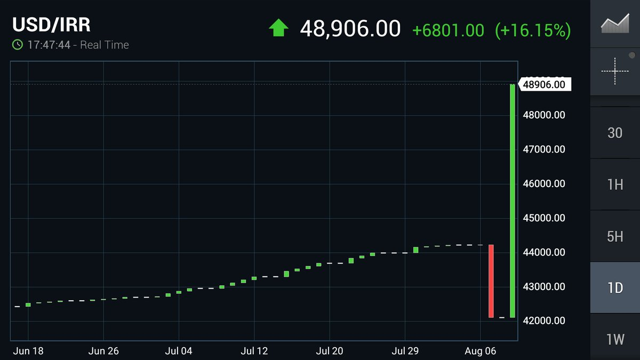 Crypto-Currencies
Market Cap of Top 20 Crypto-Currencies
It's ain't a rosy picture in here...
The market-cap of top 20 crypto-currencies at the end of 2017 was $512B. Today it's only $201B; that means a loss of $311B or -61%. Ouch!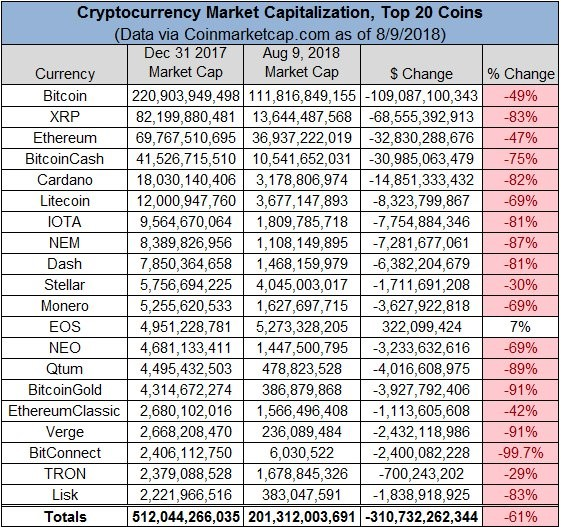 It's no wonder then that the YTD returns of crypto-currencies are - how to put it nicely - not topping the list of "best performing assets in 2018"...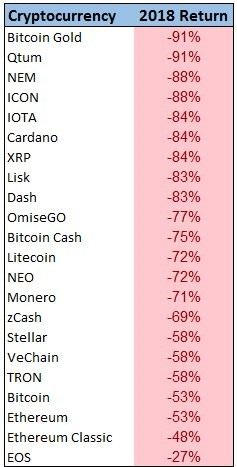 Even bitcoin (BTC-USD), the darling of 2017, has been cut by more than half its value.
Gold
Last but not least: SPDR® Gold Shares (GLD). Frankly, there's nothing to see here!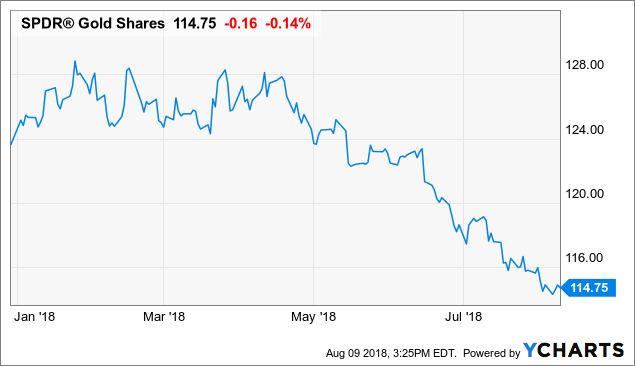 Trade wisely!
Author's note: If you like this article, please scroll up and follow us. In order to make the most out of following us, please make sure that you're not only following us, but also doing so at real time:

That's the only way to get notifications regarding both articles and blog posts that we publish at real time.
Blog Posts notifications are only being sent to those who follow an author at real time. In order to receive notifications regarding both articles and blog posts (such as this one) that we publish regularly at real time, you must ensure that you're (not only) following us (but also doing so) at real time. In order to follow us at real time go to Author Email Alerts, where the list of all the authors you follow appear, and make sure that "get e-mail alerts" is ticked on!


The Wheel of FORTUNE monthly review for July will be available over the next few days. Make sure you check it out while our free trial is still on!
The Wheel of FORTUNE is one of SA Marketplace's most comprehensive services. We view our service as a "supermarket of ideas" with an emphasis on risk management and risk-adjusted returns.
Our universe (of coverage) is unlimited and we touch upon all types of asset-classes: common stocks, preferred shares, public debts, baby bonds, options, currencies, commodities, options and even multiple strategies.
Since 3/1/18 Trapping Value is part of The Wheel of FORTUNE, so you now get two leading authors for the price of one.
Take advantage of the free trial - allowing you a two-week, free of charge, first-hand experience.
Disclosure: I/we have no positions in any stocks mentioned, and no plans to initiate any positions within the next 72 hours.
I wrote this article myself, and it expresses my own opinions. I am not receiving compensation for it (other than from Seeking Alpha). I have no business relationship with any company whose stock is mentioned in this article.