Do you want to retire?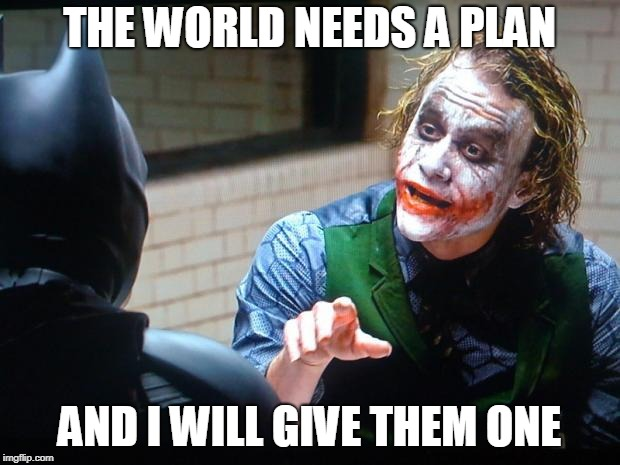 This is a question that many future retirees struggle with every day. Seeking Alpha offers investors answers for their future retiring needs. Retirees need a clear plan for their future, and The REIT Forum is here to give them one. Ideally, a good plan would integrate expected future cash flows extending further than the retiree expects to live.
A good plan involves putting a portfolio in place for the retiree to use as a source of income. Social Security can also be a source of income, but let's be honest. For most retirees, Social Security will not be able to pay the bills and it rarely keeps up with the inflation rate retirees actually experience. We have seen more inflation in the price of products and services geared towards retirees when compared to other products and services. Healthcare costs are extremely high. Other costs can also increase beyond inflation as retirees age.
The chart below shows how retirees are stuck paying more for each service they consume and consuming more serves per year on average: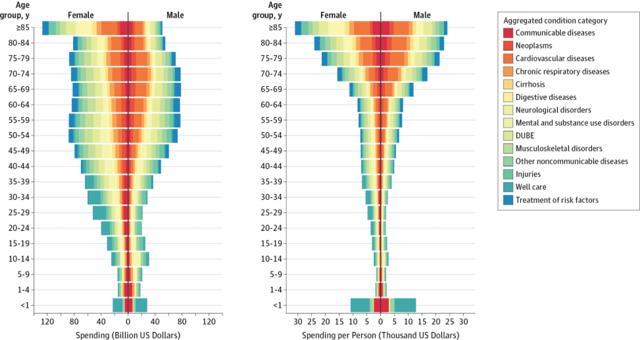 Let's make a retirement plan
We will be creating a sample portfolio with $1,000,000 and the goal will be to generate income. While we will be focusing on high dividend yields for income, we will not include sucker yields. Retirees need to have reasonable expectations for income levels. A portfolio having a 14% yield year over year is not a reasonable expectation.
Should you delay Social Security?
The annual income from Social Security is going to be different for individual investors. Therefore, we will go over a few rules of thumb that most investors can use.
If an investor can easily afford to wait before taking Social Security, it is usually a good choice.

If an investor doesn't believe they will live to see 80, they should file for Social Security Immediately. If an investor believes they will live into their 80s, delaying Social Security is a good choice.

If your choice is between Social Security and credit card debt, do not delay Social Security.

With the market's exceptionally high valuation, I believe it is very likely we see a major market downturn over the next decade. Therefore, I do not believe it's a good idea to take Social Security benefits now just to invest in the market.
Should you use credit cards?
Retirees and non-retirees should use credit cards. However, there is one exception. Credit card debt is terrible and accruing any interest is bad. If you're going to use a credit card, pay it off every single month. Credit cards can provide great cash back rewards. The key is to end every year with approximately $0 of total credit card interest per year.
Building a portfolio
Retirees focusing on an income portfolio should invest in stocks with solid dividends. We will focus mostly on large companies with a strong dividend track record. One advantage to this strategy is having lower beta on the portfolio.
Retirees should build a portfolio which helps them sleep at night. No one wants to stay up all hours of the night wondering if their sucker yield just become a no yield. To start, I've chosen preferred shares from Capstead Mortgage Corporation (CMO), Dynex Capital (DX), New York Mortgage Trust (NYMT), AG Mortgage Investment Trust (MITT), and Global Indemnity (GBLI):

Source: CWMF's subscriber spreadsheet (subscription required)
This is a pretty good mix of preferred shares, but I wouldn't buy MITT-B at current prices. Also, note that MITT-B and NYMTN carry a risk rating of 4. Securities with a risk rating of "4" are most suitable for traders with a high-risk tolerance. Buy-and-hold investors should seek securities with lower risk ratings.
For investors interested in The REIT Forum's preferred share ratings, see my guide to preferred shares. I also have a guide for preferred share dividend captures.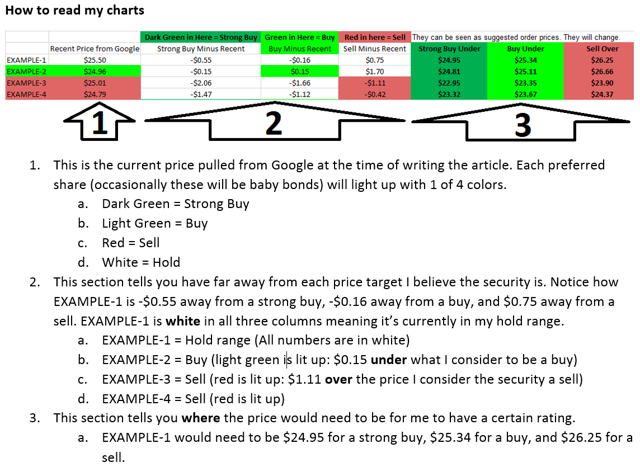 Choosing REITs
I've chosen 4 strong companies and one high yielder for income investors. Simon Property Group (SPG), Pennsylvania Real Estate Investment Trust (PEI), Realty Income (O), and National Retail Property (NNN) all offer good dividends. O and NNN are two strong triple net lease REITs that excel at choosing tenants. Store Capital (STOR) is another triple net lease REIT we will be using in the portfolio. They don't have the same long-term track record as O and NNN.
For one final REIT, I decided to put Granite Point Mortgage Trust (GPMT) on the list. The current yield is 8.4%.
We told investors several times about the value in GPMT. It was our largest position for the first half of 2018. You don't have to take our word on it, here's the track record: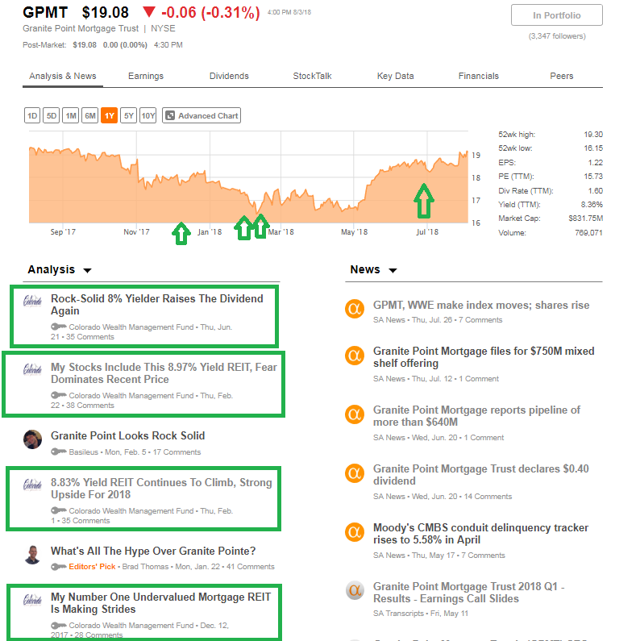 We put the green boxes around our articles and added green arrows to indicate when each one was published. GPMT is still a solid REIT, but the market isn't so crazy anymore.
We still believe the company is slightly undervalued. They are raising the dividend and working on getting optimal leverage. GPMT is a good source of extra income for retirees.
Diversifying the portfolio with strong dividend stocks
The kings of the mobile internet access are AT&T (T) and Verizon (VZ). They are the sector leaders with high dividend yields and a strong track record.
Exxon Mobil (XOM) and Chevron (CVX) are two large oil companies with a low beta. Their size, political influence, track record, and dividend histories make them a great candidate for an income portfolio.
If you're looking for companies with 50 years of dividend increases, look at Philip Morris (PM) and Altria Group (MO). Both companies sell addictive products, have a large market share, and are seeing success with their new products. PM has seen success internationally with their IQOS technology. Altria Group is working on getting IQOS approved by the FDA.
You're are likely to find Procter & Gamble (PG), Coke (KO), and J&J (JNJ) in almost any dividend portfolio. They all have a long history of raising their dividend. Further, all 3 companies have great product lines and are giants within their sectors. The growth rate looking forward may not be all too promising, but the dividends should continue to grow.
Putting the portfolio together
Here are the chosen investments put into a portfolio tracker: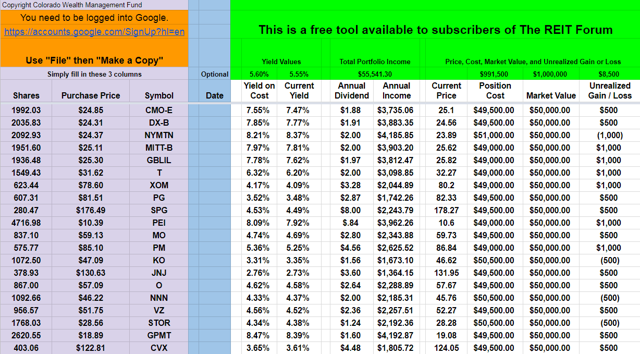 Source: CWMF portfolio tracker, subscription required
The following chart shows the portfolio concentration by ticker: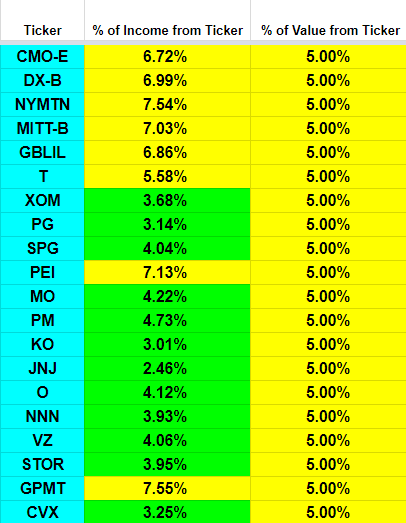 Source: CWMF
The sections light up with green if diversification is under 5%. Medium exposure will light up in yellow (5% to 9.99%). Orange will light up for 10% to 19.99%. Red will light up if the concentration is 20% or more.
The income of the portfolio comes out to $55,541.30 which comes out to $4,628.44 monthly. Depending on where you live, this can be plenty for one person to live comfortably. While this income level may not be for everyone, this is purely from the dividend portfolio. Many retirees have other forms of income, including Social Security.
There are many great companies that were not mentioned in this article/portfolio.
Focus on quality in REITs & avoid non-traded REITs
One thing that always pains me is seeing investors state that they picked their REITs on dividend yield alone. It is astounding how often this happens. Sadly, when investors decide to get help on selecting REITs, they are occasionally steered into non-traded REITs. Why would their advisor send them to non-traded REITs? Because non-traded REITs often carried a large kickback to the advisor.
As a simple rule of thumb, investors who avoid non-traded REITs won't be missing many good opportunities, but they will avoid several terrible opportunities.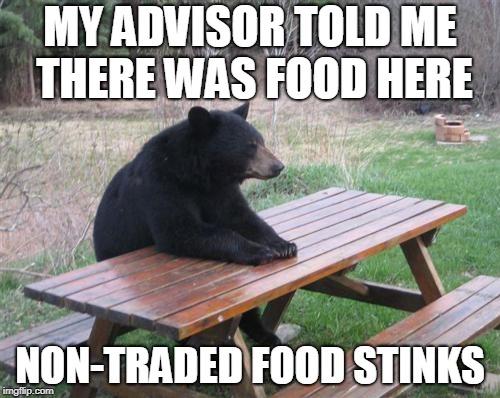 Investors who simply give up REITs entirely are missing out. REITs are an exceptional asset in your portfolio.
Many investors don't realize that investing in equity REITs is very similar to buying physical rental properties. REITs are generally lumped in with other stocks, but over the long-term, their performance will more closely match the performance of the real estate they own. That makes sense when we think about it.
If a large investor wanted to create a publicly traded REIT, how much would it cost? There are some expenses with creating a company, but the largest expense would be buying the properties. The cost to build a REIT is very similar to the cost of acquiring those properties. At the inception, the cost of making a REIT is the value of the properties.
If a large investor were to acquire all the shares of a REIT, they would simply own the properties. It would be a portfolio of real estate acquired in one quick move. The value of the portfolio would be measured based on what investors would bid for the individual assets. Whether real estate is held directly or held through a REIT, the value of the real estate isn't impacted by the packaging.
Over the short-term, REIT share prices can fluctuate quite a bit. Often they fluctuate more than appraised real estate values. That leads many investors to believe that the REITs are more dangerous. If you owned a condo worth $300,000 and someone offered to pay you $275,000 for it, does that mean your condo value suddenly plunged? No. You could reject their offer and continue to own the condo. Over the next year, the condo value might increase to $350,000 or it might even fall to $250,000. Whether the investor accepts the offer is up to them.
If investors take that long-term view when buying REITs, they stand to be rewarded. They will see days, even months or quarters, when REITs trade at much lower prices. When REITs trade at low prices, many investors are scared to purchase them. That precise situation was present in February 2018 as the REIT indexes bottomed out. Over the next few months, the fear declined and share prices climbed right back up. There are still some great deals available on REITs. The REIT Forum continues to find great dividend growth in undervalued companies.
High-quality REITs continue to pay solid dividends even as their share prices fluctuate. This is a very important aspect of investing. A long-term real estate investor is not merely speculating on the real estate value appreciating. They are earning income from the portfolio every quarter (or more). The income can come through net operating income if they own property directly or through dividends if they purchase a REIT.
Ratings
Investors who want to focus on building a high dividend portfolio today should consider buying GPMT, MO, and PM. These 3 stocks all carry very high yields and remain attractively valued.
If you enjoyed reading this article and want to receive updates on our latest research, click "Follow" next to my name at the top of this article.
CWMF's The REIT Forum
Prices will be going up on September 1st
The REIT Forum is a service dedicated to equity REITs, mortgage REITs, preferred shares, and the occasional dividend champions. We focus on income, retirement, and trading opportunities. If you're looking to invest in REITs, The REIT Forum will give you subsector analysis along with a deep dive on the individual companies and their fundamentals.
Here are our 2 newest 5-star reviews to add to the collection of 70+ 5 stars:
Subscribing to The REIT Forum includes access to spreadsheets comparing every security we cover, along with a look at CWMF's personal portfolio updated in real-time. It is our objective to find the best investments at the best entry price. Don't miss the next real-time alert! You can try out our service, or find more information, by clicking HERE.
Disclosure: I am/we are long CMO-E, CMO, DX, GPMT, MO, PM, SPG, PEI-C, NYMTN. I wrote this article myself, and it expresses my own opinions. I am not receiving compensation for it (other than from Seeking Alpha). I have no business relationship with any company whose stock is mentioned in this article.