Alibaba (BABA) looks like a strong investment right here, but Altaba (NASDAQ:AABA) is even more compelling due to allowing investors to own shares of Alibaba at a discount. The results of Altaba's tender offer show that the strategy of buying itself out works well, the results from the tender offer have made Altaba even more attractive.
Altaba As A Way To Own Shares Of Alibaba At A Discount
Alibaba, which is often touted as the Chinese version of Amazon (AMZN), is an attractive long term investment that allows investors to benefit from multiple megatrends:
- Online shopping: More and more consumers spend their money online instead of in brick-and-mortar stores, due to online shopping being more convenient and less time consuming.
- Economic growth in China and other Asian markets: Alibaba generates the majority of its revenues in China, the company is also active in other East Asian markets, in some cases via equity investments into local ecommerce companies. Economic growth (on a relative basis) is stronger in these countries compared to countries in Europe or North America. This allows for outsized disposable income growth in these countries, which, in turn, allows for strong consumer spending growth. There is less existing brick-and-mortar retail space in China compared to the US, which means that this consumer spending growth will be directed towards ecommerce primarily.
- Cloud Computing: Alibaba is not the biggest cloud player, but the company has established a cloud business that grosses more than $3 billion annually and that is growing at a 100%+ rate. With this immense growth and a lot of untapped market potential in Asia Alibaba will likely become a major cloud computing company over the coming years.
- Online payments: Alibaba holds a major stake in Ant Financial, which is the parent company of Alipay. At a valuation of $150 billion Ant Financial is the most valuable unicorn company in the world.
Alibaba will not only benefit from these megatrends that will likely remain in place for decades, the company also holds equity stakes in several other companies, including two food delivery companies that Alibaba seeks to combine.
Alibaba is also more profitable than Amazon despite trading at only half of Amazon's market capitalization. The higher profitability allows for more investments into its own businesses as well as into other companies through takeovers or equity stakes.
Alibaba thus looks, all in all, like a very attractive investment. Altaba, which is a holding company whose assets consist of BABA shares primarily, allows investors to buy shares of Alibaba indirectly. Due to the fact that Altaba trades at a discount to net asset value this means that investors can effectively buy shares of Alibaba at a discount.
On Altaba's website we find the following table that shows the company's holdings: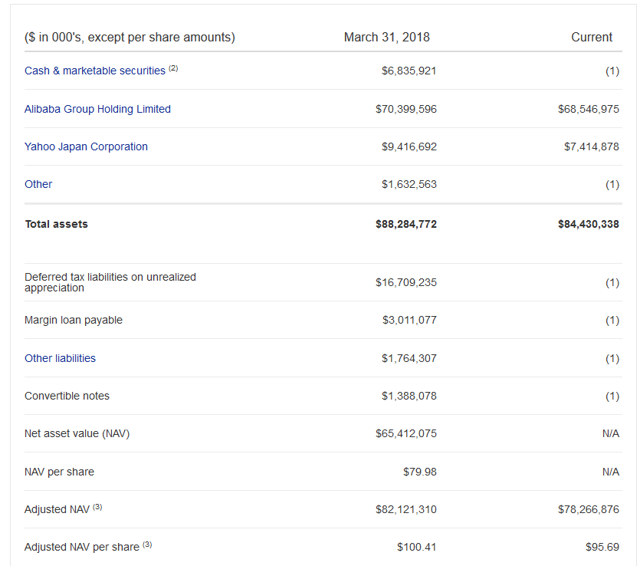 We see that adjusted net asset value was $78 billion, or $96 per share recently. Compared to Altaba's share price of $71 that means that Altaba's shares trade at a 26% discount to net asset value. Since almost all of Altaba's holdings consist of either cash or publicly traded securities it is remarkable that the discount is so sizable.
Altaba's Management Drives Shareholder Value By Shrinking Its Share Count
Altaba's management does not have to manage any operations or actual businesses as Altaba is a pure holding company. Management has the task to lower the discount to net asset value (which drives Altaba's share price, all else equal), or to otherwise increase shareholder value.
The company has engaged in tender offers for its own stock repeatedly, the results of the most recent tender offer were announced on August 9: Altaba has bought back 195 million of its own shares, holders who tendered their shares to Altaba will receive a total of 68 million shares of BABA as well as $1.7 billion in cash (0.35 shares of BABA and $8.93 in cash per share of AABA that was tendered).
We can calculate how that will change Altaba's holdings: Before the transaction Altaba owned 384 million shares of BABA and $6.8 billion in cash, after the transaction Altaba will own 316 million shares of BABA and $5.1 billion in cash. After the transaction Altaba's holdings of Alibaba are worth $56.6 billion, based on BABA's current share price of $179.
Since other positions did not change, we only have to adjust the net value of the BABA holding and the cash position in order to get to the new adjusted net asset value of Altaba's holdings.
| | |
| --- | --- |
| Old NAV | $78.3 billion |
| Reduction in cash position | -$1.7 billion |
| Reduction in BABA position | -$11.9 billion |
| NAV after the transaction | $64.7 billion |
We see that the total company-wide NAV has declined by roughly $15 billion, but we have to account for the fact that Altaba's share count has declined substantially as well.
The old share count was 805 million, the post-transaction share count is 610 million. Dividing the new NAV of $64.7 billion by the new share count of 610 million gets us to a new NAV per share of $106. This is a substantial increase to the pre-transaction NAV per share of $96.
As a result of the transaction each share of Altaba now represents 0.515 shares of BABA, before the transaction each share of Altaba represented 0.477 shares of BABA. The transaction has thus not only substantially increased Altaba's net asset value per share, it has also made Altaba an even better proxy for shares of BABA.
Since the tender offer was oversubscribed substantially (360 million shares were tendered even though the offer was only for 195 million shares) Altaba's management could easily do another such tender offer in the near future. Such a move would drive net asset value per share once again, which would be a big benefit for those that continue to hold shares of Altaba.
Takeaway
Alibaba is a company that is well positioned to grow for many years. The company holds a strong position in attractive markets and is highly profitable. Investors can buy shares of Alibaba indirectly by investing into Altaba, which trades at a substantial discount to NAV.
After calculating what the impact of the recent tender offer looks like it becomes clear that Altaba's NAV per share has risen substantially, the discount to NAV has widened to 33%.
Alibaba is a relatively attractive investment already, but Altaba, which allows investors to purchase shares at a massive discount, looks even better. Management has the option to do more tender offers to drive NAV per share, and thereby shareholder value, further.
Source for details about the tender and the transaction: This SEC filing.
Author's note: If you enjoyed this article and would like to read more from me, you can hit the "Follow" button to get informed about new articles. I am always glad to see new followers!