The Consumer Price Index for All Urban Consumers (CPI-U) increased 0.2% in July on a seasonally adjusted basis, the U.S. Bureau of Labor Statistics reported today. Over the last 12 months, headline inflation rose 2.9%.
The July numbers matched the consensus estimates, so the market reaction should be sedate. Core inflation - which strips out food and energy - also rose 0.2% in July and is up 2.4% over the last 12 months. The core inflation numbers also matched the consensus estimates.
Although the July numbers were moderate and matched expectations, they continue a trend of gradually rising inflation, with the 12-month core rising well above 2.0% in the last several months. Here's the trend for both headline and core inflation: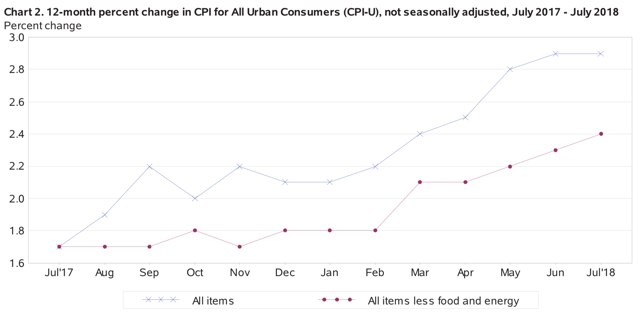 A significant factor in the July report is that inflation continued rising even though energy prices declined. Over the last year, gasoline prices have been pushing inflation higher, but in July gasoline prices fell 0.6% and the overall energy index was down 0.5%. But the shelter index rose 0.3% in July and accounted for nearly 60% of the monthly increase in the all items index, the BLS reported. Food prices rose a moderate 0.1% in July.
What this means for TIPS and I Bonds
Holders of Treasury Inflation-Protected Securities and U.S. Series I Savings Bonds are also interested in non-seasonally adjusted inflation, which is used to adjust principal balances on TIPS and set the future inflation-adjusted variable rate on I Bonds. The BLS set the July inflation index at 252.006, up just 0.01% from the June number.
In practical terms, non-seasonally adjusted inflation was flat for the month. This is the reverse of recent months when non-seasonally adjusted inflation was running higher than the adjusted number. These variances balance out over 12 months.
For TIPS: Principal balances for TIPS will be adjusted higher by 0.01% in September, after rising 0.16% in August. Here are the new September inflation indexes for all TIPS.
For I Bonds: The July inflation report marks the fourth month of a six-month period that will determine the new I Bond variable rate, to be reset on November 1. At this point, with two months remaining, non-seasonally adjusted inflation has increased 0.98%, the same as in June. This would result in a variable rate of 1.96%, below the current 2.22%. But two months remain in the adjustment period. Here are the numbers so far:

What this means for the Social Security COLA
The 2019 cost-of-living increase for Social Security will be determined by the average of the Consumer Price Index for Urban Wage Earners and Clerical Workers (CPI-W) over the months of July, August and September. I explained this process in a recent article: "Social Security COLA Looks Likely To Top 3% In 2019".
The BLS set the CPI-W index at 246.155 for July, essentially unchanged from the June number. Although year-over-year CPI-W is up 3.2%, the third quarter average at this point is up only 2.7%, reflecting July's flat number (It should be noted that CPI-W actually declined in July 2017, before rising in August and September). Two months remain. Here are the numbers so far:

What this means for future interest rates
July's report reflects moderate inflation, but "solidly moderate." Inflation is rising well above 2.0% a year for both the headline and core numbers, and overall inflation rose in July even though gasoline prices declined. The increase of 2.4% in core prices is the highest number since September 2008.
Today's report shouldn't deter the Federal Reserve from staying on course for two additional increases in short-term interest rates in 2018. From this morning's Wall Street Journal report:
The latest gain is likely to reassure the Federal Reserve as it considers raising interest rates-it has penciled in two more increases for this year-to keep the economy on an even keel.
Disclosure: I/we have no positions in any stocks mentioned, and no plans to initiate any positions within the next 72 hours. I wrote this article myself, and it expresses my own opinions. I am not receiving compensation for it (other than from Seeking Alpha). I have no business relationship with any company whose stock is mentioned in this article.