Market Intro

CNBC: Thursday Close
US stocks are set to take a leg lower as global equity markets (ACWI, ACWX, EEM, EFA) deal with the collapse of the Turkish Lira and stock market (TUR).

The Thursday session (SPY, DIA, QQQ, IWM) turned out to be quite sleepy, with only small gains/losses for the period. The lack of decisive movement for the day was due in part to the fact that the sectors zigged and zagged in their own respective directions, which helps reduce the overall magnitude of direction (and thus tamps down volatility):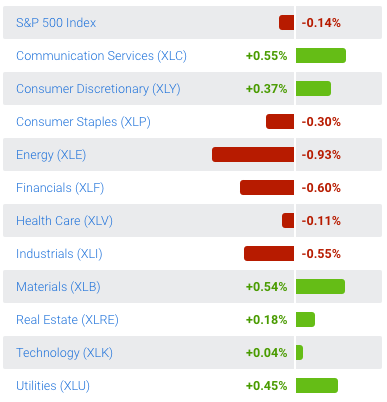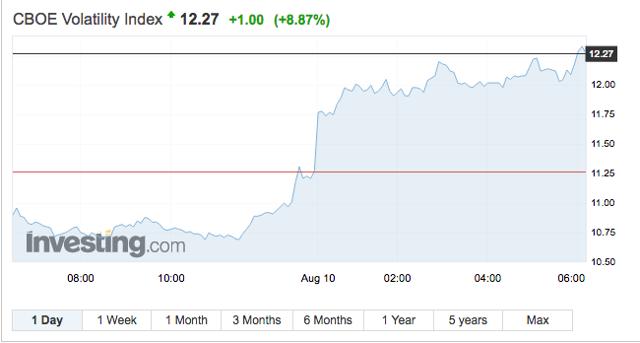 Spot volatility has climbed significantly since the Thursday lows of near 10.7. The Friday session will prove interesting, therefore, as to whether this increase will be able to sustain itself. My guess is that it may bounce in this region over the next couple sessions but ultimately have difficulty staying above, say, 14 for too long.
Thoughts on Volatility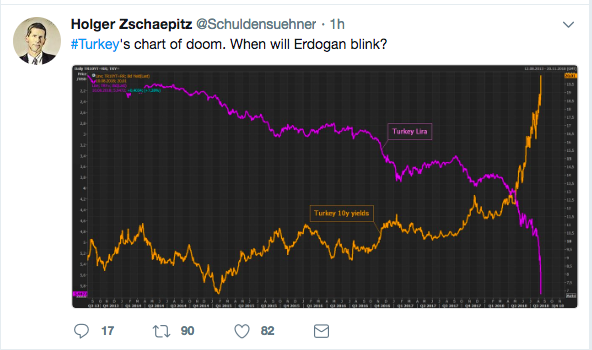 Turkey has a young demographic, and until somewhat recently (last four years or so) had quite a promising economic trajectory. It's often said "Don't trade your politics". Within context this is good advice. But at times policy and markets really do overlap, and generate a large impact.
My heart goes out to the Turkish people as they face this economic hardship, and we can all do well to remember that turmoil can and sometimes does spread into other markets.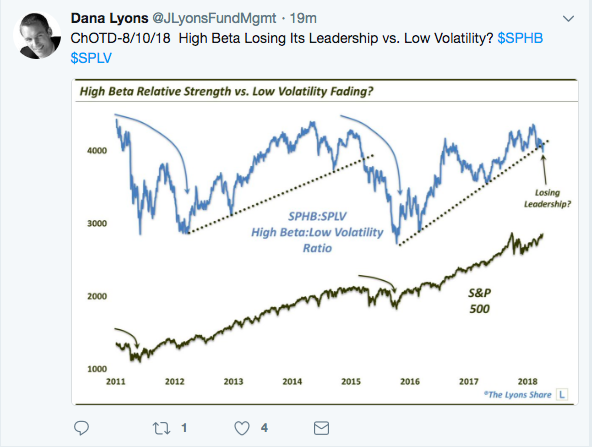 The high-beta vs. low-vol leadership appears poised for a shift. What makes this somewhat strange is the fact that S&P stocks are on the cusp of a full recovery to the highs set on January 26th of this year. Will low-vol stocks lead the market higher from here? With interest rates gliding higher, I have a difficult time answering in the affirmative.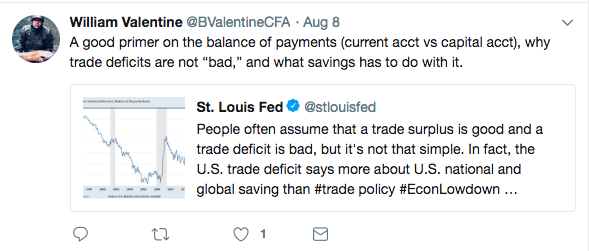 The Fed did a primer on the balance of trade in November 2016 (right around the most recent US presidential election I'll point out). A quote from the rather brief piece below:

The Balance of Trade: what a catchy name! My take is that, while economists can truthfully say that trade deficits are not intrinsically bad, neither are they intrinsically positive.
We need to look under the hood and ask what is being traded, whether trade agreements are being fulfilled, and so on. A better understanding of how trade works in the economic textbook sense can be helpful, but we need to inject some common sense in there as well.
Term Structure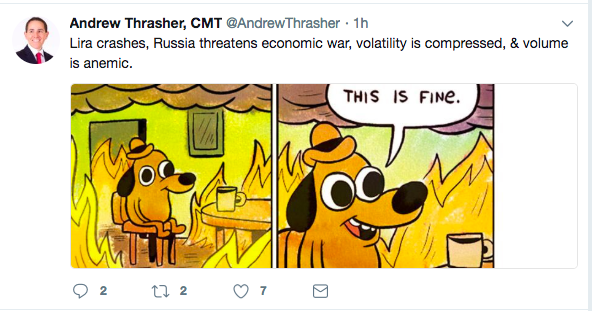 In the prior MVB I mentioned that long-vol players (VXX, UVXY) needed a new catalyst, as Chinese tariffs did not look to be working well. Maybe, for the time being, they have what they need. Market sentiment is right to take a step back on the crash of the Turkish Lira. The Turkish economy is rather large in comparison to other countries in the region that have rattled investor sentiment: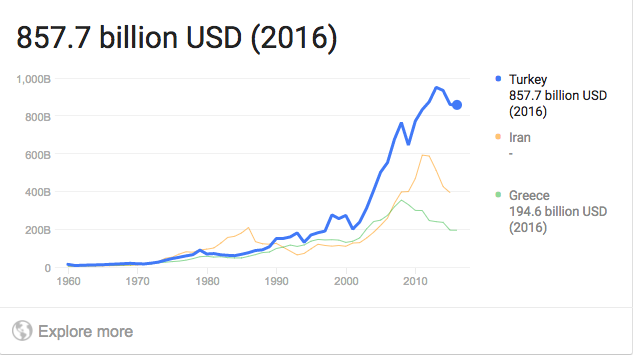 Google
While markets may encounter short-term heartburn, it seems difficult to my mind to get the headlines to stick. This may become yet another non-issue, where investors pay attention to the narrative for a few days or a couple weeks, and then decide they care more about how many of the "Big Four" (GOOG, AAPL, MSFT, AMZN) will make it to or sustain a $1T market cap.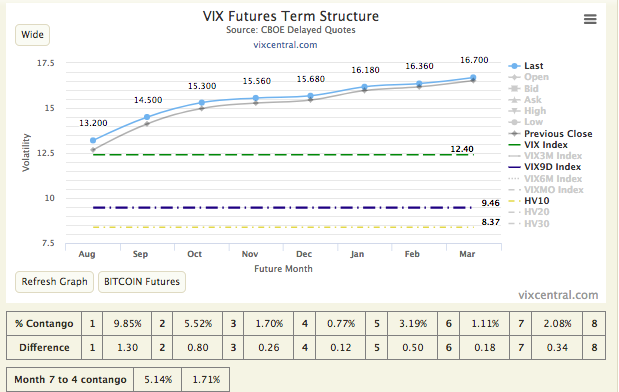 While European markets are shaking, spot VIX about half an hour before the US are hardly what one might characterized as alarmed (though spot's percentage increase over the last couple days is legitimately impressive). This is why I assert that there is limited work to be done on the front end of the term structure as it concerns further downward movement in the M1-M2: it truly requires an extended comatose environment to get M1 down under a low twelve handle.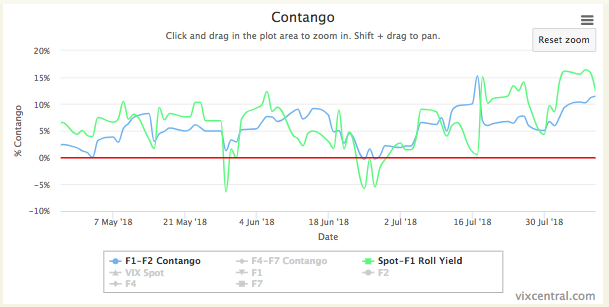 The true economic benefit that comes from holding short-vol positions in environments such as these comes not from contango in the term structure, but rather from roll yield favoring shorts over longs. If you're short of volatility here, consider where you want to live on that curve. The M1 contract is up 4.62% from yesterday's close, whereas the December contract (for instance) is up only about one third as much.
Conclusion
If this is your first time reading Market Volatility Bulletin, thanks for giving it a try. If you're a regular, we thank you for your ongoing contributions in the comments section.

I'd recommend for everyone to follow the ongoing work of David Lincoln, who hosts the Facebook Volatility Trading Group, as well as his own YouTube channel. I've interviewed with David a couple times. He's a great source for learning more about these markets.
Thank you for reading.
Please consider following us.
Disclosure: I/we have no positions in any stocks mentioned, and no plans to initiate any positions within the next 72 hours. I wrote this article myself, and it expresses my own opinions. I am not receiving compensation for it (other than from Seeking Alpha). I have no business relationship with any company whose stock is mentioned in this article.
Additional disclosure: I actively trade the futures and options markets, potentially taking multiple positions on any given day, both long and short. I also hold a more traditional portfolio of stocks and bonds that I do not "trade". I do believe the S&P 500 is priced for poor forward-looking returns over a long timeframe, and so my trading activity centers around a negative delta for hedging purposes.