Oil prices backed down midweek, with the United States Oil (NYSEARCA:USO) and United States Brent Oil (NYSEARCA:BNO) falling 3.2% and 2.9%, respectively, on Wednesday, August 8, 2018. You would not have expected it given escalating tensions between the United States and Iran, with sanctions being applied just this week. In my view, two factors were at play against oil prices.
Oil Prices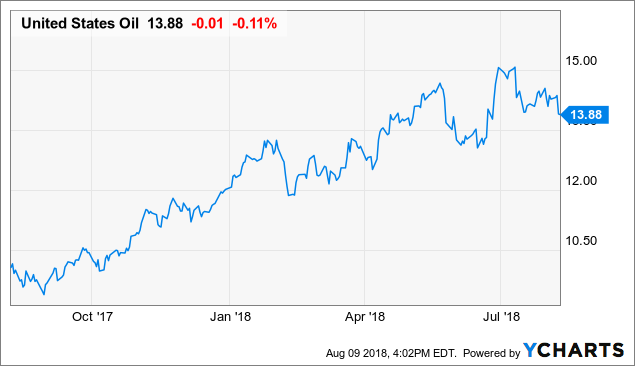 The 1-year chart of United States Oil illustrates the nascent oil price breakout this year. We successfully predicted the move via our column here at Seeking Alpha, with several prescient calls for oil prices to move higher before it happened and through the move. However, this week, when it seemed oil prices were about ready to spike even higher, something went haywire.
Our Call: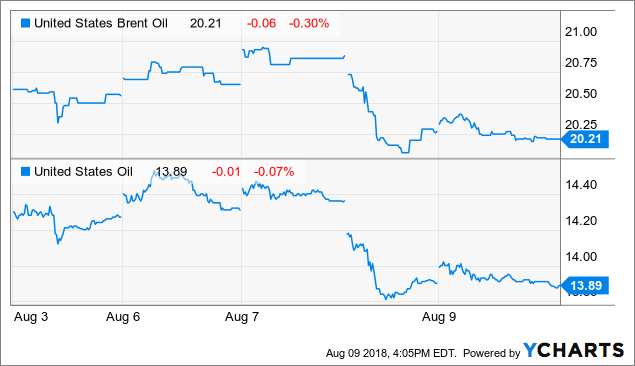 Oil prices backtracked significantly on Wednesday, as seen here via the 5-day charts of the USO and BNO ETFs. USO tracks the spot price of crude deliverable to Cushing, Oklahoma, while the BNO tracks the spot price of Brent crude oil. It did not matter which oil price proxy you held on Wednesday; either way you lost money.
Iran and Oil Prices
Heading into the day, oil prices were heading higher, because on Tuesday, the United States introduced economic sanctions on Iran. This followed Iran's recent military exercise in the Strait of Hormuz, a waterway bottleneck for a great quantity of the world's oil flow. Some 20% of the world's oil deliveries flow through the strait. So, what happened on Wednesday then to change the mood for oil from positive for price to a bit less positive?
Oil Inventory Data was a Net Negative
Wednesday is the day the Energy Information Administration (EIA) issues its weekly data on petroleum inventory. Given the recent run higher for prices, we were vulnerable to any negative supply information.
While crude oil inventory showed a draw of 1.4 million barrels in the week measured through August 3, 2018, stores of petroleum products, gasoline, and distillates, rose by 2.9 million and 1.2 million barrels, respectively. So, the total change in petroleum and products inventory showed a net build for the period, and to the highest levels since January of this year. Oil prices, while dipping slightly lower after the 10:30 AM EDT data release, had already opened significantly lower on the day, and they continued even lower as the day progressed.
China Backs Off Tariffs on U.S. Crude Imports
China imposed a 25% tariff on a slew of goods imported from the United States, including energy products imports. However, the important trading partner omitted crude oil from the list. While this perhaps factored in trading on the day, I do not believe this plays a negative role against oil prices moving forward. The omission ensures strong U.S. crude deliveries into China will continue, though U.S. exports of some refined products will face competitive disadvantage.
The Potency of U.S. Sanctions on Iranian Oil is in Question, and China's Ability to Rebut as Well
Here's the real problem. The potency of U.S. sanctions on Iranian oil deliveries is in question. China, and the European Union, major users of energy, have strongly opposed the U.S. plan to sanction Iran post the U.S. departure from the Iran Nuclear Accord. Major global users of Iranian oil and trading partners of Iran are standing pat (so far) against the U.S. effort to pressure Iran. Thus, the potency of U.S. sanctions on Iranian energy is in question.
The result of this is a reduced likelihood of a supply shock to global energy dynamics, at least in the minds of traders who have to this point been betting on it. As a result, those bidding up the price of oil recently are finding the floor beneath our feet a bit less sturdy. While some shock may strike supply, it would obviously be less important if the European Union and China are going to continue to buy Iranian oil.
Meanwhile, China's ability to disrupt supply/demand dynamics is similarly unclear. That much was evidenced by China's decision to omit its imports of U.S. crude from its recently published tariff list. China imports a significant quantity of U.S. crude oil, and so cannot make up for reduced U.S. imports via Iran if other trading partners are not reducing their imports of Iranian oil. China, while defiantly stating it will continue to import Iranian oil through President Trump's trade threats, also indicated it would not increase its imports of Iranian oil, according to one report. Indicating as much may seem like an appeasement effort to the U.S. actions on Iran, but I believe it is also at least partly because China may not be able to increase its draw of Iranian oil because of lack of adequate available supply from Iran.
I am attuned to the energy market and am following these important dynamics closely. Readers interested in my regular thoughts and analysis as these interesting dynamics play out are welcome to follow the column here at Seeking Alpha.
Disclosure: I am/we are long USO.
I wrote this article myself, and it expresses my own opinions. I am not receiving compensation for it (other than from Seeking Alpha). I have no business relationship with any company whose stock is mentioned in this article.
Additional disclosure: My position in USO at the time of authoring this piece was via time sensitive options securities and could be liquidated at any moment.