Will the trade war hurt China? Maybe - maybe not as much as you might think. Remember when everybody (including me) was deeply concerned about China's controlling its currency? A while ago (as in decades), China went to a semi-free-floating currency, which means they allow the yuan to trade in a narrow band. This has created a degree of flexibility in the foreign exchange markets. The end result is that the yuan is now cheaper versus both the dollar: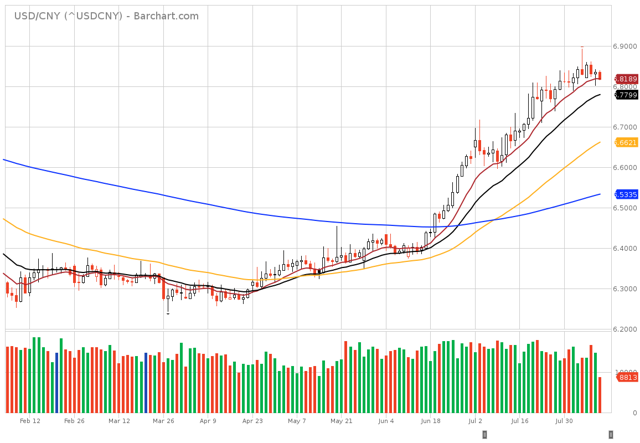 And the yen: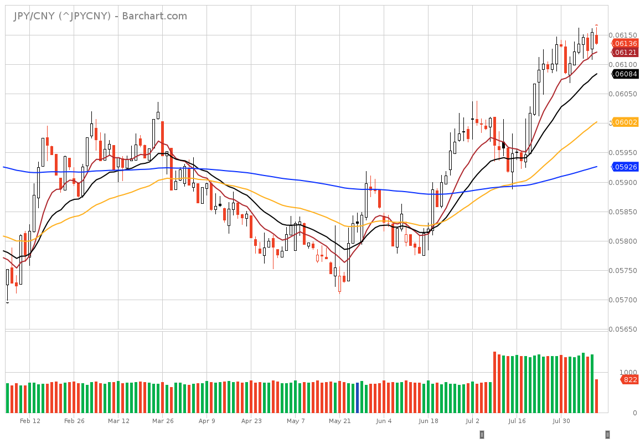 This will make Chinese goods cheaper in a number of countries, which may mitigate the negative impact of the ongoing trade conflict with the U.S.
The ECB released their latest Economic Bulletin, which contained the following summation of EU activity:
The latest economic indicators have stabilized and continue to point to ongoing solid and broad-based growth, albeit at a slower pace than in 2017. This easing reflects a pull-back from the very high levels of growth last year and is related mainly to weaker impetus from previously very strong external trade, compounded by an increase in uncertainty and some temporary and supply-side factors at both the domestic and the global level. Private consumption continues to be supported by ongoing employment gains, which, in turn, partly reflect past labor market reforms, and by growing household wealth. Business investment is fostered by the favorable financing conditions, rising corporate profitability and solid demand. Housing investment remains robust. In addition, the broad-based expansion in global demand is expected to continue, thus providing impetus to euro area exports.
Let's take a look at the various ETFs for the largest EU economies and the EU region:

The first key takeaway is that no one is rallying, which stands in contrast to the last few months of U.S. market activity. Italy (top row, second from left) and Spain (top row, second from right) saw modest sell-offs in May and have been moving sideways since. Germany (top row, far left) has a modest downward trend but could also be classified as broadly moving sideways, as could France (top row, far right), and, to a lesser extent, the US (bottom row, left). The IEV (bottom row, right) which tracks the overall market is mostly moving sideways. If we look at these charts from the perspective that financial markets are forward indicators then we can say that traders are taking a "wait and see" approach to the entire region.
And while we're looking at Central Bank releases, let's take a look at the latest Outlook from the BOJ: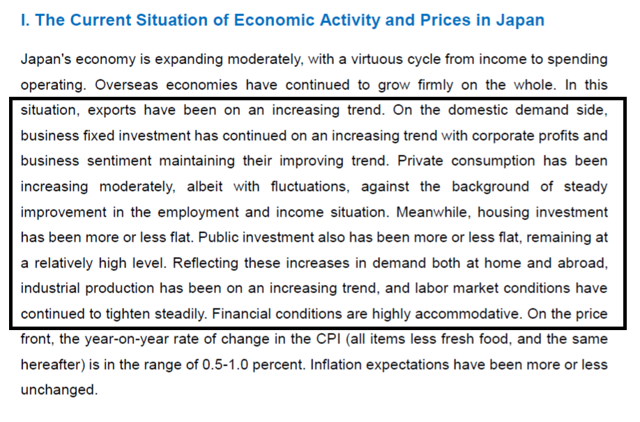 The BOJ always talks about the "virtuous cycle" of income to spending. This is the language of Keynes, or, more generally, the language of national income accounts rather than national product accounts (most statistics agencies released national income numbers in conjunction with product numbers; it's just the most analysts focus on product numbers). The BOJ believes that increased activity is a sign of a growing economy (it is, BTW).
As with the EU area, let's take a look at Asian market ETFs: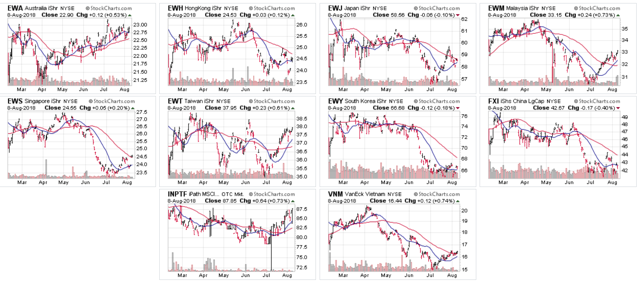 Australia (top row, far left) is in the middle of a longer rally. Malaysia (top row, far right), Japan (top row, second from right) and Singapore (second row, far left) are all bouncing off a bottom. Taiwan (second row, second from left) is in a short but strong rally. But with the exception of Australia, no one is in a sustained rally over the last six months. Blame the trade situation; Asia is heavily export dependent.
Turning to the chart, we, once again, have bearishness across multiple time frames, starting with the daily chart: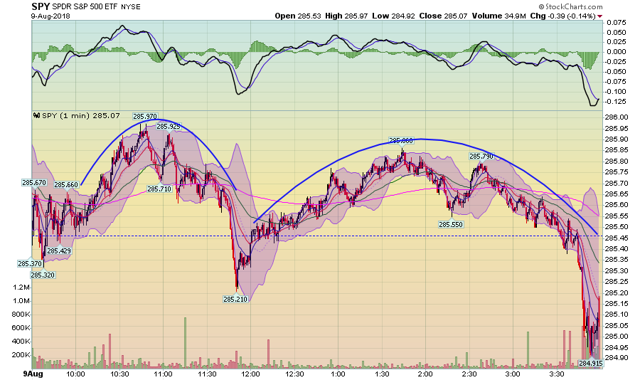 We have two rounding top formations, one in the morning, one in the afternoon. This tells us that the market could not maintain upward momentum for either rally - which is not a good sign.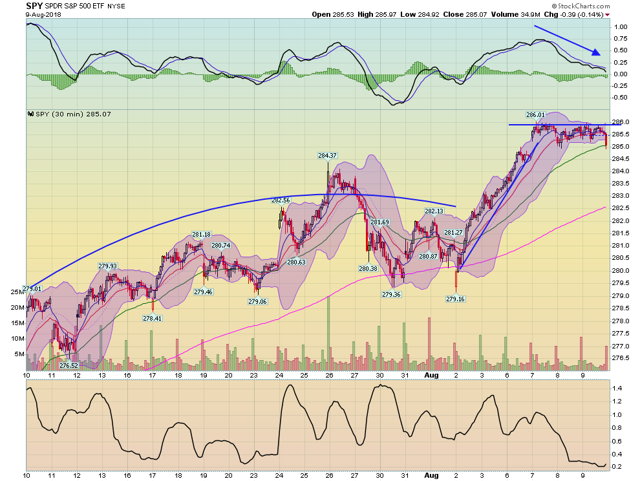 The 30-day chart shows a similar problem: prices are moving sideways, but haven't been able to move higher. At the close, prices sold off and are now at the 50-minute EMA with declining momentum.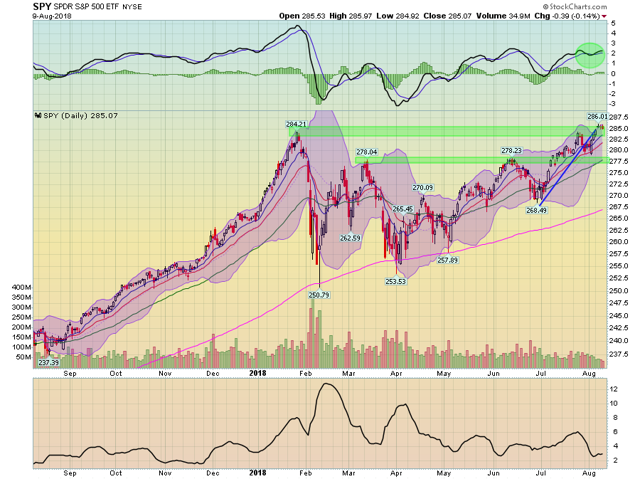 And now, we have an incredibly rare technical development: three shooting starts in a row. Folks, that just doesn't happen that much.
For a third day, we have a large amount of bearishness in multiple time frames. That adds a great deal of downward weight to prices.
Disclosure: I/we have no positions in any stocks mentioned, and no plans to initiate any positions within the next 72 hours.
I wrote this article myself, and it expresses my own opinions. I am not receiving compensation for it (other than from Seeking Alpha). I have no business relationship with any company whose stock is mentioned in this article.