Apple (AAPL) recently released its fiscal Q3 results and beat expectations on many fronts.
While iPad and Mac sales disappointed slightly, overall, it was a tremendous quarter, and investors have rewarded the news with a strong new run-up, jumping from roughly $191 to $209 (at this writing).
Two main drivers of this are the hefty 31% and 37% year-over-year increases in the Services and the Other Products sectors, respectively.
The first includes sales of apps, music, music streaming, iCloud, etc. As the chart from the excellent site BareFigur.es shows, Services has increased its share of total revenue and has reached a new high of almost 18%. (Note: they use calendar quarters.)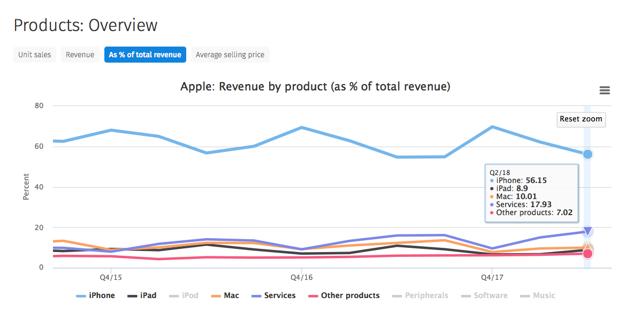 Other Products, as well, has increased its proportion of total revenue to the current 7%. Rapid growth in these two areas shows Apple's ability to significantly grow areas outside the iPhone. This is a major reason for the positive response by investors.
I would argue, however, that at this point in time, the data point that's the most important is the number 20 as it appears on Apple's Data Summary handout. (I have highlighted the important areas and added the ASP data.)

The thing to note here in the year-over-year data is that, while unit sales were up only 1%, revenue was up a huge 20%. This was due to the jump in ASP ($606 to $724).
Let's compare this to the previous quarter's data.

First, we can see the ASP was just a bit higher, but what we should note is the year-over-year change. Here, units were up 3%, but revenue only up 14%.
This seems strange, the ASP was higher, yet revenue change lower. The reason is simple. The previous year's (2017) ASP for fiscal Q2 was much higher than that for fiscal Q3 - $657 vs. $606. This represented a drop of $51, or almost 8%. This year's was much more modest: $728 to $724, just a $4 decline, or 0.5%. Therefore, there was a much greater year-over-year change in ASP.
If we look at another Bare Figures chart on iPhone ASP over time, we can see that the ASP somewhat follows the revenue chart on a quarterly basis. That is, it peaks in calendar Q4 holiday season and drops from there for the next two quarters before a slight gain in the back-to-school quarter.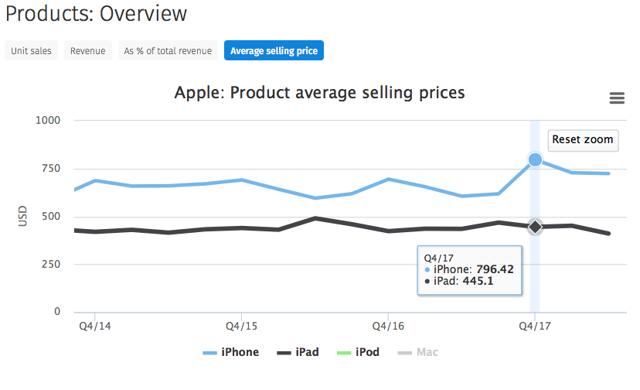 My argument here is that the chart shows a significantly improved situation this year. This year's drop is much lower than what occurred in 2017 and 2016. (Remember, these are not yoy changes – only between December and June quarters.)

This year, the highest ASP was $796. So, the drop was $72, or just 9%. The last two years showed drops of 13% and 14%. This is a significant improvement that is important for the investor.
Why so important?
Since the launch of the iPhone X, investors have been bombarded with periodic negative news about the new phone. Rumors of production cuts, rumors of supply chain issues, rumors of falling sales, rumors, rumors, rumors. The X is priced too high, some said, etc., etc.
And this is why the data point under discussion is so important.
This one data point proves all that wrong.
This proves that customers are willing to pay premium prices for superior products with groundbreaking features. The Face ID feature seems to work very well, and the ease of use appears to be appreciated.
For the investor, this is big news. It shows that the super premium models have legs, and particularly that:
Apple can continue on this route of higher selling prices for top-line phones.
Summary
Apple share price was under pressure throughout the later part of last year and into this year by negative rumors. The high ASP of this quarter puts a lot of that negativity to rest. At least for now.
In an earlier post, I noted how share repurchases will drive earnings per share, and that even before this quarter's earnings announcement, Apple's share repurchase program meant a price of $225 to $260 would be reasonable. This data, coupled with the rise in the Services and Other Products categories, show that perhaps we should revise the true value upward still.
Obviously, we do not know what Apple has in store for the next generation iPhone or other products. I have trouble imagining what can be added at this point in order to justify the current high prices. That is, what will be so valuable over and above the current design. This remains to be seen, and we will probably learn more in September.
In a more or less mature and saturated market, it's hard to expect major growth in unit sales. So, it's good to see real growth in revenue for iPhones coming from higher ASPs. Coupled with other growth areas, the outlook remains positive.
Your comments are appreciated.
Disclosure: I am/we are long AAPL.
I wrote this article myself, and it expresses my own opinions. I am not receiving compensation for it (other than from Seeking Alpha). I have no business relationship with any company whose stock is mentioned in this article.