Facebook (FB), Alphabet/Google (GOOG) (GOOGL), Amazon (AMZN), Netflix (NFLX) and Apple (AAPL). These stocks, which often go by the acronym "FAANG", as well as other tech-related stocks found in the NASDAQ index, have been the story so far in 2018. Turn on CNBC in the morning, as I often do, and these are the stocks you hear about, ad nauseam. Yeah, you can throw Tesla (TSLA) in there as well, but that's a whole 'nother story.
Other portions of the market, however, have not done so well. Take a quick look at the chart below. It compares the YTD performance of the NASDAQ index, the S&P 500 index, and the ProShares S&P 500 Dividend Aristocrats ETF (NOBL), an ETF that represents a group of stocks known as the Dividend Aristocrats.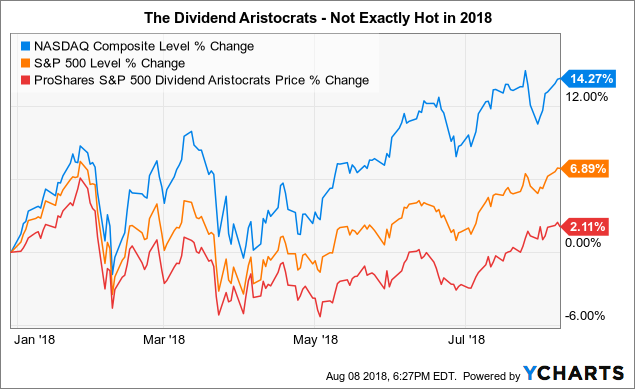 The Dividend Aristocrats - Stability in a Troubled World
What, though, are the Dividend Aristocrats? Simply put, these are companies found within the S&P 500 index which have one particular feature in common. Here's how Wikipedia summarizes it:
To be eligible for the S&P 500 Dividend Aristocrat index, a stock must have increased their dividend payouts for a minimum of 25 consecutive years or more, must currently be part of the S&P 500 index and finally must have a minimum market capitalization of $3 billion. A committee at S&P Global makes the final decision on which companies are included in the S&P 500 index and this then allows for eligibility for inclusion into the Dividend Aristocrat index. Should a company reduce their dividend or be dropped from the S&P 500 index, the holding is automatically dropped from the Dividend Aristocrat list as well. (Bold mine, for emphasis)
Just think about that for a moment. Remember the Dot-com bubble of 1995-2000, where the NASDAQ index rose by approximately 400%, peaking at 5,048.62 in early 2000, only to fall to 1,114 by late 2002? Or the bear market of 2007-2009, where the S&P 500 index plunged from 1,565.10 to a low of 676.53? Both of those events occurred within the past 25 years. And yet, through all that, these companies managed to not only maintain their respective dividends but also increase them.
Why might that be relevant now? Because, as I laid out in this recent piece for Seeking Alpha, we are truly living through some very unusual times. In the article, I referenced a scary quote from the Ukranian Prime Minister conveyed by none other than House Speaker Paul Ryan, and how it all might relate to secret Trump/Putin meetings, Montenegro, and the Baltics. And that's just one of many uncertainties we face at the moment.
In such uncertain times, companies like Clorox (CLX), Procter & Gamble (PG), 3M (MMM), Norfolk Southern (NSC) and Union Pacific (UNP) would seem to offer a measure of stability. And yes, you guessed it, those are just 5 of the 53 companies that currently comprise the Dividend Aristocrats.
Not only that, but also in a market that many analysts describe as "frothy," the Dividend Aristocrats may offer good comparative value right now. This article from Barron's notes that these companies currently trade at 18.1 times current fiscal-year earnings estimates compared to an average of 18.8 times earnings over the past 3 years.
Welcome, My NOBL Friend
Since it is easy to know which 53 companies comprise the Dividend Aristocrats, and even to follow changes in the index year over year, you could purchase shares in all 53 for your portfolio. But, thanks to the power of ETFs, there is an easier way. I featured it in the opening graph for this article. Namely, the ProShares S&P 500 Dividend Aristocrats ETF.
According to its fact sheet, NOBL is "the only ETF that focuses exclusively on companies in the S&P 500 that have grown dividends for at least 25 consecutive years." It is run by ProShares, a company that has been in the ETF business since 2006 and whose ETFs manage some $31 billion in assets. NOBL has an inception date of 10/9/2013, and net assets of $3.46 billion. Finally, it has an expense ratio of .35% and, based on good trading volume, a low average spread of .02%.
Let's take a quick look at the fund's sector weightings.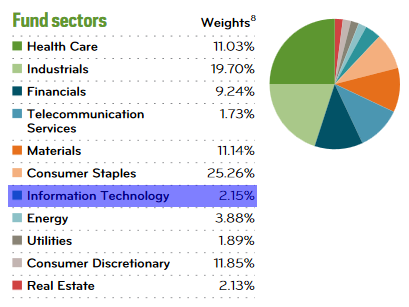 You'll notice that I've highlighted one sector in purple. That sector is technology. Remember the opening of the article? Namely that it is the FAANG stocks and their ilk that have outperformed this year? NOBL is very light in that area. Makes sense. There aren't many technology stocks that have been in existence for 25 years, much less able to raise dividends for that long a period. But, for my money, that's not the job of this ETF in your portfolio. You can get exposure to this area via several wonderful ETFs if you wish, to balance out your portfolio.
Next, a look at NOBL's Top 10 holdings.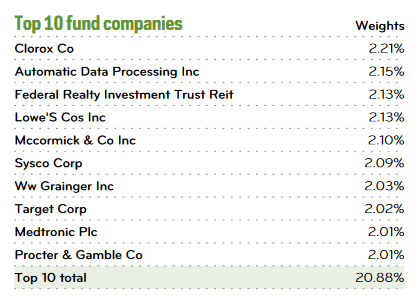 Notice anything interesting about that table? If you were to look at the equivalent table for most ETFs, you would notice a fairly substantial difference in weighting between the top and bottom company, even within the Top 10. That is because most ETFs are market-cap weighted, meaning that each component is weighted relative to its overall size in the market. However, several recent articles have posited that this actually poses a danger, as a sudden price reversal in a few heavily-weighted stocks could catch investors who believed they were investing in "safe, index" ETFs quite by surprise.
In contrast, NOBL is roughly equally-weighted. As can be seen by the Top 10 holdings, this isn't the case to a perfect extent because constant trading would obviously be required to accomplish this. However, in the big picture, each of the 53 stocks in NOBL comprises roughly 2% of the total. That means you are less exposed to turmoil in any single company.
In summary, then, in one elegant package, NOBL buys you roughly equal weightings in 53 stocks which have been specifically selected for their stability; not only maintaining but also actually increasing their dividends for 25 consecutive years.
OK, NOBL is Great. But Could I Do Even Better?
"But" you may find yourself asking, "I've been reading about this 'race to the bottom' in ETF fees and expense ratios. Given that .35% expense ratio, might there be better options?"
That was my intuitive question as well. If you have read my work for any length of time, you know that I regard low fees as one of the anchors for your portfolio; so much so that I took the time to write an entire article just on that topic.
With that in mind, let's take a look. I selected four ETFs I think highly of and which accomplish, at least at some level, what NOBL tries to do for you. These are:
Here's a high-level comparative overview of some key characteristics of the five ETFs.
Essentially, I have listed the Vanguard and iShares ETFs that offer exposure to companies that feature dividend growth, and those that feature high current yields.
Please note that, in the table above, I have turned the name of each ETF into a link, which takes you to the fact sheet offered by the provider. So, I won't bore you by copying in the Top 10 holdings, sector weightings or other similar items. You can evaluate these for yourself, if you wish.
Instead, I'll offer a couple of quick observations on the key data points I chose to display in the above table.
Clearly, the expense ratios are far lower in all the competitors. This does mean something because, as I have said repeatedly before, these fees are constants, charged in both good times and bad.
With the exception of HDV, the other competitors hold significantly more companies, so could be considered to be more diversified.
Lastly, the ETFs featuring high-dividend companies are sending a lot more dividend income your way, so this must be evaluated when looking at the returns displayed in the graphs I will feature next.
Uh, Oh - Looks Like NOBL Ain't So Hot
Let's first start with recent history. As can be seen, of the 5, NOBL is very much "middle of the pack" when looked at on a 2018 YTD perspective. Both the Vanguard and iShares dividend-growth offerings have soundly trounced NOBL, while offering somewhat similar yields, in fact very slightly higher in the case of DGRO. Further, VYM has offered approximately equal total return, when you factor in the higher dividend payout. Really, only HDV has significantly lagged the field over this time span.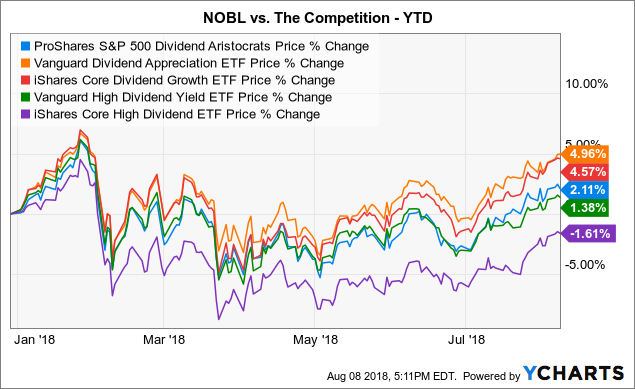 But what about if we step back and take a little longer-term perspective? Here's a 3-year look.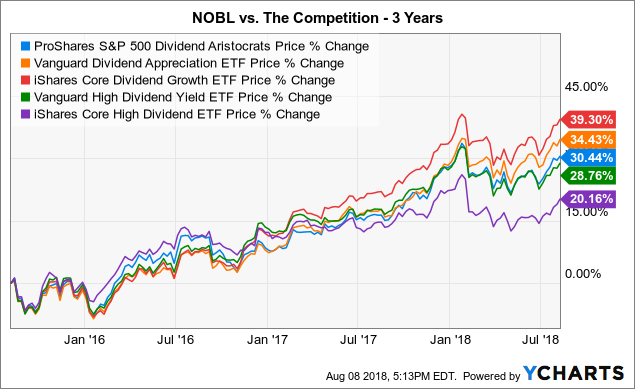 Pretty much the same picture, isn't it? NOBL still solidly middle of the pack, trounced by DGRO and VIG, and VYM also likely ahead when the higher dividends are factored in. Again, only HDV has trailed significantly.
At this point, then, it appears that we would have been better served to put our hard-earned funds into 3 of our 4 competitors.
Hold On, I May Have Spoken Too Soon
Now, though, I have one last chart for you. Remember, NOBL has an inception date of 10/9/2013, so we can only go back a little short of 5 years. But when we do, we may be in for a little surprise. Take a peek.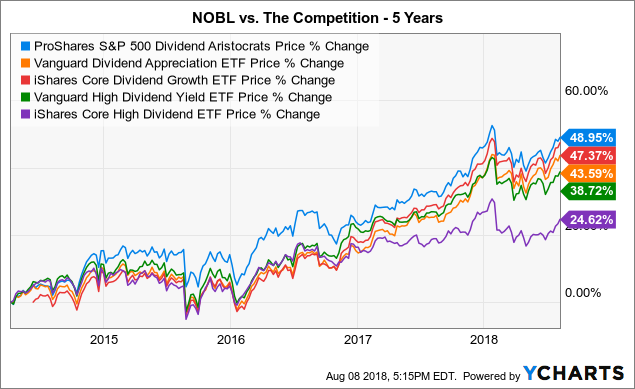 All of a sudden, NOBL isn't looking so bad, is it? It slightly edges out DGRO, with roughly equal dividends. It's got a nice lead on VIG, on top of a better dividend. How about VYM? Over 5 years, an extra dividend payout of roughly 1% per year doesn't quite keep up. And HDV? Fuggedaboutit, as the saying goes. Not even close.
Summary and Conclusion
To end, let's go back to the beginning. We posited that much of this year's market gains can be attributed to companies in the NASDAQ index, and in particular the FAANG stocks. In the opening graphic, that YTD return of 14.27% for the NASDAQ practically leaps out at you, when compared to that rather anemic return of 2.11% for NOBL.
But it has often proved to be the case that a little too much money chases the hot stocks, and things return to the mean. If that happens, NOBL's low weighting in technology, and the benefits of its equal-weighting model, may leave investors feeling, well, noble.
Disclosure: I am/we are long HDV, VIG.
I wrote this article myself, and it expresses my own opinions. I am not receiving compensation for it (other than from Seeking Alpha). I have no business relationship with any company whose stock is mentioned in this article.
Additional disclosure: I am not a registered investment advisor or broker/dealer. Readers are advised that the material contained herein should be used solely for informational purposes, and to consult with their personal tax or financial advisors as to its applicability to their circumstances. Investing involves risk, including the loss of principal.