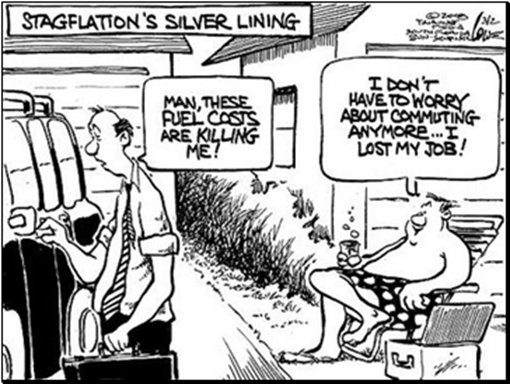 The Unfortunate Case For Stagflation
Stagflation has become a real consideration due to recent escalations in trade tensions between the U.S. and its largest trade partners. Stagflation is that unfortunate condition in which economic growth slows at the same time that prices rise. It may seem like a counter-intuitive combination, but it has happened, most notably in the 1970s following a period of political turbulence resulting in the resignation of Richard Nixon, oil supply shocks, and price controls.
Although we are not in imminent danger of those specific factors (well, probably not), there are other potential drivers of stagflation today. Specifically, I think if the Trump administration continues down its path of raising tariffs on an increasing level of imported goods, that stagflation may be in our future. I am hoping stagflation can be avoided and am encouraged by ongoing efforts toward resolution in recent days and weeks, but I think it is important that investors are prepared for such an ugly scenario.
Why It Could Happen Again Now
To put a finer point on the connection between tariffs and the possibility of stagflation, it is critical to understand exactly what tariffs are. Tariffs are nothing more than a tax on the movement of goods from one country to another. Like all taxes, tariffs create what is known as a deadweight loss and distort the supply and demand dynamics in markets. Higher tariffs on more goods would impact these dynamics by first causing prices to rise at the consumer level.
At the same time, and to varying degrees based on product price elasticity, producers will experience margin compression concurrent to a decline in the total volume demanded of their goods. What's the net impact of these factors? Prices rise (also known as inflation) while sales and profitability decline (slower economic growth.) This is likely to also push the "misery index" higher, a measure that combines unemployment and inflation figures. After all, if corporate sales and profits decline, at best fewer people will be hired, but more likely people will start losing their jobs.
Looking at the United States in the 1970s, we see that there was a bout of stagflation during the second recession of that decade. Inflation reached levels over 12% in 1974 while unemployment reached 8% at the same time. This created an economic malaise that was difficult to escape for years. The key difference is that in the 1970s, the stagflation was driven by another exogenous factor at the time: the oil shock of 1973. The spike in oil prices percolated through the economy causing inflation to climb, corporate profits to drop, and unemployment to rise to levels not seen in decades at that point.
Those were certainly turbulent times, not only because of the oil shocks, but also because of the resignation of President Nixon following the Watergate scandal, Vietnam, and the ongoing Cold War. Furthermore, monetary policy in cases of exogenous shocks is relatively impotent in reversing the inflationary effects, particularly when unemployment is climbing.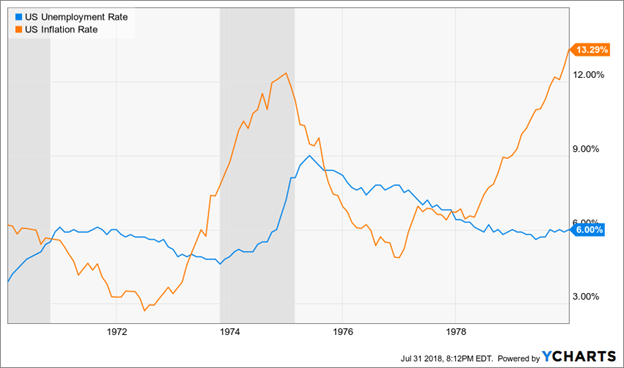 Although this go around is different in the direct causes, there are numerous takeaways we can gather by looking at history. Once again, Washington is a source of daily anxiety for financial markets, but at this point has caused little actual damage. That is subject to change as future trade policy continues to be uncertain, and as the president and his staff are plagued by scandals, controversies, and public gaffs.
My objective in stating all of this is not to make this about politics, but to provide the context in which we are operating. Investors need to understand that turbulence in Washington is not constructive for growth. There are multiple factors that can cause stagflation, and understanding this context is required to position portfolios and find assets that will perform well in any environment, particularly in one in which there is falling growth combined with rising inflation and higher unemployment.
What to do?
During the stagflation of the 1970s, investors were unable to maintain purchasing power net of inflation through purchasing US stocks alone. The chart below shows that the CPI climbed by about 103% during the 1970s compared to only 16% for the S&P 500, excluding dividends.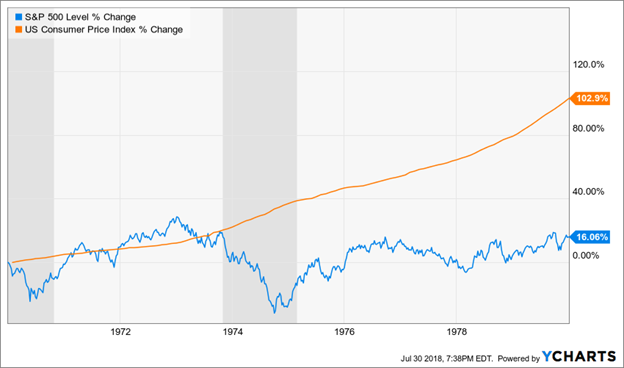 Consider Commodities
Commodities including gold, oil, and industrial metals performed well during this period, adding more value to portfolios relative to broad exposure to US stocks. Fortunately, there are numerous, low-cost ways of gaining exposure to these assets as well as others that were not available during the 1970s.
Inexpensive gold exposure can be gained through the iShares Gold Trust (IAU) or the SPDR Gold MiniShares Trust (GLDM). To gain exposure to a broad basket of commodities, the Invesco DB Commodity Index Tracking Fund (DBC) is low cost and has direct exposure to metals, both precious and industrial, as well as agricultural commodities.
For direct exposure to oil prices, the United States 12-Month Oil ETF (USL) and the United States Brent Oil ETF (BNO) are both good options to hedge inflationary pressures, particularly during a period in which the U.S. dollar might also be declining. The United States 12-Month Oil ETF is especially attractive relative to the popular United States Oil Fund (USO) given that it spreads its exposure over 12 months of contracts, not just the front month like USO, allowing it to better manage the value erosion experienced by USO when WTI is in contango.
Investors can also gain commodity exposure through companies that benefit from rising commodity prices. These include gold producers and MLPs. Although the Alerian MLP Index (AMLP) is popular, other options are available including the JPMorgan MLP ETN (AMJ) and the Tortoise MLP & Pipeline fund (TORIX). TORIX is also available in other share classes. While these strategies benefit from rising commodity prices, they also offer growing current income that is attractive in an inflationary environment.
The funds offering direct exposure to commodities do not produce current income, limiting their value to price appreciation over the investor's holding period. Infrastructure, grounded in real assets, may also offer another means of inflation protection in an environment in which unemployment climbs.
Weaker Dollar, Stronger (Foreign) Bonds
For alternative approaches to investing during a period of stagflation, it is instructive to look at the performance of the U.S. dollar relative to other currencies as well as relative to inflation during the heights of the 1970s stagflation. The chart below shows that not only were prices rising, but the U.S. dollar was declining relative to a basket of major world currencies. Although positions in dollar denominated assets such as gold and oil will help offset this effect, other asset classes can produce current income and attractive expected real returns in this environment.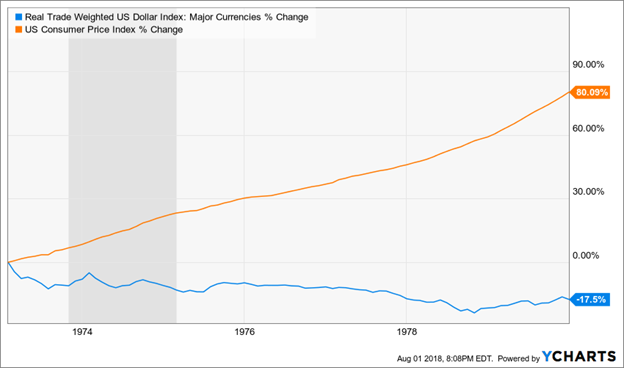 Generally during periods of slow or negative economic growth, government bonds and cash perform well. But because of the inflation side of the equation, both of those options are not very appealing. Instead, investors need to look for alternatives, including outside the U.S.
In an environment of stagflation, an allocation to foreign bonds becomes attractive from an expected return perspective. Portfolios benefit from not only increased diversification, but also currency effects by holding bonds issued in local currencies from around the world. Bonds held in both developed and emerging markets can also generate attractive real returns during periods of a weakening currency and rising inflation in the U.S.
I believe using active management in this space is most appropriate given the importance of understanding local markets and credit quality when evaluating potential investments. Two attractive, actively-managed options within the foreign bond space are available from PIMCO and Eaton Vance (NYSE:EV). PIMCO manages its PIMCO Global Bond Unhedged (PIGLX) or (PAGPX), a globally diversified bond portfolio with local currency exposure.
Approximately 56% of this fund's assets are spread across developed markets with the remaining 44% allocated to fixed income instruments within the U.S. The fund's largest allocations are to government debt, agency mortgage-backed securities, and corporate bonds. The Eaton Vance Emerging Markets Local Income (EEIAX) allows investors to gain exposure to local currency emerging market bonds with a 30-Day SEC Yield of 6.3% and average credit quality of BB.
The fund's largest holdings are spread across the Dominican Republic, South Africa, Mexico, Uruguay, and numerous other developing countries. Expense ratios are relatively high compared to middle of the road equity funds, but the professional management, exposure to the asset class, and absolute return mandates justify the cost.
Tech Is About Innovation, Not Inflation And Unemployment
As an unorthodox approach to both hedge against inflation and a lower growth environment, I suggest adding to technology names. Although this area has been a market leader for the last couple of years, and valuations may seem stretched, the industry, at least the leaders within the industry, are relatively well insulated against the erosion caused by inflation, while also providing the goods and services required by individual consumers and businesses to save on expenses.
Specific names like Amazon (AMZN), Netflix (NFLX), and Alphabet (NASDAQ:GOOG) (GOOGL) are well positioned to benefit from individuals (think Amazon Prime, staying in on a Saturday, and searching for ways to save money) seeking lower living expenses. Both software and hardware companies like Microsoft (MSFT), Intel (INTC), Oracle (ORCL), and Nvidia (NVDA) are positioned to perform well regardless of the inflation and unemployment situation, driven by capital expenditures by companies seeking lower costs and greater efficiencies. Anecdotally, of this group, Intel lived through and thrived during, the last bout of major inflation and stagflation during the 1970s.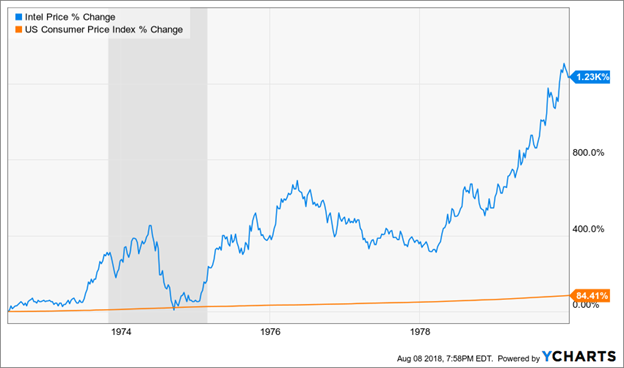 However bullish I may be on technology names, my logic does not extend to all names. Despite recently breaking above $1 trillion in market cap, Apple (AAPL) is vulnerable on several fronts. Given their manufacturing and supply chain reliance on China, a protracted trade war would not be additive to the company's profitability. Furthermore, the discretionary nature of many of its products expose the company's future prospects to consumer spending, a factor that would likely be negative during a period of stagflation.
As an alternative to choosing individual tech names, investors should look to diversified, low-cost ETFs. In that vein there are numerous attractive options focused on the cutting edge developments within the robotics, automation, AI, and genomics industries. The ROBO Global Robotics and Automation Index ETF (ROBO) offers diversification across geographies and market caps. Another option is the ARK Innovation ETF (ARKK) that is also globally diversified, albeit in a more concentrated portfolio. The ARK portfolio is also cheaper at 75 basis points compared to the 95 basis points for ROBO.
In any case, it is important to keep in mind that true innovation, which leads to productivity gains, defined by growth and profitability, is immune to protectionist trade policy, monetary policy, and all that goes with the combination, namely, stagflation.
Final Thoughts
The ideas I described above are intended to provide investors with attractive total returns, no matter the environment. Given the uncertainty around U.S. trade policy, and the material effect that it can have on global trade, economic growth, and asset prices, it is prudent to consider tweaking your portfolio strategy to not only add protection, but also to benefit if or when these dynamics come into play. That being said, I am not advocating for distorting investor strategic asset allocations.
Rather, I am suggesting areas that can be tailored to the current environment without sacrificing portfolio diversification. Using the above strategies should be looked at within the broader context of the global financial markets and sized appropriately. Any overweight or underweight position needs to be considered carefully to understand its impact on long-term total returns. I look forward to your feedback and answering your questions in the comment section below.
Disclaimer
Please remember that past performance may not be indicative of future results. Different types of investments involve varying degrees of risk, and there can be no assurance that the future performance of any specific investment, investment strategy, or product (including the investments and/or investment strategies recommended or undertaken by Mosaic Advisors ("Mosaic"), including the author, or any non-investment related content, made reference to directly or indirectly in this commentary will be profitable, equal any corresponding indicated historical performance level(S), be suitable for your portfolio or individual situation or prove successful. Due to various factors, including changing market conditions and/or applicable laws, the content may no longer be reflective of current opinions or positions. Moreover, you should not assume that any discussion or information contained in this commentary serves as the receipt of, or as a substitute for, personalized investment advice from Mosaic or the author. Mosaic is neither a law firm nor a certified public accounting firm and no portion of the commentary content should be construed as legal or accounting advice. A copy of the Mosaic's current written disclosure Brochure discussing our advisory services and fees continues to remain available upon request.
Disclosure: I am/we are long IAU DBC AMLP GOOGL MSFT INTC ORCL AAPL. I wrote this article myself, and it expresses my own opinions. I am not receiving compensation for it (other than from Seeking Alpha). I have no business relationship with any company whose stock is mentioned in this article.