What was supposed to be a quiet CEO departure and a material positive for Papa John's (PZZA) stock, has instead turned into a noisy and turbulent boardroom fight and become a material negative for the stock. Amid all this noise, Papa John's also reported miserable second quarter numbers and delivered a dour guide.
All together, the slide in PZZA stock isn't over, nor does it look like a big rebound will happen any time soon. But, that doesn't mean the bull thesis is null. Instead, the bull thesis is simply being delayed by boardroom drama. We reiterate that this company has material upside from current levels in a long-term window, but that any operational turnaround is still one to two quarters out, once boardroom drama moves into the rear-view window.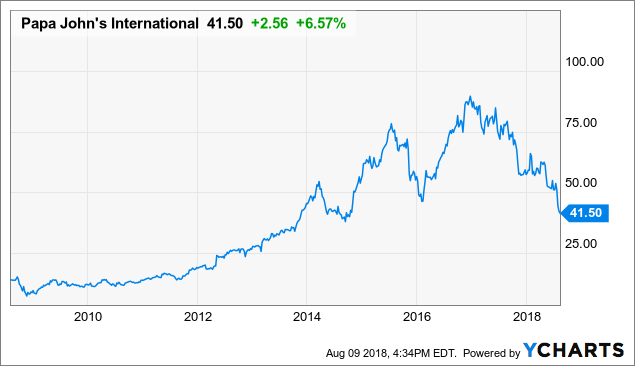 At the risk of sounding like a broken record, we will briefly reiterate our thesis on Papa John's.
In the big picture, this is a company which can essentially do anything that its peer Domino's (DPZ) can do. Both are nationally recognized pizza chains with a growing international presence, healthy delivery-centric models, and tasty food. Right now, Papa John's ability to compete with Domino's at scale is being hindered by CEO drama. Namely, founder and former CEO John Schnatter is taking a page out of the Wolf of Wall Street playbook and essentially refusing to leave.
That means resources that should be deployed to growth strategies, branding, digital enhancements, and marketing, are instead being deployed to trying to end boardroom drama. Also, because Schnatter has fallen out of favor in the public spotlight, continued negative headlines regarding the former CEO will result in some consumer fall-out, especially at North America locations.
All of this means bad operating results are here to stay, and that any potential takeover offer is likely on hold. But, this boardroom drama won't last forever. Eventually, the Schnatter situation will move into the rear-view window. Resources will be fully dedicated towards leveling the playing field with Domino's. Traffic will come back as the company re-brands itself it and removes ties with Schnatter. And, in the long run, Papa John's will once again emerge as a formidable Domino's competitor.
Nothing about ugly second quarter numbers or a bad guide change our long-term thesis. Comparable sales growth was dour across the board, headlined by a 7.2% drop in comparable sales at domestic company-operated stores in North America. Meanwhile, margins compressed and earnings came in nearly 25% lower than last year. Things aren't expected to get better. The full-year guide was cut in a big way, with North America comparable sales growth now expected to be down between 7% and 10%, versus a prior guide of -3% to flat. Earnings per share are expected at $1.55, versus $2.50-plus over the past two years.
But, investors shouldn't read too much into today's ugly numbers. Of course, the company will struggle when it has a massive CEO exit problem and when the media is attacking the company culture. Because of this, bad numbers are here to stay, and PZZA stock will remain depressed.
Historically speaking, such depressions don't last very long, and are usually followed by a rally. Negative sales growth has stung this company three times before over the past 20-plus years. Each time, sales and PZZA stock rebounded strongly. For example:
Sales started trending down in the early 2000s. PZZA stock dropped to $5 in 2003. By 2005, sales were rebounding, and PZZA stock soared to nearly $20 by late 2006.
Sales took a hit following the 2008 Recession. PZZA stock dropped to $9 in late 2008. Post-Recession sales rebounded, and PZZA stock soared to $50 by 2014.
Sales took a minor hit in late 2015. PZZA stock dropped to $45 in early 2016. By late 2016, PZZA was a $90 stock.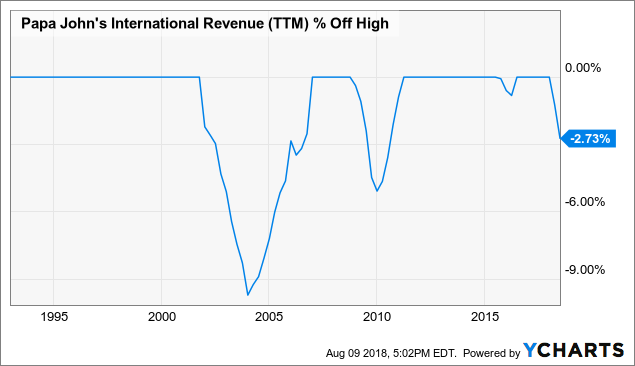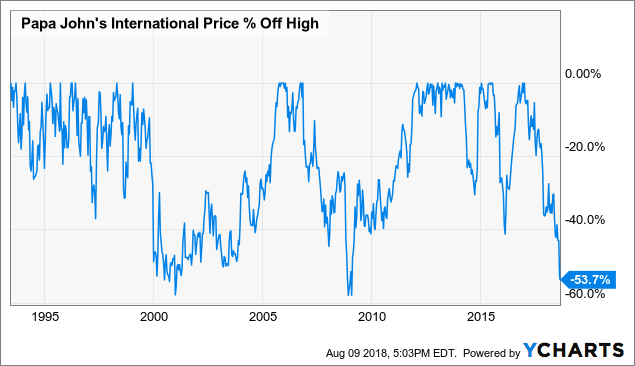 We believe history will repeat itself. Eventually, the Schnatter situation will be old news, and Papa John's will get back to growing sales, margins, and profits. At that point in time, PZZA stock will roar higher.
The question, then, is when will PZZA stock bottom? If we use history as a guide, then that means we are pretty close to a bottom here. Historically speaking, PZZA stock tends to bottom before sales bottom. Considering the guide calls for further drops in revenue, then a sales bottom is still a few quarters out. But, PZZA stock is already more than 50% off its recent highs. The most this stock has ever dropped during a sales downdraft is about 60%. Thus, history implies that we are at or near a bottom.
Long term, we maintain that this is a company with robust earnings growth potential from fiscal 2018's depressed earnings base. That long-term earnings growth potential is being undervalued by the market due to near-term headwinds, but such near-term headwinds will inevitably pass, and PZZA stock will rally. That rally may take a while to start, but further downside also seems limited with the stock more than 50% off recent highs.
Disclosure: I am/we are long PZZA. I wrote this article myself, and it expresses my own opinions. I am not receiving compensation for it (other than from Seeking Alpha). I have no business relationship with any company whose stock is mentioned in this article.