Editor's note: Seeking Alpha is proud to welcome Einar Arnarson as a new contributor. It's easy to become a Seeking Alpha contributor and earn money for your best investment ideas. Active contributors also get free access to the SA PRO archive. Click here to find out more »
Nuclear power does not seem to be going away anytime soon as most projections about the future growth of global nuclear power generation are flat to growing. Uranium, on the other hand, which is the fuel for those reactors, is priced as if nuclear power generation will be put off entirely in a few years. I believe this is a massive disconnect between what the price of uranium is now and what it needs to be going forward, making for an interesting speculative opportunity.
Uranium has rallied a bit recently because of the indefinite closing down of the McArthur River mine by Cameco (CCJ), but the commodity and the industry are still selling at depressed levels. In this article, I will talk about the big picture for uranium, why prices have been depressed in the last few years, and why I think there is reason to believe that prices are heading higher. I end the article by talking about Uranium Participation Corporation (OTCPK:URPTF, TSX:U) and Yellow Cake Plc (OTCPK:YLLXF, LSE:YCA) which are the two main ways for retail investors to buy and hold the commodity.
I would like to say before I go any further that I am not a financial professional (I work as a programmer) but just someone who intends to invest his own money and do the research involved. This is a complex market, and it is hard to get good information, so do your own due diligence.
Does nuclear power have a future?
Uranium is primarily used as a fuel for nuclear power plants around the world, so it is important to realize what the nuclear power industry looks like today and how it might look in the future.
According to the World Nuclear Association, there are 452 nuclear reactors operable worldwide. There are 56 reactors under construction, 152 planned and 328 proposed. China alone accounts for 41, 17, 43, and 136 of operable, under construction, planned, and proposed, respectively.
However, the World Nuclear Association does point out that reactor growth has historically been balanced by retiring of old plants:
New plants coming online are largely balanced by old plants being retired. Over 1996-2016, 80 reactors were retired as 96 started operation. The reference scenario in the 2017 edition of The Nuclear Fuel Report (Table 2.4) has 140 reactors closing by 2035, and 224 new ones coming online (figures include 22 Japanese reactors online by 2035).
I have some doubts about any long-term projections about the future of nuclear as there is currently a lot of uncertainty in the energy markets. It is important to think about the factors that could change the course of nuclear going forward. I believe those factors are primarily popular support for nuclear around the world and costs, especially compared to other energy sources.
Nuclear gets a bad rap in some circles, and I will admit that I was slanted against nuclear myself before I started to learn more about the technology. I think nuclear power, although not perfect, is a dense, reliable, and carbon-free alternative to fossil fuels and has a comparatively good safety record. But there are also potential issues with nuclear such as the possibility of accidents, waste, and the possibility of nuclear weapons ending up in the wrong hands as a result of a country's nuclear generating capacity.
It is a controversial power source, and there is a great deal of support for it, as well as opposition against it frh is 92% of woom many high profile institutions and individuals. What I think is of most importance, though, is that the population and the politicians in the "developed" world aren't too excited about nuclear power, but, in many parts of the "developing" world, they are.
Many "developed" countries are phasing out some (or all in the case of Germany) of their nuclear capacity. Meanwhile, China, India, some countries in the Middle East and other "developing" countries are ramping up theirs. China is the most enthusiastic in building up their nuclear capacity, as well as other low polluting power sources, to tackle the very real harm of their coal pollution.
I think nuclear power, gas, and renewables will be very important going forward as the world moves towards less CO2 emitting energy sources and China, India, and other countries clean up some of their pollution.
All of these energy sources have their unique pros and cons, but the main concern about the future of nuclear besides popular opposition to it in some countries is costs. The costs of nuclear are characterized by very high upfront costs but with operating costs over the long life of the plant being low. It is a long-term investment, and whether it is desirable depends on many things.
It does probably make more sense for China than most other countries as it is a one-party state with a relatively long-term horizon, and they can get some scale in building up their fleet. It is harder for the U.S. utilities as an example to justify building a new nuclear power plant because of the high upfront costs and the risks involved. With that being said, I don't think utility companies are necessarily in a rush to close down many of the current plants that are already built, licensed, and fairly cheap to operate.
My expectation at this moment is that the current trend of phasing the nuclear fleet out over time in many "developed" countries will continue and that China and other "developing" countries will continue to expand theirs. In any case, around 10-11% of the world's people rely on nuclear power today to turn the lights on, and without a catastrophic nuclear accident, I don't think it is going away anytime soon.
Supply and Demand
Like all commodities, the price of uranium is primarily decided by supply and demand. The annual demand for uranium is mostly for nuclear power generation by nuclear power plants but also to a lesser extent for military and medical purposes.
The demand for nuclear power reactors in 2017 was approximately 169 million lbs U3O8 for the 452 reactors operable worldwide according to the World Nuclear Association. In March 2011, before the Fukushima accident, the demand was about 179 million lbs U3O8 for 443 reactors. The reason why uranium requirements are less even though more reactors are operable today is primarily because, in March 2018, only 8 of the 42 operable reactors in Japan had restarted. While 17 more have applied, it is hard to tell if and when those reactors come online again.
The supply of uranium is more difficult to determine as it comes from primary supply (mining), and secondary supply which in many cases is hard to find information on. Primary supply was about 154 million lbs U3O8 in 2017 according to the World Nuclear Association, which is 92% of the world's uranium requirements. There has been a deficit in primary production for at least 10 years (as long back as WNA data goes), which has been possible because of excess supply of uranium, especially after the Fukushima accident.
The primary reasons for this excess supply are the following:
Reactors went offline after the Fukushima accident, resulting in less demand and, in some cases, more supply.

Long-term price contracts have protected some miners.

KazAtomProm and other state-connected entities have kept on producing through the bear market.

The U.S. Department of Energy bartered uranium into the market.

Underfeeding by enrichers.

Low prices incentivized inventory buildup.
I'll quickly address each point and why I think these sources of supply won't be available, at least not in the same amount, going forward.
I think most additional supply that was sold into the market as a result of shutdowns after Fukushima is probably already out there. Most decisions to take reactors offline have been made, and whatever supply-demand imbalance that accident might have caused is I believe largely behind us.
The long-term contracts issue is also in the process of being resolved as many long-term contracts are running out. According to Uranium Participation Corp., which sources the information from Ux Consulting, utilities have about 24% of their requirements uncontracted by the year 2021 and 62% uncontracted by 2025. This uncovered demand does not include inventory, and there is some excess inventory out there which might give the utilities a cushion going forward.
State-owned or state-connected uranium miners have been producing uranium and either selling it into the market or use it for their own uses with seemingly little regard to the cost of mining it. Foremost of these is KazAtomProm of Kazakhstan which produced about 16% of annual world uranium in 2007 but remarkably produced about 39% in 2017! They have been selling all this uranium mostly into the spot market, but they don't seem to be willing to do so anymore.
The company intends to go partially public later this year, and I believe it has been taking action to not do so in a crummy uranium market. They have been cutting back production (more on that later), and last year, it was announced that they were setting up a trading arm in Switzerland to buy and sell the commodity. This year, they struck a deal with the speculative fund vehicle Yellow Cake Plc which recently went public in London to sell them what amounts to about 5% of current global production. These are all signs that the Kazakhs want supply discipline and the price of uranium to go up.
The U.S. Department of Energy has also been supplying the uranium market by bartering uranium into the market in exchange for environmental cleanup of a former government enrichment facility. According to the Canadian Mining Journal, this scheme has amounted to about 4.6 million lbs of U3O8 equivalent supply annually. Earlier this year, the U.S. Secretary of Energy, Rick Perry put a halt to this bartering program for the remainder of the year and commented that he would like the program to be stopped completely.
The impact of underfeeding by enrichers is very complex, and I have to admit that I do not feel particularly confident writing about it. I recommend reading a great two-part article on the subject on sightlineU3O8.com (Part one and two). The short summary is that enrichers of uranium can balance between enriching natural uranium from miners or re-enrich tails assays from previous enriching of natural uranium in a process called underfeeding. For a variety of reasons, the primary one being excess capacity in their enrichment plants, they have been underfeeding and selling the enriched material into the SWU spot market. The sightlineU3O8 article ends on the following bullish comments for the price of uranium:
Lower demand drove enrichers to increase underfeeding to prop up their bottom line and create incremental secondary supply. As demand increases and SWU prices rise, however, it becomes more costly to underfeed. Utilities have to increase the proportion of natural uranium in their mix to reduce their cost thus creating a "secondary demand" for natural uranium as they move to optimize their fuel creation throughput.

The result should accelerate the improvement of U3O8 prices from what most analysts now see as a clear bottom.
As I said before, this part of the uranium market is complex, and I won't pretend to know for sure if the conclusion is correct or not. I have heard Michael Alkin who is extremely knowledgeable about the uranium market and others talk about this not necessarily being economical anymore. With the SWU spot price chart provided by UxC looking about as bad as the uranium price chart and the recent idling of Converdyn's processing plant in the U.S., I think that might very well be the case.
All the above factors have led to high inventory levels. It is hard to get any reliable figures on the inventory levels, but an estimate of current world inventories was provided by Jonathan Hinze, President of UxC at the World Nuclear Fuel Cycle conference in Madrid 2018:
UxC estimates world inventories, as of February 2018, to be around 1.79 billion pounds U3O8e (U3O8 equivalent), Hinze said. Of this, about 53% is held by utilities, 34% by governments and 13% by suppliers, traders and financials. The pipeline requires an inventory of about three years of forward coverage - or 515 million pounds U3O8e - while strategic inventories account for 260 million pounds and trader inventories 35 million pounds. Non-commercial inventories are dominated by the US Department of Energy, which held about 241 million pounds U3O8e as of December 2017, and the Russian government, with an inventory estimated by UxC to be around 368 million pounds U3O8.

An excess of about 365 million pounds U3O8e is held as commercial inventories by utilities, producers, and intermediaries. Much of the commercial inventory held by these is either obligated or held for strategic purposes and only a small portion - perhaps 5-10% - of such inventories can be considered mobile at any given time, Hinze said.
The annual demand was about 169 million lbs in 2017, as mentioned above, so according to this estimate, there is a bit more than two years' worth of excess inventory if demand remains the same. That in and of itself does not mean that, in two to three years, there will be no excess inventory as there are a lot of long-term contracts still in place.
It is prudent to be ready for prices being lower for a bit longer as the inventory numbers suggest that the utilities don't need to go in and contract right now. With that being said, it is very important for the utilities to have access to uranium, and I think in light of the very serious supply destruction that is taking place in the market, they realize that this security of supply might not be present in the future.
Supply destruction and speculative buying are putting strains on the market
In just about one to two years, there has been very aggressive supply destruction by some of the biggest and best uranium miners in the world. This is the result of a prolonged bear market, making it uneconomical to produce uranium even for them. At the same time, speculative buying vehicles and producers such as Cameco are coming into the market to buy uranium.
I'd like to share two slides from Uranium Energy Corporation's (UEC) August 2018 investor presentation that do a great job of summarizing the situation. The first slide shows the supply destruction that has been taking place.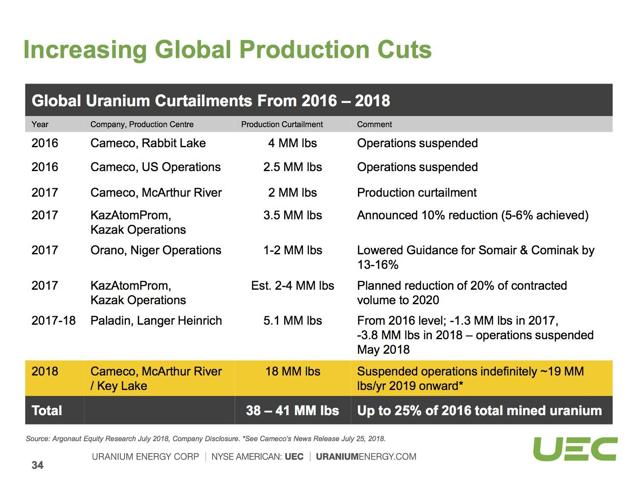 If put into context, this is nothing short of remarkable. This is supply coming off the market that amounts to about 25% of 2017 mined uranium in about 2 years' time! It is also interesting to note that these companies were responsible for a whopping 51% of uranium production in 2017, according to the World Nuclear Association.
In addition to this massive supply destruction, there has been increased demand by speculators and producers such as Cameco that are curtailing production but still have long-term contracts that they need to provide for. The other slide from UEC's presentation illustrates this development.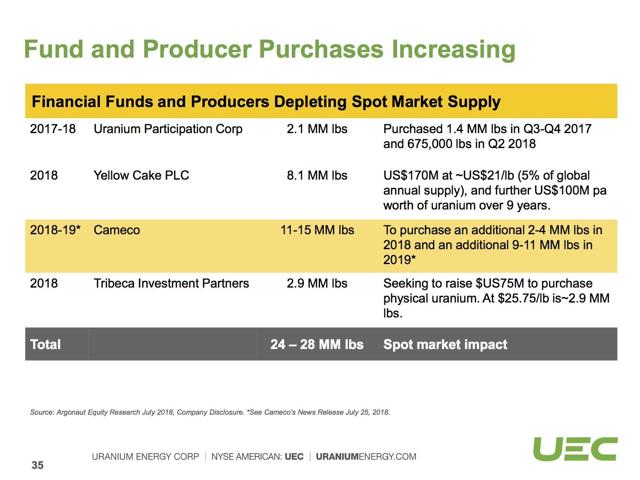 Yellow Cake Plc and Uranium Participation Corporation are publicly traded vehicles for investors to speculate on the commodity by buying and holding it until later. Tribeca Investment Partners is another speculative fund coming in, according to UEC. But what is of most importance here is that Cameco has curtailed production in a massive way and is now working through inventory and buying in the spot market to sell into their long-term contracts.
According to these figures, the net supply destruction, i.e. decreased supply and increased secondary demand by speculators, is 62-69 million lbs or 40-44% of 2017 uranium production. This will help deplete whatever excess inventories are out there, and if this trend continues, it will happen much quicker than previously anticipated.
Will new supply come online at these prices?
Current uranium prices are considered by most industry analysts to be unsustainable as the incentive price to bring meaningful additional supply into production is considerably higher than current prices. Cantor Fitzgerald analyzes 185 mines/projects and 868 reactors around the world and in their July 26, 2017, Quarterly Commodity Outlook they provided two models, one of which they described in the following way.
The first assumes "perfect production" in that all uranium mines and projects will produce exactly according to company guided plans (or study suggested plans) and that all production levels are price insensitive. It includes projects that have break-even costs estimated in the US$70/lb level and higher. This can be viewed as a worst-case scenario for uranium as it is effectively the maximum supply available given all available information (Exhibit 1). Note that everything has to go perfectly to plan in order for this scenario to occur. However, historically, things have rarely gone perfectly according to plan in mining.
Even this very unrealistic model forecasts some supply deficit by 2020! Their other model which is more realistic also forecasts supply deficit beginning in 2020 but then the deficit goes off the rails. I do not know what the assumptions about demand are, but they might of course be somewhat optimistic. It is notable that this projection was made in 2017 before most of the aforementioned supply destruction had taken place, so the situation is probably worse now. In their February 6, 2017, Quarterly Commodity Outlook Cantor Fitzgerald provided a long-term equilibrium price estimate for uranium to be in the $80 range. Their reasoning was the following.
Based on our global reactor-by-reactor analysis of demand, we estimate that the global annual demand for uranium will reach 228M lbs U3O8 by 2025 (currently it is about 175M). This 53M lbs of additional annual demand will need to be met with sizeable production from some of the world's largest uranium projects. However, aside from three in the Athabasca Basin, which we do not forecast initial production from until the middle of the decade at best, the only projects large enough to produce a meaningful amount of uranium to satisfy this demand are located in Africa. We believe the incentive price for most African mining projects to be greenlighted is US$80/lb, which is the genesis of our long-term equilibrium price estimate.
I have seen KPMG, BMO capital markets, and other industry analysts come up with incentive price number to bring meaningful new supply online in the $50-80/lb range. From my rough check on many of the companies that produce or want to produce uranium, I believe this is likely the case.
My suspicion is that the price needed to incentivize production will go higher the longer this bear market continues. It is not easy to get financing for a project today. All the smaller companies are burning cash and larger miners are losing economies of scale because of production curtailments. These commodity cycles are never smooth, and I believe these factors might put an additional upward pressure on the price of uranium.
Risks and other considerations
I think buying uranium now is not too risky if one has a medium to long-term horizon. The price of it will either go up to the price that is needed to keep supplies available or the nuclear reactors will stop generating electricity for 10-11% of the world's population. The buyers of uranium are more sensitive to security of supply rather than price. The price of uranium is a fairly small part of the costs of operating a nuclear power plant, but if they don't have uranium they are screwed. For those reasons, I don't really care whether the general markets go up, down or sideways as there is some security in the importance of the commodity and relative price insensitivity of the buyers.
What are the primary risks? The most obvious one is if there is another nuclear accident somewhere. If that were to happen, I think there would be a lot of pressure to close down more nuclear power plants around the world. This would put downward pressures on the price of uranium, and many uranium companies would likely be destroyed. Other risks include just the lack of good information about the uranium market and uncertainty in energy markets in general, both of which could lead to a longer wait for the market to rebound.
Ways to play the commodity
Uranium is not like most commodities, and the market for it reflects that. There is a futures market, but it has low liquidity, trades in 250 lbs contracts, which is well north of $5,000 a contract now, and, of course, not everyone can take physical delivery. I think the uranium market is a fantastic display of how a market can look like without active speculation and price discovery. The swings in the price of the commodity are extreme compared to the more modest swings of other commodities, and I believe that is to a large extent because of the nature of the market.
There are some speculative vehicles out there and in particular two that retail investors can use to get fairly good exposure to the metal. One is Uranium Participation Corporation which trades in Canada, and the other is Yellow Cake Plc which recently went public on the London AIM market.
Uranium Participation Corporation is more of a pure play of the two companies. It is a publicly traded corporation that just buys or sells uranium depending on whether their shares are selling at a discount or a premium to net asset value. So, if the shares trade at a premium to NAV, they issue equity to buy uranium, and if they trade at a discount, they sell uranium and buy back their own stock. On July 31, 2018, the estimated net asset value of their holdings was CAD$4.29 per share, so they are currently trading at a premium.
The other company is Yellow Cake Plc. On their website, they describe what their strategy consists of:
the purchase, sale and trading of uranium in both the spot market, through the Kazatomprom Contract and through any other long-term contracts entered into by the Company to generate value for shareholders;

other uranium related transactions, including the acquisition of production or synthetic production, via streaming, royalties or similar mechanisms.
The KazAtomProm contract is described as follows:
Under the Kazatomprom contract, Yellow Cake purchased US$170 million worth of U3O8, consisting of approximately 8.1 million pounds of U3O8 at a price of US$21.01 per pound, on the date of Admission. The purchased uranium is held in a storage account at Cameco's Port Hope/Blind River facility in Ontario, Canada.

Additionally, under the Kazatomprom Contract, Yellow Cake has the right, but not the obligation, to acquire up to US$100 million of U3O8 from Kazatomprom in each of the nine calendar years following the IPO at an undisturbed price: under the Kazatomprom Contract Yellow Cake can agree the price at which it will purchase U3O8 from Kazatomprom ahead of announcing the proposed purchase or any required associated financing.
The company bought uranium from KazAtomProm with about 90% of the proceeds from the public offering. As mentioned in the second point, they also intend to be a financier in the space. They did manage to get a very good deal with KazAtomProm where they bought at 8-9% discount to the spot price which suggests that they have some good connections in the industry. Many companies will need financing in the coming years, and there will be many great streaming and royalty deals to do. If investors want that additional leverage to the price of uranium but with a bit more risk, Yellow Cake Plc is more or less one of a kind in that regard right now.
Conclusion
How will this all go? I don't know, and one needs to be humble when it comes to the markets, especially such an opaque market as the uranium market. However, I think there is a reasonable chance for the commodity itself to double or triple in the next few years. The supply situation is starting to look pretty ugly, and demand seems only to be getting stronger.
I have been buying some here, and if the story does not change dramatically, I will likely take some chips off the table in the $50-60 range, if it goes up to those levels, of course. How much will depend on what the supply situation looks like then and the state of the markets in general. All in all, I think buying uranium here has a pretty good reward-to-risk ratio as it seems to me that the bottom is already in. Judging by the recent moves of some of the uranium stocks, there is a lot of excitement building for this almost left for dead commodity, making a strong rebound possible.
Disclosure: I am/we are long URPTF, UEC. I wrote this article myself, and it expresses my own opinions. I am not receiving compensation for it (other than from Seeking Alpha). I have no business relationship with any company whose stock is mentioned in this article.
Editor's Note: This article discusses one or more securities that do not trade on a major U.S. exchange. Please be aware of the risks associated with these stocks.