Real Estate Weekly Review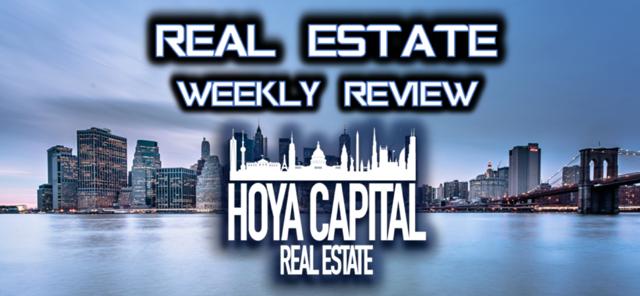 A relatively tranquil week in US equity markets was truncated on Friday amid a continuing currency crisis in emerging markets as the Turkish lira plunged more than 10%. Investors fled EM assets into safe-haven US Treasuries, sending the 10-Year yield below 2.90% after briefly flirting with the 3.0% level last week. Despite the late-week volatility, the S&P 500 (SPY) finished the week flat.
On another busy week of earnings season in the real estate sectors, REITs (VNQ and IYR) dipped 1% despite another week of strong quarterly results. Fundamentals appear to have inflected higher in 2018 as demand continues to surprise to the upside. Homebuilders (XHB and ITB) rallied nearly 2% following a mixed earnings season but signs of optimism as lumber prices continue to decline from recent record-highs.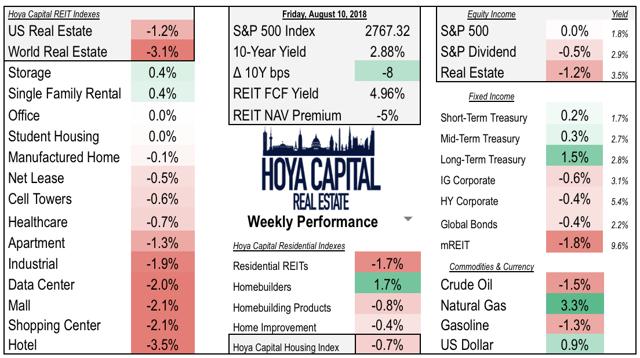 (Hoya Capital Real Estate, Performance as of 2pm Friday)
In other areas of the real estate sector, mortgage REITs (REM) finished the week lower by 1.8% while international real estate (VNQI) finished lower by 3.1%. The Hoya Capital Housing Index, which tracks an average of residential REITs, homebuilders and suppliers, home improvement retailers, and housing services firms, dipped 0.7% as real estate technology firms Zillow (Z) and Redfin (RDFN) had a tough week after reporting disappointing results. Both stocks traded lower by more than 15% on the week. Redfin acknowledged a "significant slowdown" in housing markets within the last month.
Earnings Season Update
Earnings season wrapped-up this week for most of the real estate sector. Overall, REITs reported results that beat estimates, highlighted by strong forward guidance. Nearly 50% of REITs boosted full-year 2018 expectations, the strongest quarter of upward revisions since 2016. There are continued signs that real estate fundamentals have entered a period of modest reacceleration, powered by stronger-than-expected economic growth, after a slowdown over the last several years. Apartments, data centers, and retail REITs were the outperformers this earnings season.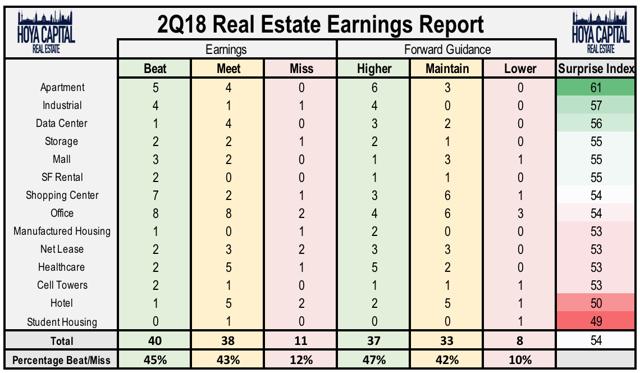 This week, we published our quarterly update on the multifamily sector: Apartment REITs: Rent Growth Reaccelerates. In a battle between record levels of supply growth and robust demand, the demand-side has been the clear winner in 2018. Job growth has continued to surprise to the upside. After years of decelerating rent growth and moderating occupancy, fundamentals have inflected favorably this year. Blended renewal rates topped 3.5% in 2Q18, the strongest level since 2015.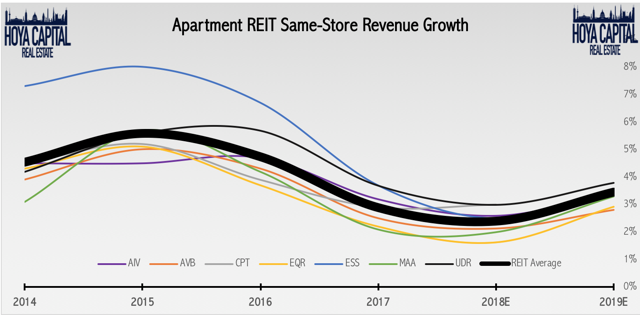 We also updated published Data Center REITs: Record Leasing Powers Strong Quarter. Following a brutal start to 2018, data center REITs have come roaring back over the last quarter. The perennially top-performing REIT sector delivered strong results in the second quarter. 2Q18 results topped estimates as demand for cloud services has accelerated in recent quarters. Leasing activity nearly doubled from last year, powered by insatiable demand from hyperscale providers. The growth of the hyperscale public cloud providers, including Amazon, Google, and Microsoft, continues to be a long-term competitive risk. For now, they have a symbiotic relationship with these REITs.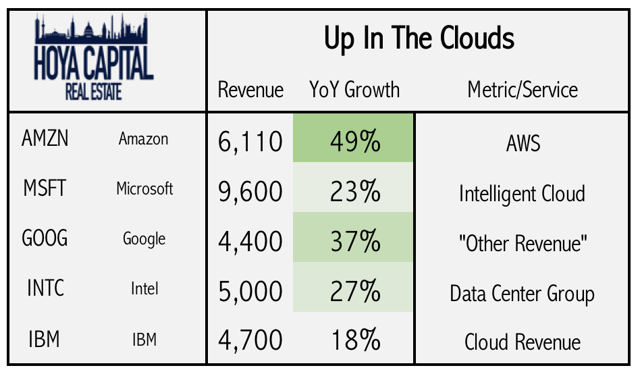 The best performing REIT this earnings season was Front Yard Residential (RESI). This week, the small-cap single family rental REIT announced plans to acquire 3,200 rental homes for $485 million from PIMCO, expanding their SFR portfolio by more than 25%. We discussed the critical importance of scale in the SFR markets in our last update on the sector, Single Family Rental REITs: Growing Pains. Besides RESI, Spirit Realty (SRC), QTS (QTS), Digital Realty (DLR), Taubman (TCO), Physicians Realty (DOC), and AvalonBay (AVB) were among the best performers over this earnings season.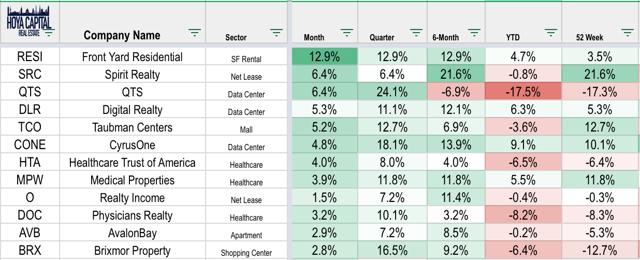 Losers this earnings season included low-productivity mall REITs CBL (CBL), Washington Prime (WPG), and Pennsylvania (PEI), hotel REITs Diamondrock (DRH), Summit (INN), and RLJ Lodging (RLJ), and storage REITs National Storage (NSA), ExtraSpace (EXR), and Public Storage (PSA).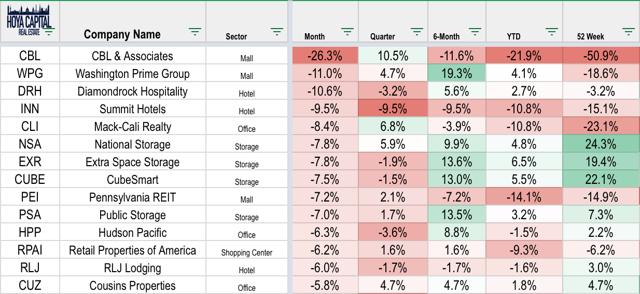 Homebuilders results were mixed in the second quarter, led on the upside by strong results from DR Horton (DHI), but dragged down by weak quarterly performance from NVR (NVR), KB Homes (KBH), and Tri Pointe (TPH).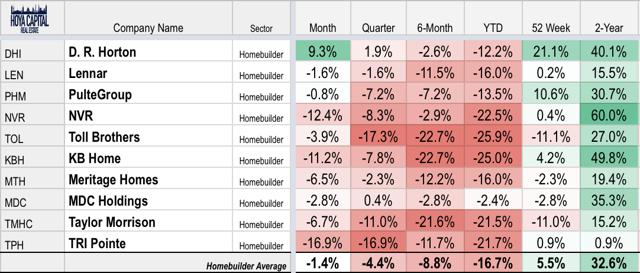 2018 Performance
REITs are now lower by 0.5% YTD on a price-basis, retreating back into negative territory for the year after briefly breaking into positive territory late last month. Despite the recent strong performance, REITs are still underperforming the S&P 500 on the year, which is higher by roughly 6%. Homebuilders are off by nearly 17% after rising more than 50% last year. The 10-Year yield has climbed 48 basis points since the start of the year, aided by the 17% climb in the price of crude oil and 6% rise in gasoline prices.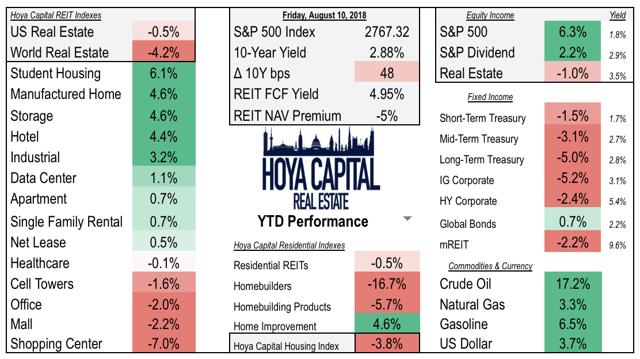 REITs and housing-related equities have outperformed the broader US stock market over the last 25 years. The NAREIT All-Equity REIT Index has delivered a 12.1% average annual return while the Fidelity Construction & Housing Fund (FSHOX) has delivered a 10.8% annual return since 1994. The S&P 500, meanwhile, delivered a 9.9% annualized rate of return during this period.
Real Estate Economic Data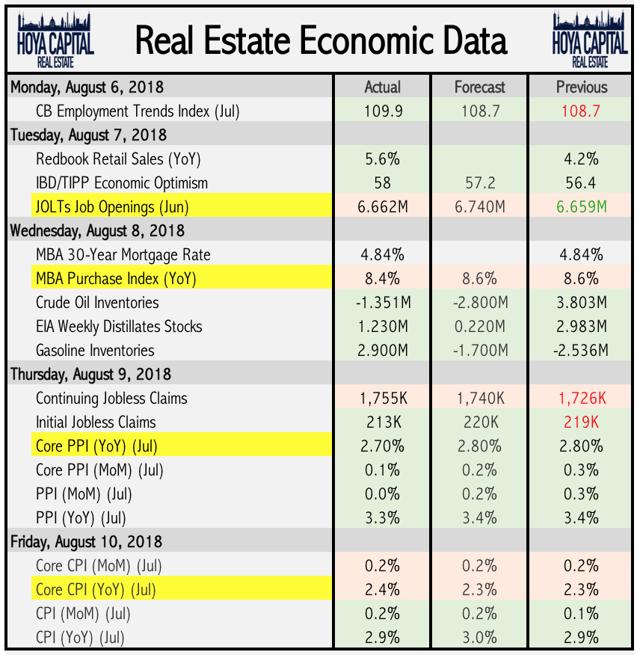 (Hoya Capital Real Estate, HousingWire)
Inflation Heats Up, In Line With Estimates
Since the passage of tax reform in December, inflation has become a central focus for investors. There is concern that we may be entering a new "economic regime" of faster growth and higher inflation, a departure from the Goldilocks environment of moderate growth and low inflation that was seen as favorable to asset valuations. A tighter labor market, a significant rise in oil prices, and the effects of proposed tariffs also add to inflationary concerns.
July inflation data was broadly in line or slightly below expectations, a welcome relief for investors fearing a continued uptick through 2018. Core CPI ticked up to 2.4%, the highest level since 2008, but this was generally in line with expectations. Driven by higher oil prices, producer prices are rising at a faster rate with Core PPI rising 2.7%, which was slightly cooler than last month's 2.8% rate. Last week, Core PCE data showed a 1.9% rise in prices, a slight moderation from last month's rate. Inflation expectations, however, have ticked higher towards the upper-end of the 2018 range in recent weeks. The 5-Year, 5-Year Forward Inflation Expectation rate peaked on February 2 at 2.35% and has climbed back to 2.24%.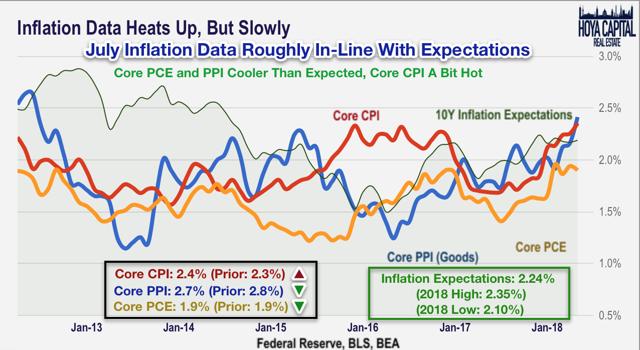 Shelter accounts for 34% of the CPI weight and since 2013, it has been significantly above the overall inflation rate. From 2015 through late 2016, shelter inflation was the one of the only component keeping Core CPI out of deflationary territory. We have discussed for several quarters that we expect shelter inflation to moderate as the lagging CPI data "catches up" with current market conditions in the rental and housing markets. Core CPI excluding shelter, however, is quickly approaching its fastest rate since 2012, again fueled by the bleed-through from rising oil and gasoline prices.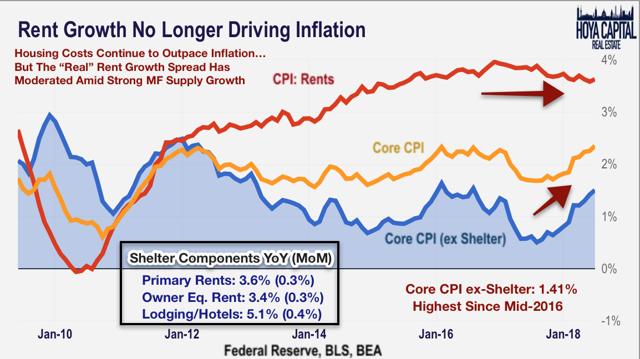 The importance of housing costs on the overall price index cannot be overstated. Since 1995, shelter inflation has outpaced the broader rate of inflation by more than 1% per year, fueled by a persistent supply shortage in the US housing markets. Over the last three decades, structural impediments to supply growth, aggravated by the dramatic dislocations during the housing crisis, have dramatically slowed the rate of housing starts per capita. The implications of this housing shortage, we believe, will be a continued persistence of "real" housing cost inflation and a long runway for growth in residential housing construction and home improvement-related business.

JOLTs Data: A Job For Every Unemployed Person
Evidence of broad-based strength in the labor markets continues to show across nearly all metrics, as deregulation and corporate tax reform appears to have added another leg to the labor market recovery. Strong labor market performance has been a key factor in the acceleration of real estate fundamentals over the last two quarters. Last week, nonfarm payrolls data showed that 1.5 million jobs have been added so far in 2018, representing a significant uptick in hiring from the rate of 2016 and 2017. This week, JOLTs showed that 6.6 million jobs are available and the rate of hiring rose to 4.3% on a TTM basis, the highest rate since 2015.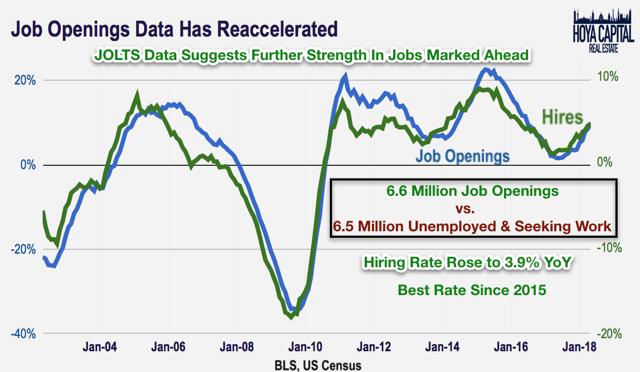 The rate of voluntary quits continues to rise, a sign of increased labor market dynamism and an indication that workers are feeling more confident about their financial situation. The lack of labor market dynamism in the post-recession period has been blamed for weak productivity growth and there is hope that the uptick in the quit rate may foreshadow future productivity gains as workers pursue jobs that better maximize their skills. Despite several announced layoffs that are given extensive media coverage, the rate of involuntary layoffs remains near record-lows.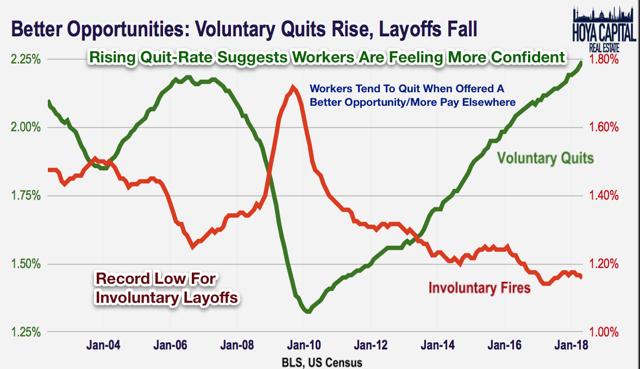 The continued strength in the labor markets has been one of the ongoing conundrums for economists, many of whom had expected the rate of hiring to slow and wage pressures to accelerate as the unemployment rate declined to multi-decade lows. We have discussed for many quarters that traditional measures of unemployment are not comparable to past decades due to the extraordinary amount of individuals that are entirety out of the workforce, and thus not counted in the headline "unemployment" figures. Even after 94 consecutive months of job growth, there remains nearly 30 million unemployed prime-aged (25-54) Americans. Structural reforms may be needed to fully unleash this segment of the workforce. If this can be accomplished, we believe this suggests further slack in the labor markets and continued modest pressure on wage growth.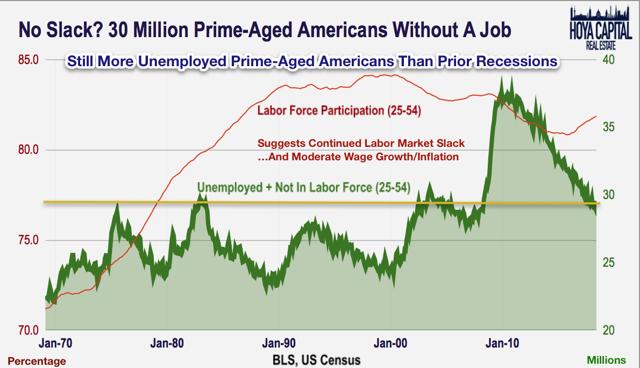 Bottom Line: Mixed Week for Real Estate
US equity markets reversed earlier weekly gains on Friday amid a broader "flight to safety." Investors fled emerging markets into safe-haven US Treasuries, sending the 10-Year yield below 2.90%. On another busy week of earnings season in the real estate sectors, REITs dipped 1% despite another week of strong quarterly results. Fundamentals appear to have inflected higher in 2018. Apartments, data centers, and retail REITs were the outperformers this earnings season while office, hotels, student housing, and storage REITs disappointed. Homebuilders reported mixed results.
Real estate technology firms, particularly Zillow and Redfin, had a tough week after reporting disappointing results. Redfin acknowledged a "significant slowdown" in housing markets within the last month. July inflation data was broadly in line with expectations. Housing costs outpaced broader inflation for the 80th straight month, a continuing theme amid a broader and worsening long-term housing shortage.
We will continue to update our quarterly REIT Rankings on each of the real estate sub-sectors over the coming weeks. Be sure to check out all of our reports to see how each real estate sector stacks up: Data Center, Apartments, Cell Towers, Manufactured Housing, Net Lease, Malls, Industrial, Shopping Center, Hotel, Office, Healthcare, Industrial, Single Family Rental, Storage, Homebuilders, and Student Housing.
Please add your comments if you have additional insight or opinions. We encourage readers to follow our Seeking Alpha page (click "Follow" at the top) to continue to stay up to date on our REIT rankings, weekly recaps, and analysis on the real estate and income sectors.
Disclosure: I am/we are long VNQ, SPY, MAA, CPT, OHI, PLD, GGP, STOR, SHO, SUI, ELS, ACC, EDR, DLR, COR, REG, CUBE, PSA, EXR, BXP, EQR, INVH, SPG, HST, TCO, AMT, SBRA, AMZN, MSFT, INTC. I wrote this article myself, and it expresses my own opinions. I am not receiving compensation for it (other than from Seeking Alpha). I have no business relationship with any company whose stock is mentioned in this article.
Additional disclosure: All of our research is for educational purposes only, always provided free of charge exclusively on Seeking Alpha. Recommendations and commentary are purely theoretical and not intended as investment advice. Information presented is believed to be factual and up-to-date, but we do not guarantee its accuracy and it should not be regarded as a complete analysis of the subjects discussed. For investment advice, consult your financial advisor.