Background
This month's article marks the forty-first installment in my ongoing series outlining my efforts to achieve dividend growth success. The portfolio is nicknamed the MnM portfolio, which is a moniker for "Minne(sota) 'n Monthly."
Note: The portfolio sits at 32 stocks. This year I adopted a revised strategy, resetting my target portfolio size to 33 (or so), down from my prior target of 40. For me, this portfolio size will be easier to monitor while still maintaining strong diversification.
I also receive 100 free trades each year from my brokerage, Wells Fargo Advisors, so I can trade in small quantities without worry about brokerage trading costs.
That being said, here's what happened in July.
July 2018
It happened this month! The value stocks in the portfolio have finally recovered enough to push into positive territory and erase the awful sell-off that occurred at the start of the year. The portfolio saw a ~3.8% rise and finished the month up .4% for the year. I would say the performance this month is in line with the S&P 500 Value Index. Year-to-date I trail the index's return of 1.7% by a modest amount, though I am optimistic the gap will continue to close.
I do occasionally benchmark my dividend growth against the Vanguard Dividend Appreciation ETF (VIG), which I hope to write about in a separate article on Seeking Alpha later this month.
I have captured the activity for July and for the year-to-date in the standard rollforward summary below.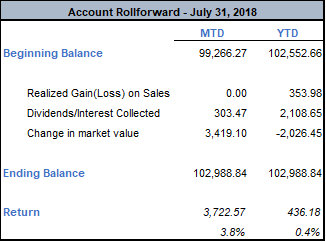 The portfolio collected $303.47 in recurring dividends and $.02 of interest during the month. The portfolio was comprised of the following securities as of July 31, 2018: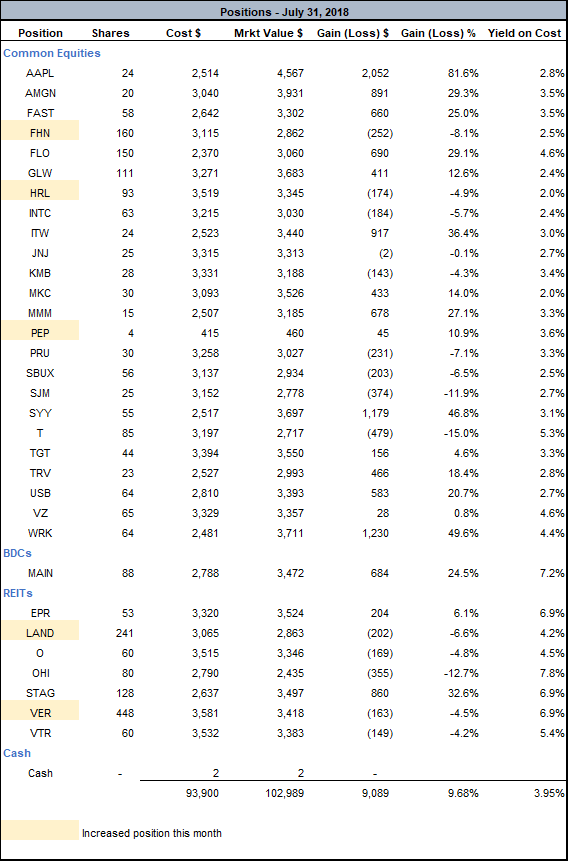 The following sections go into greater detail of the events that have occurred since the end of June.
Sales
None.
Additions
My July purchases were split between three buy strategies, which I will outline for you below.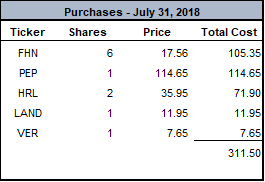 First, I have and will continue to build my PepsiCo (PEP) position, to which I again added a share to. We're a bit of a ways off from the mid-$90s purchase price when I first started buying, but with a yield still over 3%, I am comfortable slowly accumulating shares. If it goes higher than $120, I will pause until it sells off again. The company recently announced a change in leadership, so I will be watching to see how it performs with this change.
Second, I directed a good chunk of funds to First Horizon (FHN), which I feel, with a P/E of around 14, is a very good value buy. When you take a look at the recent fundamentals, it's clear that management is doing a nice job growing its earnings and footprint as a regional bank. I expect that there will be many more double-digit dividend increases in the years to come.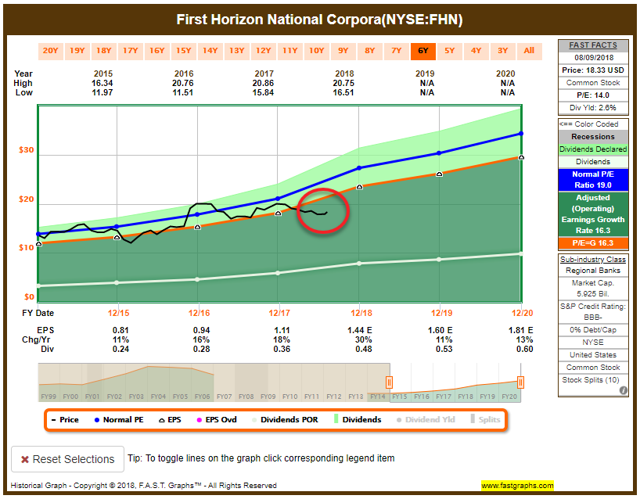 Lastly with the remaining funds, I added to the positions in Hormel (HRL), Gladstone Land (LAND), and VEREIT (VER). I intend on getting Hormel back to 100 shares, which is where I was before I rebalanced and expanded my holdings back in 2016. At 93 shares, I am closing in on that mark.
The Land and VEREIT additions were simply my use of the remaining funds. I was glad to see Land come down from $13 per share, so grabbed a share. I have long been a VEREIT bull and continue to view it as a good buy at 12x FFO. It's still a long-term play as it will take much more time for VEREIT to resolve its ongoing legal issues.
Dividends Collected
As noted earlier, I collected $303.47 in dividends during the month; all of which except for $.02 of interest was on recurring positions held. I have updated and included the forward-looking dividend summary as follows: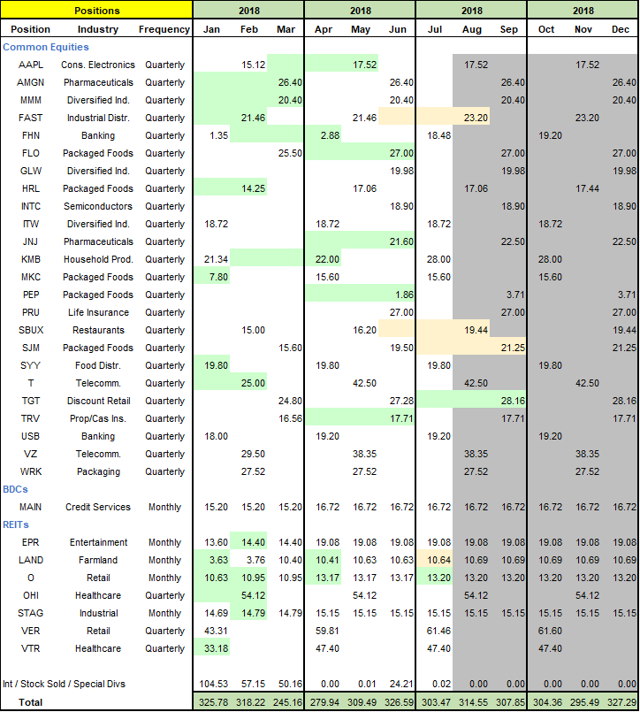 Note: I have highlighted current month dividend raises in a shade of yellow to distinguish from previously reported increases.
In terms of annual dividend growth, this quarter is my strongest on record! Q3's projected year-over-year growth is approaching 13%. Q4 is also already up to 8.6% with a good number of months of reinvestments and raises to go.

Dividend Increases
July was a stellar month for dividend raises. The portfolio logged a 20% bump from Starbucks (SBUX), a 9% bump from J.M. Smucker (SJM), an 8.1% bump from Fastenal (FAST), and a .1% standard quarterly increase from Gladstone Land.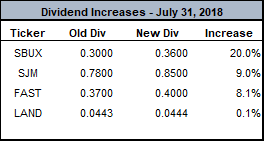 I love seeing the double-digit or near double-digit increases. That's what I'm shooting to have the bulk of the portfolio generate. This month was very representative of this. Also, I could have included U.S. Bancorp's (USB) increase, as it was approved by the Federal Reserve, but I am waiting for the board to announce it before including it. Maybe next month I will note it.
The MnM 401(k)
This month I only received one contribution into the 401(k) as the month-end payroll contribution did not go in until August, when there will be three. I did receive a dividend during the month, but if you compare it to the yield on my MnM Portfolio, it's only about half the run-rate (closer to 2%).

Next month, my wage increase will go into effect and contributions will increase. When I look over the 401(k), I am happy to see such a build-up in only a year and a half. I am optimistic that the 401(k) will grow to $60k by this time next year.
Closing Thoughts
This has become probably my best update to date! The portfolio is executing on all cylinders and has now shown nearly 13% year-over-year organic income growth. There are still a number of raises to come across, but I couldn't be happier with the current level of income growth and how 2018 is shaping up.
In terms of what I'm looking to buy, I like the pullbacks we have recently seen in WestRock (WRK) and Illinois Tool Works (ITW). These two names had run a considerable way last year, but now find themselves down and yielding nearly 3%. The financials and insurers are also still down in terms of valuation.
I have also been looking at Tyson Foods (TSN) and Unum Group (UNM) as deep-value plays and final additions to the portfolio (for now). Both of these names have sold off considerably in recent months and now are trading with what I view as attractive valuations.
I have written about Unum in the past, and when its valuation had surged, I had recommended taking profits (which I did in the MnM Portfolio, not at the top, but over $45 per share). It has now sold down to the point where it has become a deep-value play in my mind. It merits further consideration.
In closing, this month was a good demonstration of the success that an average individual investor can have with the dividend growth strategy. It's not a home-run approach but a series of reinvestments and raises which over time will compound and propel me into retirement. Three years in and I still find myself having fun, enjoying the growth and looking for new value opportunities.
Disclosure: I am/we are long THE STOCKS LISTED IN THE PORTFOLIO. I wrote this article myself, and it expresses my own opinions. I am not receiving compensation for it (other than from Seeking Alpha). I have no business relationship with any company whose stock is mentioned in this article.