Preferred Stock CEFs
Preferred stock is, in my view, an important asset class for an income portfolio. It has characteristics of common stock and of bonds. As such, it tends to enhance income from fixed-income asset classes and moderate volatility from equity asset classes. But for the year, preferred stock has struggled, along with all interest-rate sensitive assets. Such downturns often bring buying opportunities.
To illustrate how the year has played out for most interest-rate sensitive asses, let's compare the largest preferred stock ETF, iShares U.S. Preferred Stock ETF (PFF) with index ETFs for large-cap domestic equity (SPY), high-yield corporate bonds (HYG) and investment-grade corporate bonds (LQD) for 2018 to date.
For the year, preferred stock has tracked with another stalwart of the high-yield portfolio, high-yield corporate bonds. Investment-grade bonds have lagged badly.
Let's substitute three of the top-performing preferred stock closed-end funds for PFF to show how the leverage and active management can enhance the performance of preferred stock: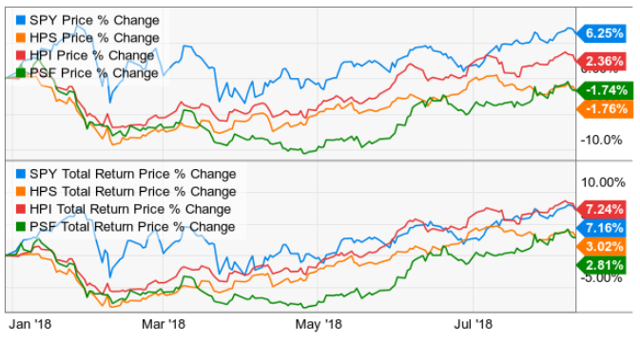 Of course, I've picked the winners here, so it's meaningless other than to show that closed-end funds can add appreciable value, even in bad times. I could have chosen a different three funds, which I consider to be among the best of the category and which rank at the top of a long-term return (since 2007) chart and gotten a quite different picture.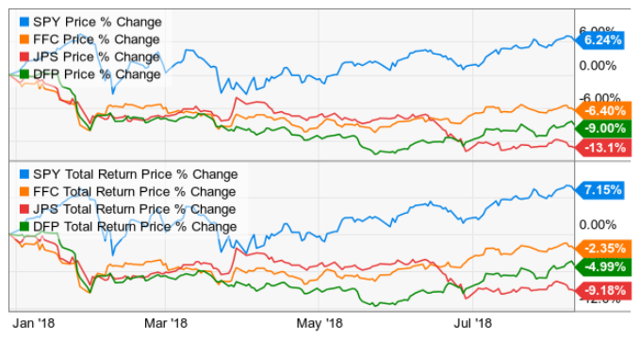 These are not poor funds. They are, as noted, among the best in the category, but they show that in a bad year, even the best will suffer. Adding the leverage that characterizes the CEFs adds to the suffering.
With that prelude in mind, I want to turn to a look at the full set of preferred shares CEFs and see if we can find any potentially attractive buys in today's market. To be clear, I'm looking for funds to buy now based on their valuations and recent performance trends. I'm not necessarily looking for funds to hold for the long term.
The Funds
I've screened these funds using weighted criteria based on various market metrics: discount/premium both absolute and relative values, yields at market and NAV, recent NAV performance, and recent market volatility. The screen does not account for portfolio differences, leverage or numerous other factors that would go into an investment decision, so it will point to potential funds to examine for current purchase. With that in mind, I have sorted the funds in order of their ranking from that screen, which helps to show how different metrics may contribute to the scoring of the funds.
Valuation
I'll start with premium and discount valuations.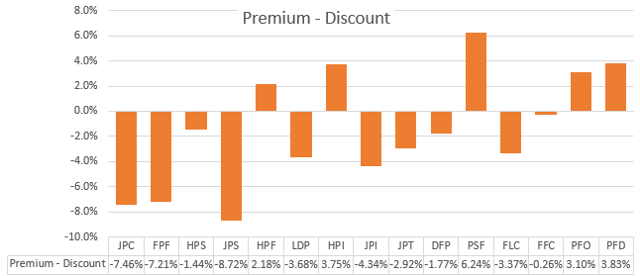 Five of the funds are at a premium. One is near par and the rest have discounts ranging to a low of -8.72%.
Next, let's look at Z-scores, which help to put those valuations in perspective. Z-scores tell us how far the current premium or discount is from the mean for a given period. It has dimensions of standard deviations. Thus, a Z-score of 1.5 means the current premium or discount is 1.5 standard deviations above the mean (i.e., having a lesser discount or greater premium). A score of -1.5 would be 1.5 standard deviations in the other direction (more discounted or a reduced premium). To the extent valuations revert to their means, more deeply negative Z-scores indicate more attractive buying points. But one must exercise considerable caution on interpreting Z-scores; they are by no means a definitive indicator.

Recall that I am listing the funds in the rank order of how they came out in my weightings. You can see that Z-scores (relative premium/discount status) are an important metric in driving that rating. High Z-score funds scored poorly in the rankings and high-ranking funds tend to have negative Z-scores. There are usually reasons for declining valuations, sometimes good reasons, sometimes questionable reasons.
Anther thing to notice on the Z-scores is the trend. I've arranged them in a time series from one month to one year. The first two funds, JPC and FPF, show a trend from negative to positive movement of the Z-scores, mean reversion in action if you will. While I'd not make too much of the one-month scores, there is a trend throughout of movement from higher to lower absolute values, again indicating mean reversion. I'd suggest that for several of the funds the market is correcting a bit for overreactions to interest rate hikes earlier this year.
Yield
This chart shows distribution rates at market value and NAV.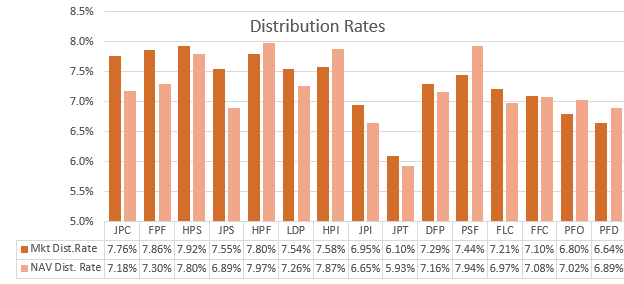 Yields tend to drive premium and discount valuations in CEFs. There is a recurring positive correlation between NAV yield and discounts. We see how that relationship applies here in the next chart.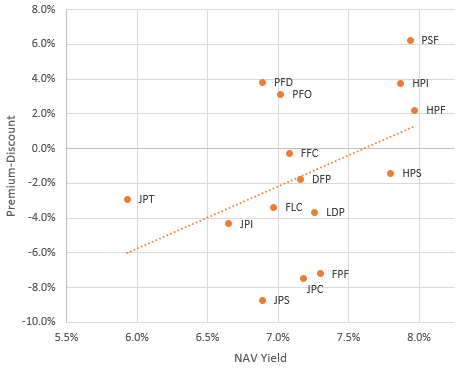 One way to look at this chart is to notice a relationship that Eli Mintz has pointed out. Certain sponsors tend to have funds that are more or less discounted relative to their NAV yields than others. The relationship may be more informative if we cluster funds by their sponsors. For whatever reason, Nuveen funds tend to cluster below the trend lines for many categories as they do here. So if one were to evaluate funds on the basis of distance from the trend line, Nuveen funds would be better considered among themselves as much as in relation to the full group. For the three Nuveen funds, JPS and JPC look to have more attractive valuations than JPI.
Similarly, for the John Hancock funds, HPS is better positioned here than HPI and HPF. And for the five Flaherty & Crumrine funds, a slight advantage in this relationship goes to FLC. Cohen and Steers has two funds (PSF and LDP). PSF has the highest NAV yield and the highest premium, putting it less well positioned than its stablemate LDP. Finally, FPF, the sole fund from First Trust is very well positioned on this chart.
There are, of course, multiple difference among the funds for any given sponsor, so once again I will emphasize that this relationship is only a potential indicator of how a given fund may stack up against the others in the category. Like every other indicator, it has to be seen in the full context of the fund and the category.
Leverage
Leverage is another factor that needs to be considered. And, because leverage drives yields, it is appropriate to see it in the context of the funds' distributions.
The next chart shows the range of leverage for the funds.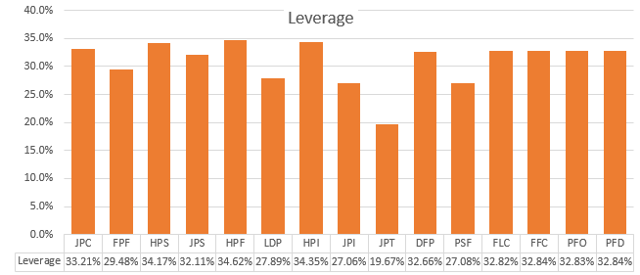 And this chart shows the positive correlation between leverage and NAV yield.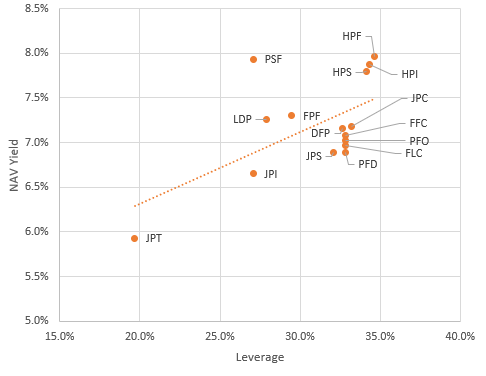 Finally, I want to consider what I'll call Leverage Efficiency which is the relative return (as yield) each fund derives from their leverage. The John Hancock funds have the highest leverage, but they fall well above the trend line indicating that the use of leverage by the funds' managers is efficient relative to the category. PSF has a NAV yield in the same range as the John Hancock funds, which it generates using appreciably less leverage than the Hancock set. At 27%, PSF is over seven percentage points less leveraged than any of the Hancock group. So, while PSF looks poorly positioned relative to its premium, it gets points for its effective use of leverage.
Performance Record
Let's turn to recent NAV performance. Most of the funds have a decent one-year return on NAV, but all but three show severe declines for subsequent returns.

Those three are the John Hancock funds, HPS, HPF and HPI. Although they have turned negative for the month, their three- and six-month NAV returns are the one bright spot in this chart. Of the three, only one is at a discount, HPS, the lowest yielder of the set.
We have already seen that HPS is well positioned with regard to the premium/discount to NAV yield relationship. And, although it ranks among the most leveraged funds, it also demonstrates an efficient use of that leverage in generating yield.
This next chart shows (from stockcharts) shows the market performance of the five funds that scored best on the screening metrics: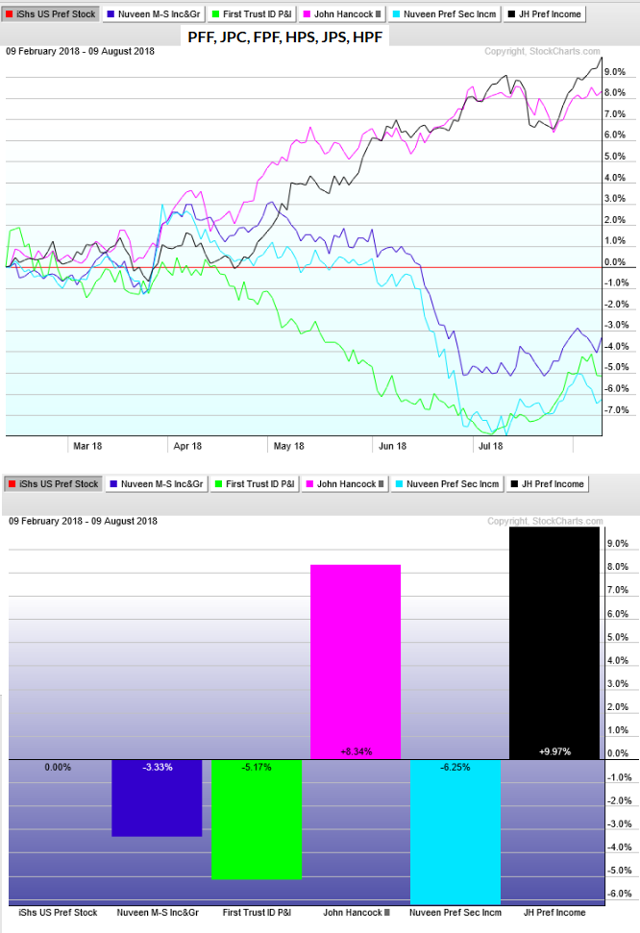 This chart plots six-month return in relation to the unleveraged ETF, PFF, which I'm using as a benchmark for the broad preferred stock market. Of the five, only the two John Hancock offerings have topped the ETF. The other three lag significantly. The Hancock funds are of course leveraged, but so are the others. This is not a matter of leverage driving enhanced returns in a positive market climate. Just the opposite, in fact. What we are seeing in JPC, FPF and JPS is the downside of leverage: In a difficult market, leverage takes a toll.
At least some of the market performance of HPS and HPF derives from changes in their premiums and discounts. Six-month Z-Scores for HPS and HPF are 1.2 and 2.0, which tell us that market price is growing faster than NAV. This market valuation growth accounts for some portion of that market return. But, as we've seen, the funds have also outperformed at NAV, so some of that increase in market valuation has been earned by the fund's record relative to its category.
Summary
In considering the funds at the left of the scale (i.e., the top scorers in the screen), we can see how they got there via different paths. The Hancock funds have high yields and strong performance records. HPS has a discount, but it's the second-least discounted of the discounted funds. JPC and JPS make the cut largely on the basis of negative Z-scores and deep discounts. JPC has relatively decent NAV returns. Not as good as the Hancock funds, but among the rest of the category, it has the highest NAV returns for six months and second-best for three.
The two Hancock funds are domestic. JPS and FPF are global funds. FPF is allocated at 53% to the US market and JPS is at 64%. JPC has 81% of its portfolio in US securities.
From this list, I tend to favor HPS. It does have a discount, which sets it apart from its sister funds. Its NAV yield is lower than its siblings making it potentially more sustainable. With its discount, it has the highest market yield in the category. When the discount is taken into consideration, it looks like a relative bargain. I like its NAV performance record in a difficult market. The decline over the past month is a bit concerning, but the overall record is so much better than the rest of the category (excluding the other two Hancock funds, obviously) that on balance, the performance record is favorable. A negative is that the long-term performance records for the John Hancock funds have tended toward the bottom of the category.
FPF is the one preferred fund I'm presently holding. It has a strong long-term record and its -7% discount puts its market yield at the second-highest position in the category.
JPC leads on the overall screening scores, carried to the top on the basis of the second-deepest discount in the category and some of the most negative Z-scores for 3, 6 and 12 months. NAV returns are positive in a group where red predominates. It is potentially the bargain of the set.
JPS is the largest fund in the group. Its favorables are similar to JPC's: The deepest discount and deeply negative Z-scores, so the fund is well valued relative to its NAV and its history. Yield is about mid-pack, but the range is fairly tight, so one does not give up a lot of yield relative to the leading funds for the metric. And, it generates that mid-pack yield on the third lowest NAV yield in the group, thanks to its category-leading discount. Its strongest negative is its poor NAV performance for 3 and 6 months. But counter that with a 1-month NAV return that tops the field, so it may be that the fund is poised for a turnaround.
Disclosure: I am/we are long FPF. I wrote this article myself, and it expresses my own opinions. I am not receiving compensation for it (other than from Seeking Alpha). I have no business relationship with any company whose stock is mentioned in this article.
Additional disclosure: I am not an investment professional and nothing I write here should be taken as professional advice. Everyone's personal situation is unique. It is the role of finance professionals to provide advice in the contexts of an individual's personal situation. What may be right for my investment goals and risk tolerances may well be quite wrong for someone else. Do your own due diligence. Consult with professionals on your own needs, objectives and tax circumstances before you invest. I do not give advice and ask that readers refrain from asking for it.