"I used to think that you were really cool
I used to think that you never would be nobody's fool"
"I put my trust in you
'Cause you could do the do
'Cause you could do the do
'Cause you could do the do
I put my trust in you
Wow, wow, wow, wow, wow"
--Jive Turkey, Ohio Players, 1974
News out of Turkey dominated the market headlines on Friday. The Turkish lira currency tumbled sharply against the U.S. dollar, falling by as much as 16% as concerns mounted about the financial health of the world's 13th largest economy. Makes for interesting headlines, but since I don't own any Turkish stocks in my portfolio, I've got nothing to worry about here, right? Not so fast.
A currency defeathered. First, a look at the Turkish lira currency. I heard this morning that the plunge in the Lira relative to the U.S. dollar was nothing new, as the currency has been following this trend for decades including since the issuance of the new Turkish lira back in 2005 that dropped six zeros from the banknotes in the wake of decades of chronic inflation. Indeed, this is true. But the magnitude of the weakening relative to the U.S. dollar through 2018 and in recent weeks in particular has been notably staggering.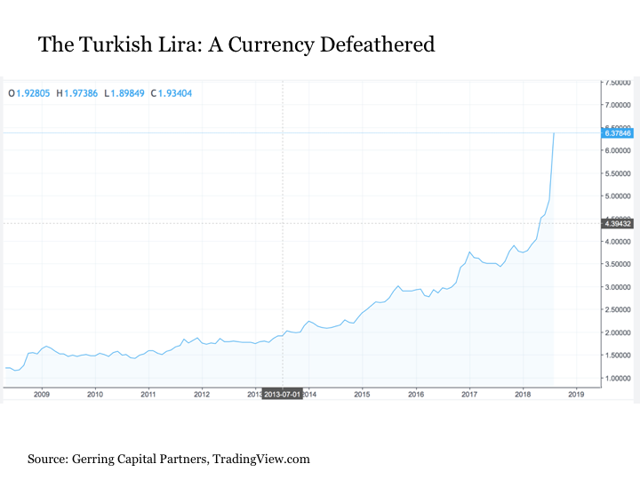 Stocks not for the long run. The associated impact on Turkish stocks has been dramatic. Since peaking on a U.S. dollar basis during the post crisis period in early 2013, Turkish stocks have lost more than -70% of their value in the five years since. I know investors are supposed to tolerate short-term volatility to realize long-term gains, but shedding nearly three-quarters of the value of your investment on a total return basis over a more than five year period would fall under the category of uncompensated risk.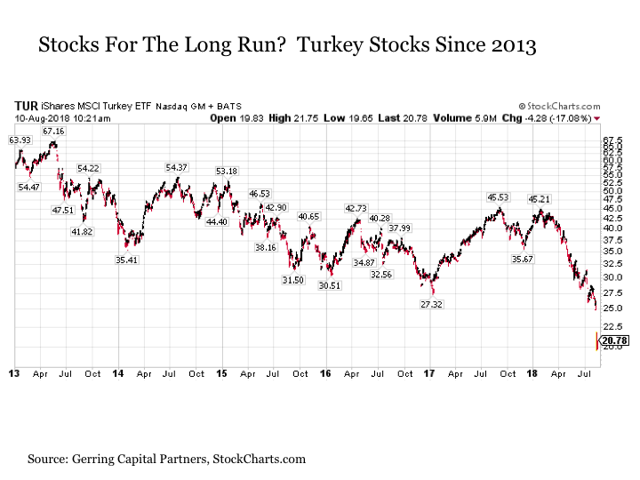 Whew! I don't own the lira or any Turkish stocks for that matter. Carry on. Yes, the direct effects of this situation on your own portfolio may appear minimal. But upon closer inspection, the impact may be more pronounced than you might realize.
Turkish stocks. Let's start with your allocation to emerging market stocks if you have one. Suppose you own the iShares MSCI Emerging Market ETF, for example. Of the 968 stock holdings in this product, only 26 are Turkish stocks. Overall, this limited group of offerings only makes up 0.61% of the ETF's total weight. Still doesn't sound like much of a big deal. Let's come back to this point.
Turkish bonds. We'll continue. Perhaps you also own an allocation to emerging market bonds through the iShares JP Morgan USD Emerging Market Bond ETF (EMB) or the Invesco Emerging Market Sovereign Debt ETF (PCY). You may own these because they, much like high yield bonds, offer a yield premium that has appeared attractive over the past decade in a zero interest rate policy world where income generation has been hard to come by. An allocation to Turkish bonds makes up 3.87% and 2.46%, respectively, of the total weighting to these two products. More significant to be sure, but a 4% weighting in a position that may make up 10% of your portfolio at most is still fairly manageable.
Still not a big deal, right? Not so fast. Here's the thing. Investors may not perceive that the problems confronting the Turkish economy are unique. Perhaps the specific circumstances are, but the underlying fundamental problems may be similar to challenges facing other emerging market economies. In short, Turkey may be the tip of a much larger emerging market iceberg.
Checking in on the fragile five. Back in 2013, the fragile five economies were dubbed by Morgan Stanley due to their perceived currency risks associated with dependence on foreign investment to finance growth and their potential challenges in financing current account deficits. These fragile five economies included Turkey, Brazil, India, South Africa, and Indonesia.
So how are these markets holding up in the midst of the recent turmoil in Turkey?
The Brazilian real has weakened markedly against the U.S. dollar, and Brazilian stocks are currently in a bear market on a U.S. dollar basis. But they still have come back a long way from the depths of 2016.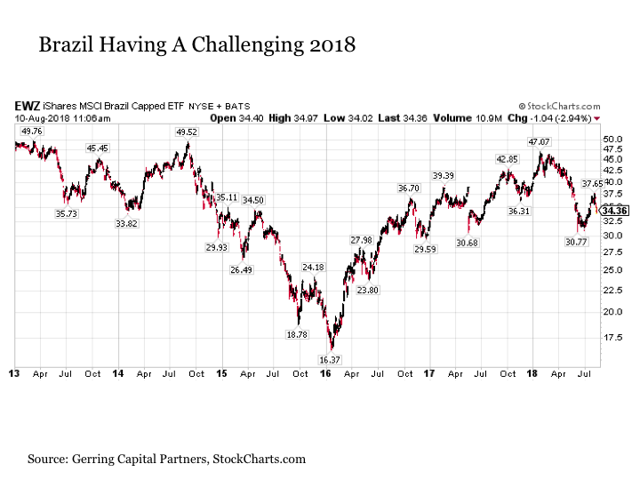 While the India rupee has also weakened relative to the U.S. dollar in recent months, its stock market continues to perform reasonably well despite having fallen back by as much as -17% in U.S. dollar terms this year along the way.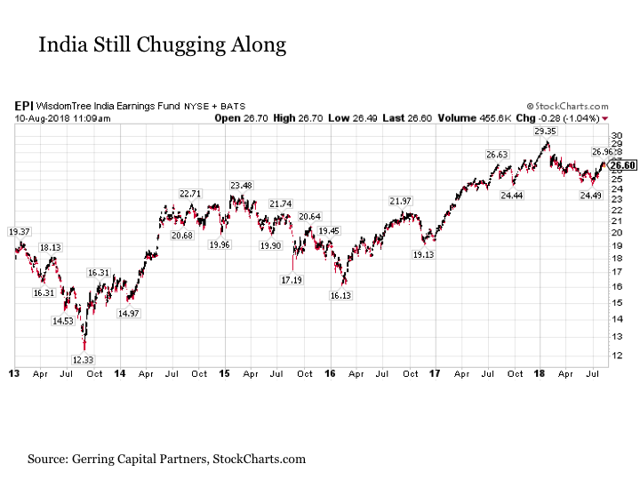 The South African rand has weakened measurably relative to the U.S. dollar since February, but this comes on the heels of a two year period of strengthening relative to the U.S. dollar in 2016 and 2017. Nonetheless, South African stocks have fallen by as much as -30% in U.S. dollar terms in 2018 and are down sharply in concert with the news out of Turkey today.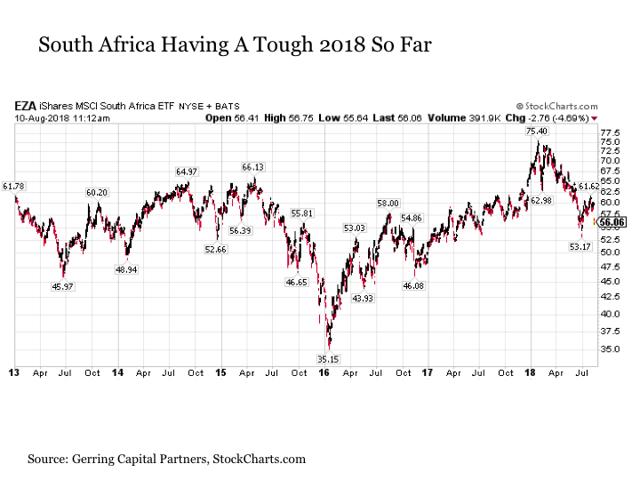 Finally, the Indonesian rupiah weakened considerably relative to the U.S. dollar through late 2015, leveled out for a few years after, but is back to weakening again in 2018. As for Indonesian stocks, they have fallen by as much as -27% in U.S. dollar terms this year and nearly -30% below their early 2013 highs through today.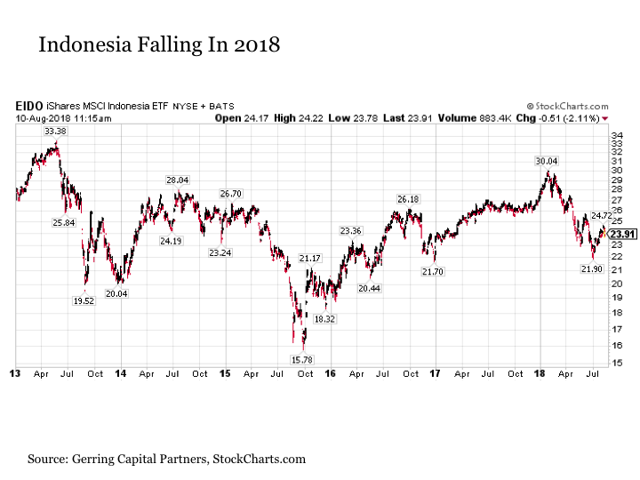 This fragile five club of 2013 of which Turkey is a member constitutes a much bigger deal. Overall, these five economies make up nearly 25% of the emerging market stock ETF and 16% and 11%, respectively of the EMB and PCY emerging market bond ETFs. And with the exception of arguably India, each of these markets are struggling to varying degrees right now. In short, while some of the issues confronting Turkey may be idiosyncratic, others may be shared with a much larger and more economically significant bunch.
What about the new fragile five. But wait. The composition of the fragile five has changed since 2013, as many of the economies listed above are considered to be in much better shape from a foreign investment dependence and current account deficit standpoint. As a result, S&P Global declared a new fragile five in 2017 that kept Turkey on the list but replaced the other four with Argentina, Pakistan, Egypt, and Qatar.
How have these economies and markets been faring as of late? The Argentine peso and Pakistani rupee have also weakened considerably relative to the U.S. dollar in 2018, while Argentina stocks are lower by -25% since their early January peak, Egypt stocks are down by nearly -20% since April, and Pakistan stocks are lower by -35% since spring 2017, all in U.S. dollar terms. Put simply, not well at all. Only Qatar stocks are higher so far in 2018.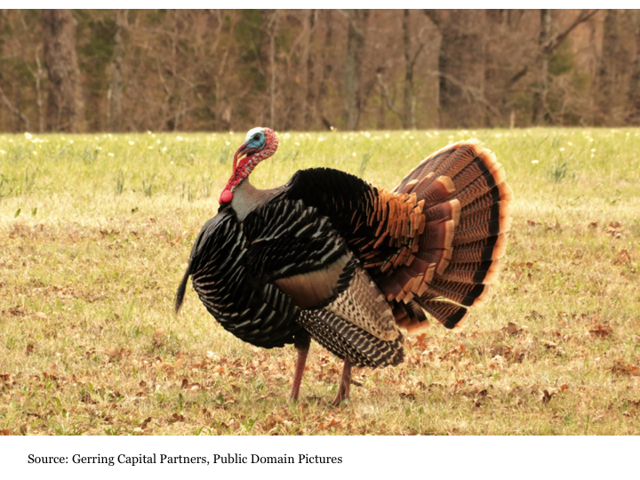 When idiosyncratic risks become common problems. In short, Turkey is not alone in its emerging market challenges. Certainly, some of their problems are unique to Turkey, while others are shared across many nations in the emerging world. At the same time, other countries have their own idiosyncratic problems of their own. Just as one-time items among individual companies within the S&P 500 Index become recurring items for the index as a whole – there is always at least some companies in the S&P 500 Index that have one-time items at any given point in time – the same is true with emerging markets. And once again, the challenges confronting Turkey may only be the tip of the iceberg for much greater challenges for emerging markets as a whole.
Back down into the danger zone. All of this marks a striking reversal from not that long ago in 2017 and into the start of 2018. At the time, the consensus view was globally synchronized economic growth and emerging markets were flying to the upside. In the process, emerging market stocks blasted through technical resistance that had kept a lid on collective prices dating back to 2007.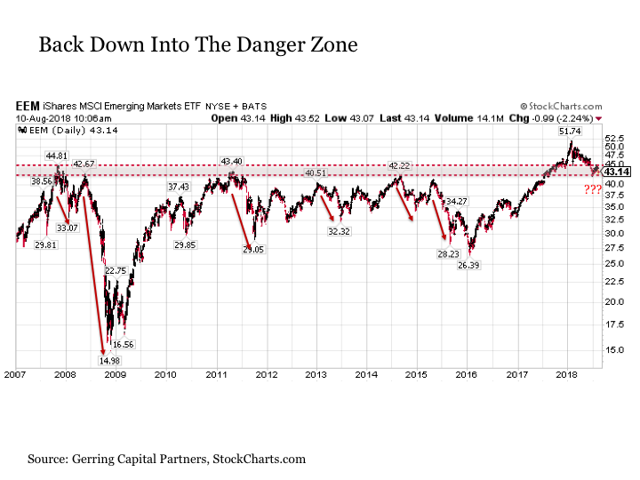 Unfortunately, the surge did not last long. For after peaking in January, emerging market stocks have descended back into the danger zone. Perhaps this will provide a place for emerging market stocks to collectively bounce. After all past resistance becomes new support. But when taking a closer look at the charts for emerging market stocks, the outlook is not so good.
Emerging market stocks appear to be breaking down. The EEM has been trapped below its downward sloping medium-term 50-day moving average (blue line below) since March, and today is dipping below its critical ultra long-term 400-day moving average (pink line below) for the second time this summer. While it is too early to make any final determination, this is what the early stages of protracted bear markets look like.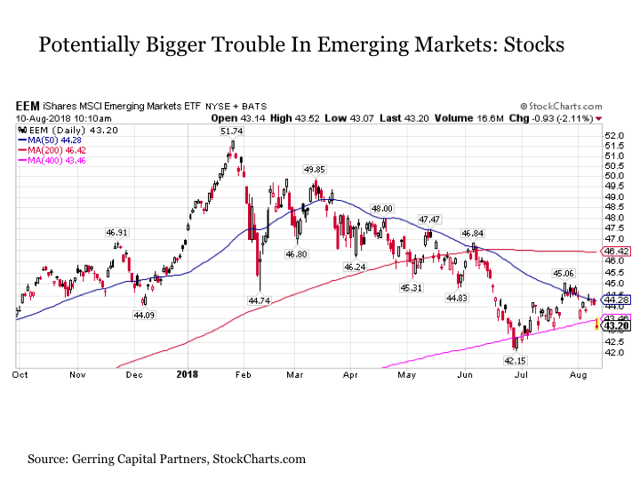 Emerging market bonds are already broken. Unfortunately for emerging market stocks, their closely related bond counterparts have already broken to the downside. After breaking below its 400-day moving average in April, emerging market bonds have failed on two subsequent attempts to advance back above this resistance. This does not bode well for emerging market stocks going forward, particularly as today's trading has sent both the EMB and the PCY back below their respective 50-day moving averages.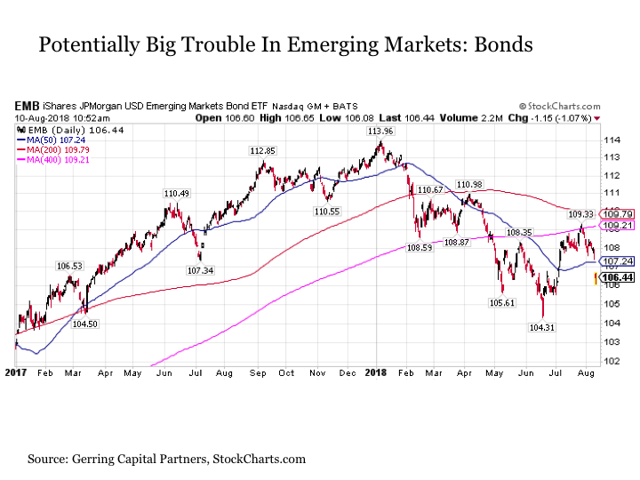 Back to reality. Arguably, it should have never been this good for emerging market stocks or bonds in the first place. If anything, their strong performance in 2017 highlights how powerful a force central bank liquidity and low interest rates can be in artificially lifting asset prices. For no sooner has the liquidity tide rushed out that these very same economies are falling back. And recognizing that emerging market stocks and bonds have historically been highly correlated with the path of commodities prices, we may now be entering a phase where emerging market asset prices are finding their way back to the reality that has been implied all along by commodities prices, particularly over the past two to three years.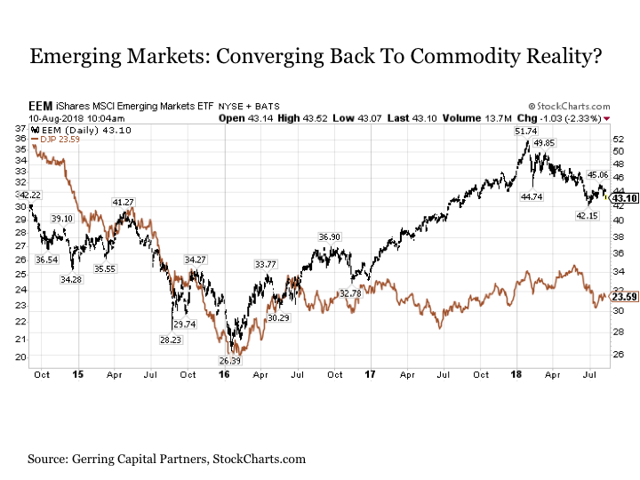 "It ain't cool to be no jive turkey so close to Thanksgiving."
--Trading Places, 1983
Many investors put their trust in emerging markets. But that trust is being increasingly put to the test as we move through 2018. While the mounting challenges confronting Turkey may seem like an afterthought as you prepare to barbeque this weekend, they matter a lot more than many investors might think. For when people reflect back and wonder how they could have seen things coming, it is often seemingly isolated events such as these that serve as the early warning signs for bigger things to come.
Disclosure: This article is for information purposes only. There are risks involved with investing including loss of principal. Gerring Capital Partners and Retirement Sentinel makes no explicit or implicit guarantee with respect to performance or the outcome of any investment or projections made. There is no guarantee that the goals of the strategies discussed by Gerring Capital Partners and Retirement Sentinel will be met.
Disclosure: I/we have no positions in any stocks mentioned, and no plans to initiate any positions within the next 72 hours. I wrote this article myself, and it expresses my own opinions. I am not receiving compensation for it (other than from Seeking Alpha). I have no business relationship with any company whose stock is mentioned in this article.