The Country
With a population of 49 million, Colombia is the second largest South American country after Brazil. In terms of area, the country is a little more than twice the size of Texas. Its GDP in 2018 is estimated at US$309 billion, the third largest in South America after Brazil and Argentina. 99% of the population speak Spanish and 75% are Catholics.
Colombia is now in the process of resolving internal armed conflicts that started in 1964. In fact, there have been insurgencies by two different rebel groups – one between the Government of Colombia and FARC [the Revolutionary Armed Forces of Colombia] on one side, and between the Colombian Government and the ELN [National Liberation Army] on the other. The former ended in a peace agreement two years ago and the resolution of the latter is now being negotiated in Havana, Cuba, today.
At the same time, Colombia had free and peaceful election of their president and the successful candidate, Ivan Duque Marques, who will serve a four-year term from August 2018 to August 2022.
If the ongoing negotiation with ELI is successful and the just elected government manages to manage the subsequent integration process, then the peace that follows is expected to usher in a period of prosperity and stability unequaled elsewhere in Latin America. To put this into context, had it not been for the strife besetting the country over the past decades, the country's per capita income during the past twenty years would have been 50% higher as per a study carried out by the World Bank.
Economic growth stood at 1.8% in 2017 and is – assuming continued peace - expected to strengthen gradually over the 2018-2020 period, with growth accelerating to 2.7% in 2018, and further to 3.6% by 2020, supported by higher oil prices, stronger private sector demand, and a pick-up in implementation of the Fourth Generation road infrastructure program. Not factored into this projection is tourism which had over the past few decades been held back by the general perception internationally that Colombia was not a safe country. This perception still persists but will slowly diminish as the country returns to stability.
It is also a pretty young country. 23.4% of the population are between the ages of 0 to 14 which should bode well for the toy industry. Incidentally, this compares to the United States where the percentage is 20%. Population growth stands at about 1%. The urban population is growing rapidly – whilst the overall population grew by 7.7% between 2010 and 2018, the urban population rose by nearly double that at 13.7%.
Whilst this is all very positive, the country continues to have a number of problems. One of them is education on which future prosperity of the country will depend. As per the Program for International Student Assessment, a worldwide study organized by the OECD, Colombians have consistently ranked last. In 2014, Colombia came last out of the 44 countries reviewed, in a test which evaluated students' capacity to resolve everyday problems.
Secondly, youth unemployment continues to be endemic. According to a study conducted last year by Free University based on data provided by the Ministry of Labor, there are currently close to 3,400,000 unemployed young people out of a population of 12,700,000 people aged between 18 and 28.
Thirdly, there continues to be extreme disparity in the distribution of wealth. The per capita income of the richest ten percent is 46 times greater than those of the poorest ten percent. As a result, 34% of Colombia's population lives below the poverty line.
Looking at the macroeconomic factors governing a country's desirability as a place to invest money and resources, Colombia is not doing too well compared to the other sixteen countries already surveyed in this series of country reports: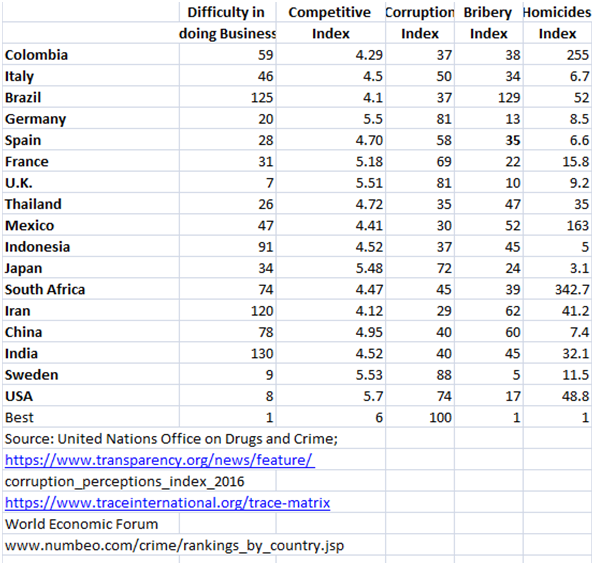 For a company considering entering the Colombian toy market, the specifics of the first column is of particular relevancy: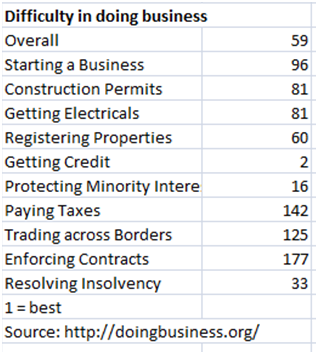 According to the TMF Group Colombia, there are some extreme hurdles to doing business in the country. For example:
Tax payments are an extremely complex affair and can absorb around 240 hours of business time a year. Corporate income tax alone, which is a flat rate of 33% for 2018, takes 86 hours.
Colombia has a mandatory social security system, which provides benefits for retirement, healthcare, labor risks and family welfare services. Both the employers and the employees are required to make contributions towards social security, with the employer contributing from 30% up to 36%. This sounds fine, but given the fact that many enterprises operate off the books, this puts the more legitimate companies at a tremendous competitive disadvantage.
Resolving insolvency takes an average of 1.7 years to complete.
It can take close to four years to enforce a contract in Colombia, largely due to the number of procedures which are required to be completed.
The newly elected administration under President Ivan Duque Marques has stated as one of its primary objectives deregulation, simplification of the bureaucratic processes, and in general, the enactment of very pro-business policies. If this is indeed the case, the problems enumerated above could well disappear over the next few years.
The Toy Market
The Colombian toy market is fairly robust, having grown in high single digits each year over the past decade. There are in fact two toy markets – the legitimate market accounting for three-quarters and then the "informal" market for the remaining 25%.
The legitimate market is characterized by branded products produced by international toy manufacturers and sold through established retailers and the internet. The informal one has two components. One is local traditional toys such as Trompos [Spinning Tops], Canicas [Marbles], Baloros [Wooden Pin and Ball] and Yo-Yos. The other and by far the larger is cheap imports mainly from China, often fakes, either smuggled into the country or "under invoiced". Informal products are sold via small Mom and Pop stores and street vendors. In this respect, Colombia is very similar to what we have observed in Mexico in an earlier article.
There are a few problems pretty unique to the Colombian toy market.
One is that getting a toy product into Colombia and from there on to a retail shelf is a pricey proposition:
FOB $100 ˃ CIF $110 ˃ Landed Cost $138 ˃ Wholesale $ 276 ˃ Retail $457
The second is that, in most cases, a sale is only a sale once the consumer has bought the toy and that is when the seller – the toy company - gets paid. In the remaining cases, payment terms vary between three months and six months. The end effect of this payment system is that retailers tend to order significantly more than what they think they will need for the all-important fourth quarter in order not to lose a sale due to inventory shortages. This of course leads to excessive carry-over retail inventories into the first quarter and the toy companies are then asked to financially contribute towards the clearance costs.
The third is that not all toy retailers are handling toys year-round. Mass retailers and wholesalers who between them represent nearly half the toy market only handle toys during the fourth quarter – similar to Costco (NASDAQ:COST) in the United States.
The fourth difference is that the influence of eCommerce is still very low compared to other countries in the region. Toy online sales only take place in the formal market and there the percentage is estimated at somewhere between 3% and 4%. This compares to Brazil where we are looking at nearly 10%.
This is how the Colombian toy market beaks out today: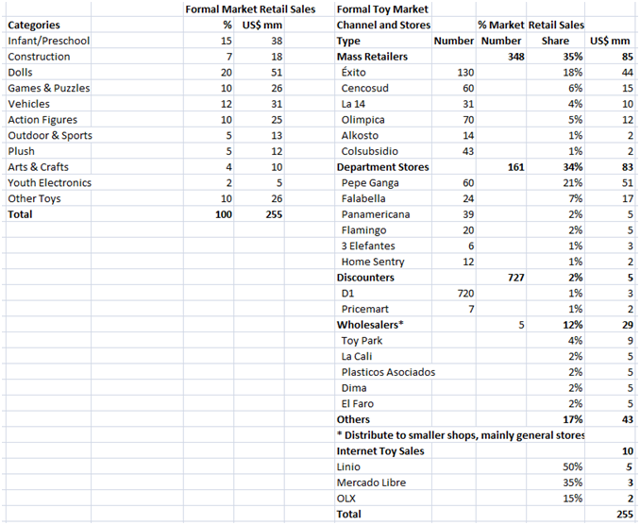 Source: Klosters Retailer Panel
The formal Colombian toy market is dominated by three companies – Mattel (NASDAQ:MAT), Hasbro (NASDAQ:HAS), and Continente – who between them control nearly two-thirds of the total. This is how the individual market shares look like: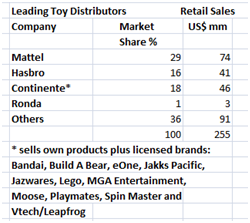 Source: Klosters Retailer Panel
Their influence is best demonstrated by brand rankings at two major retailers at the end of July. Of the twenty rankings, they have between them 14 or 70%:
| | | | | | |
| --- | --- | --- | --- | --- | --- |
| Fashion Dolls Ranking | 1 | 2 | 3 | 4 | 5 |
| Falabella | Disney Princess HAS | LOL Continente* | Barbie MAT | Our Generation Battat | Black Cat Continente** |
| Alkosto | Barbie MAT | Dis Princess HAS | Pony HAS | Steffi Love Simba | DC Super Hero Girls MAT |
*MGA Licensee **Bandai Licensee
Action Figures Ranking

1

2

3

4

5

Falabella

Figurines Schleich

Spiderman HAS

P J Masks

Continente*

POP

CD Distribution**

Incredibles Continente***

Alkosto

Max Steel MAT

Incredibles Continente**

Jurassic World MAT

Airplane Transformer M.A.R.S.

Robot M.A.R.S.
* EoNE Licensee ** Funko Licensee *** Jakks Licensee
Source: Klosters Retailer Panel
All three companies are well established and extremely well connected. Continente SAS was founded in 1953 and acted as Mattel and Hasbro distributor in the country before the two companies started their own operations. Mattel established its Colombian subsidiary in 1995 and Hasbro in 2011.
Continente has pretty much cornered the exclusive distribution rights for most top toy companies other than Mattel and Hasbro. They are considered the gold standard for toys in the country and have an excellent reputation for solid financial practices, cautious inventory management, and trustworthiness in their relations with the companies they represent. Also, they are the real winner in this market in that they were incredibly savvy in acquiring the exclusive distribution rights for top performing companies such as Lego, MGA Entertainment, eOne, Moose and Spin Master.
Hasbro, in turn, gained market share from an estimated 11% in 2016 to now 16%. According to my sources, the main reason for Hasbro's success is less the acquisition of Disney Princess in 2016 but rather the fact that its management is very capable and extremely responsive to the changing tastes of the Colombian toy consumer. The fact that the people recruited to run the new Hasbro subsidiary in 2011 were in fact not toy executives but rather capable marketing professionals from other industry sectors probably was instrumental in the progress the company has made since then.
Mattel is a different story. Just like in the case of Brazil, Colombian management is taking its orders from the Mexican headquarters and this guidance extends to all aspects of marketing approaches and sales forecasting and hence inventory management. The result was and is that Mattel is falling behind in country-specific innovation and is losing market share in most of its major product categories – specifically Fashion Dolls, Action Figures and Preschool. The fact that the company also reduced headcount over the past few years did not help either. Whilst historical market share figures are difficult to come by, industry sources tell me that the company had at its peak 35% and is now down to 29%. This 29% may also be artificially high since Mattel has over the past couple of years increasingly resorted to loading the trade during the fourth quarter in order to meet or at least get close to mandated sales targets.
I reached out to Mr. Alejandro Rivas to find out what it would take for a toy company to introduce its products in Colombia. Alejandro is uniquely qualified to give advice on this since he has been President of both Mattel Colombia and Mattel Brazil. He now focuses on counseling toy companies on the Colombian toy market.
His first recommendation is that newcomers should be very cautious about establishing their own company in Colombia. The bureaucratic hurdles are extremely high. If your objective is to have a company in Colombia, it behooves you to establish a market position first by going through a distributor. Once this is successful and you do have a real presence, you might think of registering your company, hiring the legal help to get all the licenses you need, and take it from there.
The hard part is to get your foot into the door in the first place. You can talk to Continente provided that you have a compelling story and the necessary resources to finance the inventory and the required advertising support. In addition, you need to have a very promising product and a stellar track record or you will not stand a whisper of a chance of being represented by Continente.
If this does not succeed, you can talk to the likes of Exito, Cencosud, Falabella or Pepe Ganga who buy toys on a direct import basis for sale during the fourth quarter. Again here, the conditions are likely to be on the tough side – open account financing and A+P support, for example.
Whatever you elect to do, you will find it wise to enlist local help to facilitate contacts and subsequent negotiations.
Disclosure: I/we have no positions in any stocks mentioned, and no plans to initiate any positions within the next 72 hours. I wrote this article myself, and it expresses my own opinions. I am not receiving compensation for it (other than from Seeking Alpha). I have no business relationship with any company whose stock is mentioned in this article.
Editor's Note: This article covers one or more microcap stocks. Please be aware of the risks associated with these stocks.