As the world's fastest growing large economy, and one of only two countries with over 1 billion people (with a population about 4x that of the United States), global investors can no longer ignore India. According to the Goldman Sachs prediction charted below on BRIC vs other large economies, India's GDP is expected to grow from about 1/12th of the US's in 2010 to roughly equalling that of the US by 2050.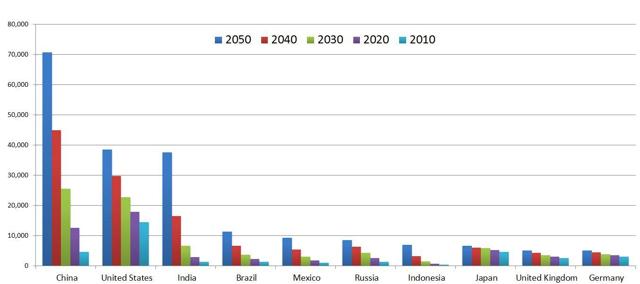 Source: Wikipedia article on BRIC
As an investor who balances both developing and developing/emerging markets, I prefer to focus on what I call the top 5 "JUICE" markets, where JUICE stands for Japan, United States, India, China, and Europe (in which I will continue to include the UK and LSE, despite Brexit). The JUICE markets capture over 1/3 of global population, almost 2/3 of global GDP, and it would be fair to say the stock exchanges within the JUICE countries provide access to most of the world's equity market returns balanced across about half a dozen currencies. A few brokerage firms, my favorite two being Interactive Brokers Group Inc. (IBKR) and Saxo, make it easy to hold Japanese, US, Chinese (both A-share and H-share), and European stocks all in one account in local currency. IBKR does provide access to Indian stocks, but only to Indian residents, who in turn are not allowed to access any markets outside India. In this way, India remains the most closed and most difficult to access market of these top 5 for foreign investors (as well as the most difficult for local Indian residents to diversify out of). In some ways, the onshore Indian stock market can be compared to that of China's in the early days of QFII before stock connect.
How do foreign investors access India?
As of 2018 non-Indian residents wanting to access onshore Indian stocks would often apply for a foreign investor quota, and often through an investment vehicle in Mauritius that could provide a single account holder to the custodian and take advantage of the India-Mauritius tax treaty (which may be revised in 2019 - watch this space). Indeed, many India funds, including ones listed below, use this Mauritius set-up. Compared with China's stock connect program, however, having to set up a separate custody account for a company incorporated on a far off island whose treaty with India has an uncertain future is certainly more complicated and expensive than many investors will bother with.
11 Indian companies currently have US-listed ADRs, the largest of which are HDFC Bank Limited (HDB), Infosys Limited (INFY), ICICI Bank Limited (IBN), Wipro Limited (WIT), and Tata Motors Ltd (TTM). These 11 seem quite limited compared to the 157 US-listed Chinese stocks, especially since they don't include many well-known Indian companies like Reliance Industries, Tata Consultancy Services, or Hindustan Unilever.
Foreign investors could also gain India exposure buy trading futures contracts listed on Singapore Exchange Ltd (OTCPK:SPXCY - better known as "SGX"), mostly on India's Nifty 50 index, but also on the Indian Rupee currency, and starting this year, through single-stock futures on each of the Nifty 50 components. Unfortunately, India seems to have taken a step away from making it easy for foreigners to access Indian stocks via offshore futures when the National Stock Exchange of India (NSE) revoked data access to offshore exchanges, and SPXCY shares fell 8% on that day's news. Some hoped this shake-up was meant to drive foreign investors to the Gujarat International Finance and Technology City (aka "GIFT city") as a new onshore exchange foreigners could access India through, but for now, India products remain some of the most actively traded on SGX.
It should be noted that as with China, US-based ETF investors own more access to India through the share of broadly diversified emerging market funds than through any India-specific investment vehicle. The top three emerging markets ETFs are the iShares Core MSCI Emerging Markets ETF (IEMG), the iShares MSCI Emerging Markets ETF (EEM), and the Vanguard FTSE Emerging Markets ETF (VWO). These three ETFs alone have over $160 billion in assets under management (AUM) between them, about 10% of which is allocated to India, a share which is is about double the total AUM of all 11 India-focused funds below. The 0.14% expense ratio of IEMG and VWO is also only a fraction of the cost of all but one of the funds below, so broad EM funds also remain a more cost-effective way for many investors to access India.
The top 11 US-listed India ETFs
Investors not resident in India wishing to overweight or allocate to India in their portfolios are likely to find the below US-listed ETFs to be the simplest and most liquid solution. This is especially true for US accounts which may have one of these ETFs on their platform but are very likely to allow any of the futures, access structures above.
At a median expense ratio of 0.76%, these funds are still not cheap, but they do provide access. These ETFs do provide some degrees of choice between large caps and small caps, and with one earnings-weighted and two sector focused options.
| | | | | | |
| --- | --- | --- | --- | --- | --- |
| Ticker | Name | AUM | Exp Ratio | Inception | Summary |
| | | $4.9B | 0.68 | 02/02/2012 | Large, Cap-weight |
| | | $1.5B | 0.84 | 02/22/2008 | Large, Earnings-weight |
| | | $762.6M | 0.93 | 11/18/2009 | Large, Top 50 |
| | | $274.4M | 0.79 | 03/05/2008 | Large, Cap-weight |
| | | $259.8M | 0.75 | 02/08/2012 | Small, Cap-weight |
| | | $210.4M | 0.72 | 08/24/2010 | Small, Cap-weight |
| | | $147.2M | 0.75 | 08/10/2011 | Sector focus: Consumer |
| | | $36.8M | 0.76 | 08/11/2010 | Sector focus: Infrastructure |
| | | $22M | 0.76 | 07/07/2010 | Small, Cap-weight |
| | | $7.2M | 0.19 | 02/06/2018 | Large, Cap-weight |
| | First Trust India NIFTY 50 Equal Weight ETF | $3.7M | 0.8 | 02/14/2012 | Large, Top 50 |
Source: Fidelity.com
My Picks and Conclusion
EPI was the first US-listed India ETF, and I like the fact that it is weighted by earnings rather than by market cap. That said, I do not trust Indian reported earnings numbers well enough yet to believe that this approach would generate enough of an edge in this market to justify the higher fee.
I currently buy INDA in the HSA accounts I manage, mostly to maintain the consistency of MSCI indexing for the single-country ETFs in that portfolio. For the same reason, I would choose SMIN to add India small-cap exposure under the same MSCI methodology.
FLIN was launched this year, and is by far the cheapest India ETF so far. Even though it still has less than $10 million in assets so far, it holds a very similar portfolio to INDA at less than 1/3 of the cost, so I would consider accumulating in small accounts where I could do so cost-effectively. The two biggest risks I see in accumulating such a new and so far small ETF would be:
Liquidity if I needed to sell quickly (which I rarely do), and
The risk that this ETF would delist if they don't raise enough assets (in which case I would take the money and buy INDA)
None of the other ETFs on this list stand out to me yet as either "dirt cheap" nor as a "shiny object" (to quote Eric Balchunas). So for now, I will mostly stock with INDA, SMIN, and FLIN, and watch EPI to see if the weightings start drifting too far from INDA and FLIN. Even then, I would only include India-specific funds in cases where I see the need to specifically overweight India.
As of this writing, INDA has a P/E ratio of 21.5 and a P/B of 3.1, almost double those of IEMG's 13 and 1.6 respectively. SMIN has roughly the same P/E as INDA, but with a lower P/B of 2.5. This indicates India as relatively expensive compared to other emerging markets, though still cheaper than the S&P 500 trading 24.8 times earnings and 3.4 times book (source: iShares.com). Long-term, I would prefer to overweight faster-growing India relative to a slower-growing and already over-bought market like the US. Short to medium term, I am more bullish on China and Russia than I am on India, mostly because of valuation. I have more direct access to the China market, and believe Russia will benefit more from the Belt and Road Initiative than India will. This means that also FLIN can add some relatively low-cost spice to a portfolio, many accounts will probably stick with the cheaper and blander India access via IEMG and VWO.
Tariq Dennison is a Hong Kong based investment advisor at GFM Asset Management, focused on managing IRA, 401(k), 529, and HSA accounts.
Disclosure: I am/we are long VWO, INDA, SMIN, EPI, SPXCY.
I wrote this article myself, and it expresses my own opinions. I am not receiving compensation for it (other than from Seeking Alpha). I have no business relationship with any company whose stock is mentioned in this article.